Roy Hodgson Launches Fierce Defence of Jack Wilshere at England Press Conference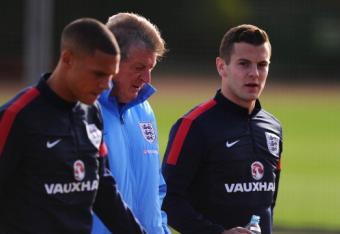 Mike Hewitt/Getty Images
England manager Roy Hodgson has launched a passionate defence of midfielder Jack Wilshere following criticism of his recent form and comments made to the media this week regarding national team selection.
Per the Daily Mail's David Kent, Hodgson believes that the young star's words regarding the prospect of naturalised players pulling on an England jersey have been misinterpreted. However, he does not believe Wilshere has been affected by the controversy.
Hodgson on Wilshere's 'foreigner' comments: " It (furore) hasn't affected Jack. It (eligibility) will be a policy decision taken by the FA"

— Henry Winter (@henrywinter) October 10, 2013
Hodgson told reporters at his pre-match press conference:
We expect so much from Jack. When someone comes onto the scene who's an incredible talent you expect so much that every time they fall below the standards you've seen the alarm bells start.

He's been in good form. The unfortunate furore over his quotes have not affected him. I think his comments were, if not misunderstood, translated in a way people wanted to translate them.

We're forever complaining that players don't have an opinion so it's quite wrong when a player gives an opinion to criticise their opinion. The subject matter is worthy of debate and it's something Greg Dyke and his commission will look into.

It hasn't affected Jack. He's shrugged it off. He was asked an opinion, he gave an opinion. Some people liked it some people haven't.

Wilshere caused controversy with his comment that "the only people who should play for England are English people" during a press conference earlier this week, per BBC Sport, before getting involved in a Twitter debate with South Africa-born England cricketer Kevin Pietersen.
.@JackWilshere -interested to know how you define foreigner...? Would that include me, Strauss, Trott, Prior, Justin Rose, Froome, Mo Farah?

— Kevin Pietersen (@KP24) October 9, 2013
Per the BBC article, Wilshere's views have received support from some people, such as Alan Shearer, who disapprove of the idea of international teams being able to include players not born in their country.
However, his comments from the same press conference that "if you live in England for five years it doesn't make you English" have annoyed some, with many British sporting icons having been born outside of the United Kingdom.
Indeed, some of his current and potential international colleagues such as Wilfried Zaha, Nathaniel Chalobah, Raheem Sterling and Gael Bigirimana have all moved to the UK during childhood.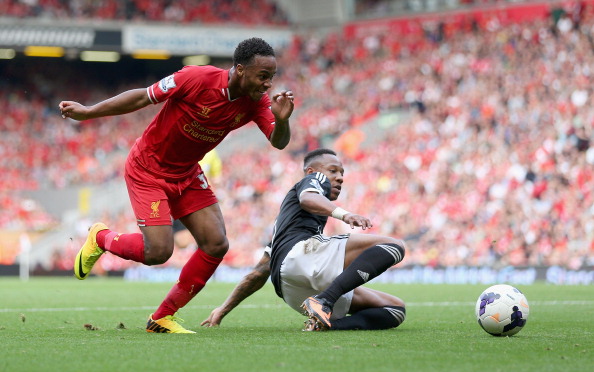 Clive Brunskill/Getty Images
Hodgson is correct, though. There was no ill-meaning to Wilshere's comments, and they were, at worst, poorly phrased. But his meaning is clear, that people like Januzaj—who have come to Britain purely as a career move—should not be considered. It is a fair point.
The Arsenal man, though, should perhaps have been advised to simply let the storm blow over, rather than continue the debate on social media.
Instead, his debates with Pietersen have only added to the media storm in the days leading up to two crucial World Cup qualification fixtures.
The media must be careful, however. It is precisely these "storm in a teacup" scenarios that cause players to distrust journalists and therefore refuse to offer opinion. Wilshere's only mistake, perhaps, was that he chose to answer the initial question in the current climate where soundbites sell stories.
The debate over national allegiance is a complex subject with many variables from one person to the next. It is not an easy question to deal with on the spur of the moment.
My view on football - going to a new country when ur an adult, & because u can get a passport u play 4 that national team - I disagree

— Jack Wilshere (@JackWilshere) October 9, 2013
England's media team, then, should perhaps have done more to offer an instant clarification on his behalf and end the matter early.
Instead, England will face Montenegro tomorrow night with the entire week's media coverage having been focused on a midfielder ineligible for selection in Januzaj and the political views of Wilshere. It is a far from ideal buildup given the stakes at play for Hodgson and his side.
This article is
What is the duplicate article?
Why is this article offensive?
Where is this article plagiarized from?
Why is this article poorly edited?