Week 6 NFL Predictions: Teams That Will Win in Blowout Fashion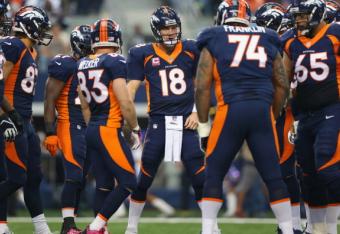 Ronald Martinez/Getty Images
There are several mismatches in the NFL this weekend, and the Denver Broncos are one of the teams that will in blowout fashion in Week 6.
Nobody will be shocked when the Broncos blow out the Jacksonville Jaguars. Which other teams will be able to blow out their opponents?
A few contenders will be playing against teams dealing with injuries at quarterback, like the Tennessee Titans. Look for those games to be over early.
Below is a full schedule for Week 6 followed by a list of teams that will win in blowout fashion.
2013 NFL Schedule-Week 6

| | | | | |
| --- | --- | --- | --- | --- |
| Date | Time (ET) | Away | Home | Result |
| 10/10 | 8:25 p.m. | New York Giants | Chicago Bears | Bears |
| Date | Time (ET) | Away | Home | Prediction |
| 10/13 | 1 p.m. | Green Bay Packers | Baltimore Ravens | Packers |
| 10/13 | 1 p.m. | Cincinnati Bengals | Buffalo Bills | Bengals |
| 10/13 | 1 p.m. | Detroit Lions | Cleveland Browns | Lions |
| 10/13 | 1 p.m. | St. Louis Rams | Houston Texans | Texans |
| 10/13 | 1 p.m. | Carolina Panthers | Minnesota Vikings | Panthers |
| 10/13 | 1 p.m. | Oakland Raiders | Kansas City Chiefs | Chiefs |
| 10/13 | 1 p.m. | Pittsburgh Steelers | New York Jets | Steelers |
| 10/13 | 1 p.m. | Philadelphia Eagles | Tampa Bay Buccaneers | Eagles |
| 10/13 | 4:05 p.m. | Jacksonville Jaguars | Denver Broncos | Broncos |
| 10/13 | 4:05 p.m. | Tennessee Titans | Seattle Seahawks | Seahawks |
| 10/13 | 4:25 p.m. | New Orleans Saints | New England Patriots | Patriots |
| 10/13 | 4:25 p.m. | Arizona Cardinals | San Francisco 49ers | 49ers |
| 10/13 | 8:30 p.m. | Washington Redskins | Dallas Cowboys | Cowboys |
| 10/14 | 8:40 p.m. | Indianapolis Colts | San Diego Chargers | Colts |
Kyle Newport
Cincinnati Bengals (at Buffalo Bills)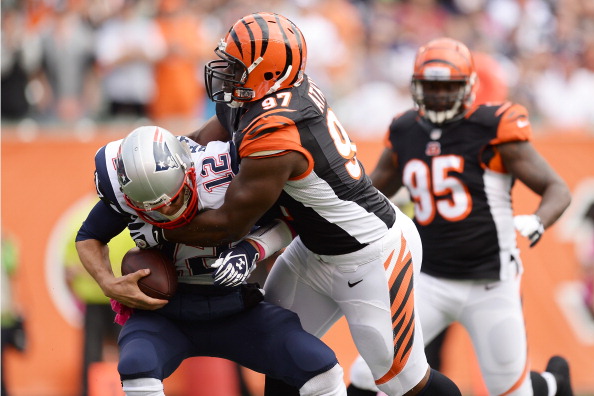 Jamie Sabau/Getty Images
It has been a weird first five weeks for the Cincinnati Bengals. They beat Aaron Rodgers and Tom Brady but lost to Brian Hoyer. The Bengals are 3-0 at home but 0-2 away from Cincinnati. This will be the week they pick up their first road win of the season.
Even with E.J. Manuel healthy, the Buffalo Bills would've had a tough time winning this game. Now that Thad Lewis will be under center, the Bengals have nothing to worry about.
Buffalo is tied for the sixth-most sacks allowed this year, and the Bengals have one of the best defensive lines in the league. Carlos Dunlap, Geno Atkins and Wallace Gilberry can all get to the quarterback. The defense is banged up. Defensive end Michael Johnson has been out, but corner Leon Hall may return to the field this week.
Are the Cincinnati Bengals legitimate Super Bowl contenders?
The defense will force Lewis into mistakes, and it will give the offense good field position.
Quarterback Andy Dalton has yet to prove he can lead his team to a title, but he should be able to get in a rhythm with his receiving corps. A.J. Green has had quiet season so far, and tight ends Jermaine Gresham and Tyler Eifert are waiting to have breakout games.
The Bills rank in the middle of the pack in pass defense, and rookie playmaker Giovani Bernard should be able to make an impact in this game. His speed is tough to contain, which gives Dalton another weapon to work with.
Cincinnati has scored 19 total points in the last two weeks. Buffalo allowed 37 points to Cleveland. Look for the Bengals to get back on track in this one.
Prediction: Cincinnati Bengals 31 - Buffalo Bills 10
Seattle Seahawks (vs. Tennessee Titans)
If this game was in Tennessee, the Titans might have a chance. However, Seattle is the toughest place to play. The Seahawks are as dominant as it gets at home, so Richard Sherman and the defense will impose their will.
Jake Locker is out for the Titans, and Ryan Fitzpatrick will start at quarterback for Tennessee. The veteran will be in for a long game on Sunday.
Will Tennessee be able to stay within one possession of the Seahawks in Seattle?
Seattle has won its two home games by a combined 74-20. It really wasn't even that close. In its last home game against the Jacksonville Jaguars, Seattle went up 31-0 before coasting the rest of the way as the visitors scored 17 points in the final 22 minutes.
Tennessee started the season with two road games followed by three straight home games. At 3-2, the Titans are off to a better start than most expected. Now, they will face the toughest test imaginable.
The Seahawks have won their last six games by an average of 37-9, and they have won 10 consecutive games in Seattle. Their incredible run will continue this week.
Prediction: Seattle Seahawks 35 - Tennessee Titans 10
Denver Broncos (vs. Jacksonville Jaguars)
This game has the makings of one of the biggest blowouts ever. The Broncos are 5-0 and are off to the best start on offense in NFL history. The Jaguars are 0-5 and have yet to stay competitive in a game this year.
Denver has scored 50 points in back-to-back games. And check out this stat from the team's official Twitter account:
The #Broncos' 51 points in yesterday's win are as many points as the Jaguars have scored all season.

— Denver Broncos (@DenverBroncos) October 7, 2013
Jacksonville has been outscored 163-51 this season. Denver has outscored its opponents by 91 points this year, which is the greatest point differential in the NFL.
The Broncos have won 11 consecutive home games and also have an even more impressive streak going on:
#Broncos have won a franchise-best 16-straight reg-season games. In fact, the team's last reg-season loss came exactly one year ago.

— Denver Broncos (@DenverBroncos) October 7, 2013
Jacksonville has lost 10 straight games, but the Jaguars have had trouble winning since the beginning of last season. They have lost 17 of 18 and 19 of 21. Things don't look good for the Jaguars.
Peyton Manning has thrown for 20 touchdowns and scored once on the ground, compared to only one interception. Jacksonville has intercepted only two passes this season.
The Jaguars rank 31st in scoring defense and 32nd against the run. Once Manning gets the Broncos out to a big lead, running backs Knowshon Moreno and Montee Ball will be able to move the ball on the ground and add to the lead.
Denver's defense hasn't been great this season, and the Jaguars should be able to score some points once the Broncos take their foot off the gas.
Prediction: Denver Broncos 48 - Jacksonville Jaguars 14
*All stats are courtesy of NFL.com
This article is
What is the duplicate article?
Why is this article offensive?
Where is this article plagiarized from?
Why is this article poorly edited?