Oakland Raiders vs. Kansas City Chiefs: Breaking Down Oakland's Game Plan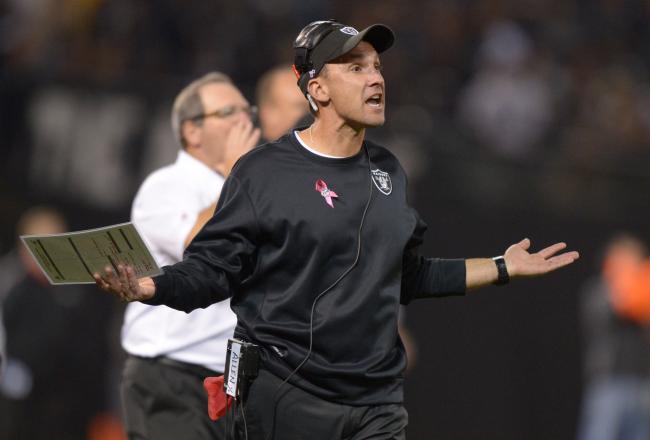 Kirby Lee-USA TODAY Sports
The Oakland Raiders took a step toward respectability with their Week 5 win over the San Diego Chargers. They can gain even more ground and make an even bigger jump in the AFC West, by doing something no other team has done so far: beat the Kansas City Chiefs.
Oakland has won five of the last six games between the two longtime division rivals, though the stakes haven't been nearly as high as they are now.
Beating the Chiefs would give the Raiders back-to-back wins for the first time in nearly a year. It would also be more confirmation that the rebuilding process in Oakland is making progress.
It won't come easily.
Kansas City coach Andy Reid has completely changed the attitude and culture around the franchise, transforming the Chiefs from a bottom-feeder into a legitimate playoff contender in his first season. At 5-0, they're just one of three teams still unbeaten heading into Week 6.
Here are four ways the Raiders can get the upper hand in this classic matchup between former AFL rivals.
Run, run and run some more
Darren McFadden and Rashad Jennings both returned to the practice field Wednesday after missing parts or all of last Sunday's win over the Chargers.
Although both were limited in what they could do during the workout, it was still an encouraging sign heading into a game against a team that Raiders quarterback Terrelle Pryor says has "one of the best defenses in the NFL," according to the team's official website.
Kansas City has held three of its five opponents to fewer than 99 yards rushing. Only Philadelphia (264) and Tennessee (105) reached triple digits running the ball against the Chiefs, who have been much more aggressive and physical on defense this year.
The Raiders need to go right at the heart of Kansas City's defense with the ground game, whether with McFadden, Jennings or even fullback Marcel Reece. Reece is also a matchup nightmare, who offensive coordinator Greg Olson needs to get more involved in the passing game.
Pryor also needs to be a factor in the running game.
When the Philadelphia Eagles had their big day running the ball, it was because the Chiefs were playing more conservatively on defense in an attempt to keep Philadelphia quarterback Michael Vick from scrambling downfield.
Pryor is younger, stronger and quicker than Vick, and Oakland's offense is at its best when he's on the move. While it will be key to get something established early with the running backs, a few long runs by Pryor early in the game could have the same effect.
Let Pryor Be Pryor
One of the best things that coach Dennis Allen has done this season is letting Pryor be himself. There have been no restraints put on his running, nor have the Raiders limited the playbook because of his shortcomings in the passing game.
That's key because the former Ohio State star is at his best when scrambling around and trying to make something out of nothing or when plays break down.
It's a risky style for quarterbacks, but it works for Pryor.
His touchdown pass to wide receiver Denarius Moore in the first half against San Diego came on an improvised play after the pass protection broke down. Later in the game, Pryor twice evaded the oncoming pass rush and ran to his right before pulling up to throw back across his body for a pair of completions and critical first downs.
The Chiefs, who play a 3-4 defense, will try to limit Pryor's ability to get around the corners and will, instead, try to funnel him back inside where there's more help.
For Pryor it comes down to being patient and being efficient when the proper time arises. He did that with great success against the Chargers. Now he needs to back it up.
Forget Alex Smith, Worry About Jamaal Charles
As solid a season as Smith is having at quarterback for the Chiefs, the real difference-maker on that offense is Charles. He's averaging 4.3 yards a carry, has three touchdowns in five games and is coming off a season-high 108 yards in last week's win over Tennessee.
The Raiders know Charles all too well, and historically, they've done well defending him. He has only one 100-yard game against Oakland (in 2009), but has, otherwise, been held mostly in check.
Smith, a former first-round pick of the San Francisco 49ers, joined the Chiefs in the offseason and has been widely credited for Kansas City's fast start. The veteran quarterback has been effective in managing the offense and running the read-option, and he's kept his mistakes to a minimum.
Yet the key remains Charles, who has developed into a solid receiver as well as a consistent running threat. He's caught 28 passes for 250 yards and a pair of touchdowns.
Oakland's plan has to be simple against Charles: get as many hats on the ball as possible. They also can't get too caught up in trying to strip the ball from Charles after forcing a pair of fumbles against San Diego.
Defensive coordinator Jason Tarver might be tempted to go blitz heavy in the first quarter in an attempt to rattle Smith. While that would appear to be sound strategy, it would also take some of the focus off Charles who can do some damage when forgotten about.
Fast Start Needed
The Raiders have traditionally been a slow-starting team over the past decade. This season, it's been just the opposite. Oakland is outscoring opponents, 35-17, in the first quarter and is 2-1 when scoring first this season. The only loss came when the team blew a 14-point lead against Washington in Week 4.
Playing in a loud, raucous venue like Arrowhead Stadium only adds to the importance of a fast start. The Raiders have won the last six times they've played on the Chiefs' home turf, but had dropped 15 of 18 there before that.
Coach Dennis Allen's team won the coin toss in last week's win over San Diego, but deferred and had his defensive unit take the field first. It was a sensible move that paid off when the Raiders forced the Chargers to punt on the opening drive, then scored on their own first play from scrimmage.
Don't expect the same type of strategy this time around. The Raiders have scored on their opening drive twice this season. Both times, they won.
Getting an early lead against the Chiefs would be a good start toward continuing that trend. The crowd at Arrowhead can be an effective 12th man on the field, but there can be an equally debilitating effect when those same fans have to sit on their hands for three hours.
This article is
What is the duplicate article?
Why is this article offensive?
Where is this article plagiarized from?
Why is this article poorly edited?

Oakland Raiders: Like this team?