As we've all learned this season, nothing is guaranteed in the NFL, and that's especially true when placing bets on games.
Spreads can be a tricky thing to navigate week to week, and that's why you need to pick games that are surefire, money-in-the-bank winners.
This week, taking the Denver Broncos, Dallas Cowboys and Green Bay Packers to cover their respective spreads are the best bets. Let's find out why.
Lines courtesy of Bovada and SportsBook.
NFL Week 6 Picks

| | | |
| --- | --- | --- |
| Away | Home | Pick w/ The Spread |
| Giants | Bears | Bears (-8) |
| Steelers | Jets | Steelers (+3) |
| Rams | Texans | Rams (+9) |
| Bengals | Bills | Bengals (-7) |
| Lions | Browns | Lions (-3) |
| Raiders | Chiefs | Raiders (+8) |
| Panthers | Vikings | Vikings (-3) |
| Eagles | Bucs | Eagles (-2) |
| Packers | Ravens | Packers (-3) |
| Jaguars | Broncos | Broncos (-27) |
| Titans | Seahawks | Seahawks (-14) |
| Cardinals | 49ers | Cardinals (+11) |
| Saints | Patriots | Saints (+1.5) |
| Redskins | Cowboys | Cowboys (-6) |
| Colts | Chargers | Colts (-2) |
Bovada and SportsBook
Jacksonville Jaguars at Denver Broncos (-27)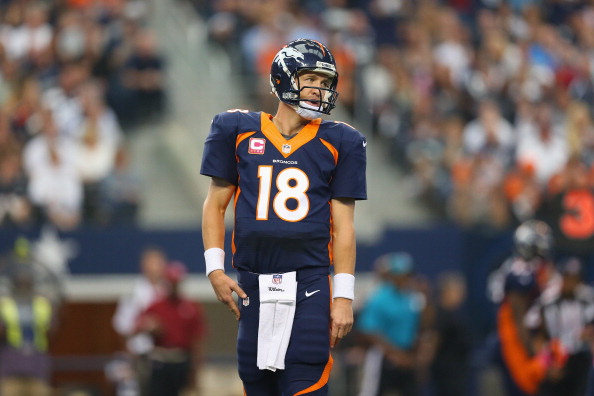 Ronald Martinez/Getty Images
This line is just ridiculous to look at, but that doesn't mean the Broncos won't cover. In fact, you'd be crazy not to take the Broncos with this crazy spread. Are you still with me? Good.
The Jags have already been a victim of a ginormous spread after their Week 3 game against the Seahawks. Seattle was favored to win by as many as 20 points and subsequently covered that big spread against the lowly Jags. Had it been a 27-point spread, the Seahawks would have covered that also (45-17).
Unfortunately for Jacksonville, that's going to happen again this week except with a bigger spread. After all, the Jaguars' horrid defense hasn't changed (No. 10 and No. 32 against pass and run, respectively), and the Broncos come into this game with the best offense in football (46 points per game) led by the immortal Peyton Manning.
If you take the Broncos' season average of points per game and put it next to the Jags' 10.2 points per contest, that in and of itself covers the spread. There's not a chance in hell Jacksonville hangs with Denver, and the Broncos will likely cover this spread by the end of the first half.
Final Score: Denver 56, Jacksonville 10 (Broncos cover)
Washington Redskins at Dallas Cowboys (-6)
The Washington Redskins couldn't be facing the Dallas Cowboys at a worse time. Dallas is coming off a 48-point performance against the Broncos in a losing effort, and the Redskins own one of the worst defenses in football that ranks No. 28 and No. 31 against the pass and run, respectively.
Dallas can move the ball in multiple facets on offense, led by Tony Romo and the Cowboys' No. 7 passing attack that compiled over 500 yards in Week 5. The Cowboys should have no problem moving the ball through the air in this one in order to help set up the ground game led by DeMarco Murray.
Washington has a solid offense as well, but it has failed to score 30 points or more in any game this season. While the Redskins may put points on the board, they have yet to prove they can hang with a potent team like the Cowboys.
Washington has lost by seven points or more in two of its three losses, and the only time the Redskins came within six points in a loss was against the Philadelphia Eagles and their horrid defense (31.8 points per game) in Week 1.
Final Score: Dallas 38, Washington 28 (Cowboys cover)
Green Bay Packers (-3) at Baltimore Ravens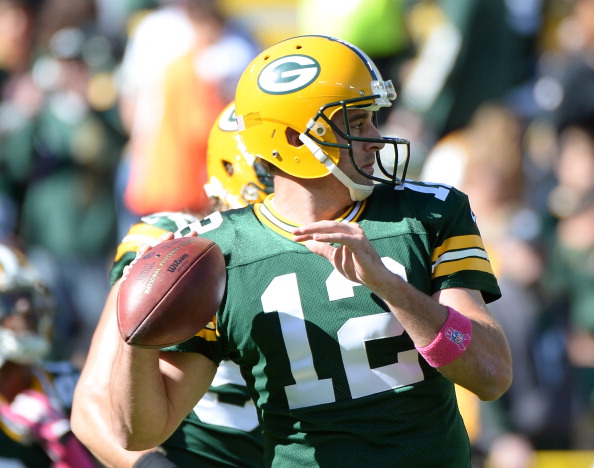 Harry How/Getty Images
Even when not at its best last week, the Packers offense managed to score 22 points with just one touchdown to speak of. In each of its two wins this season, Green Bay has won by a margin of 13 points or more with an 18-point win against the Redskins being the biggest victory.
No matter how badly the Packers play as a team, Aaron Rodgers always finds a way to put points on the board and ultimately win with the No. 4-ranked passing attack. The Pack also rank No. 5 on the ground to add to their great offense.
The fact that Green Bay is favored on the road should say enough about how good the Packers can be.
Green Bay has been awful against the pass this season with a No. 26 ranking, but that's OK against the Ravens, who are No. 14 in the NFL through the air and have seen Joe Flacco struggle this season.
Because of their lack of a rushing attack (No. 27), the Ravens will be predictable to stop, and it'll be even worse this weekend considering the Packers are No. 5 against the run. Baltimore will have a tough time moving the ball via Flacco's arm if Green Bay doesn't have to respect running back Ray Rice.
Even if Baltimore scores some touchdowns, it's highly unlikely the final score will be a field goal or less with the explosive Packers offense.
Final Score: Green Bay 34, Baltimore 23 (Packers cover)