When dealing with the Los Angeles Lakers, it's become tradition to expect the unexpected.
L.A. is coming into the 2013-14 season with a very intriguing roster full of aging stars and a bunch of young guns. The team seems to perfectly fit Mike D'Antoni's shot-happy offense, and the coach will have to lead a postseason effort if he wants to stay in Los Angeles in the coming years.
General manager Mitch Kupchak added several pieces to complement Kobe Bryant and Pau Gasol over the summer. Nick Young, Wesley Johnson, Jordan Farmar, Xavier Henry and Chris Kaman will all be huge factors in the outcome of the Lakers' season.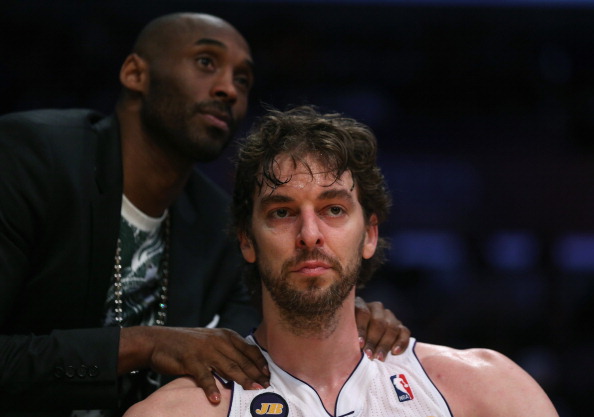 Jeff Gross/Getty Images
But Kupchak's job may not be done. Before the regular season actually tips off, the Lakers could make several surprising roster decisions to improve their team.
Cut Marcus Landry
Marcus Landry was signed to a non-guaranteed deal for the veteran's minimum early in September and will have his work cut out for him as he strives to make the final 12-man roster.
He's the younger brother of the Sacramento Kings' Carl Landry and hasn't played in an NBA game since 2009-10. However, he did lead the Lakers' summer league team in scoring with 15.2 points per game.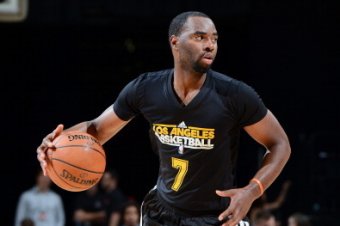 Garrett Ellwood/Getty Images
There's no doubt that the 27-year-old, who has spent the last few years overseas and in the D-League, can play.
But in all likelihood, he won't be playing for Los Angeles this season.
With Henry breaking out in early preseason action (29 points in the opening contest) and Elias Harris signed to a two-year deal, the prospect of making the regular-season roster looks bleak for Landry.
While Landry has the ability to stretch the floor, L.A. simply doesn't appear to have room for him.
Sign Rip Hamilton
With the Black Mamba on the sidelines, the only other shooting guard on the roster is the erratic and streaky Jodie Meeks. It should also be noted that Henry is listed as a shooting guard, but at 6'6" he is much more of a swingman.
Richard Hamilton, who averaged 9.8 points a night for the Chicago Bulls last season, would be a perfect signing for the Lakers.
The 14-year pro could sign a one-year deal for the veteran's minimum and give Los Angeles added shooting guard depth while Bryant nurses his Achilles. Adding another backcourt scorer would also take pressure off of Bryant to return prematurely, which could spell disaster if another injury is the result.
According to Sam Amico of Fox Sports, the New York Knicks and Houston Rockets have shown interest in Hamilton's services, but he's been available since the Bulls waived him in July, so he's pretty much up for grabs.
The Lakers would be wise to jump on this opportunity, but if they're skeptical about the 35-year-old, the team can also make the deal non-guaranteed.
Hamilton proved that he's still got a ton left in his tank in Chicago's final two playoff games against the Miami Heat, averaging 13.5 points and 2.5 assists. L.A. shouldn't have anything to worry about.
Trade Steve Blake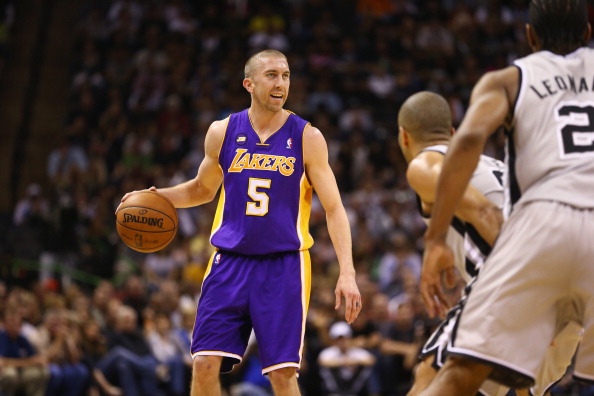 Ronald Martinez/Getty Images
For the most part, the Lakers are relatively young—the average age of the team currently stands at 28.1 years old, per HispanosNBA.com. However, that number is affected by all of the young guys who were brought in during the offseason and who will primarily serve as role players.
The core of the Lakers—Kobe, Gasol, Steve Nash, Steve Blake, Kaman, Young and Hill—combine for an average age of 32.1.
The team needs to start prepping for the future, but that can't all be done through the 2014 free-agency class.
D'Antoni said @SteveBlake5 has been overlooked in some senses, but not among NBA insiders. "Everybody is always trying to get him."

— Mike Trudell (@LakersReporter) October 9, 2013
Blake is arguably one of L.A.'s most valuable trade assets right now and one that the Lakers would also be willing to part ways with.
Teams that are thin at point guard—like the Milwaukee Bucks, for example—would jump at the opportunity to bring in a proven second-string guard.
The Bucks could, in turn, give the Lakers what they need—draft picks—and possibly even throw in a big like John Henson, depending on whether or not the Lakers would be willing to give up any additional players in the deal.
Which move would most benefit the Lakers?
If Nash can remain healthy, Los Angeles will already have a solid rotation with Farmar coming off the bench, so Blake's departure wouldn't leave a gaping hole in the backcourt, either.
The Verdict
Los Angeles could make one or all of these moves, opt for completely different routes or perhaps even do nothing at all.
It's the Lakers we're dealing with here.
Regardless of what direction the franchise takes, L.A. will head into the 2013-14 season as a better team than it was a year ago.
Making necessary roster adjustments, signing a veteran guard like Hamilton or making a big splash with a trade involving Blake would only improve the Lakers even further.