Pirates vs. Cardinals: Score, Grades and Analysis for NLDS Game 5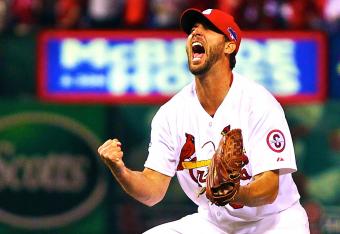 The last time the St. Louis Cardinals started Adam Wainwright in a deciding game, he failed to get out of the third inning.
Wainwright would have no such trouble this time around.
The Cardinals ace pitched nine innings of one-run ball on Wednesday night, combining with a late surge from the offense to propel St. Louis to the NLCS with a 6-1 win over the Pittsburgh Pirates at Busch Stadium.
Making his second start of the series, Wainwright vexed the Pirates' lineup for his second consecutive outing. He went through the first six innings giving up just a single earned run, accurately locating his fastball and buckling knees with a diving curve ball.
The only signs of strain came after the Cardinals had built a 3-0 lead on an RBI single from Jon Jay in the sixth inning. Wainwright allowed successive infield singles with two outs in the seventh to Justin Morneau and Marlon Byrd, which was followed by Pedro Alvarez getting a fortuitous bounce off the first-base bag on a single of his own, scoring a fast-charging Morneau.
Dilip Vishwanat/Getty Images
While Alvarez's hit scored the Pirates' lone run, Wainwright would get a lucky bounce of his own in the eighth. With one out and Jordy Mercer at first base, the Pirates were seemingly developing some momentum.
Starling Marte stepped to the plate with one out and again made solid contact—only it went right to second baseman Matt Carpenter, who fired to first to nail Mercer off the bag for the double play. Pittsburgh manager Clint Hurdle argued, but his pleas were drowned out by the sound of a raucous Busch Stadium crowd and a fired up Wainwright.
The Cardinals gave their ace all the cushion he would need a half-inning later, driving in three runs off Pirates reliever Mark Melancon. Matt Holliday started the rally with a one-out single and was driven in on a towering home run to right from Matt Adams, giving the Cardinals a 5-1 lead. Melancon then worked himself into a first-and-third jam before being relieved by Jason Grilli, who subsequently finalized the score by giving up a single to Pete Kozma.
Wainwright came out for the ninth, and worked his way out of a jam for the third straight inning as the celebration commenced. After the game, the 32-year-old right-hander told TBS' Matt Winer that he had to battle a rare case of nerves before this game because of what happened in last year's NLDS start against the Washington Nationals.
"It's hard not to think back to what happened in Game 5 last year and I just wanted to prove I could go out there and be a good playoff pitcher," Wainwright said.
In the end, Wainwright gave up one more hit than he did last season but pitched 6.2 more innings in Wednesday's clincher. He gave up eight hits and struck out six, fanning Pirates third baseman Pedro Alvarez to close the game. Wainwright is the fifth pitcher to throw a complete game victory in a deciding game in franchise history.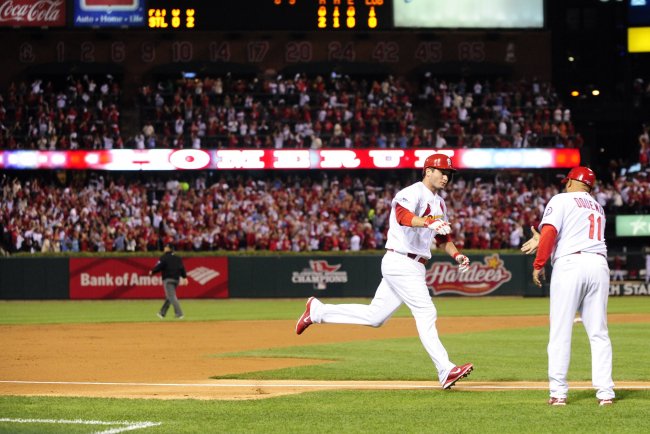 Jeff Curry-USA TODAY Sports
In the other dugout, Pirates starter Gerrit Cole's first winner-take-all outing will be defined by one second-inning mistake. David Freese's two-run bomb was his first of the postseason and helped him break out of a series-long slump. The Cardinals third baseman had come in 0-for-9 over the series' past three games.
Cole would leave after five innings with just that blemish, allowing three hits and striking out five batters over 75 pitches. Pittsburgh's bullpen, the lynchpin of its regular season, continued its struggles by giving up four runs over as many innings to close it out.
The Pirates are undoubtedly disappointed to cough up a 2-1 series lead, but it's hard not to look back on this season with fondness. They made the postseason for the first time in 21 years, and will return a similar, more seasoned core in 2014.
The Cardinals won't have much time to bask in vanquishing their division rivals. They will have an off day before hosting the Los Angeles Dodgers on Friday for Game 1 of the NLCS. Lance Lynn is the likely starter for St. Louis, with the Dodgers trotting out Zack Greinke. Los Angeles won four of the teams' seven regular-season meetings.
Player Grades
Pittsburgh Pirates

| | |
| --- | --- |
| Hitters | Grade |
| Starling Marte LF | F |
| Neil Walker 2B | D |
| Andrew McCutchen CF | D |
| Justin Morneau 1B | B- |
| Marlon Byrd RF | B+ |
| Pedro Alvarez 3B | C+ |
| Russell Martin C | D |
| Clint Barmes SS | C |
| Garrett Jones PH | C- |
| Jose Tabata Sub | C- |
| Jordy Mercer Sub | B- |
| Pitchers | Grade |
| Gerrit Cole SP | B |
| Justin Wilson RP | D |
| Vin Mazzaro RP | B- |
| Tony Watson RP | B |
| Mark Melancon RP | F |
| Jason Grilli RP | C- |
St. Louis Cardinals

| | |
| --- | --- |
| Hitters | Grade |
| Matt Carpenter 2B | C |
| Carlos Beltran RF | C- |
| Matt Holliday LF | A- |
| Matt Adams 1B | A |
| Yadier Molina C | B |
| Jon Jay CF | B |
| David Freese 3B | A |
| Pete Kozma SS | B- |
| Daniel Descalso Sub | C |
| Pitchers | Grade |
| Adam Wainwright SP | A |
Player of the Game: Adam Wainwright (SP, St. Louis Cardinals)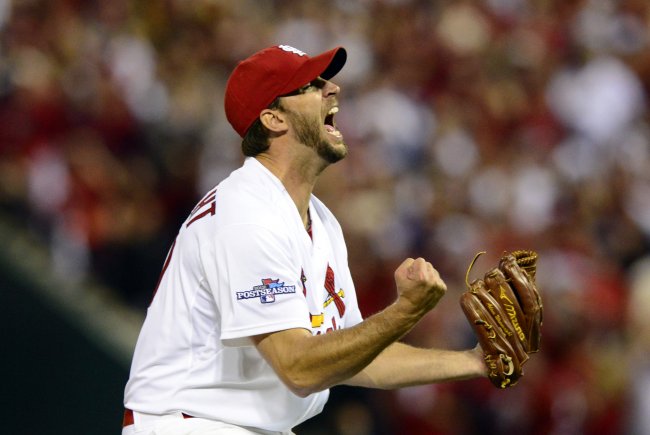 Jeff Curry-USA TODAY Sports
Give Wainwright all the accolades. Player of the series. Player of the game. Everything.
While it's likely the Cardinals would have won Game 1 due to A.J. Burnett's implosion, it's hard to see any other starter coming up as big as Wainwright on Wednesday night. Facing a lineup that knew his tendencies and had seen him four previous times this season, Wainwright fooled the Pirates batters as if it were their first time facing him.
It's often said that a batter gets an advantage the more he sees a pitcher. But Wainwright proved in Game 5 that sometimes the opposite can be the case. He located his balls in near-perfect spots the entire night, only starting to struggle on the third time through the order.
Mike Matheny is yet to decide on a rotation for the NLCS, but it'll be interesting to see whether Wainwright faces Dodgers ace Clayton Kershaw. It's nearly a foregone conclusion that Kershaw will win the NL Cy Young this season. However, there are more than a few people who view Wainwright at the same level.
With both pitchers helping carry their teams to the championship series, the baseball fan in me wants to see these two go at it at least once to answer the debate on the biggest stage.
For now, though, Wainwright will just have to settle for being the best player on his team. Again.
Follow Tyler Conway on Twitter:
This article is
What is the duplicate article?
Why is this article offensive?
Where is this article plagiarized from?
Why is this article poorly edited?