Cardinals vs. 49ers: Breaking Down Arizona's Week 6 Game Plan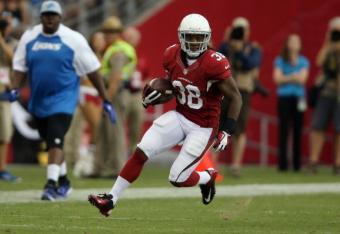 Andre Ellington must be given more touches on offense.
Jeff Gross/Getty Images
It has been a difficult road so far in 2013, but the Arizona Cardinals are 3-2 and tied with the San Francisco 49ers for second place in the NFC West heading into their Week 6 matchup at Candlestick Park.
We will break down Arizona's game plan for beating the 49ers here, and though it once again will be a tough task—as it is every week in the NFL, except maybe for the Denver Broncos—it is a winnable game.
Arizona must clean up the offensive mistakes if the Cardinals are to steal this game, however. Sloppy play led to the Houston Texans being embarrassed last week on Sunday Night Football, and that is likely this week if Carson Palmer gets loose with his decision-making and execution.
Here is the game plan for the Cardinals as they take on the NFC West rival 49ers this weekend.
Offensive Game Plan
Run the Ball More Frequently
In the first half against the Carolina Panthers last week, head coach Bruce Arians called eight run plays to 15 pass plays. After two interceptions thrown by Palmer and three punts, the Cardinals found themselves down at the half, 6-3. They held the ball just 10:57 to Carolina's 19:03.
The score could have been much worse considering the discrepancy.
Arians changed up the play-calling in the second half, which proved to be a great decision. He called 17 run plays (not counting three Palmer kneel-downs to end it) to 13 pass plays, and Arizona held the ball 18:39 to Carolina's 11:21.
With help from their defense, the Cardinals outscored the Panthers 19-0 over the final two quarters.
But running the ball is more than just a way to keep the ball away from the opposing offense. It leads to more points scored, as well.
We hear a lot about today's NFL being a passing league. While it's true that teams pass the ball more now than they ever have, having a successful rushing attack is still a key to scoring points.
The chart below show Arizona's rushing attack on its eight touchdown drives compared to all other drives:
Arizona Cardinals Rushing Stats, 2013

| | | | | | | |
| --- | --- | --- | --- | --- | --- | --- |
| Drive Result | Total | Att | Att/Drive | Yards | Yards/Carry | Yards/Drive |
| Touchdown | 8 | 29 | 3.63 | 130 | 4.48 | 16.25 |
| Non-Touchdown | 53 | 86 | 1.62 | 275 | 3.20 | 5.19 |
| Total: | 61 | 115 | 1.89 | 405 | 3.52 | 6.64 |
Pro-Football-Reference.com
And this one shows San Francisco's run defense on its 11 touchdown drives allowed compared to all others:
San Francisco 49ers Rush Defense, 2013

| | | | | | | |
| --- | --- | --- | --- | --- | --- | --- |
| Drive Result | Total | Att | Att/Drive | Yards | Yards/Carry | Yards/Drive |
| Touchdown | 11 | 38 | 3.45 | 162 | 4.26 | 14.73 |
| Non-Touchdown | 54 | 117 | 2.17 | 406 | 3.47 | 7.52 |
| Total: | 65 | 155 | 2.38 | 568 | 3.66 | 8.74 |
Pro-Football-Reference.com
For the Cardinals, running the ball successfully is going to start with getting bodies on inside linebackers Patrick Willis and Navarro Bowman. Most of the time that will mean having a lead blocker head into the hole ahead of the running back.
On the play below from San Francisco's home loss to the Indianapolis Colts, tight end Dominique Jones serves as Ahmad Bradshaw's lead blocker on a simple counter run. Jones is the aggressor upon meeting Bowman in the hole, in turn winning the battle. Rather than Bowman running through Jones, he plants his feet and is driven out of Bradshaw's path.
That will be tight end Jim Dray's main assignment in San Francisco. It is no small task, but succeeding in providing running lanes for Rashard Mendenhall and Andre Ellington will go a long way for helping the offense run the ball more efficiently.
Use Andre Ellington More
The only way to say it is this: Ellington is playing better football than Mendenhall is. That's it. There is no debating that.
Not to sound like a Mendenhall "hater," but he cannot hit open running lanes the way he used to, and he refuses to run through open A-gaps.
Andre Ellington and Rashard Mendenhall, 2013 Offensive Output

| | | | | | | | | | |
| --- | --- | --- | --- | --- | --- | --- | --- | --- | --- |
| Player | Att | Yards | Yards/Att | TD | Targets | Rec | Yards | Yards/Rec | TD |
| Ellington | 18 | 120 | 6.7 | 0 | 22 | 13 | 144 | 11.1 | 1 |
| Mendenhall | 69 | 219 | 3.2 | 2 | 10 | 9 | 64 | 7.1 | 0 |
ESPN.com
The Carolina game was a prime and disturbing example of that fact.
The screen grab below shows Mendenhall as he receives a handoff from Palmer. Rather than following center Lyle Sendlein into the opening A-gap, he hits the breaks and tries cutting to the outside, where he is met by a wall of players.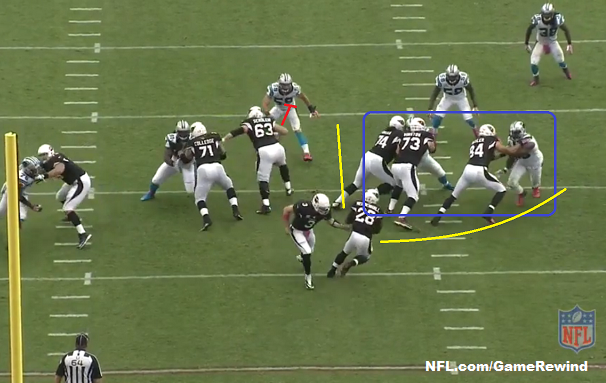 The play went for a loss of a yard.
The next screen grab is just a few plays later and left me nearly punching a hole through my laptop screen where the frozen image of Mendenhall was.
You can see highlighted in blue a hole big enough for three running backs to run side by side through.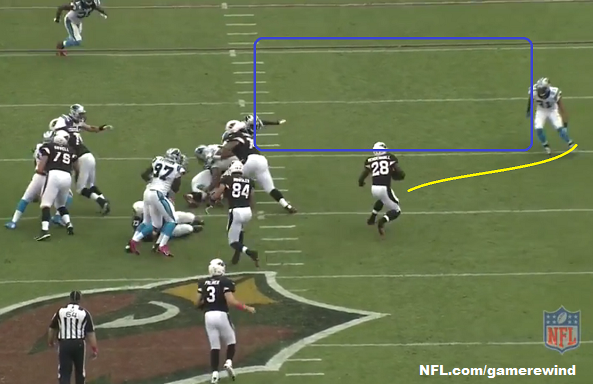 Rather than doing the only thing he should do, which is run through it for a nice gain, he attempts cutting to the outside and around cornerback James Dockery. He gained four yards on the play.
For a back said to have outstanding vision, he sure has not displayed it this season. He gets "tough yards" by surging ahead using his legs and pushing the pile, which has led to only two rushes of negative yards. That's a positive.
But he lacks the burst necessary to hit closing lanes.
Ellington, on the other hand, has excelled at squeezing through tight running lanes. The play below took place on the next snap following Mendenhall's four-yard run. You can see there is not much room to run, but Ellington gets through the hole quickly and bursts out the other end for a 26-yard gain.
Arizona has also used Ellington as the No. 4 receiver more lately in place of undrafted rookie wideout Jaron Brown. The play below converted a 2nd-and-10 near the end of the first half and may have led to points if Palmer had not thrown an interception on the very next play.
The overall difference right now between Ellington and Mendenhall can be summed up in the following two GIFs. These two plays are more or less the same—a single-back behind Palmer with a bunch to the right and a lone receiver to the left.
Both plays appear to be headed for an off-guard run.
Mendenhall doesn't see the gargantuan hole open up to his left:
While Ellington does:
Ellington's run was called back on a hold by left guard Daryn Colledge, but the result is not the issue. What is the issue is that Mendenhall, a five-year veteran, cannot see running lanes the same way the rookie Ellington can.
Therefore, it is imperative for Arians to use the rookie more and the veteran less.
Defensive Game Plan
No Blitzing
As most quarterbacks do, Colin Kaepernick plays well when blitzed. He's got a solid offensive line blocking for him, so extra rushers are picked up for the most part. And even when they do not, he has the ability to move around within or escape the pocket and make plays.
The chart below tells a tale of a quarterback who thrives with fewer defenders in coverage and struggles with more.
Colin Kaepernick Performance When Blitzed/Not Blitzed

| | | | | | | | | |
| --- | --- | --- | --- | --- | --- | --- | --- | --- |
| | Dropbacks | Comp% | Yards | Yards/Att | TD | INT | Sack | Rate |
| Blitz | 47 | 62.2 | 315 | 8.5 | 4 | 0 | 4 | 125.4 |
| No Blitz | 112 | 53.7 | 654 | 6.9 | 2 | 4 | 7 | 65.0 |
| Total: | 159 | 56.1 | 969 | 7.3 | 6 | 4 | 11 | 81.9 |
ProFootballFocus.com
The notion of not blitzing may sound strange after the dominating performance from Arizona's defense last week, when they sacked Carolina quarterback Cam Newton seven times on an incredible 28 blitzes. To date, coordinator Todd Bowles has sent pressure on an unusually high 110 of 222 drop-backs (49.5 percent).
Compare that with former Cardinals coordinator Ray Horton, now with the Cleveland Browns in the same coaching position, who has sent at least five on 74 of 200 drop-backs (37.0 percent). The Kansas City Chiefs, who lead the league with 21 sacks, have blitzed on only 66 of 218 drop-backs (30.3 percent).
Bowles' pass rush was not working until last week, though; the seven sacks of Newton matched the season total through four games.
The addition of star inside linebacker Daryl Washington surely aided the pass rush, as he recorded two sacks, helped fellow inside linebacker Karlos Dansby add another, and was generally a menace all game long.
Given the facts that Washington will assuredly spy Kaepernick most of the afternoon and that Kaepernick is more than willing and able to run when blitzed, it could be beneficial to send pressure. Washington is quick enough to catch Kaepernick before he's 20 yards downfield.
But it also could backfire. If Bowles drops Washington into coverage and blitzes, that would leave the defense exposed in the middle and leave Kaepernick free to get to the second level if he does not find an open receiver.
Prediction: Bowles will blitz Kaepernick to his heart's content in the first half, but he will be forced to call off the dogs in the second half after the spry QB gashes the defense multiple times. That will be something to watch.
This article is
What is the duplicate article?
Why is this article offensive?
Where is this article plagiarized from?
Why is this article poorly edited?

Arizona Cardinals: Like this team?