WWE Main Event Results: Winners, Twitter Reaction and Analysis from October 9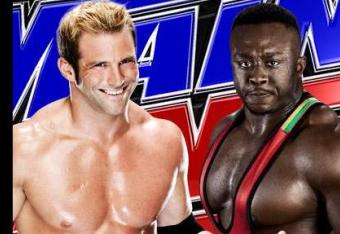 Photo courtesy of WWE.com

As of late, WWE Main Event has experienced a slight drop in quality, but the show took a turn for the better on Wednesday courtesy of a quality final match.
While matchups like 3MB vs. Tons of Funk and Tamina vs. Aksana don't necessarily jump off the page, the main event between Big E. Langston and Zack Ryder was worth the price of admission on its own:
TONIGHT: It's "Z" vs. "E" as @ZackRyder battles @BigELangston on @WWE #MainEvent at 8/7 CT on @IONTV! #WWWYKI pic.twitter.com/28Sf2l6WUK

— WWE (@WWE) October 9, 2013
There was plenty of talent to go around on the one-hour slate of matchups, but any time Big E. Langston, one of WWE's rising stars, is the headline, it's worth tuning in to watch.
Here is how things went down from Columbus, Ohio.
3MB Defeated Tons of Funk
Tons of Funk, otherwise known as Tensai and Brodus Clay kicked off the show as underdogs in a handicap match against 3MB.
Not exactly a matchup that is main event worthy, but WWE's revitalization of the tag-team division continued in what turned out to be an unexpected quality matchup as fans described:
Did #3MB actually win a televised match - against Tons of Funk nonetheless #MainEvent 3 on 2 handicap match

— Big Iz (@captainbigbones) October 10, 2013
I'm officially a fan of every member in 3MB. They should be singles wrestlers though. Their gimmick is a joke. #MainEvent

— Words on Wrestling (@OnWrestling1) October 10, 2013
@WWE I have been waiting to see the 3MB get a win yes now I hope they can get more #MainEvent

— mike wieling (@MikeWieling) October 10, 2013
Tons of Funk failed to use an overwhelming size advantage against Heath Slater and Co., eventually succumbing to the 3-on-2 handicap advantage as Tensai was caught outside of the ring while Slater made the pin.
For a match that did not even reach the 10-minute mark, it turned out surprisingly well.
Tamina Defeated Aksana
Tamina is currently one of the hottest commodities in the WWE Divas division after aligning herself with the champion, AJ Lee.
Unfortunately for Tamina, she picked a bad time to do so as Lee suffered a concussion at Battleground. In other words, Tamina now needs a way to keep herself relevant for the feud, so the match against Aksana was the perfect way to go.
Here's how fans felt about the squash:
#mainevent Oh man no offense to anyone but this match wasn't what I was looking for.

— Staci Brooks (@SJB479) October 10, 2013
Tamina in a match! @WWE is doing something right! #MainEvent

— Millionaire (@PrimeTimeFan_) October 10, 2013
That match wasn't even that bad. Good Job @TaminaSnuka ! #MainEvent

— Millionaire (@PrimeTimeFan_) October 10, 2013
Aksana is a great worker. Damn shame she is so underutilized. #MainEvent

— Guthrie Roy Hartford (@TheGuthrieRoy) October 10, 2013
Aksana was able to get a little offense in here and there, but she ended up looking like a rookie in what amounted to a squash match.
The good news is Tamina is as advertised. She has plenty of talent and is the next in line to help what is a serious makeover of the Diva's division, led by Lee.
Big E. Langston Defeated Zack Ryder
While a re-hash of a bout fans have already seen, Big E. Langston and Zack Ryder managed to put on a quality match.
Langston is one of WWE's rising talents just oozing with potential, while Ryder had his moment in the sun years ago but is still more than capable of getting a crowd fired up:
At least Zack gets some TV time. #MainEvent

— Amire Collins (@WordLife254) October 10, 2013
So they are going to give a huge push for Big E by having him beat... @ZackRyder? Oooooooook? #MainEvent

— Jen Malkazski (@KurumiGinger) October 10, 2013
Bad guy or not, I wanna see Big E Langston make his bid for a championship title of some kind. He's too good to not do so. @WWE #MainEvent

— Vontonio L. Johns (@SMOOVEJAZZFAN) October 10, 2013
Big Ending and Big E wins #MainEvent

— DSoTWFS (@Dustin_Schnau) October 10, 2013
Like the last time these two met, Langston ended up over-powering Ryder in the end. Mr. Long Island Iced-Z himself managed to get some offense in and keep the crowd entertained, but Langston played the role of the bully (a big buzzword in WWE at the moment) and dismantled Ryder.
There's not much to speak of from a storyline standpoint here, as Ryder is nothing more than an extra body as part of the locker room backing Daniel Bryan against the Corporation. Langston is in limbo as well without a clear-cut direction.
All in all, not a horrible matchup with Langston's impressive skills on display. If fans are lucky, more of Langston in main events on major shows is in the works.
Follow B/R's Chris Roling on Twitter for more news and analysis @Chris_Roling
This article is
What is the duplicate article?
Why is this article offensive?
Where is this article plagiarized from?
Why is this article poorly edited?