5 Positive Signs from Start of Montreal Canadiens 2013-14 Season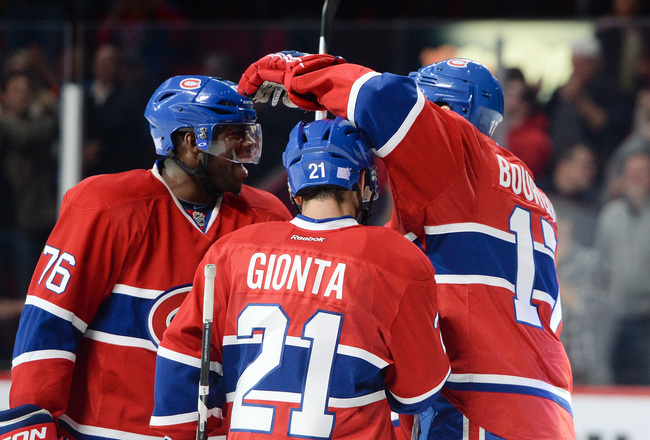 Montreal Canadiens P.K. Subban (from left), Brian Gionta and Michael Bournival.
Francois Lacasse/Getty Images
Looking at the Montreal Canadiens' start to the 2013-14 season, it's easy to feel a bit worried.
For example, they lost a lead and ultimately their season opener to a hated Toronto Maple Leafs team that was playing their by-all-accounts backup goalie.
Their big offseason acquisition, George Parros, who was traded for to protect the team's stars, is now concussed after hitting his head on the ice in the same game. He joined defensemen Douglas Murray, Davis Drewiske and, at least temporarily, Max Pacioretty, arguably the team's best player, among the team's injured.
Meanwhile, the Habs' figuratively big offseason acquisition, Daniel Briere, remains pointless along with No. 1 linemate David Desharnais heading into Wednesday night's game against the Calgary Flames.
Add it all together and it's almost enough to send one straight to the pharmacy for a boatload of anti-anxiety medication and the head-sized paper bag it might come in. Thankfully, though, there are just as many if not more positive signs from the start of their 2013-14 season. Here they are.
5) History Is on Their Side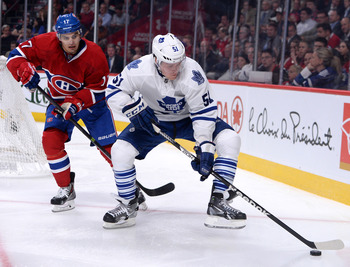 Montreal Canadiens forward Rene Bourque and Toronto Maple Leafs defenseman Jake Gardiner.
Francois Lacasse/Getty Images
Granted, it's a pretty small sample size from which to draw, but if you look back to last season you'll notice Montreal started off much the same way, with a loss…by one goal…to the Leafs.
Chances are good it's just a coincidence and not the hockey gods' way of telling Habs fans they'll end up bowing out to the Ottawa Senators in five games after a 29-14-5 season—even if only because the Habs have a full 82 games to play this year.
Nevertheless, last season still shows the Habs are capable of rebounding after lackluster losses. One game does not make a season, and after last year's season-opening loss, the Habs rattled off four straight victories, including their second game of the season, a decisive 4-1 win. Sound familiar?
4) The Bounceback Victory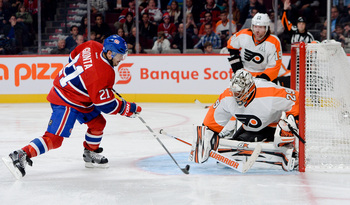 Montreal Canadiens captain Brian Gionta in close against Philadelphia Flyers goalie Ray Emery.
Francois Lacasse/Getty Images
Sure, the Philadelphia Flyers are not exactly looking all that much of a good bet to finish atop the Eastern Conference after three season-opening losses and a coaching change, but last Saturday's 4-1 win against them was nevertheless impressive.
Outshooting the Flyers by 11, the Habs got two goals from two different lines, while goalie Carey Price looked solid if not underworked as a result of a great team-wide defensive effort.
The best positive sign fans can take from this victory is the fact that the Habs didn't sit on a 1-0 lead entering the third period as they might have grown accustomed to doing in the past.
Instead, they lit up Philadelphia's Ray Emery twice more before Vincent Lecavalier got one back for the Flyers. And, then, instead of getting nervous after potentially allowing the opposition back in the game, they shut them out from there on out, with Rene Bourque bringing an end to the scoring with one minute left in the game.
All in all, there were few negative takeaways here. Obviously, it would have been a tad sweeter had Briere gotten a hat trick against his former team to prove to them they shouldn't have bought him out (and to the Canadiens that they did the right thing by signing him after the fact).
For now, though, even if Briere remains pointless, it's not worth it to split hairs on the subject. There will be plenty of time to get on his case when both he and the team are struggling. Hopefully, those times will be few and far between.
3) Unprecedented Toughness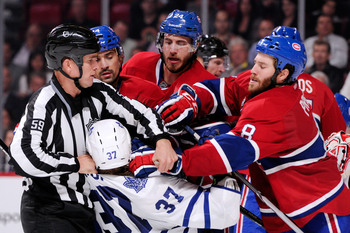 Montreal Canadiens forward Brandon Prust gets a piece of Toronto Maple Leafs forward Carter Ashton.
Richard Wolowicz/Getty Images
The Habs took a lot of undeserved flak for leading the league in power play time last year (329:15 versus 299:48 for the next-closest team, the Detroit Red Wings). However, so far this season, they're at the other extreme.
With 77 minutes in penalties so far, the Habs are the third-worst team in the league in that category, ahead of just the Toronto Maple Leafs (83) and Florida Panthers (100). What's most eye-opening, though, is that the Leafs have played four games and the Panthers three. The Habs? Just two heading into Wednesday night.
Indeed, the Habs lead the league in penalties in minutes per game.
Upon closer inspection, though, the Habs have taken seven fighting majors (tied for first in the league) for a total of 35 minutes.
So, are the Habs undisciplined or are they just refusing to get pushed around anymore? Well, seeing as they've also been on the penalty kill for 19:02 so far this season (second-worst in the league), it's probably a little—scratch that—a lot of both.
Even if they aren't limiting themselves to major penalties, it's still a good sign. It may not last, especially with George Parros currently nursing a concussion (but recovering quickly, according to TSN.ca) as 10 of those 35 minutes belong to him.
Nevertheless, it seems as though the Habs are in the midst of an ongoing culture-shock therapy session. The acquisition of Parros has definitely signaled the start of a new era, but, so has the signing of Douglas Murray, albeit indirectly.
Now, the 6'3", 240-pound Murray is actually known more for his hitting than fighting prowess. He's also injured, which, under normal circumstances, would further hinder his ability to drop the gloves effectively. However, with him out, Jarred Tinordi has taken it upon himself to pick up the slack.
Given a chance to prove himself in Murray's absence, Tinordi's been more than willing to do whatever it takes to stay in Montreal instead of being sent down to the Hamilton Bulldogs. Similarly, Travis Moen, who's looking to rebound from a piss-poor 2013 season, has already fought twice and shows no signs of slowing down (in terms of taking fighting majors, anyway).
All in all, it's clear that this team is intertwined by a strong desire to not let opportunities slip away. As a result, considering other weapons the Habs have at their disposal, this season could very realistically turn into a golden one to make some serious noise.
2) The Team's Offense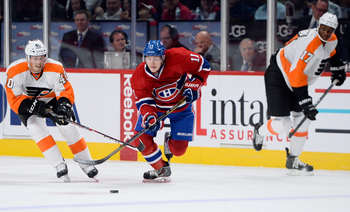 Montreal Canadiens forward Brendan Gallagher and Philadelphia Flyers Vincent Lecavalier (left) and Wayne Simmonds.
Francois Lacasse/Getty Images
While Montreal's arguable No. 1 line of Max Pacioretty, David Desharnais and Daniel Briere is indeed pointless heading into Wednesday night's action, no one is particularly worried. That is because scoring has come from Montreal's other two "top" lines.
Entering this season, everyone knew that the Habs could roll three lines. However, that doesn't necessarily mean that three lines will be scoring at will consistently.
In fact, last year, when the Habs scored over three goals per game, more often than not, the offense was coming from a different line game to game. This season, the lines of Alex Galchenyuk, Lars Eller and Brendan Gallagher and Rene Bourque, Tomas Plekanec and Brian Gionta are getting it done in the absence of anything resembling an effective offense from the former line.
Galchenyuk, Eller and Gallagher have 12 points between them. Bourque, Plekanec and Gionta have 5. The Canadiens as a whole have seven goals in just two games.
Of course, that 3.5-goal-per-game average will likely decrease as the season grows older and, in its early going, it's not even good enough for 10th best in the league. Nevertheless, it's a positive sign, especially when the team is averaging exactly a full goal less against. One goal is all it takes.
1) Lars Eller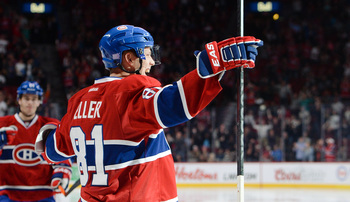 Montreal Canadiens forward Lars Eller.
Francois Lacasse/Getty Images
Around this time last season, Eller was benched for two straight games as a healthy scratch. This season is obviously different in that he's instead leading the team in scoring with five points and three goals after two games.
Needless to say, if he were just putting points on the board at this point in the season, it would be a drastic improvement. However, what's most impressive is how he's doing it.
Eller emerged last season as a legitimate playmaking threat, with 22 assists and 30 points in 46 games. His eight goals would have put him on pace for 14 in a single 82-game season. His three after two games obviously puts him on pace for a hell of a lot more.
Now, part of the reason that Eller is doing so well is an undeniable increase in average ice time this season relative to last. Last year, he averaged just 14:49 each game with just 42 seconds of power-play time. This year he's averaging 17:31 and 3:11 with the man advantage. As long as he's putting the puck in the net, though, few should care whose ice time he's taking away.
No one obviously expects him to finish with 123 goals, let alone 123 points, but, by the same token, no one should expect him to finish behind San Jose Shark Tomas Hertl, who now leads the league with seven points in just three games.
Of note, Eller has significantly improved his point totals each season (even scoring more points last season than during the 2011-2012 pre-lockout one). His play so far certainly reinforces the idea that trend will continue. It's also an extremely positive sign for the future of this team up the middle, this season and beyond.
Keep Reading

Montreal Canadiens: Like this team?