5 Reasons Why Uruguay Are Genuine World Cup Contenders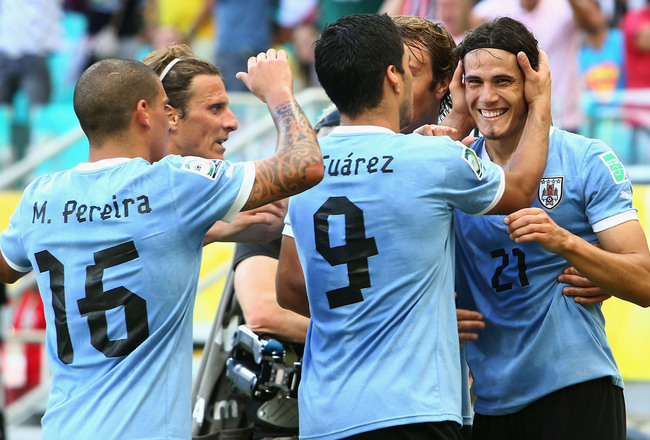 Miguel Tovar/Getty Images
Few would argue that Uruguay are currently in the sort of form that saw them reach the World Cup semi-finals in 2010 and win the Copa America in 2011, but to write off their chances completely in Brazil 2014 would be folly.
This is a side that, throughout history, have made a habit of defying expectations and winning trophies.
Uruguay's first task will be to ensure they reach Brazil by gaining positive results in their final two CONMEBOL qualification matches, away to Ecuador and at home to the already-qualified Argentina.
Though nothing is certain, improving results in the last few months indicates they will accomplish that task, and, if they do, there are various reasons to believe they will be a tournament dark horse once again.
Nobody Is Expecting Them to Match 2010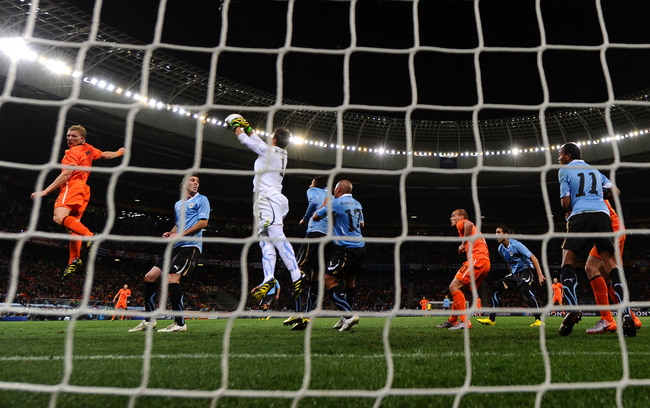 Laurence Griffiths/Getty Images
Uruguay battled their way to the semi-finals of the 2010 World Cup in South Africa after topping a tough group that included France and Mexico, then accounting for South Korea and Ghana in the knockout stages.
They eventually went down, 3-2, to the Netherlands in the semis in one of the most entertaining games of the competition.
La Celeste's progress was, in part, aided by the fact there were no real expectations placed upon them coming into the tournament. Uruguayan players would have felt none of the same pressure as, say, the jaded French or Italians who crashed out in the group stages, and their opponents did not fear them so much as to shut up shop against them.
Had this World Cup been held in 2012, following Uruguay's Copa America triumph, Oscar Tabarez's men would have been regarded as one of the pre-tournament favorites.
Their stocks have dropped since then, however, thanks to some shaky qualifying form, so once again they are flying under the radar.
Which is just they way they like it.
Edinson Cavani and Luis Suarez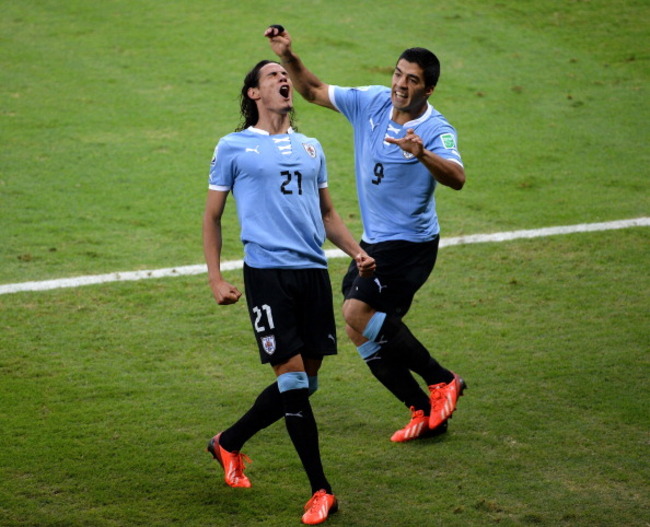 Laurence Griffiths/Getty Images
If you are planning on winning the World Cup, having a world-class striker in your squad is a huge step in the right direction (unless you are France circa 1998).
Uruguay's success in South Africa was in no small part down to their talismanic front-man Diego Forlan, who bagged five goals and was named player of the tournament.
Forlan (34) is still in the mix this time around but, due to his veteran status, is unlikely to play such a vital role.
La Celeste are still able to boast two of the world's premier forwards, however, in Edinson Cavani and Luis Suarez.
With the hard-running, high-jumping, cool-finishing Cavani up front (or cutting in from wide) and the unpredictably brilliant Suarez pulling the strings, the South Americans will always be in with a chance of scoring goals.
And goals, in the end, are what win you football matches.
Garra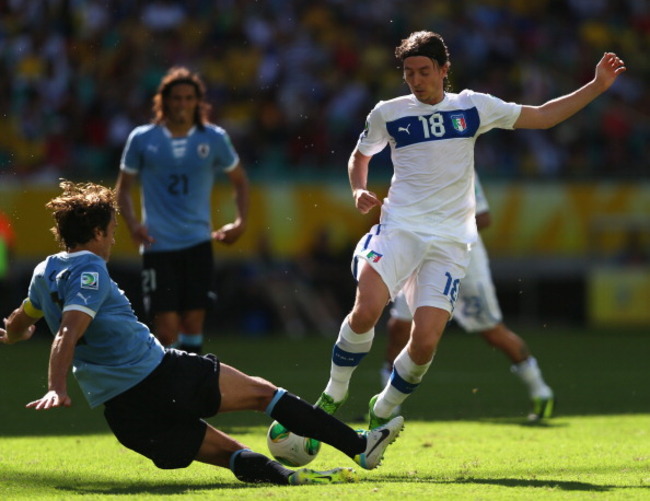 Clive Rose/Getty Images
No matter their FIFA ranking, playing roster or current form, you can guarantee that Uruguay will demonstrate their famous "garra" once they find themselves in a World Cup.
Tactical shaman Jonathan Wilson describes how valuable "garra" can be to La Celeste in his excellent Guardian column:
Garra – literally "claw" – is the defining Uruguayan characteristic, a term that incorporates determination, hardness and being streetwise.

In the 80s it was used to justify football of unconscionable brutality and cynicism; Tabarez began the process of rehabilitating Uruguay's reputation at Italia 90 and has taken his work far further in his second spell as national manager.

Over the past seven years, garra has come to underpin Uruguay's mental toughness. Tabarez has created an environment in which Uruguay's players have come to believe that they are grittier than opponents, that, when it comes down to it, they can beat them by force of personality.
Uruguay will test the resolve of any opponent they face in Brazil, regardless of their reputation or perceived superiority, by competing and scrapping for the entirety of every match.
Oscar Tabarez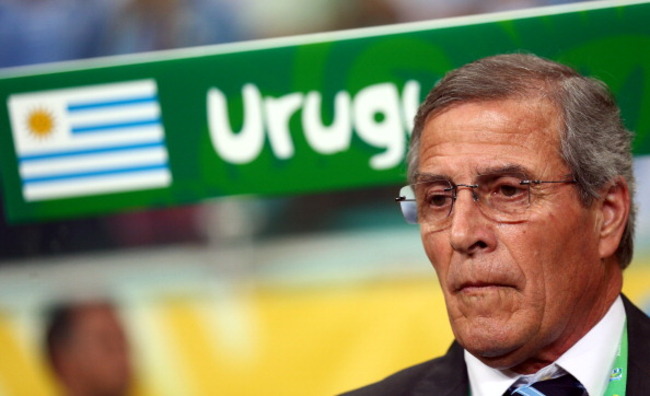 Clive Mason/Getty Images
The man they call "El Maestro" will have been Uruguay's coach for an uninterrupted spell of eight years by the time the World Cup rolls around, which will make him one of the longest-serving managers at the tournament (Joachim Low's Germany will almost certainly be there, and Denmark and New Zealand are still in with a chance of making under with their long-serving coaches Morten Olsen and Ricky Herbert, respectively).
Overall, Tabarez has been in the coaching game for 32 years and counting, which is longer than the majority of the players who will be at the World Cup have been alive.
No price can be put on that kind of experience and continuity.
The Spirit of 1950
The last time a World Cup was held in Brazil, La Celeste defied all logic to win the title by beating Brazil at the Maracana in one of the most extraordinary upsets in the history of football.
Brazil, who only needed to draw the final game of the final group phase, led the match 1-0 midway through the second half in front of an estimated 220,000 onlookers. The defiant Uruguayans refused to come to the party, though, scoring two late goals to stun the massive crowd.
The "Maracanazo" caused immense trauma in the host nation and will never be forgotten by Brazilian fans.
Uruguay, should they seal a finals berth, will be looking to invoke the spirit of 1950 in 2014.
Brazilians especially will be acutely aware of just how powerful that spirit can be.
Keep Reading