Highest Bidder: Coach and Player Loyalty for Sale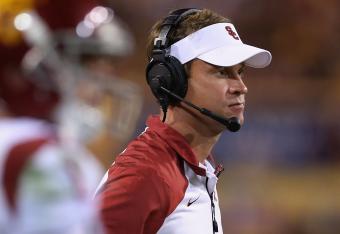 Christian Petersen/Getty Images
The USC faithful have been celebrating the firing of former head coach Lane Kiffin, but few realize how many people are affected when the head ball coach gets his walking papers.
In my FIRST position meeting in Jacksonville, my tight end coach Alfredo Roberts introduced me to the NFL. He said, "When teams don't win in sports, two things happen: Coaches get fired or players get fired. The coaches just got fired, so guess who is next if we don't play well?"
In the world of college and professional sports, everything boils down to two things: track record and money.
Good players are released or traded because they make too much. The NCAA continues to find additional revenue streams to make money from athletes' likenesses. Coaches aren't fired because they have too many years and too much money left on their contracts.
Ever wonder why coaches win and continue to ask for additional years to their contract? Head coaches typically have guaranteed contracts, unless they get fired for "cause." FYI, losing is not "cause." You have to pull a Bobby Petrino (Arkansas) or Mike Rice (Rutgers) to get fired without pay.
The head coach gets all the praise in victory and all the blame in loss. It is nice to be the head man because when you get fired with years left on your contract, you have a golden parachute. If I were a head coach, sign me through the 2025-26 season.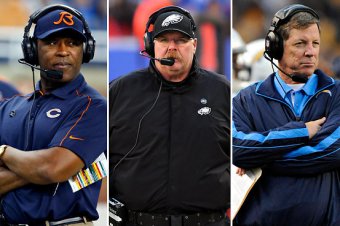 When coaches like Lane Kiffin, Norv Turner, Rick Neuheisel or Lovie Smith don't live up to expectations and are fired, they leave with some financial security. They often have assistant coaches who are doing great jobs, but they typically get thrown out with the head coach.
You could be the best tight end coach in the world, but when the head man goes, so do you.
Assistant coaches and their families are affected the most. Most assistants make peanuts compared to the head coach's salary. Even when the head coach doesn't get fired, they often change assistants through the years (for various reasons).
There is no job security. Assistant coaches are journeymen until they get the security of being the head coach. Most never achieve their dream and are tied to finding jobs with the guys they have worked with in the past.
Their families are dragged across country searching for stability and for their dreams to come true. As much as assistant coaches love the game, they are no different than any other husband/father. They are using their particular set of skills to provide a comfortable, and stable, life for their families.
Since 1999 Alfredo has had a job every year because he is a great tight end coach, but he has made stops at Florida Atlantic, the Jacksonville Jaguars, the Cleveland Browns, the Tampa Bay Buccaneers and now the Indianapolis Colts.
He has a wife and kids, but the only roots he can put down are the roots on his coaching tree. Imagine every year, win or lose, not knowing if you will have a job. Imagine the stress it puts on your wife, children, friendships and families to move from place to place for years, just hoping for the day you land the big job.
According to USA Today, "The average major-college football assistant coach now earns roughly $200,000." The list of the top 124 college coaches 2012 salaries and their assistants' totals are very interesting.
Next time you wonder why there is very little loyalty in sports, here is the answer: If you were a coach, would you be loyal to a program or team that will throw you out without notice? Or would you continue to look for the best available opportunities until you optimize your personal goals and maximize your family's happiness?
A pro coach's dream career should look like this: Get a position as a quality control coach for an NFL team, do well. A position coach job opens up on that staff, and someone recognizes you as a young talent and you land a coordinator job.
Your offense/defense is tops in the league for two years, an owner takes a huge leap of faith and hires you for an NFL coaching job with no head coaching experience. Win a bunch of games, win a Super Bowl, get a long-term contract, get fired with three years left on your deal, ride off into the sunset.
Have fun being a grandpa, hold seminars and mentor new young coaches.
A college coach's dream: Get a position coach job in college. Someone recognizes you as a young talent and takes a huge risk on you as a coordinator. You have great success and land a head coaching job at a mid-level Division I, beat some big teams and go to bowl games.
Get a job at a big school that has been struggling, build the school into a powerhouse, get an NFL coaching job, win a Super Bowl, get a long-term contract, get fired with three years left on your deal.
Ride off into the sunset and have fun being a grandpa, and hold seminars and mentor new young coaches.
Coaches have to look out for themselves and do what is best for their families. That type of system trickles down to the players.
So when your favorite player changes teams, just realize it is part of the cycle. Loyalty in sports is bought, and it usually only lasts until someone else has a bigger, better deal for you. Is your loyalty for sale?
This article is
What is the duplicate article?
Why is this article offensive?
Where is this article plagiarized from?
Why is this article poorly edited?