Why Erik Spoelstra Is the Right Long-Term Coach for Miami Heat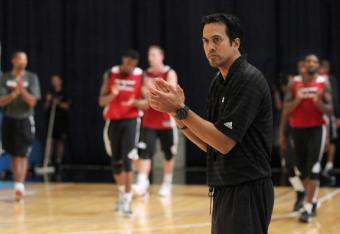 Issac Baldizon/Getty Images
Around this time three years ago, Erik Spoelstra was considered too young and inexperienced for the head coaching position that made him responsible for managing the egos of and creating the correct lineups for LeBron James, Dwyane Wade and Chris Bosh.
There was even a website, FireSpo.com, dedicated to seeing just how many people wanted to fire the Heat head coach. The numbers increased with every tough stretch. Whether it was the 9-8 start, the unsettling five-game losing streak in March 2011 or the NBA Finals loss to Dallas, it always came back to Spoelstra.
As it is in every sport, the coach will always be let go before the talent on the court is. When it came to the Miami Heat, losing with those players only meant that the coach was to blame.
But times have changed for the better, especially for Spoelstra's retirement plan.
Last week, only four months removed from winning his second consecutive championship, Spoelstra struck a deal with the Miami Heat to coach on a long-term basis. It's what the organization was supposed to do following the greatest regular season in franchise history, which was capped off with yet another championship.
It's not only the right move to keep him around, it's also important to many players who are set to become free agents in the 2014 offseason. The head coach and Norris Cole, whose team option was picked up, are the only members of this team who are guaranteed to be in Miami come the 2014-15 season.
By signing Spoelstra this soon, Miami wants to let its stars know it's committed to their sideline leader and keeping the core together. While many don't care to attribute the team's success to the coach, he has kept the players focused on one common goal and limited outside distractions as well as anyone in his position can.
The NBA world has been focused on the Miami Heat for the past three years, and what negative attention have they received? Making fun of Dirk Nowitzki's sickness? Signing Eddy Curry? There are few options to choose from, even though a high-powered microscope has been zeroed in on the Heat since the "Big Three" joined forces.
We never hear of any animosity among players and coaches or of players fighting with one another because that drama is either kept under wraps or brought up in the locker room. Spoelstra and his coaching staff have been given little to no credit for creating a family environment that allows players to air out their frustrations within the organization rather than subtly making jabs to the media.
For a team consisting of All-Stars, superstars and future Hall of Famers who have had their roles adjusted and minutes sacrificed, it's a miracle that we have not heard a single complaint from any of the veterans who have stepped through the halls of the American Airlines Arena.
It's not because Miami just happened to find the most modest and humble players in NBA history. It's because the Heat have great leaders throughout the locker room. That includes their young—at least by NBA standards—coach, who has the faith of everyone in the organization from the top to the bottom.
The Heat have stayed behind Spoelstra because he's a longtime, dedicated member of the personnel who has absorbed enough information under the tutelage of Pat Riley to become a carbon copy of the three-time Coach of the Year.
It's easy to see the Riley comparison when you notice the attention to detail on the defensive end. As Riley did with his New York Knicks of the '90s, Spoelstra has placed a great deal of focus on executing on the defensive end, which in turn has led to easier scores on the offensive end.
Spoelstra's defense is perfect for a squad filled with athletes and players with great hands. There's constant rotation, and opponents have to take what the Heat give them, mostly long-distance jumpers as a result of the Heat's emphasis on not allowing easy buckets. Miami trusts those types of shots won't fall all game or for an entire series, and they usually don't.
Miami has been in the top seven in defensive efficiency the past three years and has been in the top 12 since Spoelstra took over.
He joined the Heat as a video coordinator in 1995. He became an assistant coach two years later and spent 11 years as Riley's and Stan Van Gundy's assistant, before he became the Heat head coach in 2008 following the disastrous 2007-08 season.
In his five years as head coach, he has never led the Heat to a losing record and has seen the playoffs every year. He coached the Heat to a 28-game improvement in his rookie year and 47 in the Heat's final year of mediocrity.
Since then, he has coached three consecutive Heat teams to a winning percentage of 70 percent and to three NBA Finals. Only Phil Jackson and Gregg Popovich have led their teams to as much success as Spoelstra has in the past 20 years, but you'll never see him mentioned in the same breath as those two, mainly because the team's success is attributed to the obvious amount of talent.
That's exactly how Spoelstra wants to keep it. He doesn't need the extra attention or the distraction. He's going to continue doing the same thing he's been doing, which is finding a way to make all of the talent mesh.
Plus, has any coach been as innovative as Spoelstra has been? His idea to run small lineups that featured Shane Battier and LeBron James at the 4, following the injury suffered by Chris Bosh during Miami's title run in 2012, was imperative to the Miami Heat's championship. The lineup effectively neutralized the presences of Serge Ibaka and Kendrick Perkins.
Before the 2011-12 season and following the NBA Finals loss, Spoelstra convinced LeBron to play a more efficient game that was devoid of unnecessary shots from the perimeter. He saw too much potential in LeBron's ability to score around the rim to allow him to settle for shots that he should not be taking.
As a result, LeBron's three-point attempts have fallen, and his overall shooting percentages have reached meteoric levels, recently topping off at 57 percent. In turn, the Heat have won the past two championships because LeBron has embraced a game more focused on the interior.
Those are just two of the many adjustments that Spoelstra implemented to make it all come together.
He had to be innovative to make this experiment work. It was the only way LeBron and Wade—two players with identical games—were going to thrive in the same lineup alongside another All-Star in Chris Bosh. That 9-8 start was indicative of talent not being enough to be elite.
He's managed this team through their lowest points and their highest. All the while, he's kept the team close and without complaint. Every player has been comfortable in his role, no matter how reduced it has been.
Spoelstra wants to keep his role on this Heat team low-key. But those who know the game recognize that the role he's taken on has been as significant and difficult an adjustment as any player who has joined the team in the past three seasons.
This article is
What is the duplicate article?
Why is this article offensive?
Where is this article plagiarized from?
Why is this article poorly edited?

Miami Heat: Like this team?