College Football 2013: Power Ranking the Week 7 Tailgating Sites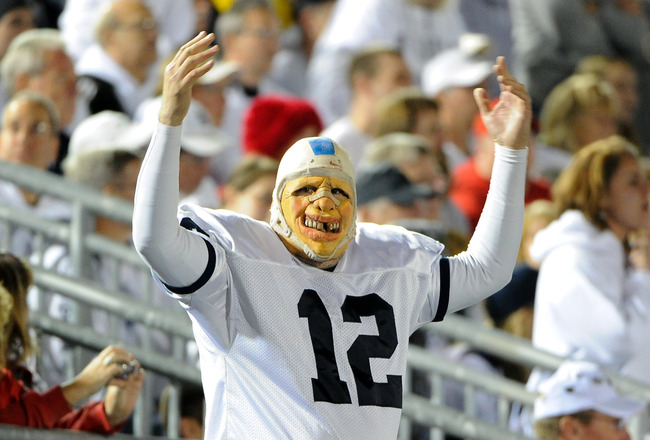 Rich Barnes-USA TODAY Sports
It's not quite Rivalry Week, but all across the nation, Week 7 features matchups between schools who know each other well and don't quite care for their opponent.
From the Red River Rivalry in Dallas to a trio of SEC showdowns, the football should be sound and the tailgate should be raucous.
Most teams only get seven or eight home football games per season, and half of those are reserved for cupcake opponents or stat-padding blowouts.
So when a good team finally comes trucking into town, and a close game is finally expected, you know the fans will put on a show.
7. (19) Northwestern at Wisconsin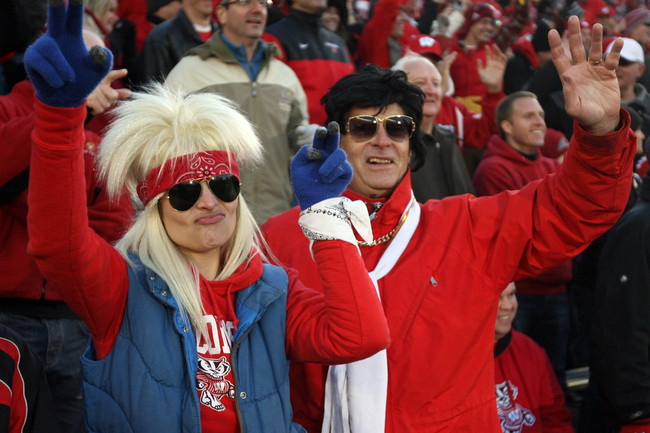 Mary Langenfeld-USA TODAY Sports
Location: Madison, Wi.
Madison is an underrated tailgate spot in general, home to some of the craziest and most, um, spirited fans in America.
This week's game should be particularly wild. Northwestern and Wisconsin are both coming off close losses to Ohio State, and both think themselves to be the second-best team in the Big Ten.
Camp Randall should be rockin', rollin' and jumpin' around for 60 full minutes.
6. (9) Texas A&M at Ole Miss
Location: Oxford, Miss.
It's fatiguing to watch all of the Johnny Manziel coverage, but there is one good thing about having a villain in college football: Home fans get up to roast him.
This tailgate, though, should extend past Johnny Football. The Rebs are happy to return home after an ugly two-game road trip in Alabama, and they need to ride the strength of their crowd to an upset win if they want to avoid a 1-3 start to conference play.
Expect the Grove to be out of control before kickoff and Vaught-Hemingway Stadium to be even more off the rails during game time.
5. (25) Missouri at (7) Georgia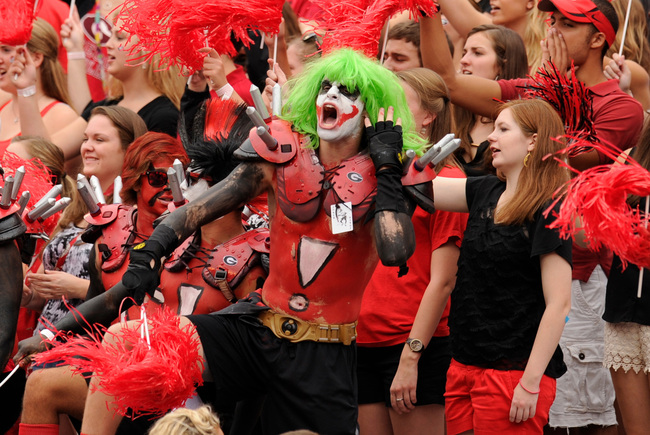 Dale Zanine-USA TODAY Sports
Location: Athens, Ga.
At least when it comes to football, Georgia fans might be the smartest in America. They know when their team is in danger and when it could use a lift.
With seemingly ever skill player besides Aaron Murray sidelined, the Bulldogs are in a definite "trap" situation, squaring-off with a ranked Missouri team that gave them trouble in Week 1 of last year.
It should get loud between the hedges on Saturday, as 'Dawg Nation tries to propel its hobbled squad to a win and keep its national title hopes alive.
4. (18) Michigan at Penn State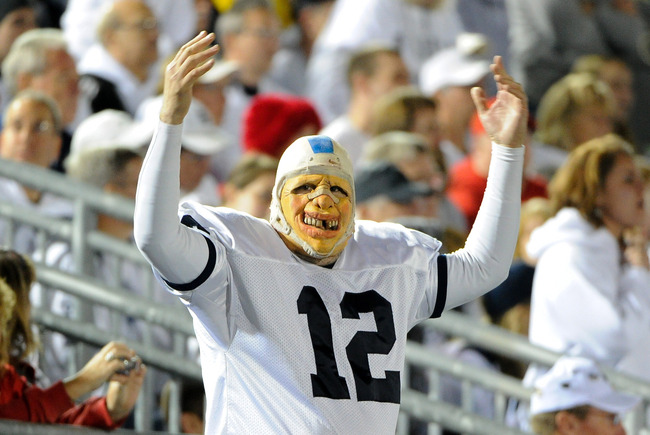 Rich Barnes-USA TODAY Sports
Location: Happy Valley, Pa.
Penn State isn't very good this year. It made that explicitly clear in an ugly, blowout loss at Indiana last week. This team might not get to six wins.
But State College won't care. Especially with hated Michigan—which, despite a 5-0 record, might also not be very good—coming into Beaver Stadium, these fans will get up and get loud.
No one will be talking about PSU's prospects at the tailgate. They already knew it couldn't go to a bowl, so that's nothing new. But the desire to see Michigan lose can fuel a pregame just as well as the desire to see Penn State win.
Chalk this one up to schadenfreude.
3. (2) Oregon at (16) Washington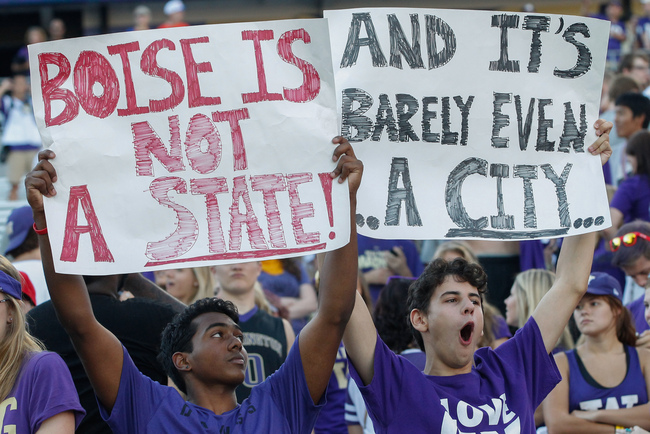 Otto Greule Jr/Getty Images
Location: Seattle, Wa.
U-Dub got up for the season-opener against Boise State, opening its new stadium in style with a 38-6 thrashing of the wrongly favored Broncos.
Imagine how crazy it will get for Oregon!
Seattle as a whole has proven to be one of the best sports cities in America. From the Seahawks home-field advantage to Sounders games and U.S. Men's Soccer qualifiers, the Emerald City always gets loud and knows how to throw a proper party.
Don't sleep on Huskies fans to affect this outcome on Saturday.
2. (17) Florida at (10) LSU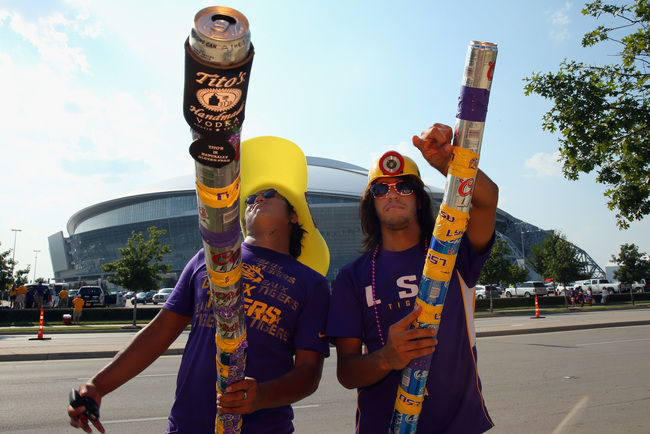 Ronald Martinez/Getty Images
Location: Baton Rogue, La.
We've already mentioned schadenfreude and its ability to fuel a student section. But nothing gets football fans up for a game like revenge.
Florida tripped up LSU's season in Gainesville last year, forcing the Tigers to stoop down to its level and play ugly in a 14-6 win. It was the start of an underwhelming season in Baton Rogue, and now the city would like to return that favor.
LSU fans can smell blood in the water, and Florida quarterback Tyler Murphy, whose only road start came at placid Kentucky, might start seeping on a national stage in the toughest environment of his life.
They'll be ready for him down in the Bayou.
1. Texas vs. (12) Oklahoma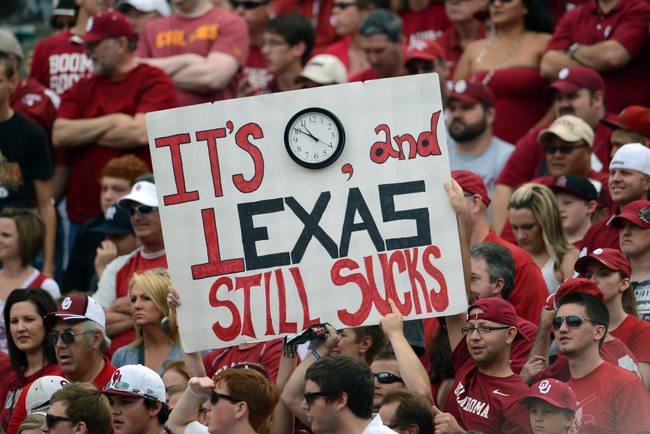 Matthew Emmons-USA TODAY Sports
Location: Dallas, Texas
This isn't the best game on the schedule, and with the way Texas is playing, there's a chance it might be over by halftime.
But man, to be a fly on the tents at that tailgate.
The utter glee on Sooners fans' faces could fuel a jet. The collective shape of both programs—Oklahoma as the Big 12 favorite; Texas in a state of disrepair—will have them in a merry tailgating mood.
You shouldn't kick a dog when it's down, but the way OU fans see it, a Longhorn is a cow not a canine. They'll want to enjoy this one.
Keep Reading