UFC Fight Night 29 Live Results: Play-by-Play and Highlights of Maia vs. Shields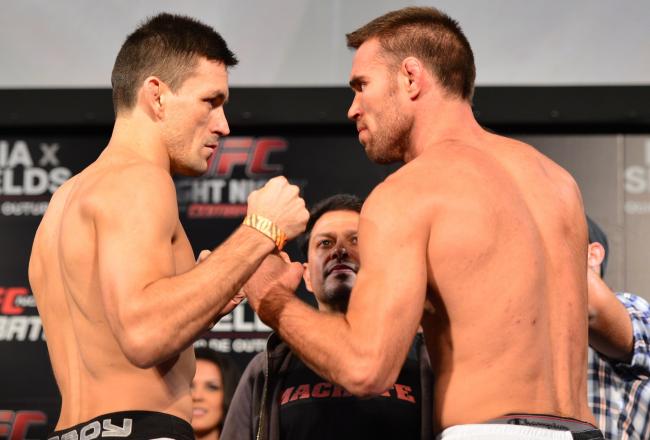 Jason Silva-USA TODAY Sports
Demian Maia was a relatively big favorite in his home country of Brazil but Jake Shields came in and silenced the crowd. And in the process, thwarted any talk of Maia getting a title shot against Georges St-Pierre. In the co-main, Dong Hyun Kim rendered Brazilian's Eric Silva momentarily unconscious with a monster left.
Although Brazilian fighters won 4 out of 6 on the main card, something tells me Brazilian fans are anything but satisfied with a .667 batting average.
Main Card (Fox Sports 1)
Jake Shields def. Demian Maia via split decision (48-47, 47-48, 48-47)
Dong Hyun Kim def. Erick Silva via knockout (punch) - Round 2, 3:01
Thiago Silva def. Matt Hamill via unanimous decision (30-27, 30-27, 29-27)
Fabio Maldonado def. Joey Beltran via split decision (28-29, 29-28, 29-28)
Rousimar Palhares def. Mike Pierce via submission (ankle hook) - Round 1, 0:31
Raphael Assuncao def. T.J. Dillashaw via split decision (28-29, 29-28, 29-28)
Signing off now, folks. Make sure to stick with us, though, for our totally awesome post-TUF coverage. That includes a blog from one of tonight's fighters, Jessamyn Duke!
Oh, and check out my Burning Questions Heading Into UFC 166 article! There's loads of good stuff there.
Time for The Ultimate Fighter!
You can check out Riley Kontek's live blog for the episode here.
Demian Maia vs. Jake Shields Official Decision
Jake Shields defeats Demian Maia via split decision (48-47, 47-48, 48-47)
Genuinely surprised. Again, I scored it this way but the judges have shown so much favor for the Brazilians tonight I wouldn't have been all that surprised to see the fight scored 50-0 Maia.
Huge win for Shields that vaults him back into the title picture after a couple years of floundering in the middle of two divisions. Major loss that slaps Demian Maia out of title contention.
Demian Maia vs. Jake Shields Round 5
Shields lands some jabs well and slips Maia's haymakers. Shields lands the weakest leg kicks you'll ever see in a main event, then shoots for a single. Maia sprawls well and escapes cleanly.
Back at striking range. Shields lands a solid body kick and again shoots for a takedown. He can't get it, though, and Maia is back against the cage. Shields holds it until the ref tells him to work, and Maia again gets double underhooks.
Shields escape but eats a left elbow. Striking distance and Shields continues throwing kicks and landing them. Shields lands a one-two but has little pop on his strikes. Shields shoots for a takedown but just doesn't have the energy to follow through.
Maia lands a decent hand, but can't follow it up. Shields shoots for another single, but can't quite secure it and again works things to the cage. Shields tries to get to a double, but simply can't get through Maia's defense.
They get separated and Maia lands a solid left hand, and then another, and then one more.
The horn sounds with another fairly close round. This one goes to the Brazilian. While I scored three rounds in favor of Shields, with how this night is going, I have little doubt that Maia will wind up with a victory.
10-9 Demian Maia
Demian Maia vs. Jake Shields Round 4
Maia looks like the better fighter standing, with a solid left hand getting through. Shields shoots for a single and presses things to the cage. Maia defends and gets double underhooks, and pushes Shields to the cage. Shields gets free of the underhooks, and the two fights are swapping position against the cage.
The ref separates them.
Shields stuffs Maia with a nice jab and shoots for a single. Maia sprawls and lands some punches, but Shields keeps on it. Shields looking tired as he looks at the clock. He shoots for another takedown, but Maia winds up on top.
Maia lands soft punches from top position, and the ref quickly separates them. Maia continues looking to land a left straight from southpaw, but can't find it. Both fighters are looking tired and the horn sounds at a perfect time.
10-9 Demian Maia
Demian Maia vs. Jake Shields Round 3
Shields is peppering Maia with his jab. Maia actually throws a big one-two, but whiffs completely. Shields and Maia are both keeping their chins upright and hands lower than they should be.
Shields goes for a double, Maia resists it and gets an underhook, taking the inside position in the clinch. Maia works for a double but Shields winds up with a briefly-held front headlock.
Maia is looking to use his hands in earnest, and finds a left on Shields. Maia gets hold of the back and runs Shields into the mat. Shields nails an amazing reversal and winds up in full-guard, then quickly jumps back to half-guard.
Shields is working hard for advances, but Maia, as expected, is making him work for every inch. Shields is doing a much better job staying on top than Maia has, and continues to land small punches and elbows. He lands a good elbow with 15 seconds left, and then another with 10.
The horn sounds with Shields, once again, perched on top of Maia.
10-9 Jake Shields
Demian Maia vs. Jake Shields Round 2
Both fighters hint at a takedown attempt. Shields gets a leg, Maia escapes. Maia takes a leg as well and Shields escapes. Shields' nose is bloodied from hitting Maia's shoulder on the initial takedown attempt.
Shields gets top position, and gets to Maia's guard. He lands some nice short elbows from top position. He advances to half-guard and works for a kimura. He continues to land hands to soften him up, but Maia works him back to full-guard.
Maia is trying to escape, but simply can't. Shields continues to maintain top position, landing hands and elbows, but doing very little actual damage. Shields again hops into half-guard, and begins threatening with an arm triangle. Again, Maia works him back to full-guard.
Maia keeps hinting at a triangle, but Shields is keeping too high up for Maia to get up. The horn sounds with Shields perched atop Maia, taking yet another round.
10-9 Jake Shields
Demian Maia vs. Jake Shields Round 1
Maia shoots for a takedown immediately and presses things to the cage. He bends Shields to the ground and finds himself in Shields' guard.
Maia throws some hands and elbows from top position. Shields works his way up, clinches and tries for a trip to no avail. Maia gets double underhooks and once again gets a takedown. He takes back mount on Shields standing, but Shields shakes him off and gets on top.
Shields on top, working for an advance,getting to half-guard, but immediately losing it, goes back and forth between half- and full-guard. Shields stops trying to advance and works on ground and pound, landing hands and elbows from top position.
Maia ties up Shields' arms in the final seconds, but the damage is done. Shields didn't have as much top position time as Maia, but did much more with it.
10-9 Jake Shields
Dong Hyun Kim by KO was +1800 on some books. #UFCFightNight

— Terrence Chan (@tchanpoker) October 10, 2013
Kim grabs the fence once, everyone cries about it. Erick Silva grabs the fence 4 separate times and no one even mentions it.

— MiddleEasy (@MiddleEasy) October 10, 2013
HE KILLED HIM!!!

— FrontRowBrian (@FrontRowBrian) October 10, 2013
Erick Silva vs. Dong-Hyun Kim Official Decision
Dong-Hyun Kim defeats Erick Silva via KO by Punch at 1:58 of round 2
Huge win for Kim after things were starting to look a bit shaky. His first finish in a long time and one of the few honest-to-goodness one-punch KOs in MMA.
Erick Silva's hype train simply has to be derailed right now.
Erick Silva vs. Dong-Hyun Kim Round 2
Kim eats a hard left, followed by a flying knee. Kim fires back, and seems fine. But against the cage, he eats a hard left. Silva once again grabs the fence to avoid a takedown attempt but breaks without much follow up to the initial damage.
Kim lands a good right, but is looking exhausted after his early-fight aggression. Silva isn't looking too spry, either, but is throwing the bigger hands and landing leg kicks. Silva goes for a big backfist, but misses, but lands a big punch afterwards that rocks Kim.
Kim clinches out of desperation but Silva gets better position. Kim avoids a takedown attempt with a timely fence-grab, and separates.
Silva goes for a couple big punches but Kim lands a massive left hook that completely ends Silva's night. He follows him to the ground, but the ref is quick to separate them. Amazing end to the fight.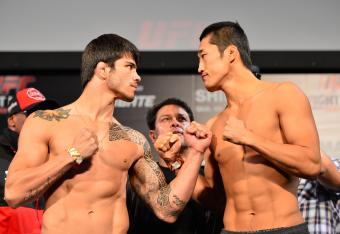 Erick Silva vs. Dong-Hyun Kim Round 1
Kim shoots for a takedown early. Silva breaks away and runs away. Kim keeps up, though, and pushes things to the cage. Kim is pursuing hard, though, and has Silva running away.
They clinch and Silva lands a hard knee, they break and Silva throws haymakers. Kim presses things to the cage yet again. Silva walks away, but Kim throws a hard one but misses. Kim is starting to look a bit exhausted, but gets Silva to the ground and takes his back and gets into mount.
This is where Kim shines, and Silva ties him up, but Kim doesn't seem too urgent. Silva works things to half-guard, but Kim stays on top after a reversal attempt. Silva then goes for a leglock, but Kim steps out of it and stays on top in half-guard.
Kim can't muster up much offense, but is staying on top with little resistance. Silva tries for another heel hook, but Kim stays standing and throws two big punches. The horn sounds without Kim doing much damage, but he completely controlled the pace of the fight.
10-9 Dong-Hyun Kim
Thiago Silva vs. Matt Hamill Official Decision
Thiago Silva defeats Matt Hamill via unanimous decision (30-27, 30-27, 29-27)
No surprise. Pathetic effort by both fighters. Hamill has an excuse, given his on-again-off-again fighting career, but Silva does not. Within 15 minutes he went from dark horse title contender to should-be one-time Bellator tournament semifinalist.
Thiago Silva vs. Matt Hamill Round 3
Hamill shoots for an early takedown but can't secure it. He flops over after out of tiredness, and Silva takes his back, but does absolutely nothing with it.
Silva starts looking to score easy points with leg kicks, and Hamill can't set up takedowns at all, and can barely even budge Silva with his takedown attempts. Hamill pokes Silva in the eye and they break the action. The doctor checks it out and the action continues.
Hamill eats another big leg kick and punch. Hamill lands a decent, but half-effort uppercut. Hamill simply seems content in coasting to the score card for the loss, though, and can't even muster up the effort to actually go for a serious takedown attempt.
He simply bends over, and Silva lands a couple nice knees to the body. Hamill can't even keep himself up at the waist, but Silva can't even take advantage of it.
The horn sounds mercifully. What a horrible, horrible fight.
10-9 Thiago Silva
Thiago Silva vs. Matt Hamill Round 2
Hamill trips up Silva with a hard leg kick but Silva throws a hard left that lands. Hamill goes for a spinning elbow that doesn't land, and isn't even hinting at a takedown.
Hamill throws the jab, Silva tries to counter and Hamill finally lands a takedown. Silva simply slips out of it, though, and they're back standing.
Hamill lands another nice left to the body and now Hamill is beginning to look tired, too. Thiago is landing numerous leg kicks now, though, but eats more punches from Hamill and is now bleeding from a cut on his forehead.
Hamill shoots, but Silva escapes with ease. Both fighters are majorly tired at the halfway point in the fight, and get buckled in for an ugly one.
Silva lands a hard right hand that floors Hamill. Silva takes the back and starts landing some hard hits from top position. Hamill escapes but is looking wobbly.
Hamill tries to clinch, but eats a combination for his efforts. Neither fighter has enough to mount a steady offense, though, and Silva can't follow up on any of his landed punches.
The horn sounds and fans should get buckled in for an ugly third round.
10-9 Thiago Silva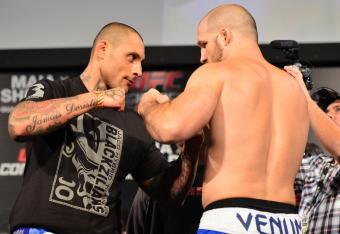 Thiago Silva vs. Matt Hamill Round 1
Matt Hamill scores a takedown almost immediately. Silva gets up quickly, though, and fires back with punches.
Hamill is throwing his jab and finding success. Silva lands a big right hand though, and rocks Hamill. Hamill recovers quickly and Silva is already huffing after two minutes. Hamill lands a big body shot but Silva is throwing that right a lot.
It's remarkable how sweaty and wheezy Silva already is, but he has so much power in his hands and kicks it is still a scary spot for Hamill as long as they stay standing. Hamill, though, seems completely content standing, and simply isn't taking him down.
Hamill lands a great shot to the body that hurt Silva. Silva continues throwing hands but is looking tired and sloppy. The horn sounds after a perplexing round with Silva looking awful and Hamill not even trying to wrestle.
10-9 Matt Hamill
Rousimar Palhares says if he wins Submission of the Night, he's donating it to Doctors Without Borders #UFC

— Damon Martin (@DamonMartin) October 10, 2013
So there's that, at least. Feels like a simple admission of guilt, though.
Fabio Maldonado vs. Joey Beltran Official Decision
Fabio Maldonado defeats Joey Beltran via split decision (29-28, 28-29, 29-28)
The Brazilian gets the nod in a close one yet again. I felt like this one was pretty straightforward for Beltran, but not as clear-cut as Dillashaw vs. Assuncao. Still, another questionable decision.
Fabio Maldonado vs. Joey Beltran Round 3
More unanswered jabs from Maldonado. Beltran just has no answer, and is starting to show some wobbliness.
Beltran lands one hard, but Maldonado literally waves it off. Beltran clinches up but eats an uppercut that clearly does damage, then works the body yet again. Beltran tries to make something happen in the clinch, but does little more than tie up Maldonado.
The ref separates them, and more jabs from Maldonado. Maldonado, though, looks quite tired as well, but still has enough speed in his left hand to keep Beltran at bay and at range. Beltran lands a hard right, though and starts to find punches with Maldonado against the cage. Beltran again clinches up and works for knees, but Maldonado lands loads of right hands to the body.
Maldonado slips one too low, and puts it to the cup. The action resumes shortly thereafter.
Beltran catches a second wind, and gets a good front headlock and pulls down Maldonado. Maldonado is bloodied up now, and Beltran lands knees to the thigh. Maldonado can't escape, though, and the horn sounds with Maldonado badly bloodied up.
Have to give the final round to Beltran due to his buzzer-beating volleys.
10-9 Joey Beltran
Fabio Maldonado vs. Joey Beltran Round 2
Beltran again presses the action, but walks into some good jabs from Maldonado. Beltran is already slowing down, though, and gets pressed to the cage for it.
Beltran, though, simply reverses position and lands some punches to the body. Maldonado fires back with a great combination, then again taunts to his chin and walks right back to the cage. Beltran lands a great elbow and knee, followed by some punches. The two break because of a lost mouthpiece from Maldonado. They reset in the middle of the cage.
Beltran is clearly tired, and is rearing back hard to get distance from Maldonado's jab. Maldonado is starting to press the action, and Beltran just keeps eating jabs. He goes for a clinch but puts no real effort into it, and Maldonado makes him pay for it with a combination to the body.
Beltran is struggling to keep his hands up. Beltran starts to open up in the final seconds, but at best they exchange evenly. Beltran is in a tough spot now, as Maldonado looks less-tired going into the third.
10-9 Fabio Maldonado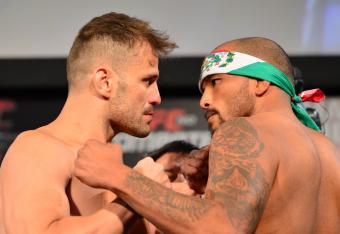 Fabio Maldonado vs. Joey Beltran Round 1
Joey Beltran eats an early Fabio Maldonado jab. Beltran clinches and works for a single but abandons it to punch his opponent in the cup. They break and go back to center.
They clinch right back up. Maldonado goes for body punches while Beltran goes for knees as the two swap access to the cage. Beltran, closer to center, works on a front headlock and lands a big body punch.
Beltran is scoring points with some good dirty boxing, landing rights to the body while peppering an occasional uppercut. Beltran spaces for a big right, but Maldonado counters with a huge left, but can't get away from the cage. Maldonado eventually goes for a guillotine but can't secure it well, and Beltran breaks away.
The ten-second clap sounds and Maldonado taunts Beltran by gesturing to his chin. The horn sounds, but it doesn't change the results.
10-9 Joey Beltran
Palhares has failed a drug test and refused to let two submissions go.

— Mookie Alexander (@mookiealexander) October 9, 2013
I love Palhares, but he released that hold WAY late. Expect a fine or suspension @ufc @BR_MMA

— Riley Kontek (@RileyKontekMMA) October 9, 2013
I like Jon Anik. But not asking Palhares about holding on to the leg lock was a disgrace to journalism.

— Jonathan Snowden (@mmaencyclopedia) October 9, 2013
Thanking your nutritionist seems like a bad idea when you got busted for illegal substances.

— Matthew Roth (@MattRoth512) October 9, 2013
Glad to see I'm by no means alone in criticizing Palhares. Mike Pierce could be looking at a serious knee injury for absolutely no reason.
Rousimar Palhares vs. Mike Pierce Official Decision
Rousimar Palhares defeats Mike Pierce by submission via ankle lock at 0:31 of round 1
Classless display by Palhares who held the leg for way too long. Truly looking like Pride FC here, between the elevated testosterone and dirty fighting. Hoping for a fine or suspension for Palhares.
This article is
What is the duplicate article?
Why is this article offensive?
Where is this article plagiarized from?
Why is this article poorly edited?