NFL Power Rankings: Breaking Down the League's Balance of Power After Week 5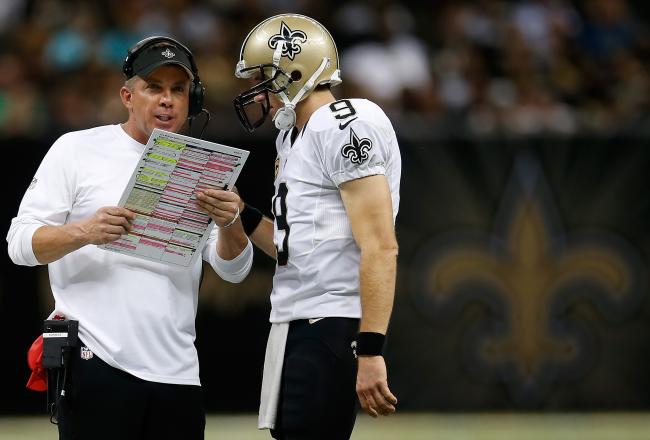 Chris Graythen/Getty Images
As if the NFL power rankings weren't jumbled enough heading into Week 5, the waters got even muddier after an unpredictable slate of games.
For starters, the Denver Broncos showed their first signs of vulnerability by allowing 48 to the Dallas Cowboys to bring the top team down to the rest of the pack a bit. And even at the bottom, the New York Giants appear intent on doing the impossible by giving the Jaguars a run for their money for the dubious No. 32.
That's all good with me. I wouldn't want my NFL season any other way than wild.
Langford's Week 6 NFL Power Rankings
1. Denver Broncos (5-0)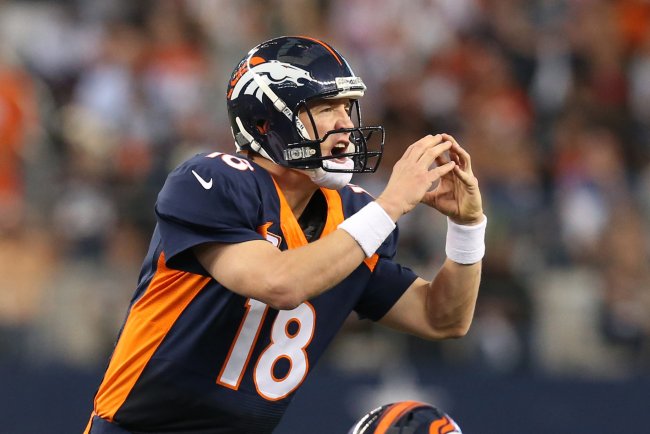 Matthew Emmons-USA TODAY Sports
Tony Romo threw for 208 more yards against the Broncos than he has in any other start this season. That's a problem for Denver.
It doesn't mean that pass defense is a fatal flaw. We've seen teams like the Packers, Saints and Patriots advance to the Super Bowl in recent seasons with subpar pass defenses.
Also, the Broncos' pass defense will get a huge boost with the return of Von Miller, but at least the rest of the league can breathe a sigh of relief that there is now some sort of blueprint on how to beat this impressive team.
2. New Orleans Saints (5-0)
The Saints proved last week in Chicago with a 26-18 road win over the Bears that they don't have to be in an indoor shootout to look good.
With an improving defense and a lethal offense, this team is scary. Good enough to warrant this video on a breakdown of a possible Saints-Broncos Super Bowl:
3. Seattle Seahawks (4-1)
I dropped the Seahawks behind the Saints in this week's rankings, but that is only because the Saints have been so impressive.
A loss on the road to the Colts is nothing to be alarmed about. The one area of concern I took away from that game is the amount of hits Russell Wilson is taking. With inconsistent pass blocking and his drive and ability to keep plays alive, the young quarterback winds up in harm's way often.
4. Kansas City Chiefs (5-0)
The Chiefs just keep plugging along in perfect fashion. This is a solid if unspectacular team.
Their remaining schedule is anything but daunting. Other than their two matchups with the Broncos, the only teams with a winning record Kansas City is set to face are the Browns in Week 8 and the Colts in Week 16.
This team is not going away.
5. Indianapolis Colts (4-1)
Andrew Luck isn't putting up eye-catching numbers, but he is playing amazing football. The second-year quarterback has thrown just two picks this season, and he's been excellent on third downs.
Combine those two qualities, and a quarterback will have his team in a position to win a lot of games.
Luck is fourth in the league in QBR, which is a good measurement for him, as it takes into account his effective running.
With Luck's MVP-caliber play and an improved defense, this Colts team is dangerous.
6. San Francisco 49ers (3-2)
The San Francisco Dr. Jekyll and Mr. Hydes have split their last four games, and not one has been closer than 20 points.
With a limited passing game and suspect receivers, that trend may continue. This team will be lethal with the lead and ugly when trying to play catch up.
7. Cincinnati Bengals (3-2)
Andy Dalton has to take steps on becoming a better quarterback. The third-year quarterback misses too many open throws—especially on deep throws.
So, while Cincinnati is coming off of a dominant defensive performance in which it limited the Patriots to just six points, that only serves to reinforce the fact that this team's ceiling remains too low with their suspect quarterback.
8. New England Patriots (4-1)
It appears that Rob Gronkowski is set to make his season debut this Sunday. It couldn't come soon enough for the Patriots.
Tom Brady needs a reliable weapon in the passing game.
The offensive line has been underperforming this season, and given the Patriots' lack of pass-catching talent, the hogs up front are the key to the success of this offense. The Patriots need Gronkowski to consume the defense's attention to open up the field for the rest of the offense.
9. Green Bay Packers (2-2)
Despite the fact that the Lions were playing without Calvin Johnson, it was an impressive defensive outing by the Packers to hold Detroit to just nine points.
It was also promising that the offensive line kept Aaron Rodgers from being destroyed against the strong front of Detroit.
Now the Packers, who are 0-2 on the road, need to prove they can win away from Lambeau and we can start talking about them as Super Bowl contenders again.
10. Detroit Lions (3-2)
This is a huge week for the Lions. They are facing the upstart Browns, and they have to erase the stain of their ugly performance against the Packers.
It will be too easy for this team to fall into familiar patterns of self destruction if it posts another lackluster effort.
11. Chicago Bears (3-2)
While the Bears continue to have an opportunistic defense, it is not the most stout unit. Teams aren't facing much resistance moving up and down the field against the Bears.
As long as that continues, the Bears' roller-coaster season will keep on chugging.
12. Baltimore Ravens (3-2)
I like Baltimore's defense, and I think this group will get better as the season rolls along. The pass rush definitely stepped up last week while sacking the Dolphins' Ryan Tannehill six times.
If the offense can find any consistency, Baltimore will go on another run of success.
13. Miami Dolphins (3-2)
The Dolphins have dropped two straight, and the defense is struggling. This has revealed that it may be too soon to start making postseason plans in Miami.
Still, this is a young team that is moving in the right direction.
14. Tennessee Titans (3-2)
The Titans are playing sound football on both sides of the ball. Unfortunately for them, the schedule deals them a rough blow. Five of the next eight games for the Titans will come against the Seahawks, 49ers, Colts (twice) and Broncos.
Cary Edmondson-USA TODAY Sports
15. Houston Texans (2-3)
Matt Schaub is regressing by the week or by the pick-six—both are acceptably consistent measurements of time in this case. That is destroying an otherwise solid team. There is also nothing to suggest that the quarterback is on the verge of turning things around.
16. Cleveland Browns (3-2)
The Browns' talented defense is finally starting to produce. Cleveland is ranked seventh in pass defense and eighth in rush defense. The Browns can contend for the playoffs with this defense.
17. Dallas Cowboys (2-3)
Only Tony Romo could throw for over 500 yards and five touchdowns and still walk away from the game facing a pile of criticism.
Still, the offensive explosion was a good sign in Big D, and the NFC East is Dallas' for the taking.
18. New York Jets (3-2)
The Jets have three more wins at this point in the season than I thought they'd have. Rex Ryan is doing a wonderful job with this group, and rookie quarterback Geno Smith is making nice strides.
19. Arizona Cardinals (3-2)
The Cardinals can show flashes of solid play.
This team still struggles in pass defense, but it is the woeful offensive line that will be the main factor in the Cardinals missing the playoffs.
20. Buffalo Bills (2-3)
With Thad Lewis lining up under center for the Bills, the sky is the limit for this franchise. I jest. I couldn't pick Thad Lewis out of a lineup of one.
Still, Bills fans should be happy with the strides—especially on defense—this franchise has made.
21. Oakland Raiders (2-3)
What Terrelle Pryor has been able to accomplish behind the Raiders' patchwork offensive line is impressive. The young quarterback and fundamentally sound football by this rebuilding franchise is a needed sign of hope in Oakland.
22. San Diego Chargers (2-3)
If San Diego had a defense, this team could be dangerous. Alas, the Lightning Bolts do not have a defense, and this resurgent year by Philip Rivers will be good for nothing but some nice offensive stats.
23. Philadelphia Eagles (2-3)
Chip Kelly is proving that flashy offensive systems can't make up for a lack of talent.
The Eagles ended their losing streak with a win against the Giants last week, but the Giants are terrible. Philadelphia is still going to struggle going forward.
24. Atlanta Falcons (1-4)
It is now an appropriate time to panic in Atlanta.
Dropping to 1-4 with a loss to the Jets at home is unacceptable for any team that wants to be considered a Super Bowl contender.
If that game wasn't a bad enough sign for the Falcons' chances, this is:
Report: Julio Jones broke the screw in his surgically repaired foot http://t.co/mpWvhtJbiF

— ProFootballTalk (@ProFootballTalk) October 8, 2013
25. Washington Redskins (1-3)
Sure, the Redskins defense looked wildly improved its last time out. However, the Raiders were seemingly so dismayed with quarterback Matt Flynn's ineptitude that he was cut shortly thereafter.
Needless to say, this porous group still needs to prove itself.
26. Minnesota Vikings (1-3)
The Vikings offense may or may not get a boost from the recently acquired Josh Freeman, and there is no doubt that improved quarterback play would help this team.
However, the Vikings still aren't going anywhere until the woeful play in the secondary picks up.
27. St. Louis Rams (2-3)
The Rams had an enjoyable Jaguars week by beating Jacksonville, 34-20. However, that 20 points is the most the Jags have scored this season, and for a Rams team that was supposed to be led by its defense, that is a terrible sign.
Sorry, Rams, it will be back to your dismal reality this week against the Houston Texans.
28. Carolina Panthers (1-3)
No team did more to disappoint me last week than the Carolina Panthers. I liked the way this defensive line had been playing, and I had Carolina pegged for making a nice run.
Instead, they faced the terrible offensive line of the Cardinals and were destroyed, 22-6, in a mistake-filled performance.
I will never forgive Carolina for tricking me into thinking it was a good team.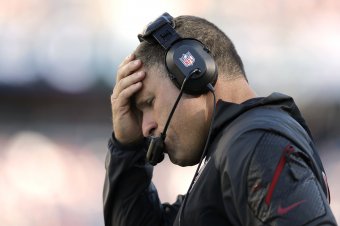 Winslow Townson/Getty Images
29. Tampa Bay Buccaneers (0-4)
Does anyone like the atmosphere around the Buccaneers right now? This underachieving group is the foil to the baseball team just over the bridge.
If I were Greg Schiano, I would be polishing my resume.
30. Pittsburgh Steelers (0-4)
Mike Tomlin might want to ask Schiano for resume advice.
The Steelers have a long tradition of coaching stability, but this team is such a mess at the moment, it is not out of the question that a complete overhaul will be ordered in Pittsburgh at the end of the season.
31. New York Giants (0-5)
Out of curiosity, I've asked friends and colleagues if they think the Giants could push the Jaguars for being the worst team in the league. The resounding answer is, "No way! The Giants would crush the Jags."
I think people are underestimating this group's talent to be bad.
The Giants have yet to hold an opponent under 31 points, the running game is nonexistent, the offensive line is bad and Eli Manning is drowning under the pressure of having to do everything.
32. Jacksonville Jaguars (0-5)
Don't let what I just said fool you into thinking that I'm under the belief the Jaguars have a single redeeming quality.
Of the categories of rushing and passing (for offense and defense), the only one of the four where the Jaguars are not ranked 29th or lower is in pass defense, and that is largely due to the fact that no team has to pass to beat them.
This article is
What is the duplicate article?
Why is this article offensive?
Where is this article plagiarized from?
Why is this article poorly edited?