World Cup Qualifying: Denmark vs. Italy Preview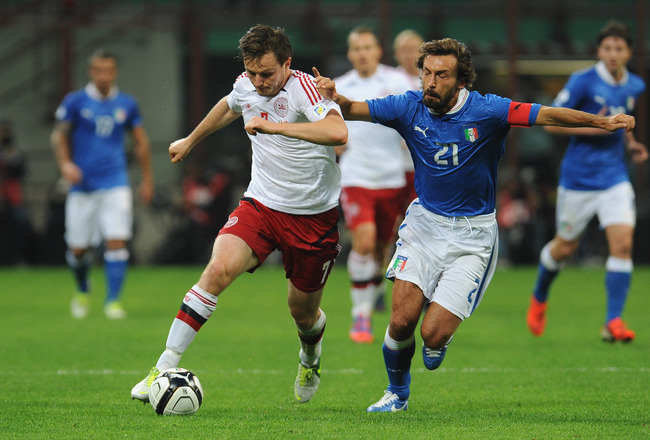 Valerio Pennicino/Getty Images
Qualifying for the 2014 World Cup is fast drawing to a close. Over the next week Europe will complete the first phase of its qualifying tournament. Some teams have already made it to the sport's biggest month, others were out of contention long ago, and some still stand on the razor's edge.
Friday's match between Italy and Denmark at Parken Stadium in Copenhagen includes the first and third of those categories. The Azzurri have already qualified for a place in Brazil, but Morten Olsen's men are fighting to move into second and secure a vital playoff position.
How will the match play out? Let's take a deeper look to see what the result might be.
Tale of the Tape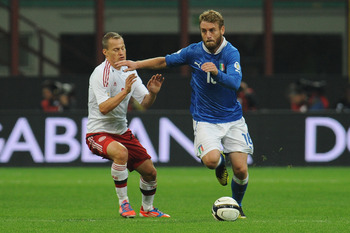 Valerio Pennicino/Getty Images
Denmark
Italy
1908
Founded
1910
Rod-Hvide
Nickname
Azzurri
23
FIFA World Ranking
4
3/38
Best/Worst Ranking
1/16

0 (Best result:

quarterfinals 1998)

World Cup titles

4 (1934, 1938

1982, 2006)

1 (1992)
European Championships
1 (1968)
Morten Olsen
Coach
Cesare Prandelli
Daniel Agger
Captain
Gianluigi Buffon
3
Head-to-Head Wins (1 draw)
8
Group Stage
Last World Cup
Group Stage
Group Stage
Last European Championship
Runner-up
WLLWW
Last Five Matches
D*D**LWW
*Lost in penalty shootout
**Won in penalty shootout
Denmark Overview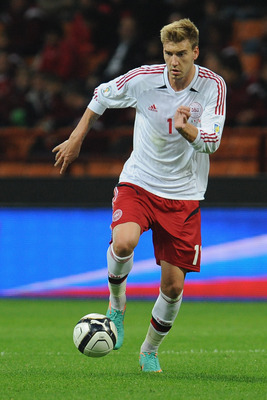 Valerio Pennicino/Getty Images
Fifteen months ago Denmark was tabbed by most as a team on the rise. Saddled with the Group of Death at Euro 2012, the Olsen Gang opened the tournament with a surprise win against the Netherlands and then fought hard in two razor-thin losses to Portugal and Germany.
But the beginning of World Cup qualifying was a major letdown. They opened with a pair of limp draws against the Czech Republic and Bulgaria before getting hammered by Italy 3-1 last October.
They dominated the Czechs away from home in their next game, only to be held again by the Bulgarians, and the worst was yet to come. A 4-0 humiliation at home by Armenia in June left them with only six points through their first six games.
Olsen rallied his team to a rebound in last month's round of qualifiers, beating Malta and getting revenge against the Armenians in Yerevan. Now, the Danes sit in third place in the table, a point behind the Bulgarians for the all-important spot in next month's qualification playoffs.
With their rivals facing a tricky trip to Armenia and then a home game against a Czech squad that could be nursing their own hopes for second place this month, second could be there for the taking. They luck out in getting to play Malta while their rivals don't, and they have to be hoping that maximum points can come at home against an Italian team already clear and dry.
Even if they do get six points, they need Bulgaria to drop points in order to clear them. If they drop any themselves, it could be lights out for their Cup dreams. They need a draw here at bare minimum, but all three points is really the only way they can be sure of giving themselves a chance.
Italy Overview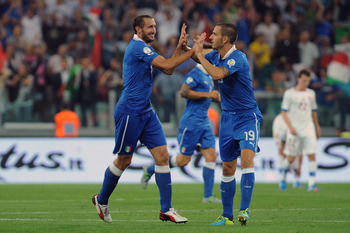 Valerio Pennicino/Getty Images
The Italians have qualified for yet another World Cup, as they have for every competition since 1962. While the Azzurri have looked rocky at times, six wins and two draws have been enough to qualify comfortably out of a group that contained a Euro 2012 quarterfinalist as well as the tournament's underdog darling.
Mario Balotelli has been the talk of the team during qualifying—for every reason imaginable. He's paced the group with four goals to his name, but also missed a critical match against Bulgaria due to suspension following his dismissal against the Czech Republic in Prague in June.
That red card may have been harsh, but questions still remain as to where his head is, particularly after coming off a three-game suspension for insulting a referee after a Serie A match last month.
He may not be on the field in Denmark on Friday for an entirely different reason. A left thigh injury could deprive the Italians of his dynamic presence for the second time in three qualifiers.
Even though the Italians are through to the tournament proper, don't expect Prandelli to let up. He's never lost a qualifying match for Euro or World Cup play, and there's still the matter of ending up in the seeded pot come the draw this December.
Hosts Brazil will be joined in Pot 1 by the seven best ranked teams once the FIFA's October world rankings are released. Italy currently sit fourth, and they have the buffer of the Brazilian hosts below them in the eighth spot should the unthinkable happen and several teams pass them. Still, victories are the best way to stay where they are.
Dropping out of the seeds is a very remote possibility, but don't look for Prandelli to experiment the way he often does in friendlies. This Azzurri squad will be looking for wins.
Key Players: Denmark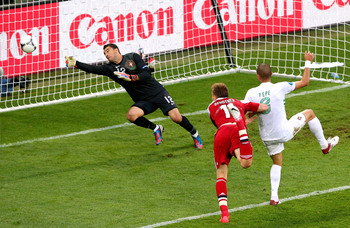 Nicklas Bendtner heads home one of his two goals against Portugal at Euro 2012.
Alex Livesey/Getty Images
Nicklas Bendtner
Despite becoming a spare part at Arsenal, Bendtner is still a critical part of the national team setup in Denmark. He's the only Danish forward on the roster for this month's games with more than five caps. Only one of his tender teammates—Toulouse forward Martin Braithwaite—has scored a goal as a full international.
Bendtner's season on loan at Juventus last year—unproductive as it was—will still give him some insight into the tendencies of Giorgio Chiellini and Leonardo Bonucci, the two men most likely to meet him in the center of defense.
With a bit of match experience in the Capital One Cup this season, Bendtner is going into the match with his wheels greased a bit. He will have to come up big if the Danes are to score an upset win.
Daniel Agger
The Danish captain will have a tall order ahead of him if he does face Mario Balotelli on Friday, although his familiarity with the Italian from his time in the Premier League will be an asset. If not, he will still have first-hand knowledge of one of the Italian strikers, Pablo Osvaldo, from Liverpool's early-season match against Southampton.
The Italians are bringing six forwards to this fray, two of whom—Giuseppe Rossi and Alessio Cerci—have been absolutely on fire in the Serie A this year. Balotelli or no Balotelli, Agger will have his hands full.
Christian Eriksen
A key man in Denmark's midfield, the Tottenham man has the second-most caps of the midfielders on Olsen's roster. He will be asked to match wits with the likes of Andrea Pirlo, Emanuele Giaccherini and Claudio Marchisio to win the battle in midfield and swing the advantage in Denmark's favor.
Key Players: Italy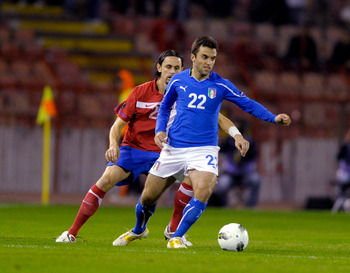 Giuseppe Rossi battles against Serbia in qualification for Euro 2012.
Claudio Villa/Getty Images
Giuseppe Rossi
There are few better stories in the European game this season than the resurgence of Giuseppe Rossi. The American-born Italy international scored 32 goals in all competitions for Villarreal in 2010-11, but tore his ACL against Real Madrid early the next season and then retore it in training later that spring.
The Yellow Submarine were battling relegation in his absence and Euro 2012 was fast approaching, so it's possible that he rushed himself back. After a grueling year-and-a-half rehab and a winter move from Villarreal to Fiorentina, Rossi is back with a vengeance.
He formed a lethal partnership with Mario Gomez in the first games of the season, then kept the momentum going when the German was injured. Overall he's scored five times in seven games in the league and another, along with an assist, in a Europa League appearance.
Rossi was one of Prandelli's top-choice strikers in qualification for Euro 2012, and his form has Italian fans salivating over the possibility of a partnership with Mario Balotelli. While such a partnership may be on hold with Balotelli's fitness uncertain, it's a prospect that could make Italy's attack truly frightening come the World Cup if Rossi remains on this tear.
Gianluigi Buffon
The Italian captain has had an uneven year at the club level so far. Uncommon mistakes have been made. Balls have rebounded that normally would have been held. Laxity from the back has gifted opponents goalscoring chances.
That said, every time he has been doubted, Buffon has produced an excellent performance. In last month's qualifiers he produced several stunning saves, and everyone thought his career was over three years ago after his back injury at the World Cup in South Africa. He's still one of the best keepers in the world and it's too early to write him off yet.
As a side note, he's also on the cusp of history. He currently stands equal with Fabio Cannavaro as the most-capped player in the country's history. The next time he steps on the field he will own that title all on his own.
Davide Astori
Juventus has boasted one of the best defenses in Europe over the last two seasons, but they've struggled early this season. That has a major effect on the national side, who draw on the trio of Andrea Barzagli, Leonardo Bonucci and Giorgio Chiellini as their top set of center-backs.
This is where Astori comes in. The Cagliari man was linked heavily with Milan over the summer, but the Isolani decided to keep him with an eye on a possible sale in the winter if they feel safe from the drop.
Barzagli has struggled with injuries this year and isn't on this roster. Bonucci has played wonderfully in possession but has had suspect moments in defense. Chiellini has struggled as well. With this month's games dead rubber, Astori may be able to slot himself into the lineup and make a name for himself for Prandelli.
Manager: Denmark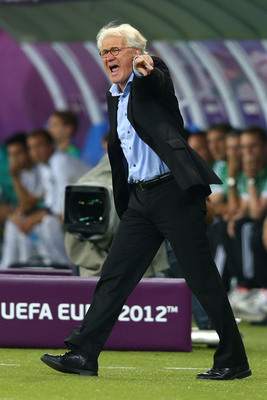 Alex Livesey/Getty Images
Morten Olsen has been the manager of the Danish national team for a whopping 14 years. Under his tutelage the team has qualified for two World Cups and two European Championships. Unfortunately none of his sides have ever gotten past the first knockout stage of any tournament they've played in.
Still, Olsen brings a vital stability that is rarely seen on the international stage.
An outspoken opponent of the 4-4-2 formation, Olsen has threatened to resign if ever forced by the Danish federation to make it his base formation. He instead prefers a 4-3-3 or 4-2-3-1 formation that can exploit swift wingers in the vein of Dennis Rommedahl, who may have been his best player over the 14 years.
Olsen has taken a perpetual underdog and claimed some major scalps in his 14 years. These include defending world champion France in the 2002 World Cup, a pair of friendly wins against England and last year's victory over a Dutch side that had been one of the favorites to win Euro 2012.
If any manager can coax a win out of this game, especially at home, it's Olsen.
Manager: Italy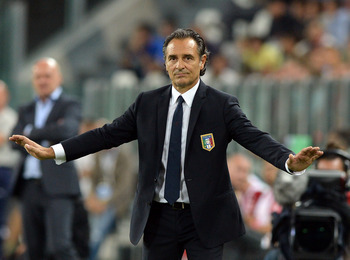 Claudio Villa/Getty Images
Cesare Prandelli continues to tinker with his team's tactics as the World Cup looms ever closer. In the last qualifier against the Czech Republic, Prandelli again employed a three-man defense, lining up in a 3-4-2-1 formation.
It's unlikely he does that this month. The Juventus trio of Barzagli, Bonucci and Chiellini—the players on the roster most proficient in playing a three-man line—will be incomplete. Daniele De Rossi, who has been occasionally converted from a midfielder to a back-three specialist for the Azzurri, is being left home to rest with qualification assured. Napoli's Christian Maggio, a specialist at right wing-back, is also staying with his club this week.
Given the makeup of his roster, it's not hard to assume that Prandelli will return to his bread and butter—the 4-3-1-2—for the end of qualification.
The Italy boss will have to make a decision about how much to rest players like Pirlo and Buffon. He enjoys experimenting in friendlies and in two dead-rubber games he may decide to do something similar.
Particularly interesting is the presence of Pirlo's heir apparent, Marco Verratti, on the roster. He could play some or all of the next two matches in Pirlo's deep-lying playmaker's role as the Italians work toward handing him the reigns full-time after Pirlo steps away from the international game next year.
Recent Matchups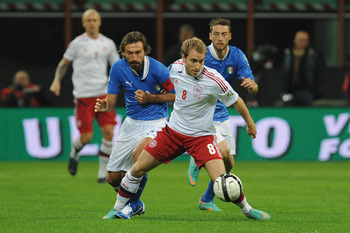 Valerio Pennicino/Getty Images
Italy and Denmark have only ever played each other twice during Morten Olsen's 13-year tenure. The first was a goalless draw in the group stage of Euro 2004. The second was 364 days ago at the San Siro in Milan.
Italy controlled that matchup from the outset. Goals within three minutes of each other by Riccardo Montolivo and Daniele De Rossi put the Italians on the front foot. William Kvist pulled one back before halftime, and the Italians lost striker Pablo Osvaldo to a red card just as the second half began.
The Danes were unable to press their advantage, and Mario Balotelli poked a beautiful pass from Andrea Pirlo past Stephan Anderson for the third Italian goal less than 10 minutes later. The Italians then hunkered down and protected their lead.
The Danes have only ever taken Italy down twice and haven't won against them since 1999. They did end up finishing ahead of the Italians in Euro 2004, but the Italians have dominated head-to-head matchups for nearly 20 years.
Key Matchup 1: Federico Balzaretti vs. Lars Jacobsen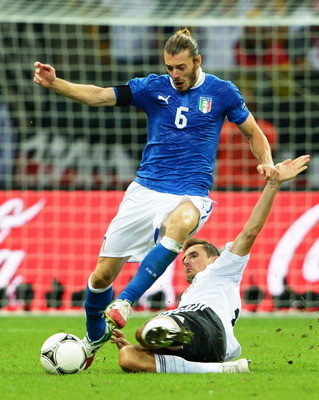 Claudio Villa/Getty Images
Euro 2012 revelation Balzaretti is back in the Azzurri setup after a lackluster first season with Roma. He's been swept up in the Giallorossi's start this year and is playing some of the best games of his life. He was the man of the match in Roma's derby victory over Lazio on September 22. He scored the game's first goal after 63 minutes and hit the woodwork with another shot while contributing four tackles on defense.
Prandelli's tactics are dependent on getting width through the full-backs, and Balzaretti will have to team face down Denmark veteran Lars Jacobsen.
The right-back has been capped 64 times—the most of any Danish player on the roster. If he can pin Balzaretti back in his own flank, it will deprive the Italians of much-needed width and severely hamper their attack.
Key Matchup 2: Antonio Candreva vs. Michael Krohn-Delhi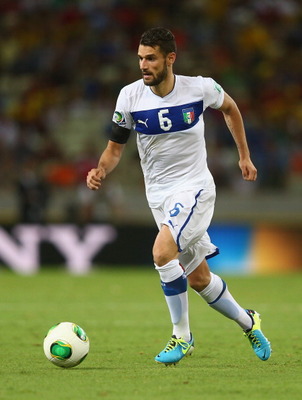 Clive Mason/Getty Images
Krohn-Delhi is a fixture in the Danish midfield. He scored twice at Euro 2012 and is the creative force in Denmark's attack. Creating on the wings, he can be a dangerous player for the full-back who isn't careful.
Matching wits with him will be Lazio man Antonio Candreva. He made an excellent impression at the Confederations Cup this past summer. Able to play centrally or on the wing, he'll look to supply the Italian strikers and keep Krohn-Delhi in his own half defending rather than menacing Buffon's goal.
Prediction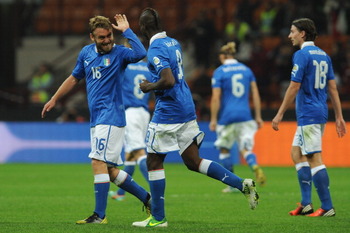 Valerio Pennicino/Getty Images
It's hard to tell where this game will go. The Danes have the advantage of having something to play for while the Italians have already secured their place in Brazil next year. Prandelli may also be without the services of his best striker. Even without Balotelli, though, Italy's roster oozes with talent, and it's easy to see them overwhelming Denmark.
Keep an eye on Giuseppe Rossi. I think he scores his first international goal since 2011, but it may not be enough to secure victory.
The Danes are desperate for points as they chase Bulgaria, and I think they get one here. My call here is a 2-2 draw.
Keep Reading