The Shield Have Lost All Effectiveness as McMahon Family Enforcers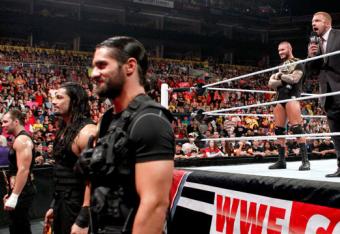 Triple H has taken control of The Shield...which seems like an oxymoron. Photo: WWE.com

It used to mean something when The Shield's music hit out of nowhere. It was like Stone Cold's glass breaking (on a smaller scale, of course). When you heard that music, you knew a beatdown was a comin'. Seemingly mercenaries for hire who sought to right all of the injustices committed in the WWE, the trio had no allegiances.
Until Triple H and Stephanie McMahon got involved.
Now the members of The Shield are spineless thugs, similar to the hyenas from The Lion King (Dean Ambrose is obviously the Whoopi Goldberg one). Whatever Triple H says, they do. No longer do they wait in the wings and strike when they see fit. Now they stand on the ramp, usually in between Triple H and the WWE roster, only running out to interfere when they're told.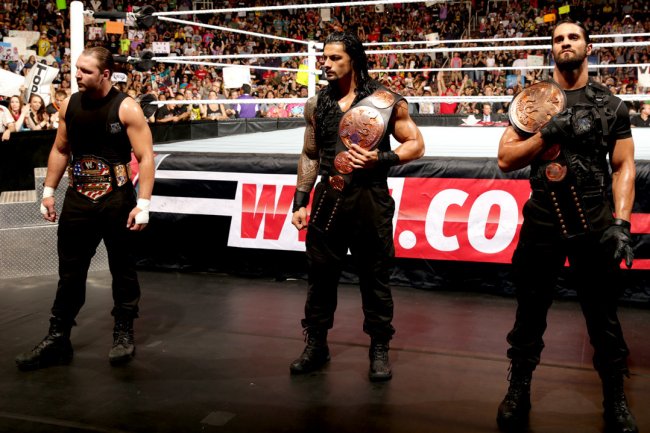 This isn't to say that The Shield isn't great in the ring, however. The faction still features three of the most exciting and dynamic Superstars on the WWE roster, and all three can put on a great match with anyone. Their wrestling ability isn't in question here.
What's in question is what made their characters and their gimmick so appealing. Their rogue, lone-wolf style made the WWE Universe believe that they truly didn't care who they were taking out, as long as the target was committing what they saw as an injustice. They pulled no punches, attacking Superstars like Ryback, John Cena, The Rock and even The Undertaker. They could attack anyone at any time, and that mystery is precisely what made them a compelling act to follow.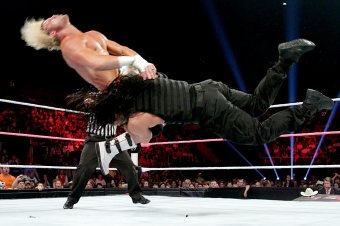 Now, we take away that mystery. The Shield has lost its backstage promo time slot to whoever Antonio Cesaro is giant swinging and has become less of an act and more of a match on the card. You can bet that you'll see the trio in a match or two, but that's about it. They've become entirely predictable. Someone is defying Triple H or Stephanie? The Shield will get a match with them. You won't see the gropu cutting edgy backstage promos any more.
Instead, you'll most likely see Dean Ambrose take on a solid midcarder followed by Rollins and Reigns in a tag team match against insert whatever face team seems to be hot this week.
The Shield was one of the most interesting things going in the WWE. The WWE kept The Shield's debut quiet. The team is made up of two young indy Superstars that most WWE fans weren't familiar with and a Samoan monster—and best of all, they can all go in the ring.
Their promos were solid, their match work was outstanding and their whole gimmick really worked. All of a sudden, making them corporate lapdogs just doesn't really make sense with their whole game, which compromises the integrity of their act.
Why are they siding with Triple H? Did he threaten to fire them? Did he convince them that the only way to right the WWE's wrongs was to work with him?
We'll never know.
Has The Shield lost its edge?
These youngsters who referred to themselves as "The Hounds of Justice" are three of the best in-ring talents in the WWE. They've put on some great matches since their debut, but there's one thing that truly made this act pop: their gimmick. Becoming enforcers to the McMahon family has taken away all of the edge from their act and has made them become purely in-ring entities, which isn't what they're all about.
"Believe in The Shield?" More like believe in Triple H and Stephanie and whatever they say.
This article is
What is the duplicate article?
Why is this article offensive?
Where is this article plagiarized from?
Why is this article poorly edited?