Florida vs. LSU: Live Score and Highlights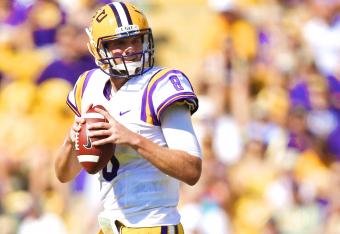 LSU 17, Florida 6—Final

The LSU Tigers controlled the Florida Gators for four quarters en route to a 17-6 victory.
In the victory, the Tigers looked more like their old selves—running the football effectively and playing suffocating defense.
With a commanding victory over the best defense LSU will likely face in 2013, the Tigers have set themselves up for a national championship run.
Here are the 10 things we learned from the Tigers victory against Florida: http://bleacherreport.com/articles/1808661-florida-vs-lsu-10-things-we-learned-from-tigers-win
I'm off to collect quotes from the locker room, friends. Keep it here, as I'll upload 10 things we learned in the Tigers' win.
For Florida, this loss hurts, but it's not devastating. With Georgia losing today, Florida still controls its own destiny by winning out in the SEC East. Tyler Murphy will grow from this experience.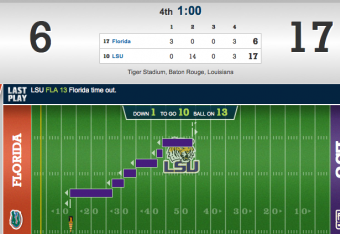 Add after: Here's a quarter-by-quarter scoring breakdown, via NCAA.com.
It turns out LSU's defense isn't a lost cause after all. With Jalen Mills manning the nickel position, this defense frustrated Florida's offense all night with its athleticism in the secondary and penetration upfront. The Tigers gave up just 240 yards in the victory.
As the Tigers were milking the clock, the Gators commit a personal-foul penalty. Ronald Powell got an extra shot in after the play.
We can't talk about Easley's absence enough. The Tigers manhandled this defensive line without him, as Hill had his way for four quarters.
Tigers are looking to just run these last four minutes off of the clock.
Jordan Allen was shaken up on the play, and he is being helped off of the field.
Jalen Mills has become a weapon at the nickel position. That sack on third down was huge, which inevitably led to the Gators turning the ball over. This LSU defense has found new life.
Here is the fake punt.
After taking a beating in the press, you have to praise this LSU defensive line. It came to play today, causing pressure and batting down balls.
On 4th-and-10, Murphy handles the noise and completes to an open Ahmad Fulwood.
Many LSU fans have already exited the stadium, but those that have remained are certainly letting their voices be heard. Loudest it's been all game.
Murphy and Burton weren't on the same page on that exchange, which led to laughter echoing throughout Tiger Stadium.
Florida's longest pass attempt came from its punter today.

— Luke Johnson (@lukejohnson44) October 12, 2013
Tigers defense overwhelmed Florida on that three-and-out.
But hold the phone—Will Muschamp gives his offense new life with a great fake-punt conversion.
The Tigers are doing what they teach you in junior high ball—swarming.
If one defender misses, the next is right on top of Florida. Though this isn't the most potent offense, this is a complete 180-degree turn from the Georgia game.
#LSU's Jeremy Hill ran for 46 yards on that drive -- two more than the Tigers had the entire third quarter.

— Matthew Harris (@MHarrisAdvocate) October 12, 2013
LSU 17, Florida 6—4th Quarter (7:59)
Colby Delahoussaye remains perfect on the year, as LSU answers Florida's field goal.
Mettenberger looks a little gimpy after taking a shot to his leg. He's hobbling around between plays.
Hill is carrying the Tigers on his back in this one.
He just went over 100 yards for the game after that 26-yard run.
Even though Alabama remains on the schedule, it's hard not to believe this will be the best defense LSU plays this year.
The Gators' athleticism is off of the charts.
Florida's secondary is frustrating LSU's wide receivers. Gators are blanketing them with closing speed.
Landry's catch was a huge pickup for the Tigers, as LSU nears the 50-yard line.
Hill just went from trying to capture the sideline with his speed to lowering the boom on a defender. He is, without a doubt, one of the best running backs in the nation.
Barrow is playing his best game yet. He has a career-high 13 tackles.
HUGE stand from LSU

— The SEC Logo (@SEC_Logo) October 12, 2013
LSU 14, Florida 6—4th Quarter (12:11)
Great penetration again for LSU's defense.
The applied pressure on Murphy forces an incompletion, and the Gators settle for three.
Did that seriously just happen?
Gators attempt a fumblerooski and get negative yards on the play.
This article is
What is the duplicate article?
Why is this article offensive?
Where is this article plagiarized from?
Why is this article poorly edited?