Why Jets Fans Have Every Right to Be Excited About Geno Smith's Development
October 10, 2013

Scott Cunningham/Getty Images
Five games into his professional career, we don't know exactly where Jets quarterback Geno Smith will end up. Right now, though, he's showing the necessary signs of development to give hope to Jets fans that his future is bright.
With regards to trajectory, the arrow doesn't have to be pointing up 100 percent of the time, but it's promising if the line of best fit is consistently on an incline.
He's showing improvement in key areas, including ball security, overall accuracy and decision-making. He's not yet a finished product, but no one expects him to be just five games into his career. With continued focus on the mental aspect of the game, he's well on his way to polishing off the key aspects of his game that need improvement for him to become a viable NFL starter.
In going 16-of-20 (80 percent completion percentage) for 199 yards, three touchdowns and a 147.7 passer rating against the Atlanta Falcons on Monday night, Smith posted one of the 10 best performances by a rookie quarterback in NFL history, and none of the performances above Geno's on that list ever came before Oct. 20. 
That's superlative, because the most important number is what doesn't show up on his stat line: turnovers (as in, he had none of them for the first time in his young career).
That wasn't by mistake, either. There was a concerted effort by Geno to take care of the football on Monday. 
Rarely did we see Geno throw to a receiver that wasn't wide open. You could make the case that some of those receivers were open because of mistakes by the Falcons secondary, and you could also make the case that Jets offensive coordinator Marty Mornhinweg helped him out by simplifying his reads.
However, that's not giving Geno enough credit for taking what the defense gave him, which is one of the first liens in the job description for any NFL quarterback.

He hit a 47-yard strike to tight end Jeff Cumberland (circled in yellow) in the second quarter, setting the Jets up in the red zone in the process.
Geno also did a nice job with a play-action fake to running back Bilal Powell, freezing the linebacker over the middle. The fake created a window big enough to drive a Hummer through.

The ball could have been thrown just about anywhere in the vicinity of Cumberland and have been caught, but Smith put the ball in the perfect spot to hit the tight end in stride, allowing him to break free through the middle of the Falcons defense and pick up an extra 25 yards or so after the catch.
Smith was criticized coming out of West Virginia for lacking deep accuracy at times, but according to Pro Football Focus (subscription required), Smith currently ranks second among starting quarterbacks with a 58.3 accuracy percentage on throws traveling 20 yards or more through the air beyond the line of scrimmage. His 24 deep attempts are also the sixth-most in the NFL.
Let's not get it twisted, though. Smith was accurate even when he wasn't throwing to wide open receivers running free through gaping holes in the Falcons defense.
What about his touchdown pass to Cumberland? That was just a brilliant throw by Smith to put it in the one spot his receiver could make a play.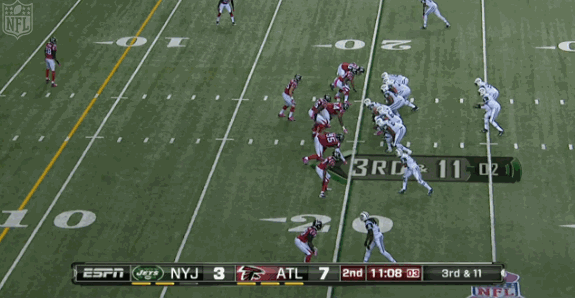 Cumberland ran a seam route against Falcons linebacker Joplo Bartu, who was on him in man coverage. Bartu was caught in trail technique when Cumberland got into his route, turning the linebacker around at the most inopportune time—Bartu couldn't turn to look for the ball before Cumberland was leaping over him for the touchdown catch. 
With a solid back-shoulder throw, Smith put the ball in a spot where only his receiver could make a play on the ball, reducing the risk of an interception.
Between the touchdown and the long completion to Cumberland, it was clear that the Jets were looking to attack the Falcons linebackers. In that sense, Smith gave Jets fans something else to be excited about: he knows not only how to identify a team's biggest weakness, but he also knows how to exploit said weakness. 
His smart decision-making went beyond simply attacking weaknesses and throwing to open receivers, though.

In fact, he was so smart about taking care of the football, and he took negative plays when it meant avoiding turnovers. That happened in the second quarter, on a 1st-and-10 from the Falcons' 19-yard line. 
Smith scanned the field and found that no one was open. So, instead of throwing it into coverage, he scrambled to his left.
This may have created a haunting memory for some, who remembered a similar situation against the Tennessee Titans in Week 4. 

Smith proved that he learned his lesson from that experience, though. Instead of carelessly running around with one hand on the ball where anyone could reach it, he put it away (high-and-tight technique) as defenders closed in on him.
With three fumbles already this season, Smith needed to show some ball security beyond simply avoiding interceptions.
While this looks like a bad play in the box score, this is as good a play as could be expected in this circumstance.
Another positive: he also didn't force an ill-advised throw into coverage.
There's something to be said for simply throwing the ball away. If there was a better alternative to his running out of bounds, it would have been to throw it away where no one could catch it. He has thrown away 10 passes this season, which is tied for most in the NFL, but those are good decisions by the quarterback, even if they negatively impact his overall stats. 
He knows the Jets can't afford multiple turnovers in one game if they're going to win. That's a lesson he learned the hard way by turning the ball over four times against the Tennessee Titans in the team's 38-13 loss in Week 4.
He had already owned up to those mistakes in private to his teammates. It was clear, in many ways, that he was owning up to his mistakes through his play on the field on Monday night.
He's been much smarter with the football, and he has now thrown 41-straight passes without an interception—a trend which may continue against the Pittsburgh Steelers this week, who have yet to intercept a single pass this season.
We know Smith has the big arm and all the physical talent he needs. Now, he is showing that he also has the between-the-ears talent to develop that physical talent and become a successful NFL quarterback. 
Erik Frenz is also a Patriots/AFC East writer for Boston.com. Unless otherwise noted, all quotes obtained firsthand or via team news releases.