Someone turn the difficulty up. It's too easy for Tomas Hertl.
Tuesday night's game between the San Jose Sharks and the New York Rangers started as a contest and quickly devolved into a one-man show for the Sharks rookie.
In his first week of his NHL career, the 19-year-old forward from the Czech Republic eviscerated the Rangers for four goals at the SAP Center, tying a franchise record. Fittingly enough, Hertl's fourth score was the crown jewel of the bunch—a between-the-legs roof-shot that dropped jaws and put the Sharks up 8-2 on the Rangers.
Brandon Wenerd of BroBible.com scrounged up video of the amazing shot, and @CJZero provides us with a GIF of the incredible goal you won't be able to stop watching.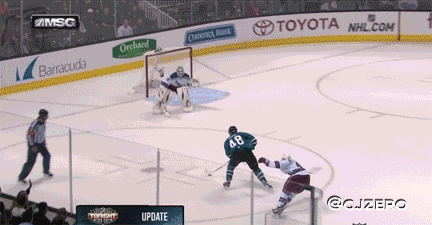 .GIF via @CJZero
Hertl's mother and girlfriend were also in attendance, coming all the way from the Czech Republic to watch the game. Clearly, they were glad they didn't miss this one.
Screenshot via @SJSharksOfficial
With that goal, Hertl became the youngest player to score four goals in an NHL game since March 30, 1988—a record previously held by Jimmy Carson.
The Hertl hype was high coming into the season, and while it's early as early can be in the season, the 17th pick of the 2012 NHL draft hasn't failed to deliver. The young forward has six goals through three games, and if he can manage consistent output at even half this clip, he's on course for a big season.
Even more heartening for Sharks fans is the fact that Hertl was on the ice for a grand total of 11 minutes. Yep—he averaged over one goal per three minutes of play.
None too shabby, kid.
Join me on the Twitters for sports news/general lawlessness.