NFL Power Rankings: How League Shakes Out Heading into Week 6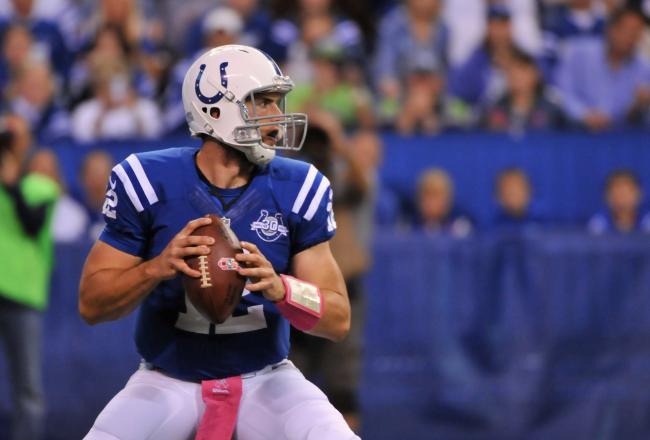 Jonathan Moore/Getty Images
After Week 5 of the NFL season, the power rankings have done some considerable shaking up. Entering play in Week 6, it's becoming easier and easier to see which teams will be consistently good—or consistently poor—for the remainder of the season.
This makes crafting power rankings much less of a pain.
After two undefeateds went down in Week 5, there was sure to be a shake-up in the top 10 of the rankings. That's not all that has occurred, as there has been movement at nearly every point of the rankings this week.
For future reference, I would expect the same to happen after Week 6 as well.
1. Denver Broncos (5-0)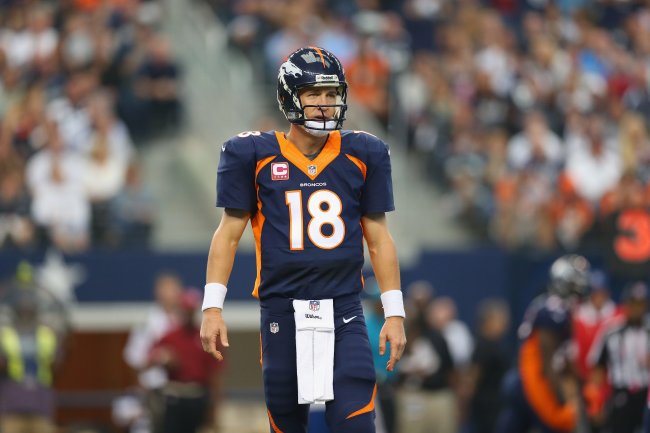 Ronald Martinez/Getty Images
The Denver Broncos are unstoppable. Go ahead. Try them.
Even after allowing 506 passing yards to Tony Romo last week—which is a concern for the defense—Denver managed to score 51 points to defeat the Dallas Cowboys by three.
There's no better team in the NFL, and it could be a while before we see anything in the loss column.
2. New Orleans Saints (5-0)
The New Orleans Saints are an offensive juggernaut. They aren't on the level of Denver, but Brees has several weapons that he isn't afraid to throw to.
Defensively, the Saints are surprisingly solid. Defensive coordinator Rob Ryan has done a great job with his unit and has made it both consistent and overwhelming for opposing quarterbacks.
Week 6 is a true test, however, as the Saints face the New England Patriots.
3. Indianapolis Colts (4-1)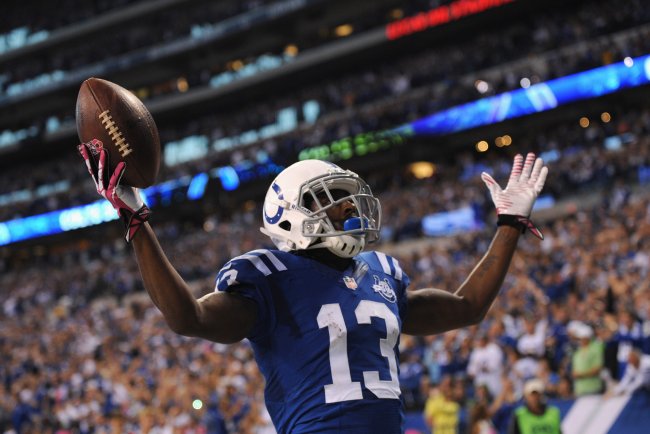 Jonathan Moore/Getty Images
After knocking down two top-tier teams this season—the San Francisco 49ers and Seattle Seahawks—the Indianapolis Colts are as deserving as any to be in the top five.
Andrew Luck has shown nice progression from his rookie season, T.Y. Hilton is breaking out in a big way, and Trent Richardson represents an immediate upgrade over Ahmad Bradshaw. Bradshaw, who is now out for the season according to CBS Sports, will have to watch from the sidelines.
The dual-back system was Indy's intent after acquiring Richardson from the Browns, but using him as the feature back may work better for his overall production. Getting him more carries will give him more opportunities to rip off quality runs.
Dominic Brown will now back up Richardson, and he'll get a few carries here and there as well.
The defense is solid, but it's all about the young offensive studs in Indianapolis. I know I'm already looking forward to Week 7 when Indy takes on the Broncos.
4. Kansas City Chiefs (5-0)
The Kansas City Chiefs were almost handed their first loss in Week 5—that is until Ryan Fitzpatrick of the Tennessee Titans decided to throw two fourth-quarter interceptions.
Which team will stay undefeated the longest?
The defense is stout, Jamaal Charles is running effectively, Alex Smith is managing games, and Andy Reid is getting the most out of his players. The Chiefs are easily one of the top teams in football.
5. Seattle Seahawks (4-1)

The Seattle Seahawks fell victim to the Colts in Week 5, and the defense failed to stop the fourth-quarter drives of Andrew Luck. One of the top units in the league, the defense will need to pick up its performance in the clutch.
There's still no beating Seattle at home, so this loss doesn't worry me in the least. The Seahawks should bounce right back against the Titans in Week 6.
6. New England Patriots (4-1)
There's good news and bad news for the New England Patriots.
The good news is that Rob Gronkowski is back for Week 6, according to Ed Werder of ESPN. Also, Danny Amendola should play again after seeing his first action in weeks during Week 5.
The bad news? Well, New England dropped its first game of the season last week to the Cincinnati Bengals. The Pats have a tough matchup against the Saints in Week 6, too.
7. San Francisco 49ers (3-2)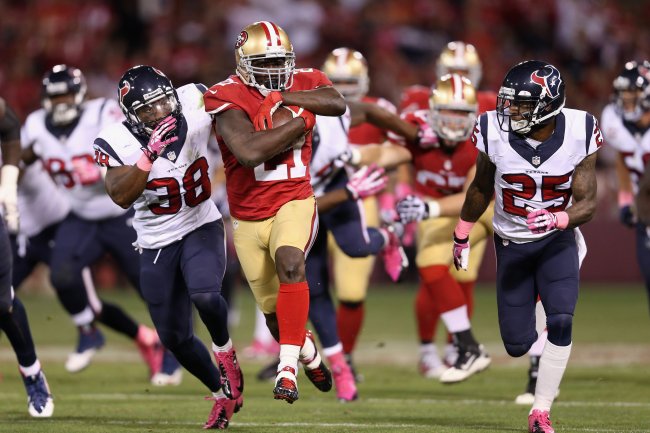 Jeff Gross/Getty Images
The run game has been explosive for the San Francisco 49ers in the past two weeks. They've ran the ball 76 times for an amazing 396 yards in wins against the Houston Texans and St. Louis Rams.
That's the type of football San Francisco needs to play with Colin Kaepernick struggling through the air. A running game that moves the chains and a defense that stops the opposition are two key components of championship-caliber teams.
8. Cincinnati Bengals (3-2)
The Cincinnati Bengals are one of the most perplexing teams in football.
Yes, they were able to defeat the Patriots in Week 5. That's currently the team's highlight during this young season. However, a team with so much talent should be playing better, right?
The Bengals defense is a dominant unit, allowing just 316.8 yards and 17.4 points per game. This ranks the Bengals eighth in the NFL.
Are the Bengals for real?
Andy Dalton and A.J. Green have struggled connecting on passes at times this season, and there's still no favorite between BenJarvus Green-Ellis and Giovani Bernard at running back.
The Bengals' issues on the offensive side of the ball need to be fixed—pronto. They are a team that could surprise others in the AFC if they get their act together on a consistent basis.
9. Chicago Bears (3-2)
Jay Cutler and the Chicago Bears are coming off a tough loss to the Saints, and a bye week in Week 6 may be exactly what the team needs to regroup and come back stronger in Week 7.
Cutler is playing well, Alshon Jeffery has been a surprise at wide receiver, and the team's defense is just as good as it has been in previous years. The Bears are a threat to the top teams in the NFC.
10. Green Bay Packers (3-2)
Despite a poor defense that's allowing 24.2 points and 374.8 yards per game, the Green Bay Packers still find themselves at 3-2 and in the top 10 of the power rankings.
Aaron Rodgers has played well through five weeks, and the Packers have found a running game between a bevy of running backs. They rank fifth in the NFL in rushing with 141.0 yards per contest.
Having a balanced attack is something new in Green Bay, but the defense is a serious question mark moving forward.
11. Baltimore Ravens (3-2)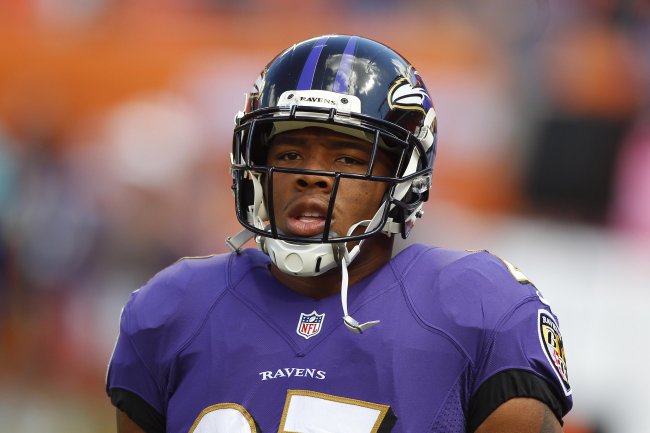 Robert Mayer-USA TODAY Sports
Ray Rice finally ran effectively on the ground in Week 5, but he has still yet to record a 100-yard rushing game. He totaled 102 yards from scrimmage because of his impact in the passing game, however.
Establishing some consistency on the ground will go a long way for the Baltimore Ravens. They haven't looked like the team that won the Super Bowl last season, but then again, they didn't exactly look that sharp during the 2012 regular season either.
12. Detroit Lions (3-2)
The Detroit Lions could have made a big-time statement against the Packers last week, but the absence of Calvin Johnson proved to be too much for Matthew Stafford to handle.
The Lions are much-improved this season. Reggie Bush gives the team consistency both on the ground and in the passing game, and the defense isn't as laughable as it has been in seasons past.
13. Miami Dolphins (3-2)
The Ravens handed the Miami Dolphins a three-point loss in Week 5, but a bye in Week 6 will give them time to correct the issues they had.
Ryan Tannehill looks great in his second season as a pro, and Brian Hartline, Mike Wallace and Charles Clay are helping to make things easy for the sophomore quarterback.
It will be interesting to see how consistent they remain.
14. Tennessee Titans (3-2)
No Jake Locker, no problem for the Tennessee Titans. Well, no problems until replacement quarterback Ryan Fitzpatrick decided to throw two costly interceptions in the fourth quarter against the undefeated Chiefs.
Tennessee continues to be a thorn in the side of opponents. The Titans don't give away games (at least until late), and they play hard at all times. Their defense is strong, but Fitzpatrick won't be the guy that leads them to many victories. They need Locker back.
15. Cleveland Browns (3-2)
Jason Miller/Getty Images
The Cleveland Browns are actually a pretty good football team. There, I said it.
Left for dead after trading Trent Richardson to Indianapolis, the Browns are now 3-0 since the trade and have enjoyed breakout performances from a number of players.
Brian Hoyer was the first to break out, but he's now out for the season after tearing his ACL. With Brandon Weeden back in, tight end Jordan Cameron and wide receiver Josh Gordon will look to continue their strong starts.
Running back Willis McGahee was signed to be the feature back after the dealing of Richardson, and he actually hasn't been all that bad. With a few weeks in the offense under his belt, McGahee ran for 72 yards and a touchdown last week.
The Browns take on the Lions in Week 6, and it'll be interesting to see if Cleveland's hot streak can slow down the offensive attack of Detroit.
16. Dallas Cowboys (2-3)
Tony Romo has been exceptional, amassing over 1,500 yards through the air and throwing for 13 touchdowns and just two interceptions. Despite these numbers, the Dallas Cowboys are under .500.
The defense has let Dallas down at times, even though it is a pretty strong unit. The team's play on that side of the ball will be the key in Week 6 when Dallas faces the Washington Redskins. Containing Robert Griffin III and Alfred Morris will be priority No. 1.
17. New York Jets (3-2)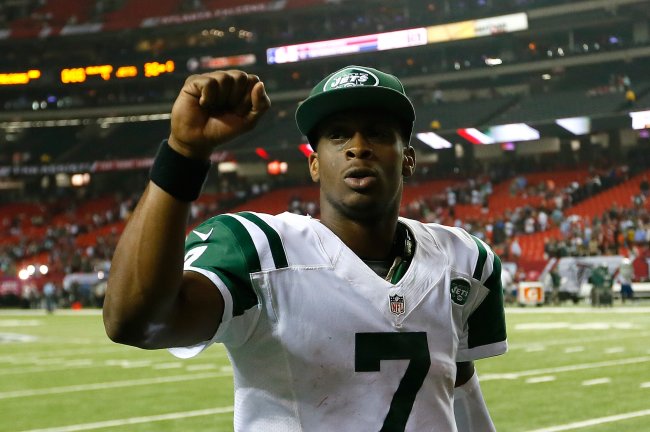 Kevin C. Cox/Getty Images
The New York Jets are 3-2. Let that sink in for a second.
Got it? Good.
Geno Smith has done just enough to lead his team to three victories. He's yet to put up gaudy numbers, but it's amazing that he's been so good at moving the chains without top-notch weapons to throw to.
Bilal Powell is fourth in the AFC in rushing with 330 yards, though the leash on him may actually be pretty short given Chris Ivory and Mike Goodson's presence on the roster. He's performed quite well up to this point, though, so replacing him shouldn't even be a thought.
The defense is allowing 23.2 points per game, but that's on just 299.0 yards per contest. That's the second-lowest total in the NFL.
The Jets aren't great, nor will they be a consistent winner this season. That being said, the Jets are good. They've exceeded expectations and really shouldn't be taken lightly.
18. Houston Texans (2-3)
One of the biggest disappointments this season comes from Houston. The Texans have the league's toughest defense in terms of yards allowed per game (260.2), but the unit still allows big plays in clutch situations.
The offense isn't consistent. Matt Schaub is losing the faith of the fans, and Andre Johnson is still without a touchdown grab. Thankfully, Arian Foster and Ben Tate are racking up serious yardage on the ground.
19. Atlanta Falcons (1-4)
Will the Falcons make the playoffs?
What happened to the Atlanta Falcons? Matt Ryan was supposed to lead the Falcons to the playoffs with his talented receivers and Steven Jackson at running back.
Well, Jackson has missed time, Julio Jones is out for the season, according to Jay Glazer of Fox Sports, and the defense is allowing 26.8 points per game.
Atlanta needs to turn it around, and fast.
20. San Diego Chargers (2-3)
Philip Rivers came back to earth in Week 5 after throwing three interceptions against the Oakland Raiders.
Outside of Antonio Gates, not one of his receivers is a big name. Keenan Allen was the latest beneficiary of not having top-flight receivers in the system. Danny Woodhead has helped out immensely in the passing game as well.
Rivers needs to bring his A-game in Week 6 against the Colts.
21. Arizona Cardinals (3-2)
It's hard to trust Carson Palmer and the Arizona Cardinals. Rashard Mendenhall isn't the most consistent of runners, Palmer himself is still erratic with his throws at times, and after Larry Fitzgerald, Palmer really has nobody to throw to.
Their defense is good enough to keep them in games, and it's obvious that this team is pretty resilient. With Bruce Arians leading the team as head coach, at the very least they'll be is tough and disciplined.
22. Philadelphia Eagles (2-3)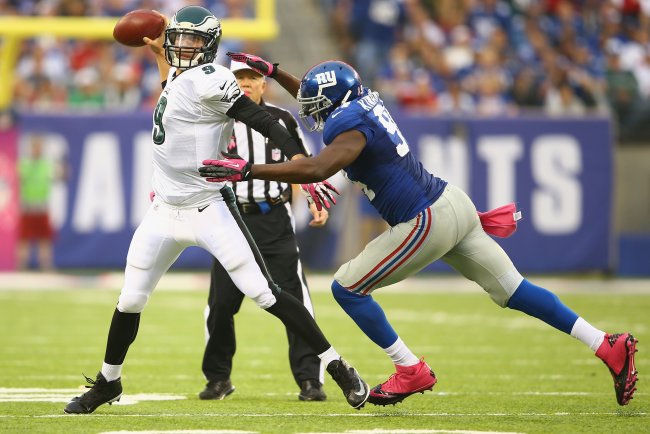 Al Bello/Getty Images
The Philadelphia Eagles were the latest beneficiaries of playing the New York Giants, but their win didn't come without a cost.
Michael Vick could be out Week 6 with a hamstring injury, which would make Nick Foles the starter. Foles actually played well against the Giants, though he is an obvious downgrade from Vick.
23. St. Louis Rams (2-3)
It took a game against the Jacksonville Jaguars to get back on track, but I suppose a win is a win. St. Louis scored its highest point total of the season in the Rams' Week 5 victory.
Sam Bradford hasn't been great, but he's done enough to keep his team in most games. The defense has allowed a ton of points against the 49ers and the Cowboys, but Bradford didn't do much to help in those games either.
Against the Texans in Week 6, St. Louis will need to pound the ball on the ground and capitalize on Matt Schaub's mistakes.
24. Oakland Raiders (2-3)
Terrelle Pryor is 11th in the AFC in rushing, but he hasn't really been the best quarterback. The Oakland Raiders have just two wins with him under center, but their release of Matt Flynn this week at least shows that they're committed to Pryor.
After beating San Diego last week, it's clear that the Raiders have a lot of fight in them—even if they don't have the most talent.
25. Washington Redskins (1-3)
Should the Redskins still be considered the team to beat in the NFC East?
Coming off a bye week, the Washington Redskins face a tough opponent in the Cowboys.
Robert Griffin III's inconsistencies have been much to blame for the team's struggles, but seeing as he didn't play in the preseason, maybe the first four games of the regular season will serve as such.
The Redskins go as Griffin goes. He needs to start putting up numbers.
26. Buffalo Bills (2-3)
Thad Lewis is now the quarterback of the Buffalo Bills. That's right. Thad Lewis.
E.J. Manuel was actually playing well and was bringing a new life to the fanbase, but a sprained ligament in his knee will keep him out a few weeks. The Bills are happy it isn't worse.
Fred Jackson and C.J. Spiller are competing for carries at running back, but the team will likely just ride the hot hand. For now, the hot hand is Jackson.
27. Carolina Panthers (1-4)
The Carolina Panthers are not a good football team—at all. They picked up a win against the Giants, but so did every other team that played them this season.
Cam Newton has struggled mightily establishing chemistry with his receivers, and that's really the crux of the issue in Carolina. The defense is actually solid, and DeAngelo Williams is running pretty well.
Newton just needs to get his act together.
28. Minnesota Vikings (1-3)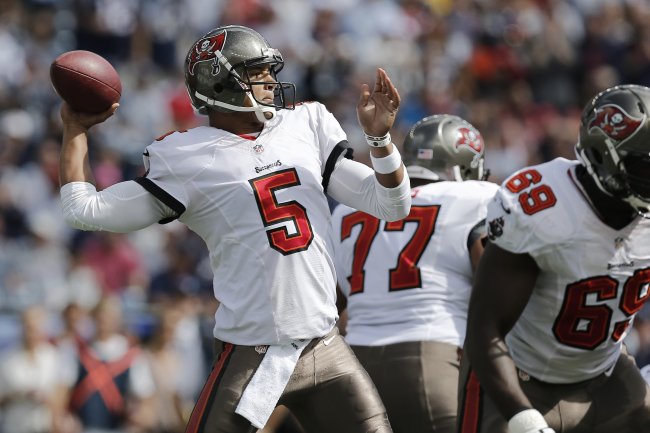 Winslow Townson/Getty Images
If Christian Ponder isn't the answer in 2013, then maybe Josh Freeman will be. That's what the Minnesota Vikings are thinking anyway.
Freeman was brought aboard on a $3 million contract for the rest of the season, and that amount of money suggests that he'll contribute once he learns the offense.
If he can at least be decent, then the Vikings can win games. That's what happens when Adrian Peterson is your running back.
29. Pittsburgh Steelers (0-4)
The Pittsburgh Steelers are unbelievably disappointing, and a bye in Week 5 will hopefully get them back on track.
There hasn't been an effective running game, and Ben Roethlisberger is throwing the ball a lot. An interview with Roethlisberger on 93.7 The Fan in Pittsburgh indicates that there's even controversy in the locker room between Roethlisberger and Le'Veon Bell, as indicated, via NBCSports.com.
There aren't many good signs coming out of Pittsburgh right now.
30. New York Giants (0-5)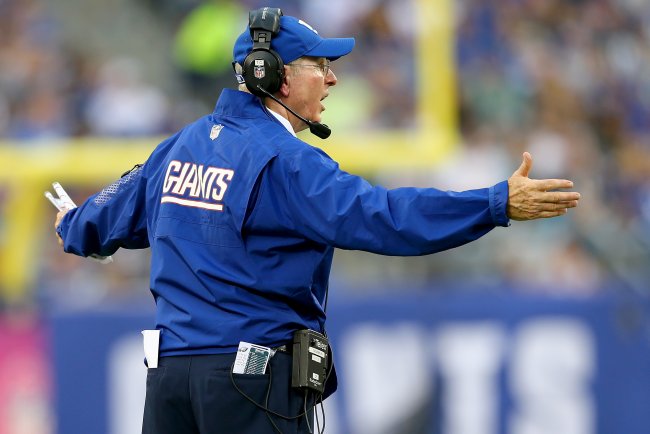 Elsa/Getty Images
The New York Giants are probably the biggest disappointment in the NFL. Nobody is saying that they were Super Bowl-bound, but playoff-bound was certainly a realistic prediction.
Well, not anymore.
Eli Manning has thrown 12 interceptions, nobody knows who the running back will be from week to week, the defense is allowing 36.4 points per game, and Tom Coughlin doesn't want to make changes to his coaching staff, according to Conor Orr of NJ.com.
Something's gotta give.
31. Tampa Bay Buccaneers (0-4)
Rookie Mike Glennon is now under center for the Tampa Bay Buccaneers, and it could be a few games before we see him get a grasp of NFL defenses.
The Buccaneers are going nowhere fast. They've already given up on their veteran quarterback, Josh Freeman, and don't really have much of a defense to rely on. Vincent Jackson and Doug Martin are valuable weapons, but not if they aren't utilized correctly.
Which team is the NFL's worst?
32. Jacksonville Jaguars (0-5)
Alas, the Jacksonville Jaguars are at the bottom again.
There's really nothing to say that hasn't been said before. Blaine Gabbert and Chad Henne aren't good quarterbacks, Maurice Jones-Drew has lost a few steps, the defense is terrible, and the team has almost no weapons in the passing game.
Oh yeah, and the Broncos are coming to town this week.
This article is
What is the duplicate article?
Why is this article offensive?
Where is this article plagiarized from?
Why is this article poorly edited?