The Chicago Bears should be happy to see the winless New York Giants come to town. Jay Cutler and Co. have lost the last two games to the Detroit Lions and the New Orleans Saints. The team is still in a first-place tie with the Lions in the NFC North, but Detroit owns the tiebreaker.
Cutler rebounded from an abysmal game against the Lions in Week 4 to play well against the Saints on Sunday. He threw for a season-high 358 yards, two scores and no interceptions, but his offensive line regressed to its 2012 form.
Cutler was under pressure much of the game and was sacked three times. The Bears defense couldn't get key third-down stops or force the turnovers it lives by.
The Saints took care of the ball and extended enough second-half drives to win, 26-18.
The Giants, however, have not excelled at taking care of the ball or even extending drives of late. In their last two games, they are 6-of-27 on third-down conversions and have turned the ball over seven times.
That's a formula for disaster against the Bears. I like Chicago to snap their two-game losing streak and extend the G-Men's woes to six games Thursday night.
Joining the Bears on the recovery line are the following two teams.
Houston Texans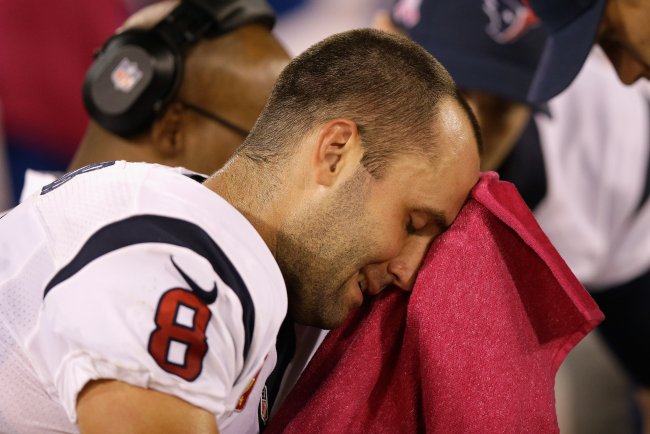 Ezra Shaw/Getty Images
Matt Schaub needs a hug right now, but he'd settle for a win. On Sunday, he and the Texans will get the latter.
Houston has lost three games in a row and look like anything but a Super Bowl contender. Schaub's inaccuracy has been on full display during this skid. He's thrown six interceptions and just two touchdown passes during the losing streak.
In search of a reprieve, the Texans will host the St. Louis Rams on Sunday. St. Louis has been terrible on defense all season. The team has surrendered at least 20 points to every opponent.
The lowest point total came to the lowly Jacksonville Jaguars in Week 5. The Rams are ranked 27th in the league against the run. Expect the Texans to ride Arian Foster this week. They will pound the Rams' weak run defense and take some pressure off their embattled quarterback.
Houston will get off the snide Sunday.
Seattle Seahawks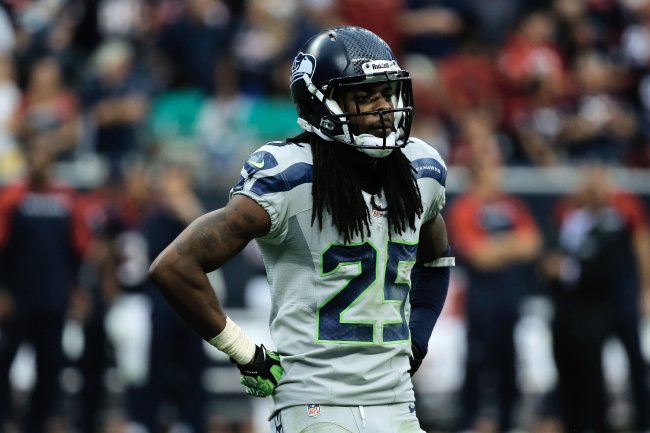 Scott Halleran/Getty Images
After tasting defeat for the first time this season, the Seahawks will be hungry in Week 6. They will play host to the Tennessee Titans and we all know how tough Seattle is at home. So far this season, it has outscored teams 74-20 at CenturyLink Field, which includes a 29-3 drubbing of the San Francisco 49ers in Week 2.
The Titans will be without Jake Locker again while the quarterback recovers from a hip injury, per Paul Kuharsky of ESPN.com. The absence of Tennessee's starting signal-caller only worsens matters for the team.
Ryan Fitzpatrick under center, plus the Seahawks' nasty secondary, times the raucous 12th man, equals a Seahawks victory in Week 6.
Here are my predictions for every game on the Week 6 schedule.
Predictions for NFL Week 6

| | | |
| --- | --- | --- |
| THU, OCT 10 | TIME (ET) | Prediction |
| NY Giants at Chicago | 8:25 PM | Chicago |
| SUN, OCT 13 | TIME (ET) | Prediction |
| Cincinnati at Buffalo | 1:00 PM | Buffalo |
| Detroit at Cleveland | 1:00 PM | Cleveland |
| Oakland at Kansas City | 1:00 PM | Kansas City |
| Carolina at Minnesota | 1:00 PM | Carolina |
| Pittsburgh at NY Jets | 1:00 PM | Pittsburgh |
| Philadelphia at Tampa Bay | 1:00 PM | Philadelphia |
| Green Bay at Baltimore | 1:00 PM | Baltimore |
| St. Louis at Houston | 1:00 PM | Houston |
| Jacksonville at Denver | 4:05 PM | Denver |
| Tennessee at Seattle | 4:05 PM | Seattle |
| Arizona at San Francisco | 4:25 PM | San Francisco |
| New Orleans at New England | 4:25 PM | New Orleans |
| Washington at Dallas | 8:30 PM | Dallas |
| MON, OCT 14 | TIME (ET) | TV |
| Indianapolis at San Diego | 8:30 PM | Indianapolis |
ESPN for Schedule
Follow me for musings on sports and sports video games.