For the Oklahoma City Thunder, it's championship or bust. That puts an awful lot of pressure on head coach Scott Brooks in what will be his most challenging season yet. Russell Westbrook's second surgery and the loss of Kevin Martin leave some big holes in the rotation, and Brooks has some interesting decisions to make over the season as a result.
To keep the Thunder atop the Western Conference without Westbrook—and to make them the favorite with him—here are four adjustments Coach Brooks needs to make this season.
Trust Reggie Jackson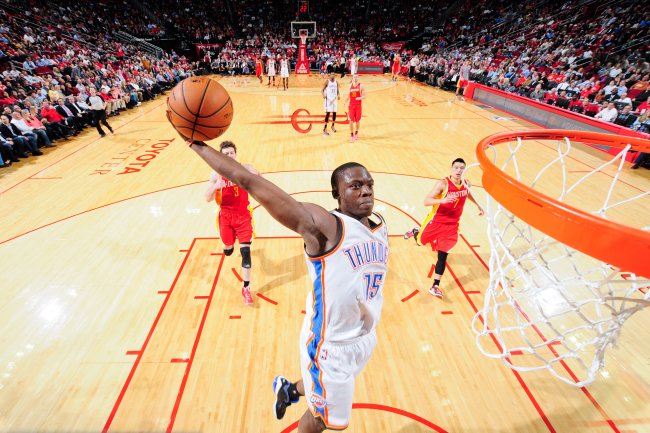 Bill Baptist/Getty Images
Kevin Durant is one of the best basketball players on the planet, and he has the skills to be the point forward for the Thunder. He was remarkable in the playoffs after Westbrook got hurt. But it would be unwise to make him do that during the regular season.
More importantly, he doesn't need to.
Reggie Jackson stepped into Westbrook's shoes and was a revelation. He played excellently in the playoffs, but he didn't have much responsibility on that team other than giving the ball to Durant.
Judging from his preseason play, he's ready to handle the added responsibility of running the team this season.
He is coming off an impressive preseason game against the Philadelphia 76ers in which he scored a game-high 29 points to go along with six rebounds, eight assists and one turnover.
Reggie Jackson Shines, Thunder Win in England http://t.co/nl7FIq7MiN

— Thunder Obsessed (@ThunderObsessed) October 9, 2013
Jackson has turned the ball over twice in 59 minutes of preseason action, and he's looked very good initiating the offense.
Having faith in the third-year point guard will keep Durant fresh while also paying huge dividends down the road. When Westbrook returns to action, Jackson will lead the reserves and carry the offensive load for the second unit.
Jackson is going to get big minutes to start the year, but Scott Brooks need to give him the keys to the offense. He will be a much better player because of it.
Play Kendrick Perkins Less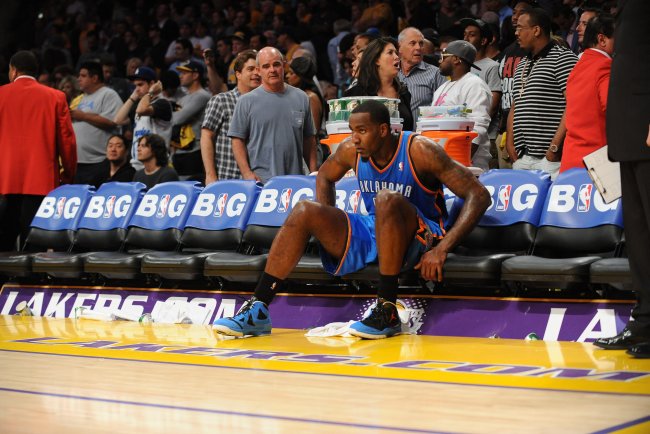 Noah Graham/Getty Images
Kendrick Perkins was a necessary acquisition for the Thunder to take the next step in their evolution. He does all the small things that don't show up in the box score.
But he shouldn't be playing 25 minutes per game like he did last year.
He will be vital if the Thunder have to play the Houston Rockets in the playoffs, but he gives them nothing on offense. In a year when OKC is dealing with a lack of scorers, the frontcourt needs to pick up some of the scoring burden. Perkins can't do that.
There are two options when it comes to cutting Perkins' minutes. The first is to get Serge Ibaka and Nick Collison on the court at the same time.
The two of them form a high-energy frontcourt that has much more agility and athleticism than any lineup with Perkins—although that's a very relative statement. They are also much better offensively because they can both finish around the rim and score in pick-and-roll situations.
2012-13 Field Goal Percentages for OKC Big Men

| | | | |
| --- | --- | --- | --- |
| Player | FG% At Rim | FG% from 3-9 Feet | FG% from 10-15 Feet |
| Kendrick Perkins | 58.5 | 33.9 | 30.3 |
| Serge Ibaka | 77.8 | 47.1 | 58.2 |
| Nick Collison | 71.8 | 60.5 | 44.4 |
HoopData.com
The other option is to get rookie Steven Adams involved in the rotation. He is raw and will experience some growing pains—especially defending the pick-and-roll—but he has good touch around the basket.
Adams has played very well in the preseason, and he could be a valuable contributor this year. The only way he can develop, however, is if he gets meaningful minutes in the rotation.
Taking minutes away from Perkins is the best way to do that.
Give Jeremy Lamb the Room to Make Mistakes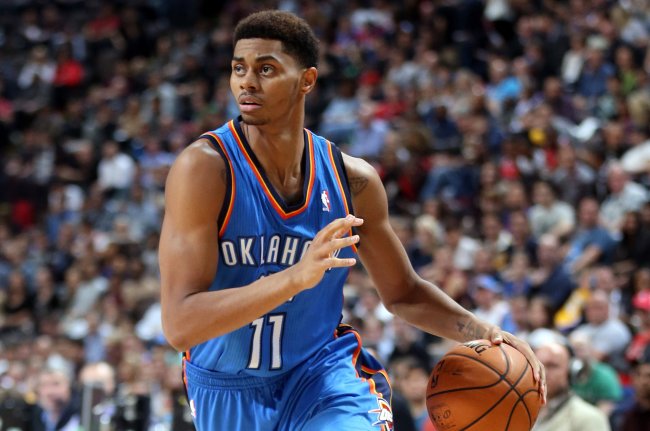 Layne Murdoch/Getty Images
Jeremy Lamb played a total of 147 minutes in his rookie year, but he will be a crucial piece of the Oklahoma City puzzle this season.
The Thunder are hoping that Lamb can step into the role previously occupied by James Harden and Kevin Martin. It would be too much to expect him to rival their production, but he needs to be able to generate points off the bench.
He's 21 years old, so mistakes are bound to occur. There will be bad shooting nights, sloppy turnovers and defensive lapses.
For the good of the team, Coach Brooks needs to let Lamb work through all of it. That's the only way he can become a reliable contributor by the time the playoffs roll around.
Be More Flexible with Rotations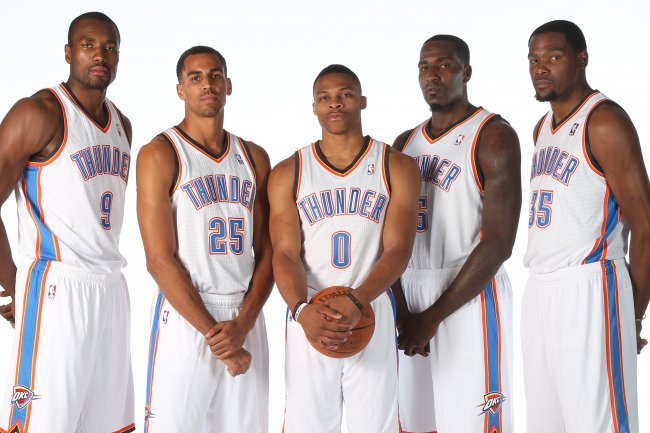 Layne Murdoch/Getty Images
Last year, the Oklahoma City starting five played more minutes than any other lineup in the NBA, according to 82games.com. While they were very effective and led the Thunder to 60 wins, Brooks needs to be more willing to make adjustments—especially in the playoffs.
He could learn a lot from watching the participants in the 2013 NBA Finals.
Both Gregg Popovich and Erik Spoelstra played musical chairs with their starting lineups and rotations, gauging the situation and trying to exploit matchups. Brooks doesn't need to go that far, but the team would be better with more flexibility.
One area that he really needs to explore is the potential of playing Durant at the 4. This occurred throughout last year, but it could be used more frequently as a change-of-pace lineup that would put up points in bunches.
Brooks could also experiment with playing Westbrook and Jackson at the same time to get more speed and ball-handling on the floor.
These changes are going to be valuable in the postseason, when they could give Oklahoma City an advantage in a long series. The only way to know which lineups work well together is to get creative during the regular season.