While it was certainly much closer than the Jets would have preferred, the Jets have pulled off an improbable win in Atlanta to bring them above the .500 mark—a feat that few expected the Jets to ever accomplish this year.
As big of a win as it was on Monday night, it will all be for naught if they drop a winnable game at home against the struggling, winless Pittsburgh Steelers next Sunday afternoon.
On paper, this game plays right into the Jets' strengths. With a weak offensive line and an aging defense that is a shadow of the standards for the Steelers, the Jets have an excellent chance to get themselves their second consecutive win and one step closer to being atop the division.
However, for as many matchup advantages that the Jets have over the beat-up Steelers, taking down a future Hall of Fame quarterback in Ben Roethlisberger is never an easy task—no matter how thin the Steelers roster is this year.
Division Standings
Week 5 was a very kind week to the Jets. Not only did the Jets get a huge road win for themselves, all three divisional opponents wound up in the loss column—including the previously-unbeaten Patriots.
AFC East Standings

| | | | | |
| --- | --- | --- | --- | --- |
| Team | Wins | Losses | Points For | Points Against |
| New England Patriots | 4 | 1 | 95 | 70 |
| New York Jets | 3 | 2 | 98 | 116 |
| Miami Dolphins | 3 | 2 | 114 | 117 |
| Buffalo Bills | 2 | 3 | 112 | 130 |
http://www.nfl.com/standings
Perhaps the only negative for the Jets is that, as big as their win was on Monday night, it was an out-of-conference win that gives them nothing in terms of tiebreakers in conference or divisional record. Losing games against NFC teams does the least amount of harm, but beating them is not as "valuable" as beating an AFC team.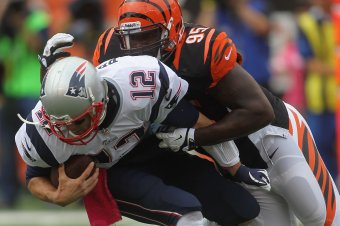 John Grieshop/Getty Images
All three opposing AFC East teams did lose to AFC teams (Browns over the Bills, Bengals over the Patriots and Ravens over the Dolphins).
With the Dolphins and Jets both tied for second place, their late-season matchups only become more important. However, both teams need the Patriots to drop a few more games to control their own destiny in the divisional title race.
Injury Report
The Jets managed to escape Atlanta reasonably healthy, but it appears as if they will be without outside linebacker Antwan Barnes for the foreseeable future:
Rex Ryan doesn't have update on Antwan Barnes' status. Said it "doesn't look good" that he couldn't finish game with knee injury. #nyj

— Manish Mehta (@MMehtaNYDN) October 8, 2013
As of this writing, the Jets have not practiced yet, so it is difficult to determine if they will try to bring Santonio Holmes back this week or allow him another week to treat his pulled hamstring.
The good news is that all three running backs, Mike Goodson, Bilal Powell and Chris Ivory, all looked healthy for the first time this season. The Jets now have the stable of running backs they envisioned having when they acquired Goodson and Ivory in the spring.
What Must Improve: Defend the Middle
The Jets defense made a handful of "splash" plays to keep the score down just enough, but they were victimized far too often in the middle of the field, specifically by Tony Gonzalez.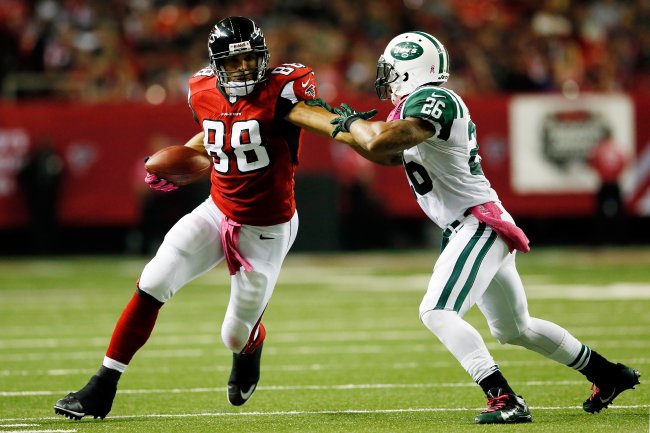 Kevin C. Cox/Getty Images
During the first four games, it was the Jets cornerbacks who were often victimized in coverage. Antonio Cromartie struggled while dealing with a lame hip, as he is the 98th-ranked cornerback in ProFootballFocus.com's rankings (subscription required).
Meanwhile, Dee Milliner played poorly enough to lose his job by the middle of the second game.
However, that was not the story of Monday night's game against the Falcons. The Jets were content with leaving their cornerbacks in single coverage against the Falcons' elite wide receivers, with some success. Instead, the Falcons chose to attack the middle of the field—occupied by safeties and linebackers—to generate most of their offense.
Thanks to some quality throws from Matt Ryan, and Tony Gonzalez being his usual, uncoverable self, the Jets simply had no answer for the Falcons' approach. All of the Jets linebackers and safeties who were used significantly in coverage gave up gaudy numbers in the passing game:
Linebacker and Safety Coverage in Week 5

| | | | | |
| --- | --- | --- | --- | --- |
| Player | Thrown At | Receptions | Yards | Rating |
| David Harris | 8 | 8 | 44 | 129.2 |
| Demario Davis | 6 | 5 | 49 | 100.7 |
| Dawan Landry | 2 | 2 | 12 | 131.3 |
| Josh Bush | 2 | 2 | 24 | 116.7 |
| Jaiquawn Jarrett | 2 | 2 | 27 | 118.8 |
https://www.profootballfocus.com/data/gstats.php?tab=by_team&season=2013&gameid=2818&teamid=22&stats=v&playerid=
These stats don't include the illegal contact and pass interference penalties that cost the Jets multiple touchdowns in the red zone.
Before Monday's game, tight ends have not been a significant problem for the Jets, but they have not exactly faced a murder's row of hybrid pass-catchers. The best tight end the Jets have faced before Week 5 was Scott Chandler, who caught five passes for 79 yards and a touchdown.
The good news is that the Jets don't play against Tony Gonzalez every week, but there is no doubt that every team on their schedule will take notice of their vulnerability over the middle of the field and attack it until the Jets prove that they can stop it.
What Must Improve: Run-Blocking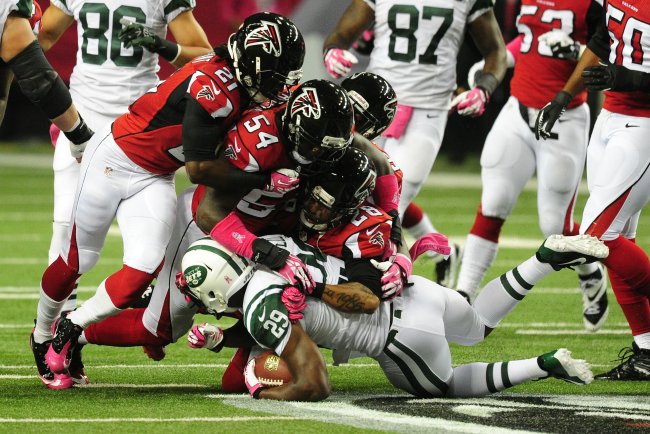 Scott Cunningham/Getty Images
The Jets may have averaged 5.4 yards per carry on Monday night, but the statistic is misleading. 21 yards came from a few Geno Smith scrambles, while most of the yards gained by the running backs were created because the runner created yards on his own.
According to Pro Football Focus (subscription required), the Jets racked up 65 yards after contact between Mike Goodson, Bilal Powell and Chris Ivory.
While most of the blame falls on execution, the Jets could have been a bit more varied in terms of the gaps they attacked. The Jets ran between the center (Nick Mangold) and left guard (rookie Brian Winters) more than any other gap, with unspectacular results.
Jets Rushing Results in Each Gap

| | | | |
| --- | --- | --- | --- |
| Gap | Attempts | Yards | Average |
| Left "C" | 2 | 4 | 2.0 |
| Left "B" | 2 | 5 | 2.5 |
| Left "A" | 8 | 26 | 3.3 |
| Right "A" | 3 | 8 | 2,7 |
| Right "B" | 2 | 9 | 4.5 |
| Right "C" | 0 | 0 | 0.0 |
https://www.profootballfocus.com/data/gstats.php?tab=by_team&season=2013&gameid=2818&teamid=22&stats=r&playerid=
Where should the Jets look instead of the left side "A" gap? Based on the amount of experience on the right side of the line with three veteran maulers in Mangold, right guard Willie Colon and right tackle Austin Howard.
The Jets offensive line has been relatively consistent in pass protection, but their efficiency in the run game needs some improvement for the Jets to be more potent on the ground. If they can develop a more consistent running game, they won't have to rely on a near-perfect game from Geno Smith to win games.
Some of this is nitpicking—the Jets did beat the Falcons in their own building, after all—but remaining complacent is an easy way for the Jets to get themselves beat. If the Jets want to be viewed as the contenders they believe they can be, they will have to continue to make improvements in these smaller aspects of the game.
If they can round out their mistakes, the Jets will be a very difficult team to beat.
Advanced statistics provided by ProFootballFocus.com (subscription required).