How Alain Vigneault Will Use Ryan Callahan During 2013-14 Season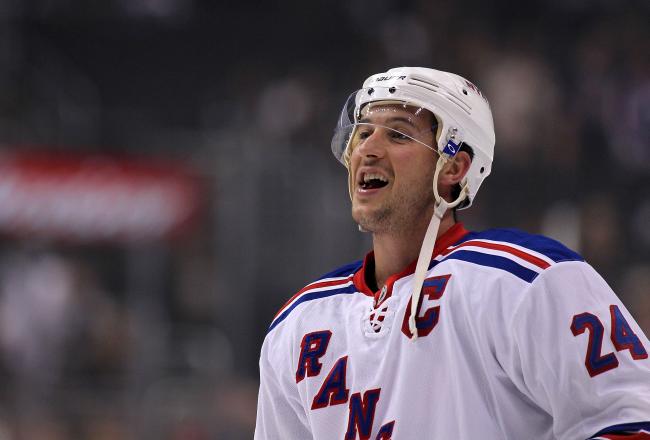 Victor Decolongon/Getty Images
Alain Vigneault was brought in to help utilize the New York Rangers offensive arsenal, but where does that leave a rugged two-way grinder like Ryan Callahan?
Callahan was a quintessential John Tortorella player, and he represents the ideals that "Torts" looks for in a hockey player. Although the Rangers' newest bench boss is the antithesis of Tortorella, Callahan should do just fine under AV as a two-way player.
Thus far, Callahan has been slotted as a third-line player alongside Brian Boyle and Taylor Pyatt. Once healthy, Carl Hagelin will replace Pyatt, and the line will be very similar to the Vancouver Canucks' third line from the last few years.
Putting Callahan on the third line may seem like a demotion considering where the Rangers captain played the last few years under Tortorella, but he will be in a role that will serve him well throughout the season.
During his tenure with the Canucks, AV liked to use his third line as an energy-checking unit that could generate offense. The line received a bevy of defensive zone starts, and they were also used as a versatile two-way unit.
The eventual line of Hagelin, Boyle and Callahan features a blend of size, speed, tenacity and tons of two-way energy that can play solid defense and generate offense.
Although many fans feel Callahan should be in the top six because of his skill set, he still should be able to thrive in the bottom six. Callahan has more skill than your average grinder, and for that reason he should be able generate offense on the third line.
Callahan has some decent offensive skill.
As seen in the video above, Callahan has some skill, and can you imagine the chances he can generate against some lesser competition in the bottom six?
By playing on the third line, Callahan will also average less minutes a game, but that won't necessarily be a bad thing.
Callahan is an aggressive physical player that is prone to injuries, much like his mentor Chris Drury.
For that reason, it makes sense for Vigneault to place him in a role where his even-strength ice time is limited, because he will be saving Callahan for special teams, a role in which he is very valuable to the Rangers.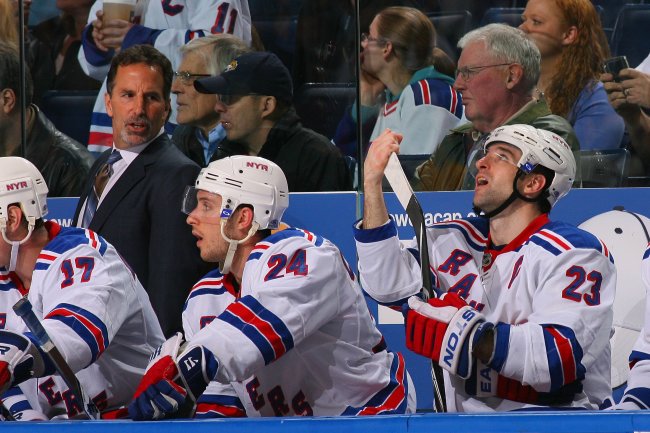 Bill Wippert/Getty Images
In many respects, Callahan is Drury 2.0, because the Rochester, NY native plays the game the same way Drury did. Both are known for their leadership, rugged play and for their heart, because both played bigger than the height and weight listed on their game sheets.
While calling Callahan Drury 2.0 should be considered a compliment, it should also be considered a warning.
If Callahan continues to mirror Drury, his NHL career could be over within the next five to six years. Callahan turns 29 this March, and Drury's called it quits at age 34 after playing 12 seasons at the NHL level.
On the penalty kill, Callahan is a warrior that blocks shots, and does whatever his team needs him to do. This style eventually takes a toll, and for that reason Vigneault could utilize Callahan in New York like he did Ryan Kesler in Vancouver.
Callahan's aggressiveness and willingness to sacrifice his body could shorten his career.
THN's Hockey Forecaster describes Kesler as "a polished two-way performer, he displays both offensive acumen and shutdown capability. Can play wing if need be and has tremendous determination."
The same outlet describes Callahan as a "versatile two-way winger with energy, and a born leader that owns a decent pair of hands and defensive acumen."
The dossiers seem pretty identical to me, and both player's stats also paint a picture of symmetry. Take a look at the amount of time each player spent on the ice last year broken down by category.
Ryan Callahan's Time On Ice Per Game Last Season

| | | | |
| --- | --- | --- | --- |
| Even Strength | Penalty Kill | Power Play | Total |
| 15:44 | 2:33 | 3:12 | 21:31 |
NHL.com
Ryan Kesler's Time On Ice Per Game Last Season

| | | | |
| --- | --- | --- | --- |
| Even Strength | Penalty Kill | Power Play | Total |
| 13:48 | 1:51 | 3:17 | 18:57 |
NHL.com
It is almost identical, and that is a good sign for Callahan and the Rangers. Kesler entered the league as a strong two-way player, and under Vigneault he blossomed into a solid offensive two-way center.
The same can happen with Callahan under Vigneault, and it goes back to the aforementioned concept of ice-time management. Certain players need more rest than others. Callahan is one of those players that is drenched in sweat after every shift because he leaves it all on the ice, and an adjustment in minutes will make him a more effective player.
If Kesler was overplayed at even strength, he wouldn't be as effective on special teams. Vigneault realized that in Vancouver, and it appears that he will use Callahan in a similar fashion because he knows what the team's leader is capable of.
Vigneault said it best after the Rangers' victory over the Los Angeles Kings on Monday when he talked to reporters about what it meant to have "the Captain" in the lineup. Via Pat Leonard of the New York Daily News:
'It was my first time seeing him, live in a game, being with him as his head coach, and he brings a lot to the table,' Vigneault said. 'Poise with the puck, competitive nature when he doesn't have it, finishes every check. For a player that's not that big in size, he certainly plays a big game.'
Callahan certainly is a valuable player to the Rangers because of the multiple things he brings to the table, and despite the departure of Tortorella, he should have no problem thriving as a player this season.
This article is
What is the duplicate article?
Why is this article offensive?
Where is this article plagiarized from?
Why is this article poorly edited?

New York Rangers: Like this team?