Why Kobe Bryant Is the 1 NBA Superstar You Can Never Bet Against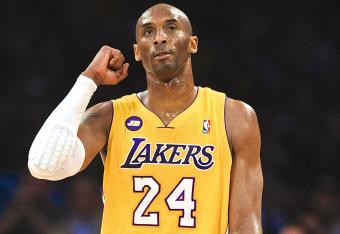 Betting against Kobe Bryant is one wager you never want to lay down. Even now.
There is an innate tendency to idealize the past, to become engulfed in what once was and not what currently is. Proponents of Kobe's demise will point to that disposition as a stubborn delusion. They'll say there's no way he can come back from a ruptured Achilles because he's not the Kobe he used to be. He's older, more fragile. It's not going to happen.
The Los Angeles Lakers star himself has expressed doubt as to whether he can thwart time and bodily limitations again, but that uncertainty is drowned out by the determination he still exudes.
"As I sit here with you now, I'm telling you now I'll come back 100 percent," Bryant said in a recent appearance in China, according to the Los Angeles Daily News' Mark Medina. "But I don't know if I'm sure. I have moments and days where I doubt myself."
Though Kobe may not be in a position to assure fans, pundits and cynics of what comes next everyday, we need to understand that, no matter the circumstances, a bet against Kobe is a gamble not worth taking.
He May Have Found a Fountain of Youth
Age is an enemy of professional athletes, and it's one that always prevails. Players can't play on forever and Kobe is no exception. But he may be the next best thing.
Misconceptions rippled through the basketball world when Yahoo! Sports' Adrian Wojnarowski reported Kobe had flown to Germany for a session of platelet-rich plasma therapy on his right knee. His airborne hike came just after he was seen jogging and shooting in practice, so his sudden departure couldn't be a good thing.
Unlike others, Bleacher Report's Kevin Ding preached optimism, acknowledging that the time of his Orthokine therapy was designed to give Kobe an edge:
Confirmed Kobe is undergoing another blood-spinning treatment on troublesome right knee. Delayed it till now for max effect this season.

— KEVIN DING (@KevinDing) October 3, 2013
Typical Kobe to seek every edge possible by delaying German knee procedure upon knowing he wouldn't be playing in training camp anyway.

— KEVIN DING (@KevinDing) October 3, 2013
This wasn't a hapless last resort or the result of failed rehab. This was something he planned, something he had done before.
Something that had worked before.
Kobe made the trek to Germany twice during the lockout-extended offseason in 2011, and he was left raving about the treatment's effects, according to the Los Angeles Times' Mike Bresnahan and Broderick Turner:
Kobe Bryant felt his body falling apart, so he did something about it. Twice.

Bryant went to Germany on two occasions during the off-season, The Times has learned, undergoing innovative procedures on his ailing right knee and, in a previously unreported development, his chronically troublesome left ankle, according to people with knowledge of the situation who were not authorized to speak publicly.

...

Bryant, 33, has noticed the difference, recently saying his physical improvement would be a "huge plus" for the Lakers.

I feel a lot stronger and a lot quicker and able to get to the basket and free-throw line, he said.
The Mamba went on to average 27.9 points, 5.4 rebounds and 4.6 assists for the 2011-12 campaign. More importantly, he was healthy enough to log 38.5 minutes a night while only missing eight games. At 33. In the midst of a lockout-truncated schedule.
That year wasn't kind to any player's body, let alone Kobe's. Back-to-backs were a way of life and the dreaded, usually nonexistent, back-to-back-to-backs were actually a thing. Yet Kobe was able to power through, to average 38-plus minutes of burn for the 10th time in his career, when many players his age are typically lusting after retirement and the unlimited time allotted for sunbathing that comes with it.
"It worked out well," teammate Pau Gasol recalled when asked about Kobe's previous trip to Germany, per ESPN Los Angeles' Dave McMenamin. "He said he was a new man with a brand-new knee. He said it felt a lot better."
Fountains of Youth don't really exist (outside of San Antonio). There's no elixir that can cure age or ensure Kobe never feels pain again. He'll still hurt, he'll still bleed, and he'll still need to submerge in tubs of ice after a particularly grueling game.
Legs r sore Anyone out there,celebrity or not, care to try this sh*t? Tweet me a pic Misery loves company #assfrozen pic.twitter.com/AkhWp5EK

— Kobe Bryant (@kobebryant) January 12, 2013
But this procedure could help him prolong his career, it could keep him playing at a high level. It sure as hell worked in 2011. There's little reason to believe it will prove ineffective now.
Um, Did You Watch Him Last Season?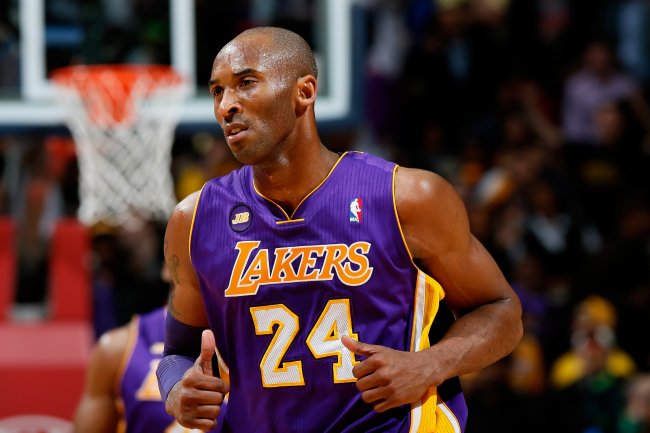 Kevin C. Cox/Getty Images
If there was a time to doubt Kobe, it was last season.
Another year older and playing alongside a trio of other stars in Dwight Howard, Steve Nash and Gasol, the time for Kobe's role, for his production to diminish was then.
Superman's arrival marked a new beginning. He was an illustration of the Lakers' desire to remain competitive until Kobe retired, but he also represented life after the Mamba. Los Angeles was planning for its future, preparing to pass the torch right before Kobe's eyes.
Things didn't pan out as planned, but that's not the point. Kobe was 34, an aging star among three other luminaries, playing in a league dominated by young and athletic superstars, and he still separated himself from just about everyone.
With his 27.3 points, 5.6 rebounds and six assists per game, he became just the fifth player in NBA history to reach such benchmarks for at least the second time in his career, joining Michael Jordan, LeBron James, Dwyane Wade and Larry Bird. And Kobe is the only player ever to post such marks after his 31st birthday. Not Jordan. Not Bird. Not Magic Johnson. Him.
Try as we might to loop a rehabbing Kobe into a generic age group, we can't. Thirty-somethings aren't supposed to play at a high level, but he has.
Last season he was just the 12th player in NBA history over the age of 34 to exceed 38 minutes of playing time a night. He's done things players his age just don't do, so we can't expect his career to play out the same way.
Prior to his Achilles injury, the explosion was there. The energy was there. The ability to play like a top-10 or top-five superstar was there. It was there when it perhaps shouldn't have been. Not at his age, with all those minutes and years on his legs.
Coming out the other side of his recovery, it will be no different. Kobe, 35, shouldn't be able to overcome his latest injury or his age. Or time in general. But just because he shouldn't, doesn't mean he won't.
Cut From a Different Mold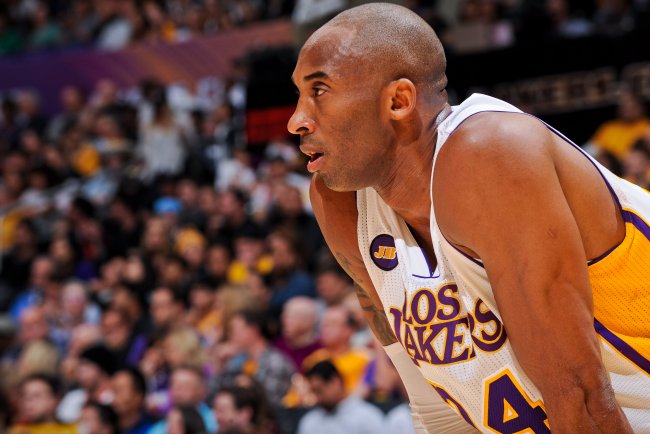 Noah Graham/Getty Images
Not all things can be measured in numbers. Diligence, perseverance, motivation—those are all intangibles that don't show up in the box score. And yet, those numbers in the box score, the rings on players fingers, only exist because of all those things.
Kobe has all those things. The championships, an MVP, the All-Star selections, a place in history. He has them because of his unprecedented work ethic, because of his antipathy for complacency.
Following his Achilles injury, that's all anyone who is close to him could comment on.
"He works so hard," Gasol said at the time, per McMenamin. "He's the most dedicated guy that I ever met, and he had the courage and the strength to talk to (the media). I don't know if I could have done it. So, again that's very remarkable."
Never mind addressing the media, how about remaining in the game to drain two clutch free throws? You don't see that everyday, that type of devotion to a game. Then again, you don't see players like Kobe everyday.
Nothing he has done or will ever do can put an end to the speculation or doubt. Career-threatening injuries always spark it, even if a player is young, more so if they're older. But it says a lot that his teammates won't hesitate to say he'll be fine.
"If I were putting my money on it, I would say the sky's the limit," Steve Nash told TWC SportsNet, via the Los Angeles Times' Eric Pincus. As we know, he's determined and focused as is out there. He'll find a way to exceed everyone's expectations."
Nash isn't ready to issue Kobe's walking papers, and he's not alone.
"If he's in that frame of mind, it's going to get done," Kobe's longtime trainer, Tim Grover said, per McMenamin.
Where there's widespread doubt, there's also support from those who know Kobe better than most do. Looking at all he's already done, all the detractors he's already silenced, we're better off taking their word over conjecture without access.
Pray For the Bear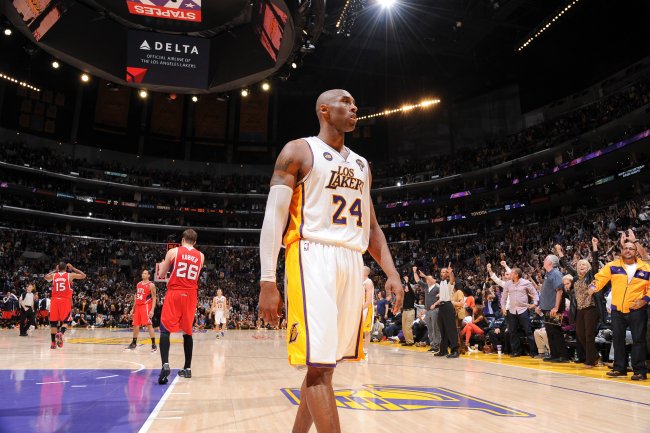 Noah Graham/Getty Images
Cast aside the potential Fountain of Youth. Throw his numbers in the trash. Avert the words of support from some of his teammates and closest confidants. Then look at the man, who has been an open book throughout this entire process, thanks to the wonders of social media.
Where will Kobe Bryant rank among the NBA's superstars in 2013-14?
He hasn't shied away from admitting he has doubts, that he himself is unsure of what comes next. But each and every time, almost as quickly as he falls into an introspective rut, he's out of it, ready to shatter timetables and exceed expectations.
Ready to play on.
"One day, the beginning of a new career journey will commence. Today is NOT that day," he wrote in a cleansing Facebook post the morning after sustaining his Achilles injury. "If you see me in a fight with a bear, prey [sic] for the bear."
Or at the very least, know that whatever he's fighting, and whenever he's fighting it, shouldn't be enough of a reason to count him out.
This article is
What is the duplicate article?
Why is this article offensive?
Where is this article plagiarized from?
Why is this article poorly edited?

Los Angeles Lakers: Like this team?