Best Twitter Reactions to Rays' Jose Lobaton Walk-off Against Red Sox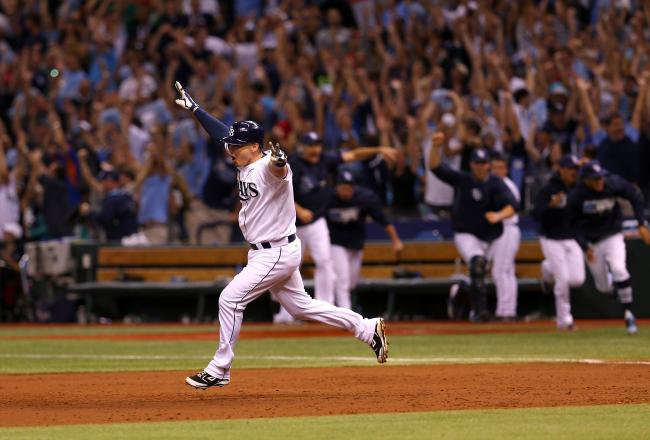 Mike Ehrmann/Getty Images
Jose Lobaton became the unlikely hero for the Tampa Bay Rays on Monday after hitting a walk-off home run in Game 3 of the ALDS against the Boston Red Sox. In doing so, he sent shock waves throughout the twitterverse.
After the walk-off, "#JoseLobaton" became a trending topic on Twitter. After all, it is an unwritten rule that baseball fans should tweet their acknowledgements of such a big play in the postseason, right?
Twitter users had plenty to talk about concerning the Lobaton walk-off, which kept the Rays alive in the postseason for at least one more game. And per usual, many of the tweets featured witty, sarcastic commentary intertwined with personal insight.
These are the best Twitter reactions to Lobaton's walk-off home run in Game 3 of the ALDS.
The Ray Pool
I love a #splashhit & we had a walk-off one tonight. It hit the Ray pool at Tropicana Field #joselobaton pic.twitter.com/xwqG39O9Z1

—

McCovey

Cove DAVE (@mccoveycovedave) October 8, 2013
The best part about Lobaton's homer—other than being a great ending to a postseason game—is that the ball landed in the Ray pool behind the center-field wall. Could the ball have landed anywhere more perfect? I think not.
Awkward Baseball Number
Hate to see someone wearing the number 59 beat you. #JoseLobaton #RedSox

— Gerry Brooks (@GerryBrooks) October 8, 2013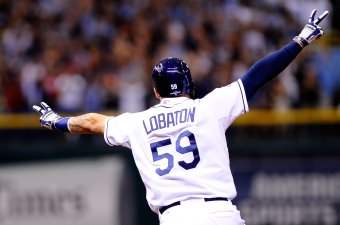 Brian Blanco/Getty Images
For those who don't know, Gerry Brooks is a news anchor for NBC Connecticut, and yes, he is a Red Sox fan.
Lobaton sports the No. 59 on the back of his uniform, which is kind of weird in baseball. The number 59 seems more like a football player's number. Did a linebacker hit the walk-off home run in Game 3 of the ALDS?
The Dos Equis Man
I don't usually hit homeruns, but when I do, it's as a postseason defensive replacement #JoseLobaton

— Jimmy (@TootieMac7) October 8, 2013
Yes, Lobaton was, in fact, a defensive replacement in the game. Turns out, he made the offensive play of the game. Ironic, right?
This twitterer used the popular, effective tweeting method of impersonating the Dos Equis commercial with "The Most Interesting Man in the World."
As you can see, this tweet is intertwined with sarcasm, perfect for making a Red Sox fan cringe in their sofa. Well played, sir, well played.
Who is Jose Lobaton?
Who are you #joselobaton

—

alex

wilson

(@alixwilzuhn) October 8, 2013
HIS NAME IS #JOSELOBATON, peeps!!!

—

Sylvana

Troccoli

(@SylvanaESPN) October 8, 2013
It's safe to say that Lobaton was not one of the most recognized names in baseball prior to Monday night. After all, he has only been in MLB for three years, and his job this season has primarily been as a defensive replacement. But what better way to get your name out than hitting a walk-off in the postseason?
Staying Alive
SOLO HOMERUN! We are still in it!!!!!! #JoseLobaton

— Brooklyn (@br00klyn_bart) October 8, 2013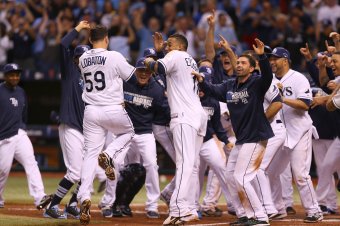 Mike Ehrmann/Getty Images
Rays fans could care less who makes the deciding play in games. The most important aspect of Lobaton's HR was that it keeps the Rays still fighting for their playoff lives. And if the Rays are to complete the comeback in their series with the Red Sox, then there could be a number of players who become a trending topic on the twitterverse.
This article is
What is the duplicate article?
Why is this article offensive?
Where is this article plagiarized from?
Why is this article poorly edited?