Oklahoma City Thunder vs. Philadelphia 76ers: Live Score and Analysis for 76ers
Use your ← → (arrow) keys to browse more stories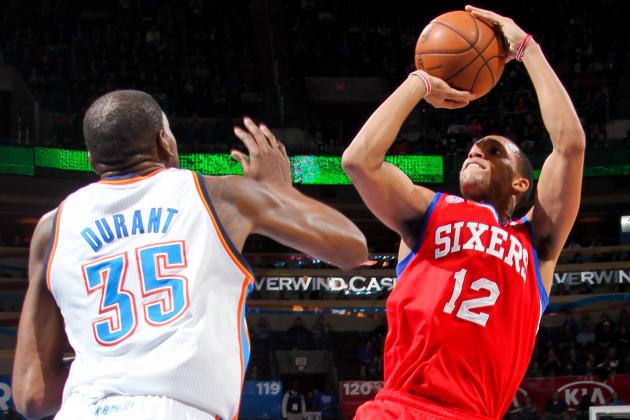 Layne Murdoch Jr./Getty Images
Evan Turner fades away from Kevin Durant.
The Oklahoma City Thunder and Philadelphia 76ers journeyed all the way to England for each team's second preseason game. The Sixers led 51-48 at halftime, but Kevin Durant took over in the third quarter and Reggie Jackson played tough until the end. OKC emerged with a 103-99 victory, but the Sixers kept it close until the final buzzer. Even Turner had a solid game with 19 points, and Tony Wroten somehow scored 20 off the bench!
Time: 3 p.m. EDT
Location: Manchester, England
Venue: Phones 4u Arena
TV: NBATV