Oklahoma City Thunder vs. Philadelphia 76ers: Live Score and Analysis for 76ers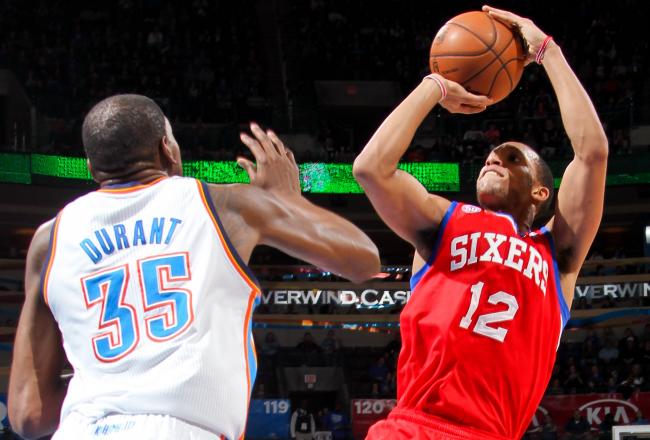 Evan Turner fades away from Kevin Durant.
Layne Murdoch Jr./Getty Images
The Oklahoma City Thunder and Philadelphia 76ers journeyed all the way to England for each team's second preseason game. The Sixers led 51-48 at halftime, but Kevin Durant took over in the third quarter and Reggie Jackson played tough until the end. OKC emerged with a 103-99 victory, but the Sixers kept it close until the final buzzer. Even Turner had a solid game with 19 points, and Tony Wroten somehow scored 20 off the bench!
Time: 3 p.m. EDT
Location: Manchester, England
Venue: Phones 4u Arena
TV: NBATV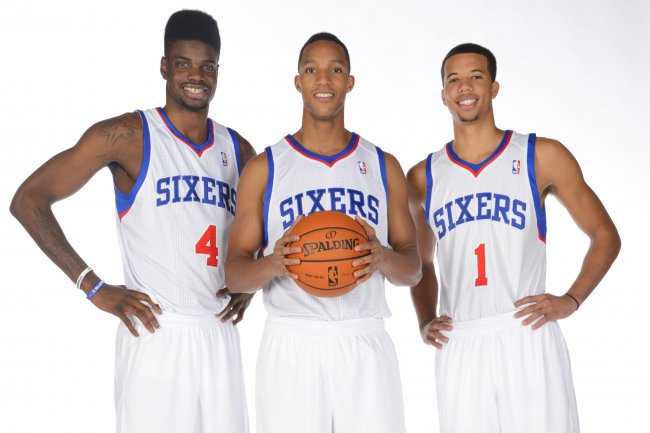 Jesse D. Garrabrant/Getty Images
On the plus side, the Sixers look good enough to contend for the bottom of the playoff bracket. They have an athletic young PG who can shoot in Michael Carter-Williams, and Evan Turner will continue to lead the team with his sneaky-good skills. Once Nerlens Noel gets healthy, he will be a boon for the defense, so look for this squad to set their sights on the seventh seed in the East.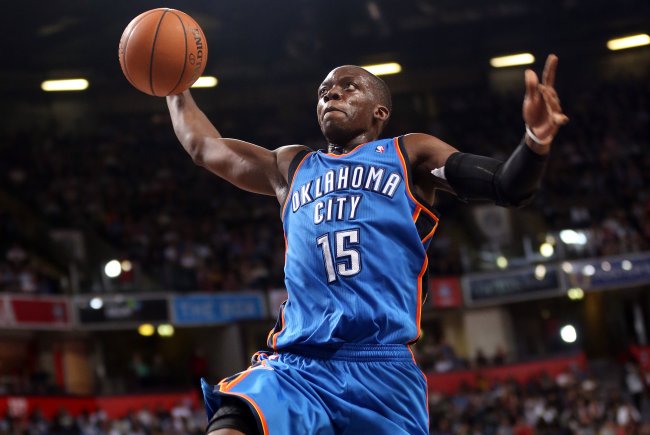 Layne Murdoch/Getty Images
OKC Stats Leaders:
Reggie Jackson: 29 PTS, 8 AST, 6 REB
Kevin Durant: 21 PTS, 12 AST, 8 REB, 1 STL, 1 BLK
Serge Ibaka: 18 PTS, 11 REB, 3 BLK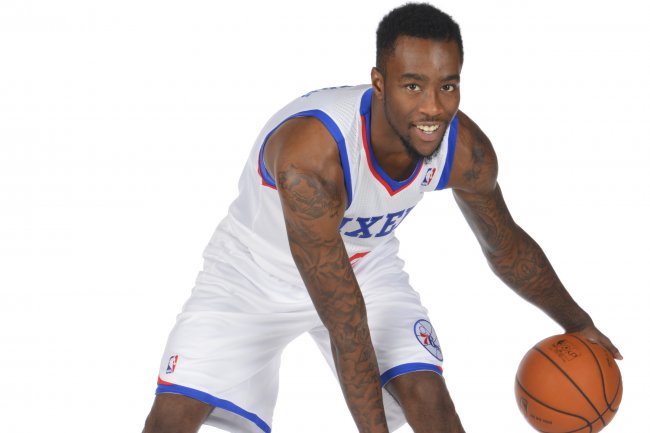 Jesse D. Garrabrant/Getty Images
76ers Stats Leaders:
Tony Wroten: 20 PTS, 4 REB, 3 AST, 2 STL
Evan Turner: 19 PTS, 7 REB, 4 AST
Thaddeus Young: 12 PTS, 4 REB, 4 AST
Spencer Hawes: 11 PTS, 9 REB, 1 BLK
Michael Carter-Williams: 11 PTS, 4 REB, 4 AST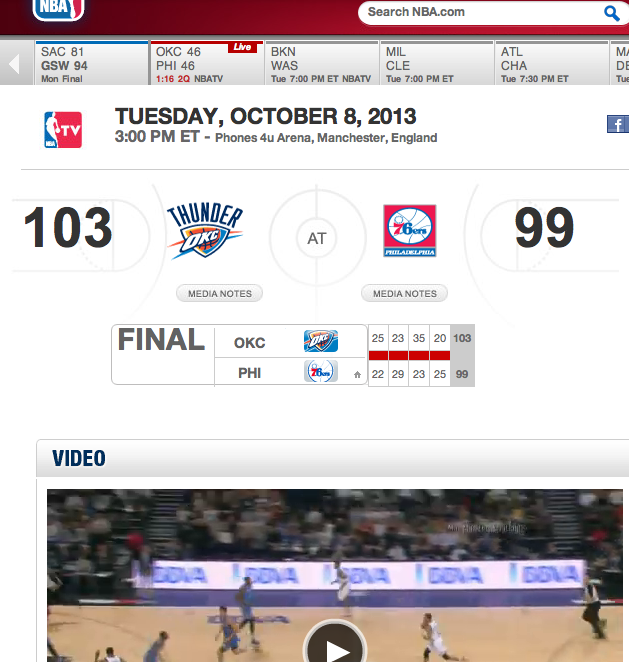 The 76ers kept the game close to the end, but free throws made the difference. Philly missed a few of theirs while Reggie Jackson drained his because, as stated, he's Mr. October. The Thunder prevail in Manchester, but the Sixers fought hard and gave the fans a good show.
Tony Wroten tries another three-pointer, but he can't convert and the Sixers trailed by four anyway. This one comes to a close, but the high level of competition felt like mid-season game. Except for the fact that Durant sat in the final minutes.
Thunder 103, Sixers 99 — Final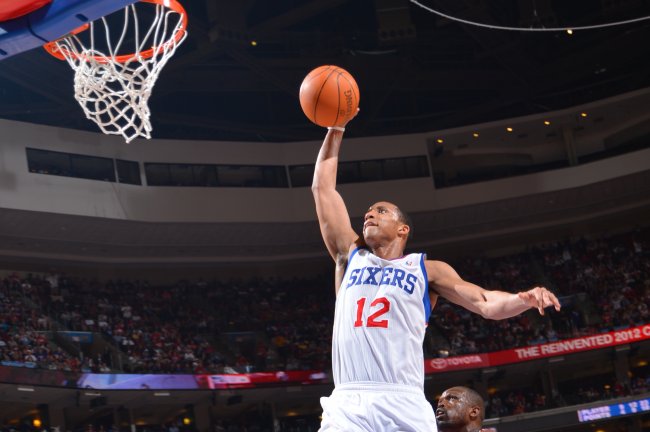 Jesse D. Garrabrant/Getty Images
It's not over yet! Turner misses another free throw, but some scrappy persistence results in a steal and a layup to pull Philly within two points. Turner now has 19 points, six boards and four dimes. Like I said, statsheet stuffer.
Thunder 101, Sixers 99 — 0:10 remaining in fourth quarter
Evan Turner, watch Reggie Jackson. Mr. October ices the game by knocking down his free throws. That makes 27 points on the evening for Jackson along with eight assists. Philly's backcourt defense could be a concern going forward.
Evan Turner misses a pair of free throws, and hopefully he got that out of his system before the regular season begins. Turner struggled in the second half, and that's just the sort of inconsistent player he is. Those blown foul shots weren't on a Nick Anderson level of bad, but they removed the Sixers' hopes of winning this one.
Hawes with the reverse layup! Oh, he's some kind of wonderful. The double-zero jerseys will be flying off the shelves in Manchester!
Thunder 99, Sixers 96 — 0:48 remaining in fourth quarter
Thaddeus Young and MCW haven't quit on this one, and their quick field goals have whittled the deficit down to a single possession. Durant will remain on the bench, but Ibaka and Jackson are still on the floor. The Sixers have their starters in and are thirsting for the win.
Thunder 97, Sixers 94 — 1:40 remaining in fourth quarter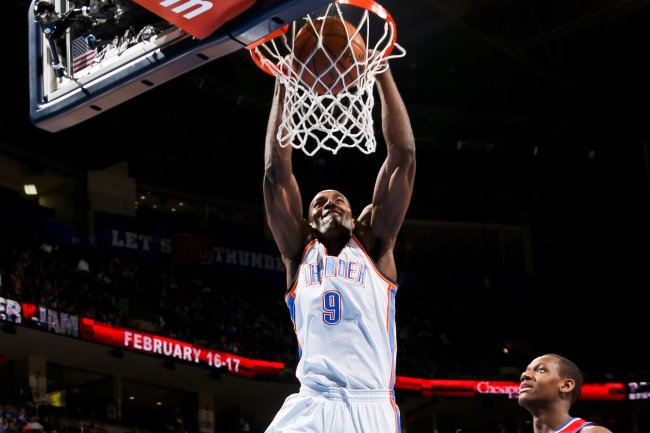 Layne Murdoch/Getty Images
Ibaka adds to his total with another bucket, giving him 18 points, nine boards and three blocks. If Jeremy Lamb wasn't 2-of-11 shooting and 0-of-8 from three-point range, this would be an OKC blowout. Durant, Ibaka and Jackson are just too much for Philly's defense to handle.
Evan Turner gets his defender in the air and draws contact. He looks like Dwyane Wade in the playoffs instead of a preseason game in England.
Thunder 93, Sixers 89 — 4:25 remaining in fourth quarter
Kevin Durant has already played 33 minutes and may not get back on the court in this one. That could open a window for a Philly comeback. They have all five starters in.
Reggie Jackson's mid-range game is sneaky good. Nailing jumper after jumper from the free throw line extended.

— Darnell Mayberry (@DarnellMayberry) October 8, 2013
It was pretty cool when the Sixers tied the game at 85. That was good enough for them, as the Thunder have reeled off eight straight points. Reggie Jackson has 23 points and clearly wants to make Russell Westbrook a modern-day Wally Pipp.
Thunder 93, Sixers 85 — 5:06 remaining in fourth quarter
"Man City, Sir Alex Ferguson retired. Man U still trying to find their form as well." - NBA TV commentator.

— JF (@JustinF_LB) October 8, 2013
Careful now! NBATV announcers are confusing Man U and Man City. That's like confusing the Lakers and the Clippers! Let the deluge of hate mail and Twitter griping commence.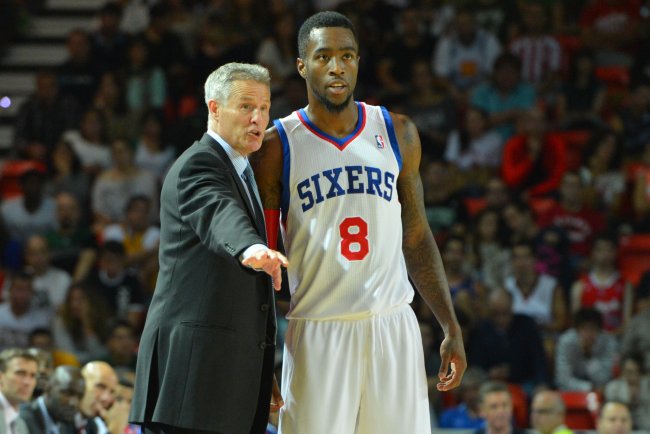 Jesse D. Garrabrant/Getty Images
The Sixers come storming back to tie the game! Leading the way for Philly are none other than Khalif Wyatt and Tony Wroten? That's what happens when garbage time starts early in the fourth quarter of a seven-point preseason game.
Sixers 85, Thunder 85 — 8:07 remaining in the fourth quarter
Oh my goodness, Darius Morris knifes to the basket for a lovely bucket. It's preseason guys, ATTACK ATTACK ATTACK. Even Ibaka's defense is not up to snuff for a preseason game.
Thunder 85, Sixers 80 — 9:55 remaining in fourth quarter
NBATV announcers suggest Durant should be called "The Microwave," because "he heats up in a hurry." I disagree. Nothing can beat Durantula.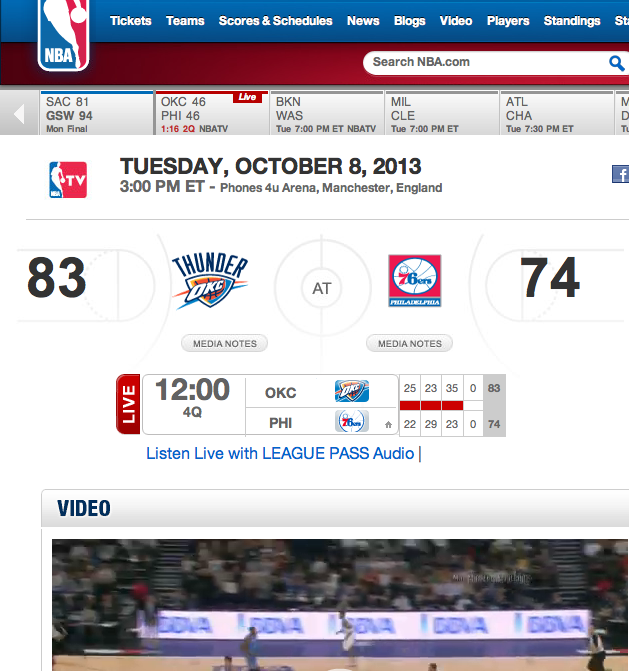 Kevin Durant scores 14 points in the third quarter, holds off the hot-shooting Sixers.
Kevin Durant is ensuring that there will be no refunds for any tickets. #WorthThePriceOfAdmission

— NBA Guru (@NBAGuru) October 8, 2013
Kevin Durant has flames on his shoes and the ball, and now he's allowed to goaltend. KD has 21 points and a dozen dimes. He's on fire! He's closing in on a triple-double and needs just two more rebounds. I'd blame the Philly defense, but what can they do? It's Durant!
It's raining threes, hallelujah! Khalif Wyatt hits from long range, and the Sixers are 10-of-22 from downtown and have clearly been watching film of the Golden State Warriors.
Thunder 78, Sixers 73 — 1:16 remaining in third quarter
Tony Wroten has never been better! If he plays like this during the season, the Sixers could be a playoff team. The problem is that Wroten probably won't be scoring like this. He also got stuffed by Ibaka for good measure. He's on lucky 13 right now, thanks to a trio of treys.
Thunder 76, Sixers 70 — 2:18 remaining in third quarter
Lamb has been reading my blog. He swats a shot to flash his athleticism and then throws down a dunk in transition. I apologize, Jeremy. Don't be mad at me.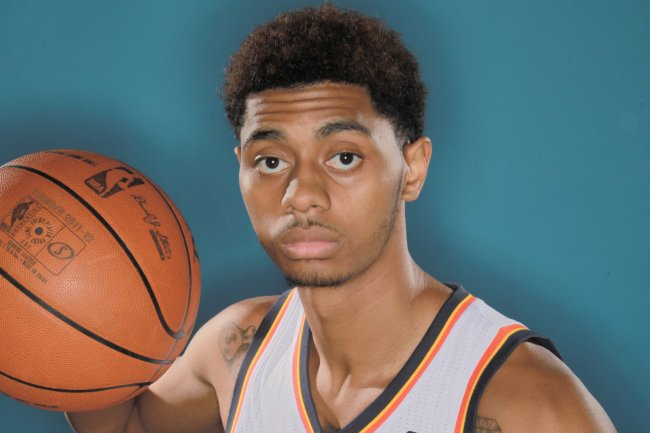 Layne Murdoch Jr./Getty Images
A tale of two Oklahoma Cities: Reggie Jackson has 17 points. Jeremy Lamb has five turnovers and has missed six of his seven shots.
Kevin Durant has seven points already in the third quarter, but Thaddeus Young buries a triple to keep the deficit close. Philly is 8-of-18 from three-point range.
Thunder 67, Sixers 63 — 5:22 remaining in third quarter
This article is
What is the duplicate article?
Why is this article offensive?
Where is this article plagiarized from?
Why is this article poorly edited?

Philadelphia 76ers: Like this team?