The New Orleans Saints will take their 5-0 record with them as they head to New England to take on the Patriots in what is the week's marquee matchup.
This week runs the gambit of matchups. We have interesting matchups involving top teams, pivotal matchups for teams trying to keep their seasons afloat and what may be the most lopsided matchup in the history of the NFL.
That last distinction belongs to the battle between the 5-0 Denver Broncos and the 0-5 Jacksonville Jaguars. Here's my first pick: The Broncos will win.
I'll get a little more in depth for the rest of my predictions.
Langford's Week 6 NFL Picks

| | | |
| --- | --- | --- |
| Date | Home Team | Away Team |
| Oct. 10 | Chicago Bears 31 | New York Giants 13 |
| Oct. 13 | Kansas City Chiefs 24 | Oakland Raiders 17 |
| Oct. 13 | Tampa Bay Buccaneers 24 | Philadelphia Eagles 20 |
| Oct. 13 | Baltimore Ravens 31 | Green Bay Packers 27 |
| Oct. 13 | Cleveland Browns 21 | Detroit Lions 17 |
| Oct. 13 | Minnesota Vikings 13 | Carolina Panthers 17 |
| Oct. 13 | Houston Texans 24 | St. Louis Rams 13 |
| Oct. 13 | New York Jets 17 | Pittsburgh Steelers 10 |
| Oct. 13 | Buffalo Bills 9 | Cincinnati Bengals 27 |
| Oct. 13 | Seattle Seahawks 20 | Tennessee Titans 10 |
| Oct. 13 | Denver Broncos 42 | Jacksonville Jaguars 13 |
| Oct. 13 | San Francisco 49ers 25 | Arizona Cardinals 13 |
| Oct. 13 | New England Patriots 24 | New Orleans Saints 27 |
| Oct. 13 | Dallas Cowboys 35 | Washington Redskins 27 |
| Oct. 14 | San Diego Chargers 24 | Indianapolis Colts 31 |
New Orleans Saints
Week 6 Opponent: at New England Patriots
The New England Patriots are coming off of a shockingly inept offensive performance in which they lost 13-6. Things should get better for them this week.
The Saints have wildly improved in pass defense and are currently ranked 12th in the NFL. However, the Bengals have an impressive defensive line that kept Brady under heat all game. The Saints won't be able to apply the same kind of pressure.
This should also help:
Two sources say Patriots expect Rob Gronkowski to play vs Saints. Has to be cleared by Dr Andrews, who serving as independent physician.

— Ed Werder (@Edwerderespn) October 8, 2013
The Saints proved their road merit last week in Chicago with an impressive 26-18 win. Drew Brees is leading the second-ranked passing attack, and the offensive is humming.
The Patriots have been playing solid pass defense—except the only team they've faced so far with a passing attack anywhere near as potent as the Saints is the Falcons, and the Patriots allowed Matt Ryan to throw for 421 yards and two touchdowns.
The Saints will outscore the Patriots in this one.
Prediction: Saints 27, Patriots 24
Baltimore Ravens
Week 6 Opponent: Green Bay Packers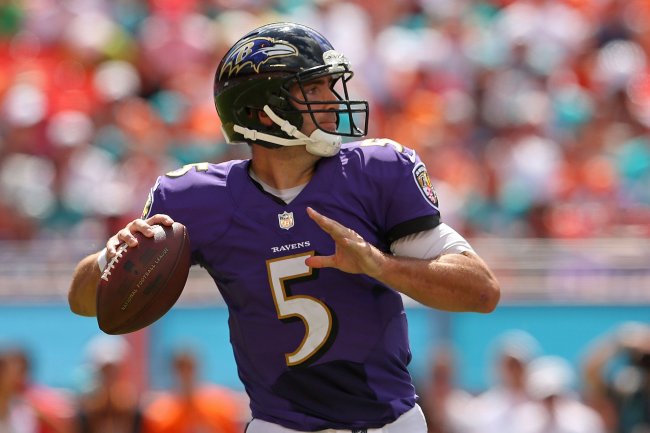 Mike Ehrmann/Getty Images
This is a big game for both of these perennial playoff teams.
The Packers (2-2) have been their usual prodigious selves on offense. However, the defense remains a concern—especially on the road.
The Packers have played and lost two road games, allowing 34 points in each. Overall, the defense is ranked 26th in passing and fifth in rushing.
That struggling pass defense must now deal with this too:
#Packers LB Clay Matthews had surgery yesterday on his broken thumb, source says. No exact time table, expected to be out more than a month

— Ian Rapoport (@RapSheet) October 8, 2013
Meanwhile, the Ravens have been struggling on offense. Baltimore is 14th in passing and 27th in rushing, and Joe Flacco has thrown six picks over his last two games.
Given the Packers' struggles on pass defense, Flacco will get things back on track in this one, and the defense will provide enough stops to pull out the win.
The Packers' big weakness in the passing game is the play of the offensive line. The Ravens will exploit that like they did while sacking Ryan Tannehill of the Dolphins six times last week.
Prediction: Ravens 31, Packers 27
Cleveland Browns
Week 6 Opponent: Detroit Lions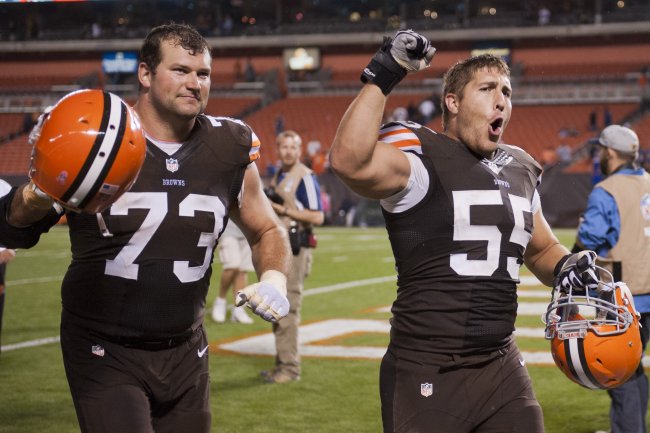 Jason Miller/Getty Images
I can't believe I'm typing this, but I am excited for a Browns-Lions game.
The Browns have been surging since the shock trade of Trent Richardson appeared to be a giant white flag waving over Cleveland. Instead, the Browns have rattled off three straight wins and are playing solid football.
I like the Browns in this matchup because of the improved play of their defense and the Lions' struggles on offense last week.
Playing without Calvin Johnson, the Lions scored just nine points against the struggling Packers defense. Johnson may be back for this game, but given a certain amount of rust and a Cleveland defense that is eighth in rushing and seventh in passing, the Lions will once again struggle to put up points.
Prediction: Browns 21, Lions 17