As if the Atlanta Falcons' season hadn't started poorly enough after the team dropped to 1-4 on Monday night, the team may now be without one of their best players for the rest of the season, Julio Jones.
From Jay Glazer of Fox Sports:
Breaking: Falcons fear Julio Jones likely OUT for the rest of the year w a foot injury. He's getting a second opinion tomorrow to determine

— Jay Glazer (@JayGlazer) October 8, 2013
Initial determination by falcons is that Julio Jones season is over. They are hopeful 2nd opinion says otherwise but not optimistic

— Jay Glazer (@JayGlazer) October 8, 2013
With Roddy White also battling a high ankle sprain and leaving Monday's game with a hamstring injury, fantasy owners are now asking one simple question: Can Harry Douglas be trusted to produce?
Obviously, he's a must-add in all formats, but he's also a gigantic downgrade from Jones. Dave Richard of CBS broke down just how valuable Jones has been for the Falcons this year:
Julio represented 27.1% of Ryan's completions, 35.3% of Ryan's yards, 20% of Ryan's TDs. Can't replace that.

— Dave Richard (@daverichard) October 8, 2013
He also had 60 targets, second in the NFL, so those looks will have to be distributed elsewhere. Where will they go?
White has two weeks to heal his many ails, and if he comes off the bye healthy will be the go-to guy for Matt Ryan. That's a big if, of course. Tony Gonzalez will probably be leaned on even more heavily as well, though teams will be able to key on him even more without Jones to stretch the field.
Douglas is obviously going to see his usage increase as well, and he's a player that likely will vault up to WR3 status now, but he hasn't really been much of a fantasy producer this year even with White clearly hobbled and playing a decoy role early in the season.
Douglas has 16 receptions (fourth on the team) for 219 yards on 27 targets (both third on the team), hardly inspiring stuff considering White's injuries. He's going to get a lot more looks now, but don't expect him to do enough with them to be a consistent WR2, especially as White gets more healthy.
Bleacher Report's Sigmund Bloom has pretty low fantasy expectations for Douglas:
Harry Douglas possibly be a low WR3/Flex type with no Julio, but more likely just bye/injury depth. Gonzo remain at recent high TE1 level

— Sigmund Bloom (@SigmundBloom) October 8, 2013
Here's what will likely happen: If White comes back healthy, he and Tony Gonzalez will each have plenty of fantasy value. The team will lean more heavily on the running game once Steven Jackson returns. Douglas will see his value spike slightly, but not enough to be a consistent starter.
Plus, the Falcons could decide to take a chance on salvaging their season and look to add a receiver via trade, perhaps someone like Josh Gordon of the Cleveland Browns.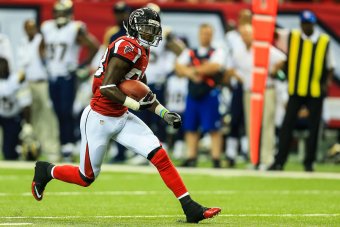 Daniel Shirey-USA TODAY Sports
Or—and this is where it gets scary—the team could shut down White as well if he can't get himself healthy, trade Gonzalez to a contender so he can chase a championship in his final year and tank the season. That seems unlikely, but you never know.
Either way, Douglas' value seems capped. He's a must-add in all formats, but don't expect him to suddenly become a fantasy star.
Hit me up on Twitter—I'll answer your fantasy lineup questions, make ill-fated NFL predictions and tweet knee-slapping jokes. Well, the first two things, at least.