Matt Ryan's fantasy football stock just got kicked off a ledge into a deep, dark pit.
Jay Glazer of Fox Sports reported on Tuesday morning that Atlanta Falcons wide receiver Julio Jones is likely out for the season with a foot injury. He noted that nothing is set in stone, however, as Jones will seek a second opinion:
Breaking: Falcons fear Julio Jones likely OUT for the rest of the year w a foot injury. He's getting a second opinion tomorrow to determine

— Jay Glazer (@JayGlazer) October 8, 2013
Initial determination by falcons is that Julio Jones season is over. They are hopeful 2nd opinion says otherwise but not optimistic

— Jay Glazer (@JayGlazer) October 8, 2013
Jones is one of the best fantasy football receivers in the league, and his ability to consistently haul in deep passes is one of the reasons Ryan has been such a reliable fantasy quarterback.
For the season, the former Alabama star has caught 41 passes for 580 yards and two touchdowns, averaging 8.2 receptions for 116 yards per game.
And he's not the only injured receiver on Atlanta's roster, either.
All-Pro Roddy White has been battling a high-ankle sprain all year, and he's been extremely ineffective as a result, catching just 14 passes for 129 yards and zero touchdowns on the season.
Making matters worse, he exited the game on Monday night with a hamstring, as noted by the Falcons, and never returned to the game:
INJURY UPDATE: Falcons WR Roddy White has hamstring injury, return to game is questionable. #NYJvsATL

— Atlanta_Falcons (@Atlanta_Falcons) October 8, 2013
With White already ailing, Jones was the big-play receiver for the Falcons. Tony Gonzalez is second on the team with 33 receptions, but he doesn't stretch the field these days like he used to in his prime.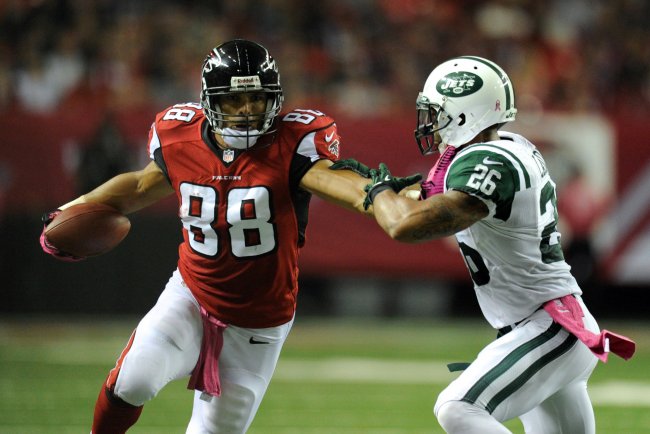 Dale Zanine-USA TODAY Sports
Harry Douglas is fast, but he isn't a reliable target, catching 16 passes this year on 27 targeted attempts.
Jones' injury will ____ Ryan's fantasy stock.
Atlanta's offense was already suffering enough with Jones in the lineup. Ryan has been getting hammered in the pocket this year playing behind a porous offensive line (nine sacks) and the team can't generate a rushing attack (78.4 yards per game).
Jones was the glue holding this offense together, and if he's out for the season, then Ryan's fantasy production will take a serious turn for the worse. His trade value certainly declines with this news, and owners looking to offload him will have a hard time getting proper value in return.
Fantasy owners looking to upgrade from their current signal-callers would be smart to stay away from any suspect trade proposals from panicked Ryan owners looking to unload him.
Conversely, by all means, if you do own Ryan and can get a starting-caliber player at any of the top three positions (running back, wide receiver or quarterback), then make a deal.
Follow me on Twitter @JesseReed78