Texas A&M Football: Injury Bug Bites Aggies, What It Means for SEC Play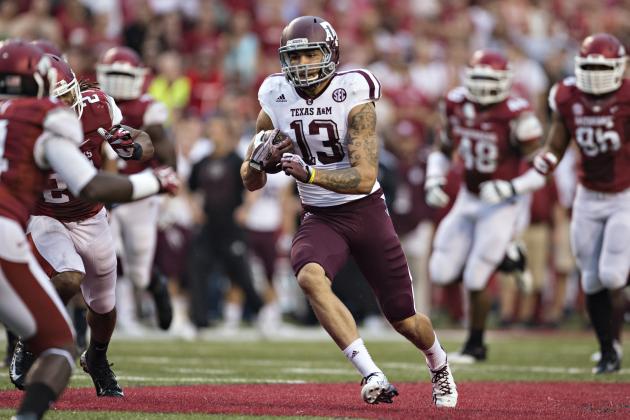 Wesley Hitt/Getty Images

It happens every year to every team—a heavy dose of the injuries at an inopportune moment during the schedule. The result is either self-destruction or a team-unification and, in more cases than not, serves as the event that separates good teams from great ones.
This season, Texas A&M was fortunate, finding time to nurse its wounds on a bye week following a rain-soaked 45-33 victory on the road against Arkansas on Sept. 28. Key injuries were suffered throughout the force, as starters on both sides of the ball were forced off the field against the Razorbacks.
Bleacher Report breaks down the impact of certain injuries and having limited play from vital players across the board for the Aggies.
*Unless otherwise noted, all quotes obtained firsthand
Begin Slideshow

»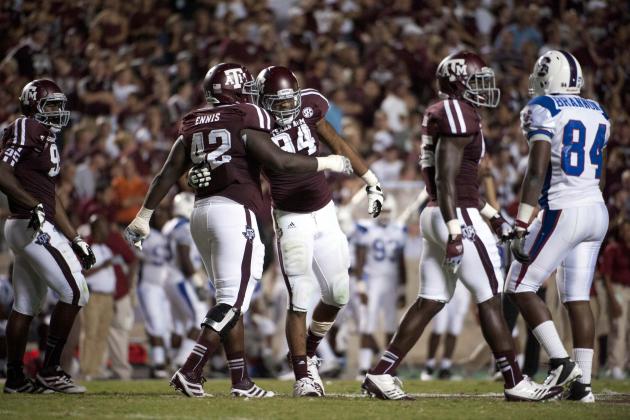 Brendan Maloney-USA TODAY Sports

2013 Statistics: Six Tackles (20th), .5 TFL
Tuesday morning, Texas A&M head coach Kevin Sumlin announced senior defensive tackle Kirby Ennis had suffered a torn ACL against Arkansas and, following surgery, would effectively be finished with his playing career in College Station.
"[Ennis] is going to have surgery and he will be done for the year," Sumlin said. "He had an ACL tear on top of the cartilage. We're going to get that fixed and that will be it for him."
While the senior's statistics fail to hold much weight, Ennis' talents were rooted in his leadership on a defensive line loaded with young talent, including two juniors, a sophomore and four freshmen. With Ennis out for the season, the Aggies will be forced to turn to true freshman Isaiah Golden, an athlete with good experience through six games but lacking in the leadership capabilities of a player such as Ennis.
Wesley Hitt/Getty Images

2013 Statistics: 26 Tackles (5th), 2.0 TFL
True freshman linebacker Darian Claiborne, who made his first start for the Aggies against SMU, suffered a thigh bruise near the end of A&M's 45-33 victory over Arkansas on Sept. 29. Fortunately for A&M, Sumlin said Claiborne has recovered well and has already moved back into the rotation with the first-team defense.
"[Claiborne] had a thigh bruise," Sumlin said. "He's healed up and bouncing around. He's ready to go."
Despite the freshman's youth and inexperience, Claiborne brings a contagious energy to the A&M front seven the Aggies were missing during the first few weeks of the season, making Claiborne's quick recovery a godsend for an already-struggling A&M defense.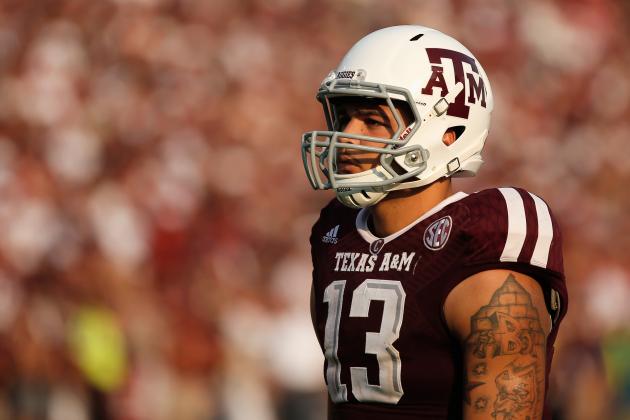 Scott Halleran/Getty Images

2013 Statistics: 28 receptions for 691 yards and five TDs (leads all categories)
While Mike Evans' injury against Arkansas was never clarified, the sophomore wide receiver suffered what seemed to be an ankle sprain while making a touchdown reception during the first half of the game. After the win during the following weekly press conference, Sumlin said Evans was "limping around still" but was expected to make a full recovery.
No additional information on Evans was revealed this past Tuesday, but it is assumed Evans is back to running routes and catching passes from Johnny Manziel. The absence of the sophomore wideout, though, would be devastating to the A&M war machine.
Currently, Evans leads all statistical categories among A&M wide receivers and, behind his gaudy numbers against Alabama, is entrenched in the Biletnikoff Award national discussion. The Manziel-Evans combination has been ripping apart opposing defense's for the past two seasons, and if Evans were to miss time due to his injury, A&M's air raid offensive attack would suffer.