SEC Football 2013 Week 7 Simulation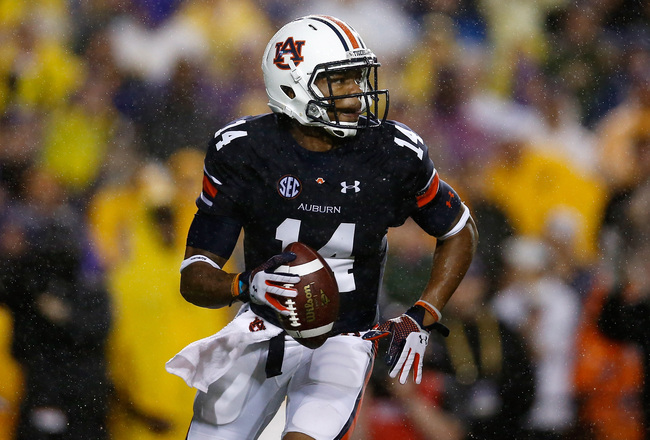 Chris Graythen/Getty Images
A huge weekend in SEC football provided a lot of clarity for several teams. LSU is a legitimate national title contender, as is Georgia. Mississippi State and Ole Miss are almost there, but not quite. Auburn is a far cry from its three-win season a year ago and Alabama is just a tiny bit more talented than Georgia State. Not that we didn't already know that one.
I enjoyed another spectacular week in my picks, only guessing the Vanderbilt game incorrectly. Turns out Mizzou is a little more legit than we once thought. I'll need to pick against the spread better this week to regain the lead in that category.
Week seven is coming up; which team will pull off the big upset?
---
| | | |
| --- | --- | --- |
| | This Week | Overall |
| EA Straight-Up | 3-4 | 41-16 |
| Me Straight-Up | 6-1 | 50-7 |
| | | |
| EA vs. Spread | 4-3 | 29-28 |
| Me vs. Spread | 4-3 | 28-29 |
#25 Missouri [45] at #7 Georgia [42]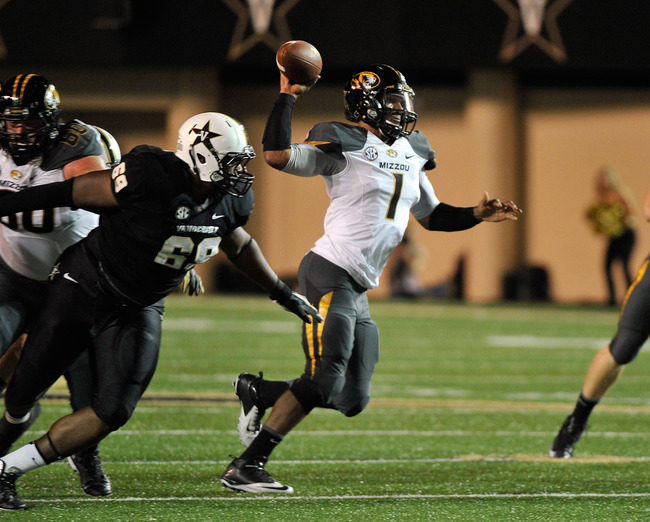 Frederick Breedon/Getty Images
Consider EA to be firmly planted on the Missouri bandwagon.
As has been most every UGA game this year, this one is dominated by offense. Both teams trade a couple of touchdowns in the first quarter before the Bulldogs do what most expect them to and reel off 21-straight to hold a 35-21 lead at halftime.
James Franklin's attack on the ground and through the air brings Mizzouri within a touchdown headed into the fourth, where a 48-yard kick from Andrew Baggett with 5:58 left pushes the SEC East leaders ahead for the final time.
The teams combine for 995 yards of offense and 42 first downs. Expectedly, both quarterbacks have a great day. Murray hits on 18 of his 27 pass attempts for 340 yards, three touchdowns and no interceptions while Franklin passes for 319 yards on 19-of-36 accuracy for four scores and an interception. Franklin adds another 118 yards and two touchdowns on the ground, giving him six for the day.
If Missouri pulls off this upset I see no way the Tigers wouldn't be in the driver's seat in the East and suddenly in the discussion for a national championship. Unfortunately for Franklin and company, I don't see it happening, even with the prolific UGA injuries.
---
EA PICKS: Missouri to win, Missouri (+8)
MY PICKS: Georgia to win, Missouri (+8)
#14 South Carolina [34] at Arkansas [24]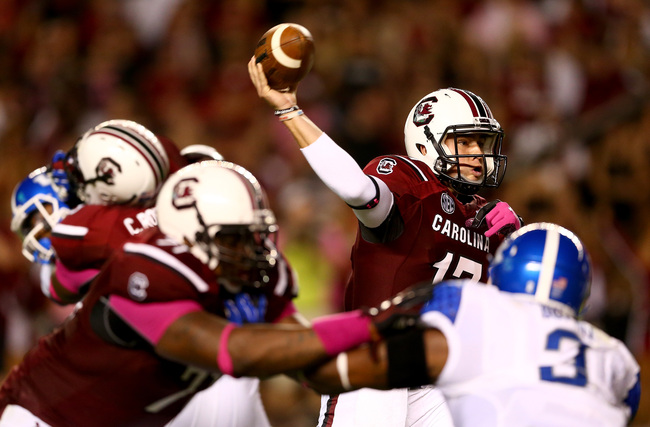 Streeter Lecka/Getty Images
Funny how the game seems to catch onto some of the smaller nuances of real life. The fact of the matter is, South Carolina is talented and well-coached but can't put teams away. Teams that don't put opponents away don't win national championships. And while we're at it, there is frankly no excuse for USC to struggle with Kentucky.
The Gamecocks likewise struggle in a trip to Fayetteville, though seem to be enjoying themselves while holding a 24-3 halftime lead.
As is the norm, the 'Cocks slack off and a couple of touchdown passes from Allen brings the score within ten headed into the fourth quarter. Connor Shaw leads a long touchdown drive early in the quarter to solidify the win.
Allen has been unremarkable at best so far, and isn't much better against USC. He passes for 223 yards on 17-of-29 passing, manages to give up no turnovers and scores three times. The Gamecocks rely heavily on the run game, minimizing Shaw's impact as he hits on 15-of-26 passes for 155 yards, a touchdown, and an interception.
That run game was mostly on the shoulders of Mike Davis, who carried 27 times for 128 yards and three scores.
Though South Carolina is struggling against every opponent it faces, talented or not, Arkansas is still rebuilding and doesn't have a chance in this one.
---
EA PICKS: South Carolina to win, South Carolina (-5.5)
MY PICKS: South Carolina to win, South Carolina (-5.5)
Western Carolina [3] at Auburn [33]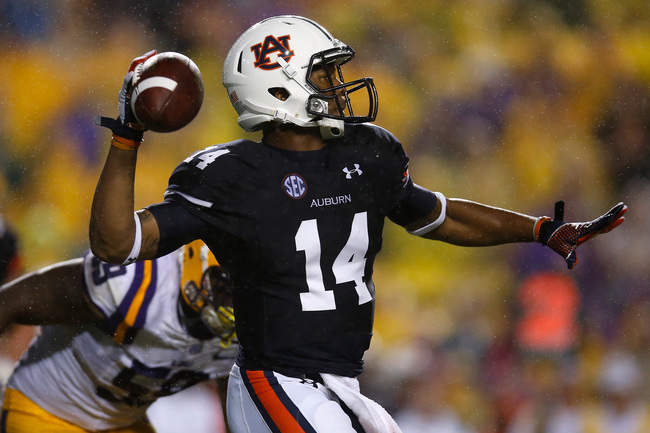 Chris Graythen/Getty Images
While last week's bout with Ole Miss said a lot, this game will say very little for the Tigers.
Auburn holds Western Carolina to 136 yards, three points, and 13 first downs while forcing four turnovers. Pretty much sums it up.
Jonathan Wallace gets the snaps, going 17-for-27 with 228 yards, two touchdowns and a giveaway. Artis Payne accumulated 97 yards on the ground and Tre Mason adds 88.
Let's move on.
---
EA PICKS: Auburn to win, Western Carolina (+43.5)
MY PICKS: Auburn to win, Western Carolina (+43.5)
#17 Florida [21] at #10 LSU [14]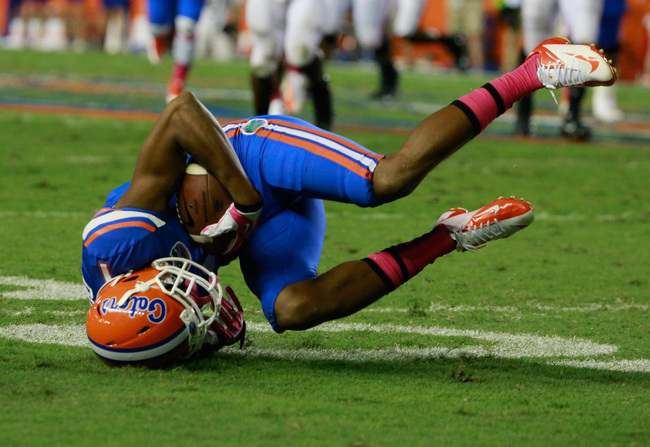 Sam Greenwood/Getty Images
I'm critical of the Gamecocks, yes. They're unreliable and poorly-led, but they have potential. Florida, however, does not.
The Gators have been overrated all year, and this simulation is joining the parade.
In the simulation, each team manages a single trip into the red zone before halftime and each registers a touchdown. The Gators continue the slow offensive pace but tighten the defense even more, scoring two touchdowns to go up 21-7 well into the fourth quarter. A dramatic field march powered by Jeremy Hill results in seven for the Tigers, but the on-side kick fails and Florida leaves Death Valley very much alive.
Florida's defense and LSU's offense are both probably the premier of the league. The less exciting but more decisive battle, then, will be between LSU's defense and Florida's off...sorry, I can't stop laughing.
---
EA PICKS: Florida to win, Florida (+7)
MY PICKS: LSU to win, LSU (-7)
#1 Alabama [52] at Kentucky [17]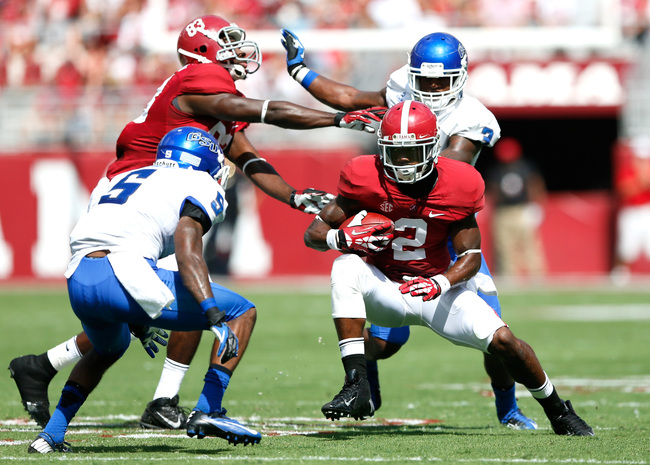 Kevin C. Cox/Getty Images
This year's edition of Alabama football is quite exquisite, actually. It's imperfect. The defense is uncharacteristically flexible, the offense is streaky, and the discipline isn't without fault.
And none of it matters.
Watching a team coached by Nick Saban is like watching a cat batting around a terrified cricket before inhaling it. It doesn't matter when or how it happens, it happens and it happens hard.
This game is never close and features four touchdowns from A.J. McCarron, who notches a 214.4 quarterback rating on 23-of-32 passing for 386 yards. Conversely, Maxwell Smith goes down to injury and Kevin Towles comes in to pass for 12-of-28 and 166 yards, with a touchdown and an interception.
Kenny Bell catches six passes for 149 yards and 'Bama destroys the Kentucky OL for five sacks.
Saban's style doesn't lend itself to massive blowouts, but this one won't be much of a contest.
---
EA PICKS: Alabama to win, Alabama (-27.5)
MY PICKS: Alabama to win, Alabama (-27.5)
Bowling Green [17] at Mississippi State [41]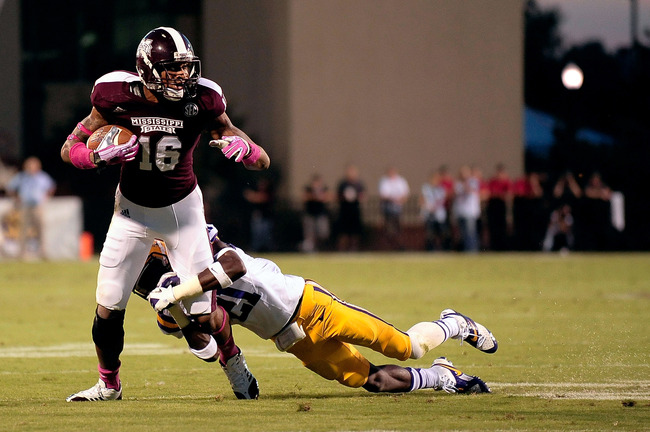 Stacy Revere/Getty Images
To quote myself from Twitter, I don't understand how there are Mississippi State fans. Not because the program doesn't deserve it, but that I would think they had all offed themselves by now.
The Bulldogs lost their starting QB and RB in game one and fall after dominating Oklahoma State for a short time. After a last-second comeback Auburn win and pulling within five in the final quarter only to lose to LSU by over 30, this Mississippi State team has to be frustrated.
State hasn't struggled with out-of-conference opponents, and this one is no exception. Dan Mullen's defense, which has been underrated, holds the Falcons to just 269 yards and forces two turnovers while the offense approaches 500 yards and 26 first downs.
The two-quarterback system falls back to just Tyler Russell, who goes 18-for-31 for 204 yards and three scores. The big story was LaDarius Perkins, who runs all over BGSU for 207 yards and two touchdowns on 30 attempts.
Mississippi State is one of the most underrated teams in the nation, but it won't matter until MSU can topple someone of significance.
---
EA PICKS: Mississippi State to win, Mississippi State (-10.5)
MY PICKS: Mississippi State to win, Mississippi State (-10.5)
#9 Texas A&M [45] at Ole Miss [22]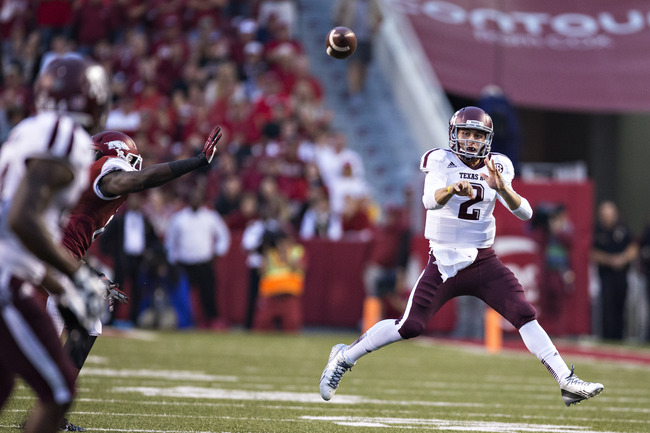 Wesley Hitt/Getty Images
Ole Miss' stock is plummeting. Though a win at Texas remains decent, wins at Vanderbilt and a loss to Auburn show the Rebels have a ways to go before competing with the big boys.
Texas A&M is a big boy.
Ole Miss competes well in the first quarter, mostly on the ground, and lead 10-0 heading into the second stanza. Johnny Manziel then welcomes Oxford to the Heisman show and throws for four touchdowns, completing 23-of-35 passes for 306 yards on top of 88 yards and a score on the ground and the Ole Miss defense is left wondering what just happened.
Seven A&M players catch at least two passes for 22 yards and Steven Jenkins registers 12 tackles, four of them for a loss. Bo Wallace doesn't manage to connect in the end zone but hits on 17-of-33 passes for 219 yards while Walton rushes for 157 yards and two scores. Robert Nkemdiche only manages three tackles.
This one is about right. Offense will be the name of the game, and the Aggie offense is much more developed and reliable.
---
EA PICKS: Texas A&M to win, Texas A&M (-6)
MY PICKS: Texas A&M to win, Texas A&M (-6)
Is Missouri Legit?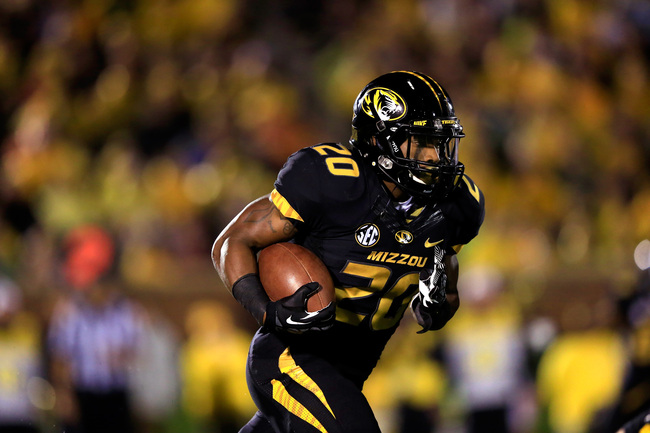 Jamie Squire/Getty Images
From where I sit, Missouri dominates this week's headlines. Can the Tigers take commanding control of the SEC East with an improbable win in Athens?
What was once a marquee match-up in Florida's trip to LSU is now a punishment-in-waiting.
This year's storylines are hardening. Unexpected teams are rising, falling and others are proving true to their expectations.
Let's see if I can hold to mine.
Follow me on Twitter @SEC_Nerd.
Keep Reading