South Carolina Gamecocks vs. Arkansas Razorbacks: Complete Game Preview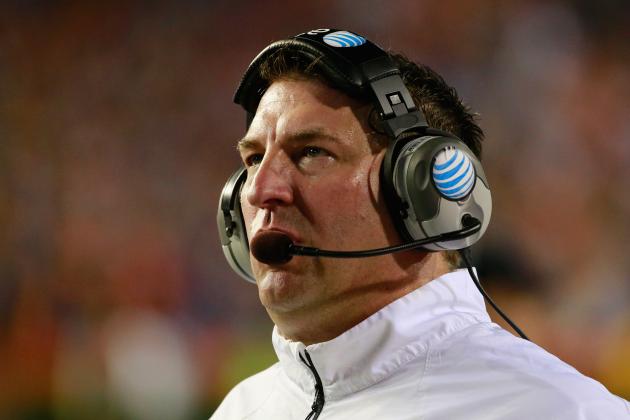 Sam Greenwood/Getty Images
Arkansas coach Bret Bielema will be facing off against South Carolina and coach Steve Spurrier for the first time.
Arkansas' season has been easy enough to follow thus far: Three straight victories over soft, non-conference competition followed by three consecutive losses once the competition got tougher.
Included in the three-game skid are conference losses to Texas A&M and Florida the last two weeks.
South Carolina, meanwhile, may be the most frustrated 4-1 team in the country. The Gamecocks' only loss came at Georgia, but closer-than-expected victories over the likes of Vanderbilt, Central Florida and Kentucky have led to a sense of general unease.
A porous defense and mistake-riddled special teams play are South Carolina's chief concerns heading into a critical three-game SEC road stretch that begins against the Razorbacks.
Arkansas holds a 5-1 edge over the Gamecocks in games played in Fayetteville, Ark.
Who: South Carolina (4-1, 2-1 SEC) at Arkansas (3-3, 0-2 SEC)
When: 12:21 p.m. (ET)
Where: Donald W. Reynolds Razorback Stadium, Fayetteville, Ark.
Watch: SEC TV
Series history: Arkansas leads 13-8
Begin Slideshow

»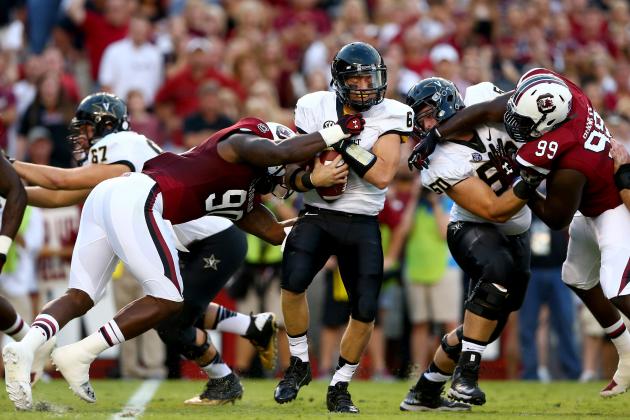 Streeter Lecka/Getty Images
South Carolina needs a big game defensively from players like defensive end Chaz Sutton (No. 90) and defensive tackle Kelcy Quarles (No. 99).
South Carolina's defense has underperformed thus far this season.
The Gamecocks need to step up in a big away against the Razorbacks, a team that is likely to line up and play smashmouth football.
Stopping the run will be the key. Also, improved play on special teams is needed.
Otherwise, it will be up to South Carolina's offense to save the day, as it has each of the last three weeks.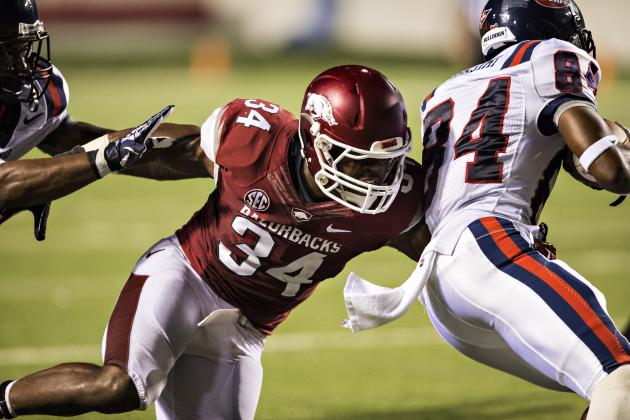 Wesley Hitt/Getty Images
Linebacker Braylon Mitchell (No. 34) has been tough against the run and the pass for the Razorbacks this season.
Just as South Carolina must stop the run, so must Arkansas.
The Razorbacks have been reasonably solid against the run so far this season, allowing 124.5 yards per game, but no one has really stopped the Gamecocks.
South Carolina is averaging a school-best 476.4 yards per game in total offense, including 215.4 rushing.
Not counting kneel-downs to end the game, South Carolina has scored on 10 of its last 14 possessions.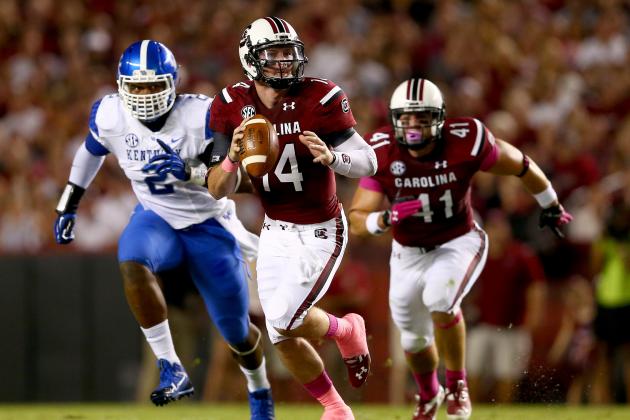 Streeter Lecka/Getty Images
South Carolina quarterback Connor Shaw (no. 14) has been impressive thus far for the Gamecocks.
With all the drama surrounding South Carolina defensive end Jadeveon Clowney, the play of quarterback Connor Shaw has gone largely unnoticed.
Shaw has completed 68.8 percent of his passes for 927 yards and seven touchdowns with no interceptions.
In addition, he has rushed for 282 yards and a touchdown on 60 carries.
Clowney, who missed last week's game with Kentucky because of bruised rib muscles, bears watching if he's able to play.
Tailback Mike Davis has rushed for 614 yards and eight touchdowns.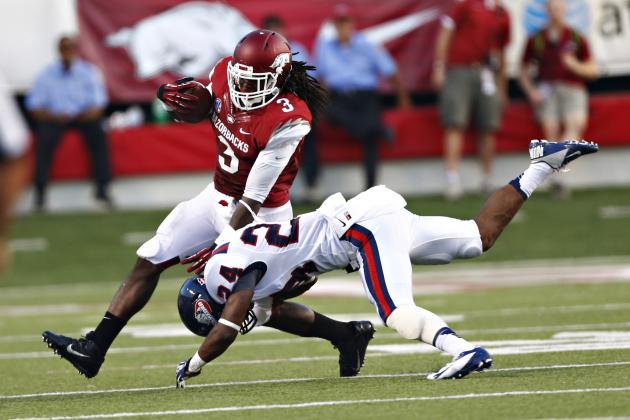 Wesley Hitt/Getty Images
Freshman Alex Collins (No. 3) is averaging 108.5 yards rushing per game for the Razorbacks.
Arkansas uses a two-man tandem at tailback, led by freshman Alex Collins, who has rushed for 651 yards and three touchdowns.
Sophomore Jonathan Williams has rushed for 503 yards and four touchdowns on 81 carries.
Although the Razorbacks are primarily a running team, Javontee Herndon has 17 receptions for 268 yards and four touchdowns.
Place-kicker Zach Hocker is 8-of-8 on field goals, including a long of 53 yards.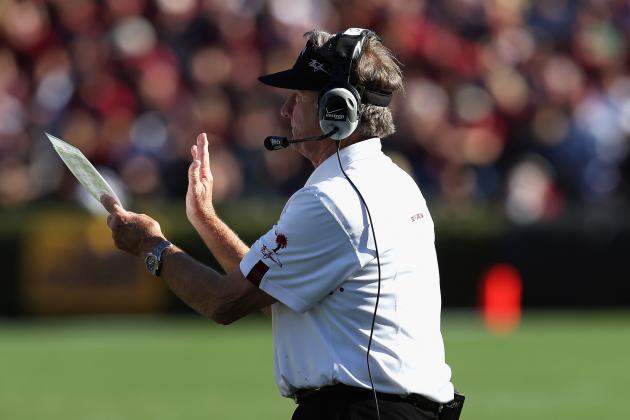 Streeter Lecka/Getty Images

Saturday's game at Arkansas begins a three-game SEC road swing for South Carolina, but coach Steve Spurrier says he's not looking at it that way.
"Oh, I hadn't thought about it," Spurrier said Tuesday at his weekly press conference. "But we get a bunch of home games after that. We know what we've got to do and we know it's not going to be easy. But we'll try and do it one game at a time and see what happens. We've just got to go play.'
Meanwhile, at Arkansas, coach Bret Bielema said the Razorbacks should be ready to play.
"The kids are excited about South Carolina," Bielema said Monday at his weekly press conference. "It's homecoming week. That's something I really preach to our kids that you're going to have a great crowd. It's an early game, but I know they'll show up, and obviously South Carolina is a very good opponent. It should be a tremendous atmosphere."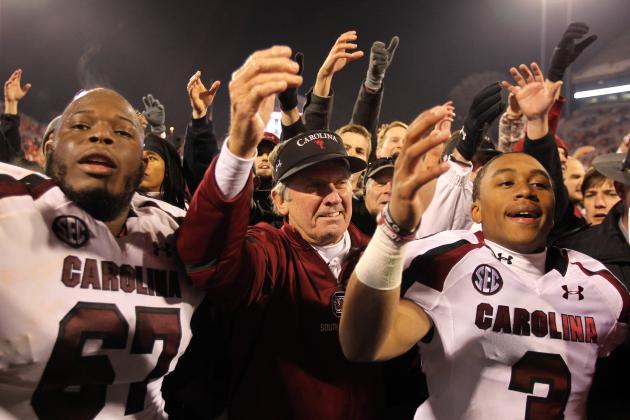 Streeter Lecka/Getty Images
South Carolina hopes to be toasting another victory after Saturday's game with Arkansas.
South Carolina's poor play on defense and special teams is going to catch up with the Gamecocks sooner or later.
Will it be this weekend at Arkansas?
Probably not.
South Carolina's offense is going to be a handful for the Razorbacks.
Prediction: South Carolina 31, Arkansas 27.
Unless otherwise indicated, all quotes obtained firsthand.