On Saturday, for Liverpool's home league game against Crystal Palace, Raheem Sterling was given an opportunity to prove why he should be a regular first team player.
From the team that beat Sunderland a week before, Brendan Rodgers moved Jordan Henderson in from the right-wing-back position to sit with Steven Gerrard in the centre of midfield. Lucas Leiva was suspended.
Rodgers brought Sterling into the vacant right-wing-back position.
It was a big responsibility for a player so young and, unfortunately, it was a slightly misguided decision.
The right-wing-back position in Rodgers' 3-4-2-1 formation that has evolved over the last three games calls for the right and left wing-backs to cover vast amounts of pitch during the 90 minutes.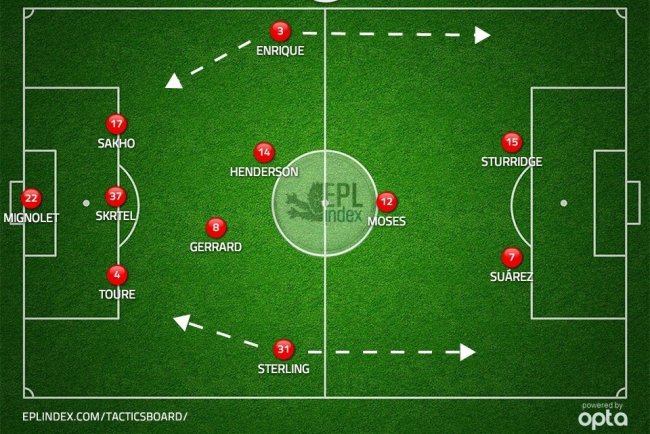 The perfect wing-back in this system would be a player who is quick and athletic to attack down the wide channels and can provide excellent service through the means of crosses and through-balls for the frontline players. He should also be strong and defensively sound, capable of keeping up with the pace of the game and able to put in a tackle.
Unfortunately, at 18 years of age Sterling has not yet achieved all of these key attributes that a wing-back needs.
Against Palace he looked like a lost boy out on the right wing.
His smaller, thinner frame and lack of defensive confidence was immediately recognised as Liverpool's weak spot and exploited by the visitors.
His stats tell a different story, however, and show the disrupted nature of purely using data as tool for match analysis.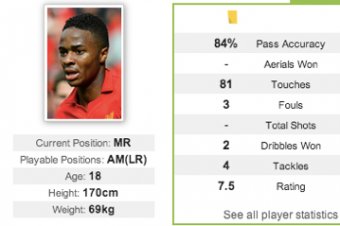 Sterling's passing accuracy was 84% – 2% higher than his left-sided counterpart Jose Enrique. He made 3 tackles – 2 more than Enrique, but committed 3 fouls, including the one that lead to Palace scoring their second half goal from the resulting free-kick.
Sterling's problem is that he is not a defender. As he's not a defender, he can't be expected to perform defensive responsibilities.
He looked a frustrated, lost sheep when tracking back, especially in the latter stages of the game against Palace. His petulance got the better of him eventually and he was booked, giving away a free-kick in a dangerous position on 75 minutes.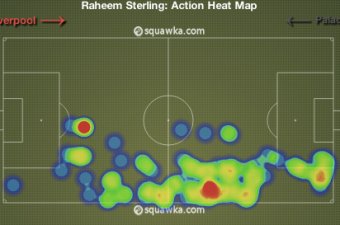 Sterling's ineffectiveness to compete defensively in a wing-back position cast him as a distracted figure. As this heat map from Squawka.com shows, he made little movement back to defend. Palace took advantage of the gaping hole he left.
Going forward, Sterling's crosses were weak and wasted a number of swift Liverpool counter-attacks. His focus to take the ball past players was foiled by the experienced Palace back line who made the contest look like men against a boy.
Some may argue that Sterling is still only 18, still learning his trade and still making the leap from youth to Premier League football. Should he be given some slack based on that fact? If a player isn't good enough, he shouldn't be playing, age shouldn't be a factor at this most elite level of football.
A damming assessment of Sterling's performance against Palace, maybe, but the position he was put in was the creator of his problems on Saturday afternoon.
Sterling is not yet, and probably won't be, a player capable of covering the whole right-wing. He does not possesses the tactical intelligence, athleticism or strength of a master of that position, such as Glen Johnson.
Unfortunately for Sterling, his perfect position as a simple right-winger or right-sided attacking midfielder does not exist in Liverpool's current set-up.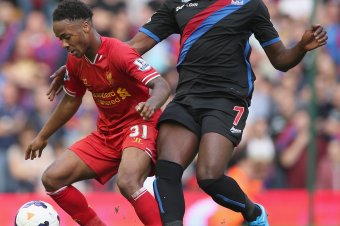 Clive Brunskill/Getty Images
Whilst I see merit in giving the England U21 star first team experience, he should be ready for the position and the responsibilities that come with it, before being thrown in at the deep end in a Premier League game.
Fortunately for Liverpool, they have the perfect man for that right-wing-back position in Glen Johnson. However, as his current injury break is showing, the Reds are not fully equipped to cover his absence.
It will surely be a position Rodgers will look to strengthen come January, so as not to carry an over reliance on Johnson for the second half of the campaign.
As for Sterling, he's got a lot of promise, and a bright future ahead. Just not at right-wing-back, please.