Whether it is his big smile, off-the-charts athleticism, natural charisma or finicky demands, Dwight Howard is must-see TV on and off the court. Entering his first season with the Houston Rockets, the final chapter of the Dwightmare should be the most compelling in what has been a three-year saga.
Like any great trilogy, the story had to start somewhere. For Howard, this whole ordeal came to a head as a member of the Orlando Magic in 2011. Unhappy with the direction he perceived the team was going in, Howard wanted out.
At the team's media day in December, Howard struggled to put on a happy face as he fielded a barrage of questions about his uncertain future. He stressed his love for the city, while almost simultaneous reiterating he wasn't staying unless the culture changed in Orlando.
"If it's meant for me to stay here, then I'll stay. I love this city. There's no place I'd rather be but here in Orlando," Howard said at the time. "I just want to make sure we have the right things here so we can win a championship. I'm all about change. If you're willing to change and you're willing to do what it takes to win, then you got me."
When asked if he wasn't willing to rule out staying, Howard appeared annoyed by the question and responded with "What do you want me to say?" At times, Howard contradicted himself. He expressed a reluctance to leave, while also stating that "nobody wants to stay in the same place."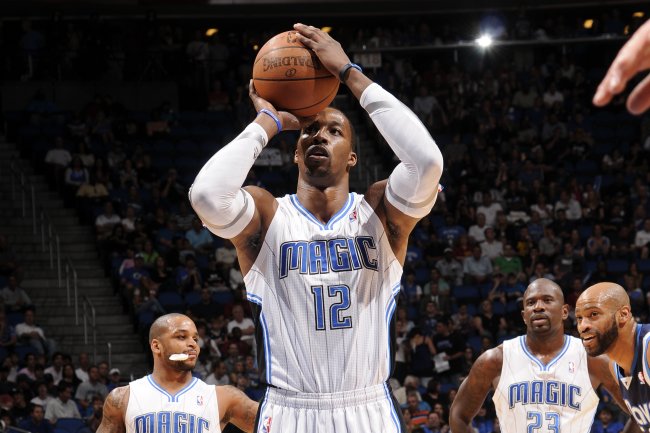 Fernando Medina/Getty Images
It was this kind of flip-flopping that put Howard in a negative light and cast a dark shadow over Orlando's upcoming 2011-12 season. With the year cut short by a strike, the Magic finished 37-29. That was good for third in the Southeast Division, and Orlando was eventually eliminated in the first round by Indiana.
Then-head coach Stan Van Gundy was constantly peppered with questions about his relationship with Howard and how that translated to his job security. The friction between the two led to one of the most awkward interviews in recent memory, with Van Gundy stating he was told Howard wanted him fired, only to have his prized center show up after with a big hug.
As for Howard, he managed to play in 54 of the team's 66 games, but his season was cut short by a back injury. He averaged 20.6 points, 10.8 rebounds and 2.1 blocks per game in what would be his final campaign in the Orlando.
Later that summer, Howard was shipped to the Los Angeles Lakers in a four-team trade. During that season's media day, D12 said all of the right things. He flashed the same reluctant smile as the year before but made it clear that his goal hadn't changed.
"We have an opportunity here to do something special and that's always been my goal: win a championship," Howard told Craig Sager in 2012. "Being here, we have an opportunity and we're going to take advantage of it."
Unfortunately, that never happened. Head coach Mike Brown was fired just days into the season. After flirting with bringing Phil Jackson back, the team settled on Mike D'Antoni. Howard never seemed like a perfect fit either in L.A. or in D'Antoni's system.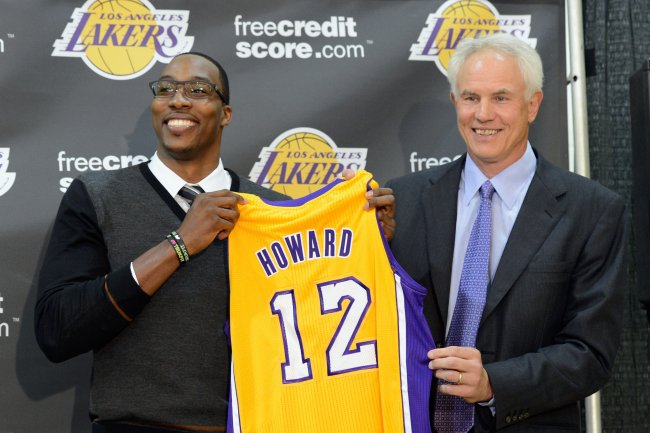 Kevork Djansezian/Getty Images
Howard also never seemed to jell with Lakers superstar Kobe Bryant. According to CSN Bay Area's Ric Bucher, that led to Howard demanding that Los Angeles fire D'Antoni and amnesty or "muzzle" Bryant as prerequisites for his return to the purple and gold.
The report cites a quote from Lakers VP of Basketball Operations Jim Buss.
"Dwight didn't want to play with Kobe for 2-3 more years," Buss said. "I'm going to stand behind Kobe because of his history with the franchise."
That brings us to where we are right now. Howard recently took the stage at Houston Rockets media day after signing a four-year, $88 million deal over the summer, and his quotes had a very familiar sound to them.
"We all have the same goal, which is just to win a championship," Howard said. "We understand that it is not going to be easy. There's a lot of great teams in the West, but we have an opportunity to do something special, if we stay together."
There was a little more excitement in Howard's voice this time around, which is understandable because Houston has a good young core and it was his hand-picked destination. He went on to say he felt "great" and is "a lot healthier this time around" after "one of the best summers I've had in a while."
The common theme in Howard's attitude in all three cities is that he was focused on a championship. However, there was an obvious difference in his demeanor during each instance. In Orlando, he spoke like a man with one foot out of the door. In Los Angeles, he seemed uneasy dealing with the pressure that came with the expectations of a great Lakers team.
In Houston, he's content with his decision while also a bit wiser after dealing with a PR disaster the past few seasons. The improvement in his physical ability seems to have uplifted his spirits, and he's better prepared for what lies ahead.
That being said, there are no ready-made excuses for Dwight Howard going forward. He can't blame his lack of productivity on a bad back or a torn labrum or free-agency distractions. He can't complain about coaching or an inability to coexist with his teammates.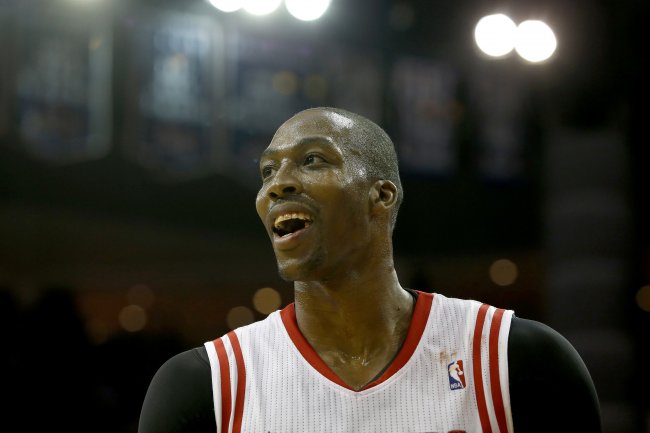 Thomas B. Shea/Getty Images
He has made his bed with the Houston Rockets. It is on him to deliver as the franchise's newest cornerstone. By aligning with James Harden and Chandler Parsons, he must be aware of the expectations and the pressure on the team to live up to the hype.
That is the main reason this season will be Howard's most compelling. This will be his put up-or-shut up year. As with any superteam, fans will be split into two sides: those that are excited to see how the Rockets fare and those that will be rooting for this experiment to fail. That concept wasn't lost on the big man at media day.
"Being in the NBA, being at the top, you're going to get scrutinized for a lot of different things," Howard said. "The main thing you have to do is try to stay away from it as much as possible...You get caught up in the good, bad and the ugly, it messes you up as a person and as a player."
The other reason this will be the biggest year of Howard's career is health. We haven't seen Howard at close to 100 percent in a while. The last time we saw Howard without any major injury or distraction was 2010-11 with the Magic.
Oddly enough, that was Howard's best season as a pro. He averaged 22.9 points, 14.1 rebounds and 2.4 blocks per game. He shot 59 percent from the field and from the free-throw line. The Magic won 52 games but still managed to lose in the first round to the Atlanta Hawks.
With so many mouths to feed in Houston, it will be tough for Howard to match those 2010-11 numbers in his first season. However, with improved health and a better supporting cast, he has a very good chance of topping his stats from last year (17.1 points, 12.4 rebounds and 2.4 blocks per game).
He'll flirt with 20 points per game and be in contention for another rebounding title. He'll once again be the league's premier shot-blocking presence and will make a run at his fourth Defensive Player of the Year award.
However, all of the individual achievements are meaningless if the team doesn't win. In a wide-open Western Conference (especially with Oklahoma City missing Russell Westbrook for the first 4-6 weeks of the season), the Houston Rockets have a puncher's chance at a title run if things can bounce their way.
For that to happen, it all falls on Howard's shoulders. He was brought in to fix a defense that allowed 102.5 points per game last season. He was signed to help take some of the scoring load off of James Harden. As the team's big free-agent acquisition, he will have to accept the brunt of the blame for the team's shortcomings.
After spurning two passionate fanbases in Orlando and Los Angeles during back-to-back years, the number of people who want Dwight Howard to fail in Houston is at an all-time high. His Rockets debut will be one of the top stories throughout the season.
He already made quite a first impression in the preseason opener by contributing 19 points and nine rebounds while nearly getting ejected for arguing calls. It was an example of the good and the bad of the league's most polarizing big man.
This season, we are talking about Howard for completely different reasons than in years past. The world is expecting Superman to give them a show. It will be up to him to decide whether it will be an action adventure or another drama.