The Los Angeles Dodgers punched their ticket to the NLCS on Monday with a 4-3 win over the Atlanta Braves in Game 4 of the NLDS.
When Kenley Jansen punched out Justin Upton for the final out, the jubilant Dodgers stormed the field.
Reaction on Twitter was swift.
So pumped about that win by @Dodgers I can't sleep! Got to love October baseball! #LA

— Henry Rueda (@Henry_elfuego) October 8, 2013
Great win Dodgers! Moving on to the NLCS vs the Cardinals or Pirates. Don't know which one yet? Bring the winner on...were ready. Go Blue!

— Phil Ammar (@philammar) October 8, 2013
It was a series that displayed a balanced offensive effort for the Dodgers, who got contributions from up and down the lineup. Juan Uribe, who hit .375 in the series, provided the game-winner with his clutch two-run home run in the bottom of the eighth inning.
Uribe's blast was preceded by Yasiel Puig's opposite-field double, his eighth hit of the series. Twitter made sure that Puig was feeling the love as well.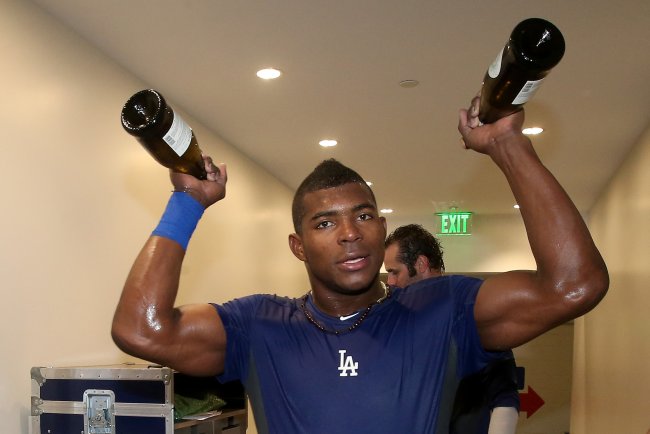 Stephen Dunn/Getty Images
Not even a Dodgers fan but rooting for them in the playoffs cuz of Brian Wilson, Zach Greinke, and Yasiel Puig

— Trev (@trevorbushey) October 8, 2013
Yasiel Puig. Is. A. Beast.

— ®yan Johnson™ (@ryanjohnson02) October 8, 2013
June 3rd this team had a sparkplug. Yasiel Puig came

— ◆David Barraza◆ (@DBarraza9) October 8, 2013
Clayton Kershaw, who started on three days' rest, gutted it out for six innings, allowing two unearned runs on just three hits. His gritty effort kept the Dodgers close, and people let Kershaw know what they thought of his effort as well on Twitter.
I can't wait till Kershaw is on the bump again . It's just so awesome to watch !

— Madris, Bligh ⚾ (@Bligh_Madris) October 8, 2013
"If Donny wanted me to pitch tomorrow, I would. This is the postseason."-Clayton Kershaw after the game #lovethisguy

— Matt Levine (@Levine1445) October 8, 2013
Clayton Kershaw in 2 NLDS series games: 13 IP, 1 ER, 18 K's awesome !! What more can you ask from your ace #dodgers

— Jerry NOLASCO (@jerry_nolasco7) October 8, 2013
All in all, this was a performance that was impressive. The Dodgers hit .333 for the series, and the bullpen provided shutdown relief when called upon.
The Dodgers will now have four days to relax and prepare for their NLCS opponent, to be decided on Wednesday. Twitter users gave their opinion about who they'd rather see.
Hoping for an old school battle of #dodgers and #pirates in the league championship series #MLBPostseason

— King Titan (@KingTitan1) October 8, 2013
I hope the Pirates win tomorrow so they can start losing to the Dodgers asap

— Yung Jokez (@Yung_Jokez) October 8, 2013
I'm already contemplating the epicness of a @Cardinals vs @Dodgers NLCS

— Ryan Polsky (@ry_guy32) October 8, 2013
I honestly think the Dodgers can beat the Cardinals or the Pirates. I can't breathe

— Monicaaa (@Oh_Monicaa) October 8, 2013
The celebration will continue Monday night, but the Dodgers know they have much work to do. They'll be back at work, looking for their first World Series Championship in 25 years.