All eyes were on their arms, but maybe we should have seen their bats coming.
At the outset of the postseason, the Los Angeles Dodgers appeared to be one of those teams that would pave a path through October using pitching as its primary weapon. They had a Kenley Jansen. They had a Zack Greinke. And of course, there was the crown jewel of their collection: Clayton Kershaw.
But wouldn't you know it; in the end, it was the Dodgers offense that put them in the National League Championship Series. And with the dust now settled, its performance stands out as a convincing one.
If you missed it, the Dodgers finished off the Atlanta Braves on Monday night with a 4-3 victory in Game 4 of the NLDS. In keeping with our theme here, it was a victory in which the Dodgers were supposed to benefit from an arm and instead benefited from a bat.
After throwing seven innings of one-run ball with 12 strikeouts in Game 1, Kershaw got the start for the Dodgers in Game 4 on only three days' rest. With veteran journeyman Freddy Garcia taking the hill for the Braves, starting Kershaw looked like a clear case of Dodgers manager Don Mattingly wanting to go for the quick kill rather than having to rely on Ricky Nolasco to keep the series from going back to Atlanta.
Starting Kershaw didn't backfire. He lasted six innings and gave up only two runs on just three hits. Neither of the runs were earned, so by all rights the narrative was playing out more or less how Mattingly and the Dodgers envisioned.
However, those two runs scored all the same, and Garcia allowed only two runs of his own in six innings of work. Things seemed bleak for the Dodgers when Yasiel Puig misplayed a ball down the right-field line for a triple off the bat of Elliot Johnson, and Jose Constanza followed with a go-ahead RBI single that made it 3-2 Braves in the seventh inning.
But then came Juan Uribe, clad in a Dodger-blue cape, in the eighth inning.
Initially ordered to bunt Puig over to third base following a leadoff double, both of Uribe's first two bunt attempts went foul. That left him to swing away, and he ultimately crushed a 2-2 hanging slider from David Carpenter over the left-field fence.
That gave the Dodgers the lead, and it cemented Uribe's place among the list of Dodgers hitters who had given Braves pitchers more than they could handle throughout the series.
Courtesy of MLB Advanced Media via MLB.com.
The Braves had the top ERA in the league in 2013 at 3.18. Per FanGraphs, Braves starters ranked sixth in ERA, and Atlanta relievers ranked first. Garcia jokes aside, this was a team that entered October with a formidable pitching staff.
But in four games, the Dodgers scored 26 runs. The bulk of the damage was done in the Dodgers' 13-run outburst in Game 3, to be sure, but there's no denying that the damage came from all over the lineup.
Courtesy of ESPN.com, take a look at the final numbers of the eight Dodger hitters who logged at least 10 at-bats in the four games:
Dodgers Hitters in NLDS

| | | |
| --- | --- | --- |
| Player | AB | OPS |
| Hanley Ramirez | 16 | 1.618 |
| Carl Crawford | 17 | 1.303 |
| Juan Uribe | 16 | 1.188 |
| Yasiel Puig | 17 | 1.029 |
| A.J. Ellis | 12 | .967 |
| Adrian Gonzalez | 18 | .833 |
| Mark Ellis | 15 | .789 |
| Skip Schumaker | 13 | .543 |
ESPN.com
One thing you notice: four guys with OPS's over 1.000. The Dodgers have to be very satisfied with the fact that two of them are guys they were counting on.
By the reckoning of wRC+, Puig and Hanley Ramirez were far and away the Dodgers' two best hitters this season. Both entered the postseason with question marks hanging over their heads—Puig hit only .214 in September, and Ramirez had to be given some extra rest to combat some nagging injuries—yet both had their way with the Braves pitching staff.
Ramirez, in particular, looks like a candidate for the Barry Bonds treatment throughout the rest of the postseason.
As for Uribe, it's not like he hasn't been a money postseason performer before. The 2010 San Francisco Giants might not have made it to the World Series without him, as he was the one who hit the go-ahead home run in Game 6 of the NLCS against the Philadelphia Phillies. And while he's tended to be an easy target for criticism since joining the Dodgers, he posted his best OPS since 2009 this year.
Courtesy of MLB Advanced Media via MLB.com.
Carl Crawford rounds out the 1.000 OPS crew, and he joined it thanks to a surge that saw him homer once in Game 3 and twice in Game 4. That sort of power can't be expected to continue, given that Crawford homered only twice after April, but he does look locked in, and the Dodgers will gladly take a .421 OBP from him again, even if it doesn't come with any power.
And while he only managed an .833 OPS in the four games, this much must be said about Adrian Gonzalez in the NLDS: He continued to be the unsung rock in Mattingly's starting nine. He only provided one thumping hit in the whole series—his two-run homer in Game 1—but he had a hit in every game.
In all, there's only one weak link in that table up there: Skip Schumaker. And even he was on base five times throughout the series by virtue of a trio of hits and a pair of walks. You take that from a guy who was really only playing because the Dodgers had nobody else to throw out there in center field.
And that, obviously, leads us to another point: Schumaker likely won't be starting in the NLCS. Andre Ethier should be healthy enough to slide back into his role as the Dodgers' starting center fielder, and he'll certainly be a welcome addition after posting an .885 OPS in the second half of the season.
Ethier wasn't the only Dodger who was hot following the break, for the record. If it crossed your mind that the Dodgers' offensive explosion in the NLDS came out of nowhere...well, it didn't.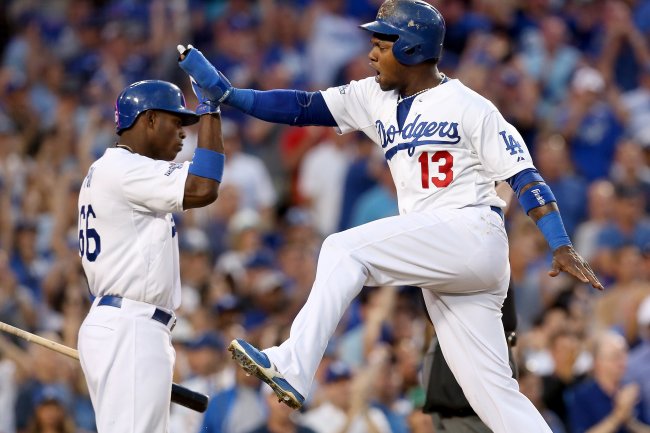 Stephen Dunn/Getty Images
Per FanGraphs, only the St. Louis Cardinals and Washington Nationals scored more runs in the second half of the season than the Dodgers among National League teams. The Nationals topped the ranks in collective OPS, but the Dodgers were the ones that topped the ranks in wRC+.
Down the stretch, they were one of the league's top offensive ballclubs.
That's something that fellow MLB Lead Writer Jason Catania was quick to point out when he and I bickered in early September about whether the Dodgers or the Boston Red Sox were the best team in the league. Catania highlighted how much the Dodgers had turned around since the beginning of July and noted that they had done it all without 2011 MVP runner-up Matt Kemp.
His argument boiled down to:
This is a deep and dangerous, American League-style lineup with good lefty-righty balance, one that has performed to expectations since midseason.

[...]

Even without [Kemp]...teaming a healthy Ramirez, Crawford and Ellis with a dynamic Puig, as well as a consistent Gonzalez, a Juan Uribe who is better than described and Andre Ethier, who is coming on late, gives Los Angeles one of MLB's top lineups.

Basically, any argument that the Dodgers offense isn't among the best is one that relies too heavily on numbers from the first two months, when the roster was flooded with journeymen and players better off in Triple-A. That's no longer the case.
By downplaying the Dodgers offense, I was spotlighting how Los Angeles neither is a great power-hitting club nor a particularly speedy club, and how there are only two hitters in the Dodger lineup who really scare you (Mssrs. Puig and Ramirez).
But if I must now eat some crow, I'll admit I had a hard time coming up with ways to dispute the depth of the Dodgers lineup. Even without power and/or speed, a lineup can do plenty of damage if it has a shortage of easy outs. That's what the Dodgers were working with in the last couple months of the season, after all the key pieces came together, and the numbers they put up pretty much say it all.
Now, that same lineup is doing work in October. The depth of it overwhelmed the Braves in Games 1 and 3, and that same depth joined forces with Fredi Gonzalez's hesitance to use Craig Kimbrel in the eighth inning to spell the Braves undoing in Game 4.
If the word wasn't out before, it should be now. After giving the Braves and their solid host of pitching what-for in the NLDS, these Dodger bats are not be underestimated as long as they're still swinging.
Oh, and don't forget about those arms.
Note: Stats courtesy of Baseball-Reference.com unless otherwise noted.
If you want to talk baseball, hit me up on Twitter.