Houston Rockets Backups Who Are Good Enough to Start for Other Teams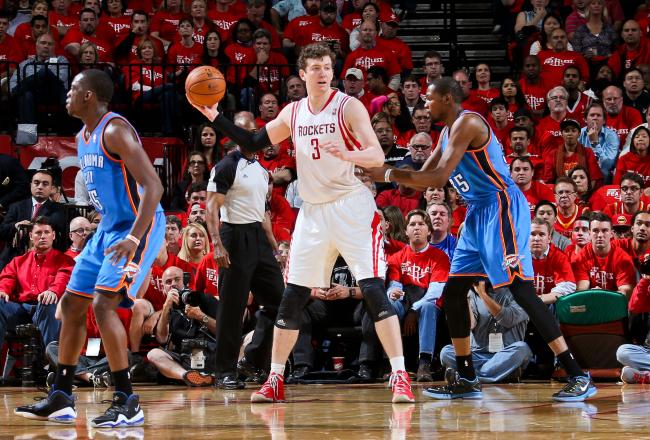 Layne Murdoch/Getty Images
The Houston Rocket are a talented bunch, and even some of their bench players could start for multiple other teams in the NBA.
General manager Daryl Morey has constructed a deep roster with surplus talent at several positions. Thus, players who have the talent to start are sitting on the bench.
The Rockets would love to keep the roster this way, as having excess depth is never a problem. Injuries happen, but having quality players coming off the bench is what separates NBA Finals-caliber teams from playoff-caliber teams.
Morey could always look to make a trade during the season involving one of these guys if the opportunity presents itself, but don't expect that to happen. If everyone jells in training camp, this team could go a long way in the Western Conference.
Other teams would certainly love to have these guys, though.
Omer Asik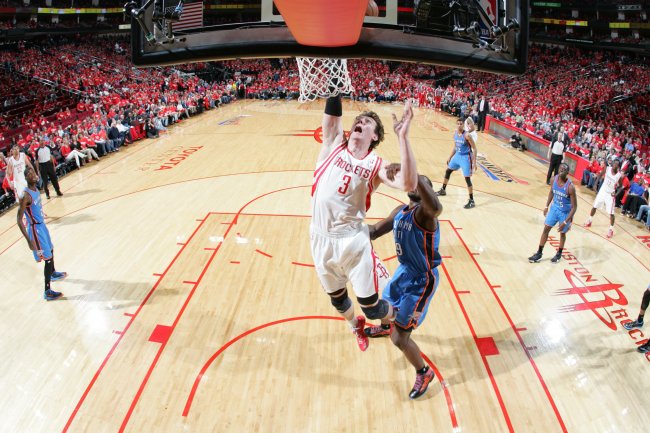 Bill Baptist/Getty Images
This one is a no-brainer.
The signing of Dwight Howard this offseason more than likely has bumped Omer Asik to bench duties, even though he may find some starting time at power forward. For all intents and purposes, Asik will be a bench player this upcoming season.
Signing Howard may have been worth displacing Asik, but the Rockets were beneficiaries of Asik's great play all of last season. He started all 82 games for Houston (he still hasn't missed a game in his career) while averaging a double-double and providing solid defense in the interior.
Asik isn't the flashiest of centers, nor is he the most dominant. He won't steal the show, and he'll probably never be the focal point of a team's offense. But that doesn't mean he isn't exceptionally valuable, and plenty of teams in the NBA would be happy to call him their starting center.
The Oklahoma City Thunder, Charlotte Bobcats and Philadelphia 76ers could all use an upgrade at the position. Kendrick Perkins, Bismack Biyombo and Lavoy Allen aren't exactly consistent under the basket, whereas Asik has made a name for himself because of his consistency.
Asik probably won't be traded, because he is exceptionally valuable to Houston. He might even be able to learn a thing or two from Howard, which would make him even more of an asset down low.
Teams in need of a center will have to look elsewhere.
Patrick Beverley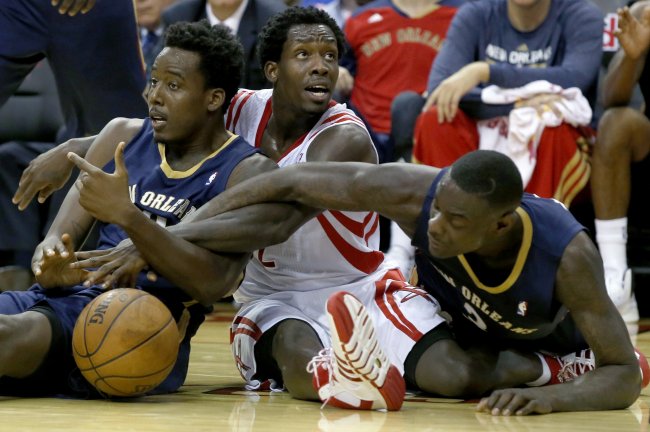 Thomas B. Shea/Getty Images
Patrick Beverley couldn't start on a ton of teams, but he could start on a few.
Beverley isn't as talented as Jeremy Lin, but many would argue he's a better fit. Lin doesn't always mesh well with James Harden given his skills with the ball in his hands, but Beverley isn't a big offensive threat and wouldn't demand the ball as often.
Beverley more than likely won't be starting, though, and head coach Kevin McHale needs to figure out some creative ways to give him consistent minutes in a crowded backcourt. The young point guard has talent and provides an energy off the bench that is unmatched by anyone on the team.
The Toronto Raptors, Sacramento Kings, Utah Jazz and Los Angeles Lakers would benefit from adding Beverley into the mix. He's young and quick, plays strong defense on the perimeter, and has quick hands that allow him to rack up a few steals.
He's a sparkplug who knows when to shoot and when to give the ball up, something some young point guards struggle with. He has the potential to continue to improve, though he probably won't turn into a star in this league.
Beverley isn't going anywhere. Lin will start until his contract is up in two more years. Then, Beverley should step into the role if Lin isn't re-signed.
Ronnie Brewer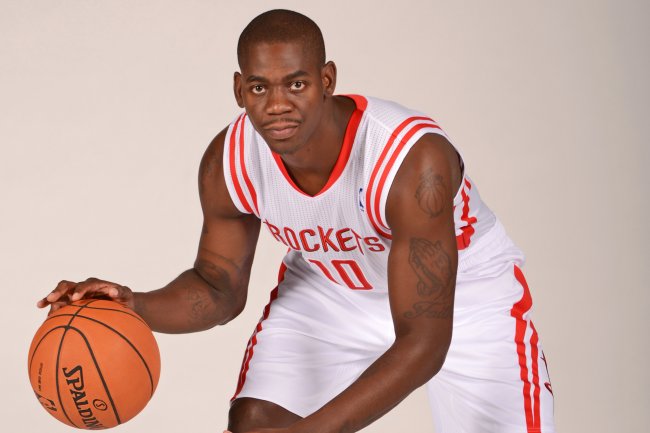 Bill Baptist/Getty Images
As a defense-first type of player, Ronnie Brewer has actually started a decent number of games in his seven-year NBA career. Of the 478 games he's played in, he's started 301.
Brewer offers virtually nothing in terms of offense. He scored 13.7 points per game with the Utah Jazz in 2008-09, but he hasn't averaged more than 8.8 per game since. His jumper is erratic, and his game in or near the paint is nothing to write home about.
For those teams looking for a defensive stopper, though, Brewer is your man.
The Chicago Bulls have done it in the playoffs with Jimmy Butler, and Thabo Sefolosha used to start over Harden in Oklahoma City because of defense. It seems the NBA is beginning to shy away from starting defensive studs over their offensive counterparts, but having a lockdown player on the perimeter for a majority of the game is never a bad idea.
Brewer will play a huge role in Houston as the primary defensive replacement for Harden and Chandler Parsons. He'll see decent minutes late in games on the team's best scorers, even if it means he has to be continually subbed in and out for offensive reasons.
There isn't a team in the league that wouldn't love to have a player like Brewer. The 76ers, Detroit Pistons and Minnesota Timberwolves could probably even find a decent number of starts for him.
This article is
What is the duplicate article?
Why is this article offensive?
Where is this article plagiarized from?
Why is this article poorly edited?

Houston Rockets: Like this team?