10 NBA Players Guaranteed to Wind Up on Trade Block in 2013-14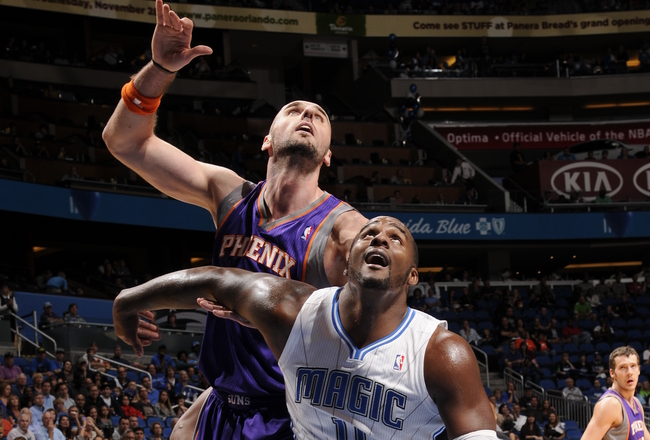 Fernando Medina/Getty Images
The 2013-14 NBA season probably won't feature a blockbuster trade like the deal that took place between the Boston Celtics and Brooklyn Nets this summer. Regardless, a variety of players are guaranteed to wind up on the trade block before the deadline rolls around.
While these players are not locks to get traded, we can be sure that general managers will at least be fielding offers for their services. If those front offices receive a proposal too good to pass up, the NBA landscape will change in a heartbeat.
The following players will be broken down into three groups.
Group 1 consists of guys who have very little chance to be moved. Due to their current contract structure and level of play, their GMs would have to sweeten any trade offer with draft picks and/or young players to make a deal even remotely feasible.
Group 2 contains intriguing talents who could bring a steady dynamic to a playoff contender. Some players within this group serve a dual purpose by providing immediate roster help, while also entering the final year of their contract (so there isn't a long-term commitment).
Group 3 comprises the hot commodities. Acquiring these guys would take a big commitment, but the short-term and perhaps long-term benefits hint that many teams could battle it out when these players hit the trade block.
Honorable Mention: Sacramento Kings Roster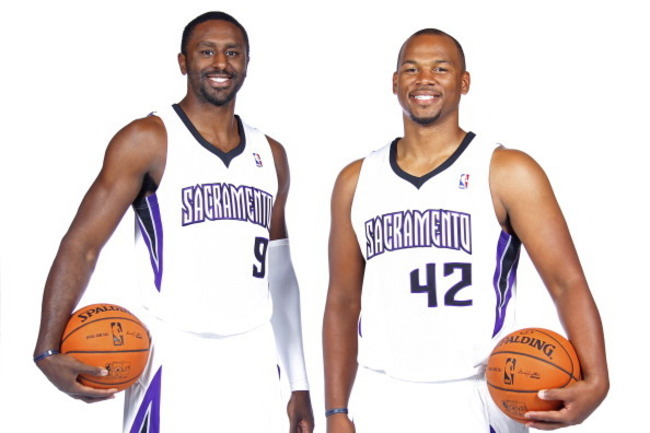 Rocky Widner/Getty Images
Aside from DeMarcus "Boogie" Cousins—who signed a four-year, $62 million contract extension in late September—everyone else on the Sacramento Kings roster could (and should) be on the trade block this season.
The Kings are overloaded with big men—Jason Thompson, Carl Landry, Patrick Patterson and Chuck Hayes.
They also have a glut of guards—Greivis Vasquez, Isaiah Thomas, Jimmer Fredette, Ray McCallum, Ben McLemore, Marcus Thornton and John Salmons (if you can consider Salmons a shooting guard rather than a small forward).
There are some nice pieces in that group. However, that collection of players doesn't fit into a cohesive unit. The time to build a contender around Cousins as the centerpiece (re)starts now with new owner Vivek Ranadive and new general manager Pete D'Alessandro.
Patterson, Vasquez, Thomas, Fredette and Salmons are all entering contract years. Salmons has a $7 million non-guaranteed contract next season, which won't be picked up unless D'Alessandro starts taking crazy pills before next summer.
Fredette has a team option for the 2014-15 season, so he's an intriguing trade chip for any team that truly wants him on board.
The other three guys have varying qualifying offers, which would determine whether or not they enter restricted free agency.
New NBA owners typically want to make a big splash for the fanbase. Golden State Warriors owner Joe Lacob, for instance, made the decision to trade Monta Ellis to the Milwaukee Bucks for Andrew Bogut (a move originally met with ire from the fans).
Sacramento may not make a blockbuster trade, but I'd be surprised if it didn't make some type of deal before the 2014 trade deadline.
Group 1: Kendrick Perkins, Oklahoma City Thunder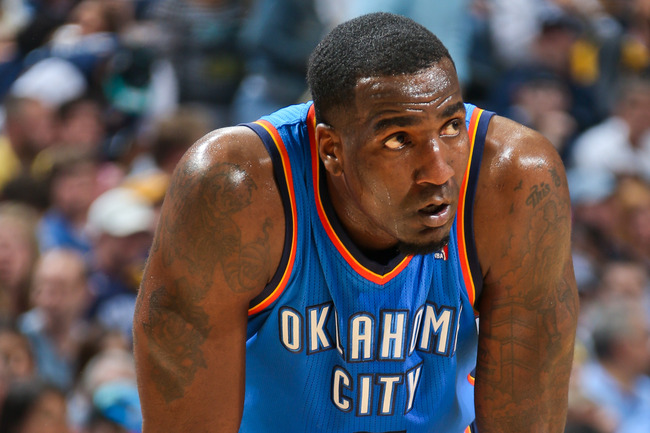 Layne Murdoch/Getty Images
Despite the fact that Kendrick Perkins has become an increasingly unimpressive player for the Oklahoma City Thunder, head coach Scott Brooks and general manager Sam Presti have decided to stay in the big man's corner.
Perk's all-time low occurred in the 2013 playoffs, when he posted a historically bad postseason. Via Tom Ley of Deadspin:
Perkins played in all 11 of the Thunder's playoff games, averaging 19 minutes per game. In those 11 games, Perkins actually finished with a negative player efficiency rating. His -0.7 mark is the worst PER to have ever been posted in the playoffs by a player who saw 200 minutes or more of floor time.
Ley also pointed out that Perkins had as many turnovers as he had points in the postseason (24), and he finished with just two more rebounds (41) than he had personal fouls (39).
Perkins' inability to adapt to the NBA's more athletic play style has left OKC struggling to adapt. Even having the phenomenal tandem of Kevin Durant and Russell Westbrook hasn't always overshadowed the big man's shortcomings.
Despite his struggles, Presti said in May that the Thunder have not explored the idea of using the amnesty provision, according to Darnell Mayberry of The Oklahoman. As a result, Perk's movement will only be decided by trade going forward.
He's owed more than $18 million over the next two seasons. OKC's front office will need a lot of luck on their side if they hope to move him for any sort of value. Of course, that's if Presti and Brooks decide he no longer fits in their system.
Group 1: Carlos Boozer, Chicago Bulls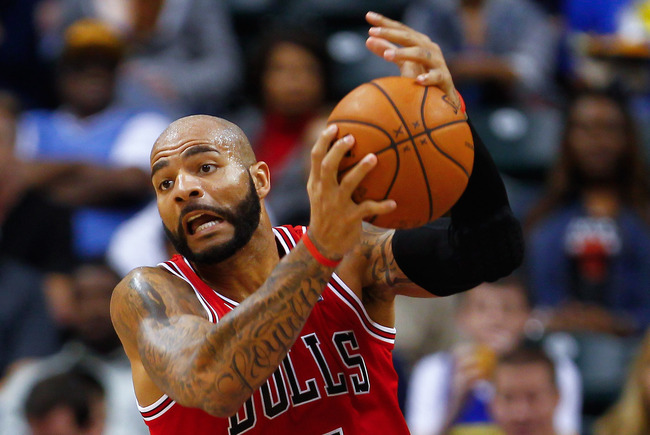 Michael Hickey/Getty Images
Although Carlos Boozer is a far more productive player than Kendrick Perkins, finding a trade partner for the two years and $32.1 million he's still owed will not be an easy task for the Chicago Bulls.
Because of the big man's hefty contract, it doesn't make much sense for another NBA team to step in and give up assets for him. However, it makes perfect sense for the Bulls to move Boozer by some means—which may have to be via the amnesty provision next summer.
The 2013-14 NBA salary cap is set at $58.679 million, per NBA.com. In its current state, the Bulls roster is owed approximately $81.9 million. Chicago was one of six teams to pay luxury taxes last season, and that appears to be a grim reality yet again.
Of course, that's the price teams pay to be competitive. Well, unless you're the 2012-13 Los Angeles Lakers. In which case you paid more than $29 million in luxury taxes for a first-round playoff exit.
Aside from a pure money standpoint, the Bulls have a promising, young power forward on the depth chart that can take over Boozer's minutes in the form of Taj Gibson. He doesn't have the same offensive repertoire, but as a defensive-minded big man, Gibson fits Tom Thibodeau's system much better than Boozer.
Chicago's front office should certainly attempt to field offers for Boozer throughout the season. But given his limited trade value, Chicago will be fielding about as many offers as David Ortiz fields ground balls for the Boston Red Sox.
Group 2: Arron Afflalo/Glen Davis/Jameer Nelson, Orlando Magic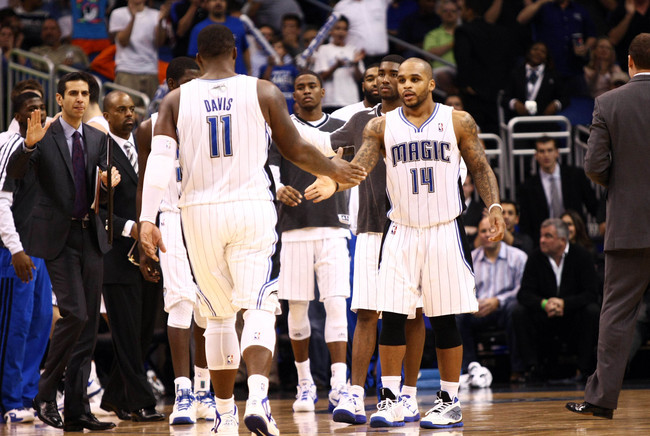 Douglas Jones-USA TODAY Sports
The Orlando Magic finished with a league-worst 20-62 record a season ago and are in the beginning stages of a full-blown rebuild.
Now—especially after adding 21-year-old rookie Victor Oladipo to a crowded backcourt—Orlando should aim to shed itself of veteran pieces that aren't part of the long-term outlook.
Despite sporting raw ball-handling ability, Oladipo was used frequently at the point guard spot during summer league action. He definitely translates better as a shooting guard considering he's "never" played the point before, per Michael Wallace of ESPN.
Nevertheless, Magic general manager Rob Hennigan has said the team plans to use Oladipo at both guard spots moving forward, according to the team's official Twitter account.
So where does Orlando go from here? Should they try and move veteran point guard Jameer Nelson to fully embrace Oladipo running the point? Or perhaps trade Arron Afflalo to open up the shooting guard spot for Oladipo to develop?
Both are viable moves, but only if the Magic can find a suitable trade partner.
The backcourt may experience a change, but someone in the frontcourt is a prime candidate to hit the trade block as well.
Glen Davis—who was a key piece for the 2009-10 Boston Celtics team that made the NBA Finals, averaging 7.3 points and 4.5 rebounds per game off the bench in the postseason—could be a nice pickup for a playoff contender next season.
He averaged career highs in points (15.1) and rebounds (7.2) with the Magic last season. However, he played just 34 games due to injury.
If Davis is healthy at the deadline, teams will show interest. Considering that the Magic have new addition Jason Maxiell, Andrew Nicholson and Tobias Harris (who can slide down to the power forward spot in certain situations), Davis is expendable for a rebuilding roster.
Group 2: Ben Gordon, Charlotte Bobcats
Jeff Hanisch-USA TODAY Sports
Ben Gordon is arguably the most one-dimensional player in the NBA. In his entire professional career, he's recorded just one double-double. It happened in Game 1 against the Miami Heat in the 2007 playoffs when he recorded 24 points and 11 assists.
Needless to say, the former UConn Husky isn't going to help a team by dishing out assists or grabbing rebounds. What he can do, however, is score.
After nine seasons, Gordon holds a career average of 15.9 points per game to go with 43.3 percent field-goal shooting and 40.4 percent shooting from three-point range. He hasn't been the same player since leaving the Chicago Bulls in 2009, but he can still provide a scoring punch off the bench.
Perhaps just as importantly, Gordon has a $13.2 million expiring contract coming off the books in 2014. As a result, he can provide both short-term offensive help and long-term cap relief.
Since the Charlotte Bobcats already have Kemba Walker, Gerald Henderson, Ramon Sessions and Jeff Taylor capable of filling the guard spots, they should put Gordon on the trade block to see if playoff contenders bite.
He's no longer a 20-point-per-game scorer, but he could help a team like the Chicago Bulls, Indiana Pacers or Memphis Grizzlies in need of some scoring off the bench.
Group 2: Kris Humphries, Boston Celtics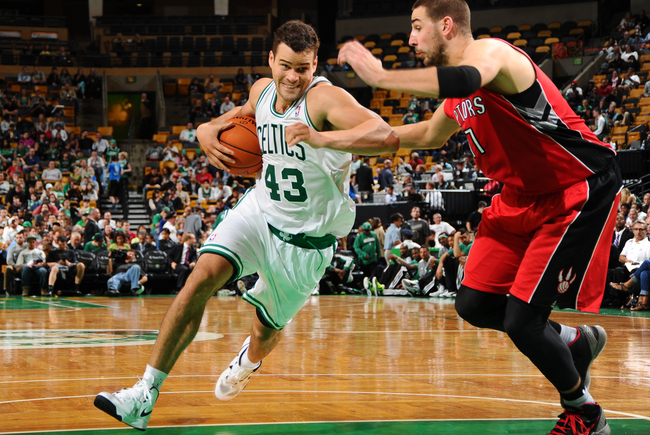 Brian Babineau/Getty Images
As Kris Humphries prepares to suit up for his fifth NBA franchise, he's just a year removed from the best season of his career.
During the lockout-shortened 2011-12 season, the power forward out of Minnesota averaged 13.8 points and 11 rebounds per game. He improved his numbers from the year before when he averaged another double-double: 10 points and 10.4 rebounds per game.
Oddly enough, he fell out of the Brooklyn Nets rotation last season as the coaching staff decided to go primarily with Reggie Evans (who started 56 games). Evans is a tremendous rebounder, but he provides almost nothing on the offensive end.
Now that Humphries is entering a contract year, he needs to hope for court time with the Boston Celtics. If Boston plays its cards right, it could boost Hump's stock enough to intrigue teams around the league.
With that said, the Celts are rebuilding. They're not going to get much in return for Humphries even if he plays well, and having $12 million come off the books next summer is a luxury they may ultimately choose to keep.
Group 2: Rudy Gay, Toronto Raptors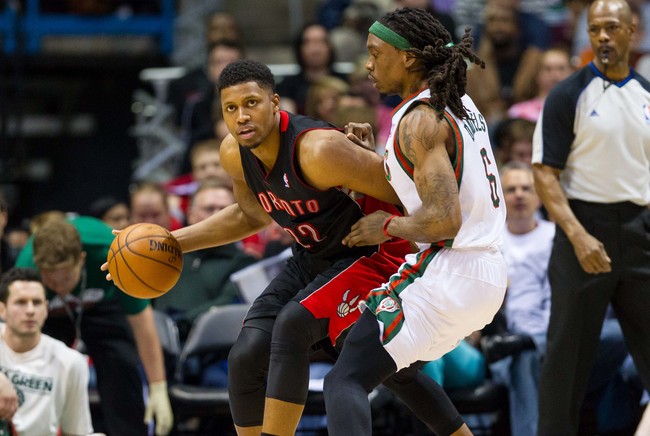 Jeff Hanisch-USA TODAY Sports
Masai Ujiri, the 2012-13 NBA Executive of the Year, wasted no time displaying his sterling reputation as general manager of the Toronto Raptors.
His first order of business was finding a trade partner for former No. 1 overall pick Andrea Bargnani. With two years and more than $23 million remaining on the big Italian's deal, he appeared destined for the amnesty provision. Miraculously, however, Ujiri was able to deal Bargnani to the New York Knicks for Marcus Camby, Steve Novak and a future first-round pick.
The next move Ujiri should make to embrace a rebuild in Toronto revolves around Rudy Gay.
After acquiring Gay via trade from the Memphis Grizzlies, the Raptors went 18-15 in 33 games. He had his worst shooting year ever by posting a career-low 41.6 from the field to go with a 32.3 percent clip from beyond the arc, but Toronto was clearly a better team with the swingman on board.
With that said, this Raptors roster is not going to compete for a championship. Honestly, they'll have to fight extremely hard just to be in the playoff hunt in 2014.
As a result, trading Gay as a look toward the future makes the most sense. This is Ujiri's team now, and he didn't make the move to bring Gay on board. Given his track record, he deserves the chance to build his own contender.
Gay probably won't be moved in the near future, though. Ujiri said in July, "We need to see the team before we know the direction we're going to take," according to Jeff Simmons of SportsNet.ca. So the front office will re-evaluate Gay throughout the season and make a decision at or near the 2014 trade deadline.
As was the case with Bargnani, moving Gay's contract won't be easy. The 27-year-old is owed more than $17.8 million this season, and he has a player option for 2014-15 worth more than $19.3 million. (He'd have to be insane not to pick that up.)
Ujiri may ultimately decide to keep the small forward, but he's a smart enough GM to know that Gay should be on the trade block.
Group 3: Marcin Gortat, Phoenix Suns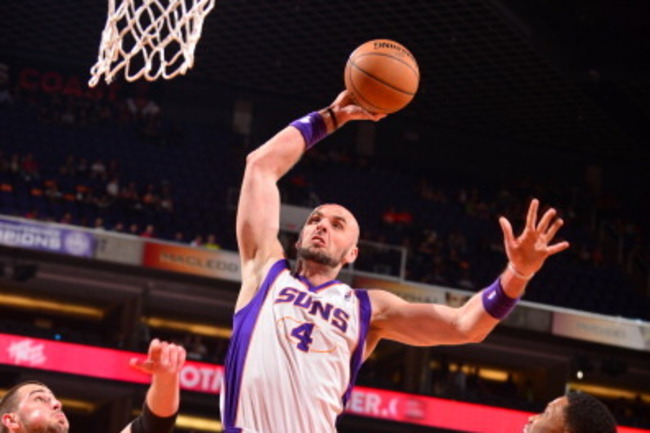 Barry Gossage/Getty Images
Of all the players on this list, I strongly believe that Marcin Gortat has the best chance to be moved prior to the 2014 deadline.
Gortat is a talented big man, and although he regressed statistically after Steve Nash left the Phoenix Suns, the "Polish Hammer" still has a lot to offer contending teams.
Last season, Gortat shot 56.8 percent from the paint and a highly respectable 42.3 percent from mid-range, according to Vorped.com. He's very effective in pick-and-roll and pick-and-pop scenarios, and he can be a reliable shot-blocker.
In addition to being a solid player who plays a watered-down position (center), Gortat is entering a contract year.
He's set to make approximately $7.7 million this season, which is a very trade-friendly figure. Unlike Kris Humphries and Ben Gordon, who are owed $12 million or more this season, the trade options are numerous.
The Suns are going to struggle this season. Aside from the lowly Philadelphia 76ers, they're arguably the least talented team in the league. Due to that, moving Gortat for young players and draft picks—new general manager Ryan McDonough's modus operandi—is the best move to truly bottom out for draft status in 2014.
Gortat is a reliable player, but he's better suited elsewhere now that Phoenix drafted Maryland center Alex Len fifth overall in the 2013 NBA draft.
Possible destinations include the Portland Trail Blazers and New Orleans Pelicans.
Group 3: Greg Monroe, Detroit Pistons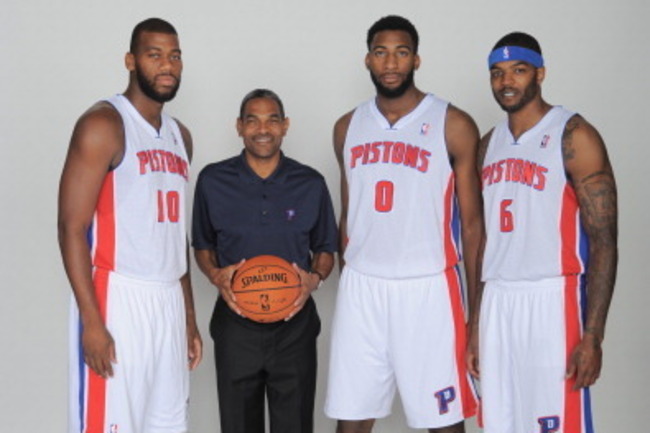 Allen Einstein/Getty Images
Greg Monroe's agent, David Falk, has said that the Detroit Pistons intend to delay contract negotiations with Monroe until the summer of 2014, according to Vincent Goodwill of The Detroit News via by Hoopsworld.
Anything can happen between now and then.
Considering that the Pistons roster is in a very volatile state after bringing in Josh Smith and Brandon Jennings during the offseason, Monroe is a poor system fit away from hitting the trade block.
The key question facing Detroit this season is how the frontcourt will mesh. Greg Monroe and Andre Drummond are the youngsters solidifying the interior, but Smith is the veteran hoping to pull the entire unit together.
J-Smoove will be relied upon mainly as a small forward this season. However, he shot 29.9 percent from mid-range and 30.2 percent from beyond the arc last season, according to Vorped.com. His abilities as a floor-spreading option are negligible at best.
If the frontcourt experiment doesn't work out, trading Monroe for value in his contract year and moving Smith to power forward in the process wouldn't be a bad idea.
Team chemistry is a huge part of any NBA team. The Miami Heat's Big Three had their struggles initially, but they managed to jell, and have two championship rings together as a result.
If the Smith/Monroe/Drummond frontcourt doesn't bond during the season, making a hefty financial commitment to Monroe moving forward would be a questionable move.
Admittedly, trading Monroe before the deadline this year would be seen as a rash decision. However, if Detroit can add a capable starter and a meaningful bench player in return, the front office will be tempted. That's especially true if Monroe proves that he's already hit his NBA ceiling.
Group 3: Luol Deng, Chicago Bulls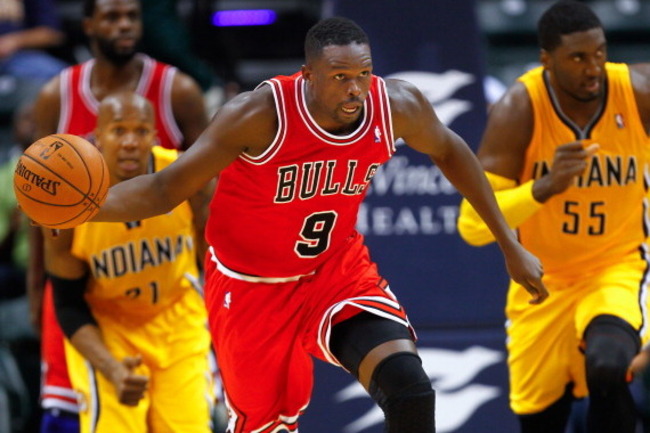 Michael Hickey/Getty Images
Luol Deng "is privately disappointed over the franchise's unwillingness to engage him in serious contract discussions," according to Adrian Wojnarowski of Yahoo! Sports. Considering that Deng is an All-Star and a huge part of the Chicago Bulls identity, his disappointment is not a good sign.
The former Duke standout is owed more than $14.2 million as he enters the final year of his contract. He's one of four Bulls making at least $11 million next year, joining Joakim Noah, Carlos Boozer and Derrick Rose.
Since Chicago is getting D-Rose back, letting it ride with the current roster in order to win a championship isn't the worst-case scenario. If the Bulls want to keep the small forward long term, they can play out the season, amnesty Boozer and sign Deng in 2014.
With that said, money problems are the only issue holding Chicago back. Again, the Bulls were one of six teams to pay the luxury tax last season, and they will do so again this year as they're well above the cap of $58.679 million. Trading Deng could lessen their luxury tax penalties.
The Sudanese star is still just 28 years old, so he has plenty of value on the trade market. More importantly for the Bulls, they already have an upstart player who can fill the potential void in Jimmy Butler.
The youngster is getting a lot of attention for his two-way play, and he will be the starting shooting guard next season. He could take over the small forward spot if called upon to do so, as he did in the 2013 playoffs.
With that said, the ultimate (and perhaps only) goal in the NBA is to win a championship. Trading Deng before the deadline this season may jeopardize that objective in Chicago.
Nevertheless, he's an expensive luxury that could be replaced with cheaper pieces.
Group 3: Rajon Rondo, Boston Celtics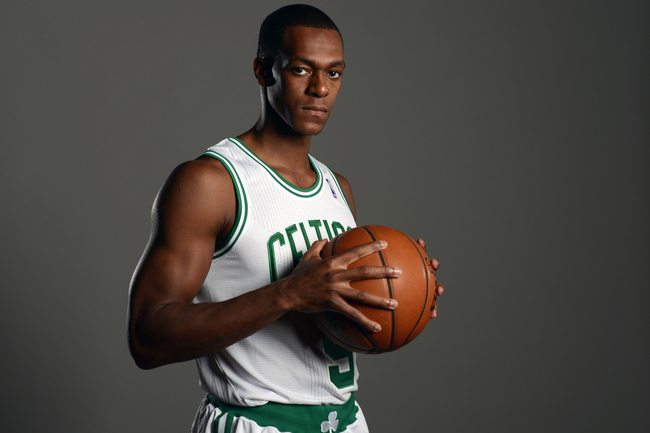 Brian Babineau/Getty Images
In a recent 2013-14 NBA preview video, Bill Simmons and Jalen Rose of Grantland both predicted that Boston Celtics point guard Rajon Rondo will be traded this season.
Simmons said that Rondo will play 20 games or fewer for the Celtics before he's traded. Essentially, he'll work himself back into game shape and have a tryout of sorts for potential trade suitors.
Rose called Simmons' prediction, "The worst-kept secret in the NBA." He explained that after trading Kevin Garnett and Paul Pierce and losing Ray Allen in free agency the year before, the next logical "domino" to fall is Rondo.
The Celts are clearly embracing the rebuilding process as well as a new direction for the franchise. The question is whether or not Rondo will be a part of that process moving forward.
If Rondo proves himself to be healthy and back to 100 percent following an ACL tear, he'll have a ton of trade value. Dealing him would not be a popular move in Boston, but getting enough in return could be the best long-term option.
Celtics president of basketball operations Danny Ainge has shown that he's willing to make blockbuster trades. At the very least, he'll be listening to offers for Rondo.
The Sacramento Kings, Milwaukee Bucks and Detroit Pistons should all express interest in the All-Star.
Keep Reading