Michael Vick's pain could be Nick Foles' gain.
To the surprise of nobody who has covered Vick throughout his career, the Philadelphia Eagles quarterback was injured in Week 5 against the New York Giants.
An MRI on Monday revealed a hamstring pull, though Chip Kelly said he didn't know the grade, as noted by Geoff Mosher of CSN Philly:
MRI on Vick revealed hammy pull. Chip doesn't know the grade.

— Geoff Mosher (@GeoffMosherCSN) October 7, 2013
ESPN's Adam Schefter reported that Vick "is expected to miss Sunday's start" against the Tampa Bay Buccaneers and that Foles would be starting in his place:
Eagles QB Michael Vick is expected to miss Sunday's start vs. Tampa Bay due to his hamstring injury. Nick Foles time.

— Adam Schefter (@AdamSchefter) October 7, 2013
Kelly played coy with the media about Vick's status for Sunday, saying he didn't know if he'd play and that he is currently day to day, as relayed by the team on Twitter:
#Eagles Coach Chip Kelly: I don't know if Vick will play Sunday. Right now he's day to day.

— Philadelphia Eagles (@Eagles) October 7, 2013
He did, however, make a statement that raised some eyebrows. When discussing the possibility that Vick could lose his starting job, he said yes, "If someone comes in and puts on an unbelievable show," as noted by Les Bowen of the Philadelphia Daily News:
"If someone comes in and puts on an unbelievable show" he can win job, Chip says. Will not predict Vick availability

— Les Bowen (@LesBowen) October 7, 2013
While Vick is certainly one of the league's most recognizable stars, Kelly's statement shouldn't come as a surprise.
The Eagles enter Week 6 with a 2-3 record, tied with the Dallas Cowboys for the top spot in the NFC East. The Washington Redskins are currently at 1-3, and the New York Giants are hopelessly lost at 0-5.
B/R's Aaron Nagler Discusses the Eagles and the NFC East
The division is ripe for the plucking, but the team's offense has struggled of late after getting off to a torrid start to the season against the Redskins and San Diego Chargers. In his first two games of the season, Vick passed for 631 yards with four touchdowns and zero interceptions.
But the good times didn't last long.
In the two games against the Kansas City Chiefs and Denver Broncos, Philly only managed four touchdowns on offense, and the team was beaten by a combined score of 78-36.
In those two games, Vick threw just one touchdown pass, but he turned the ball over three times—once on a lost fumble and twice on interceptions.
Before he left the game against the Giants in Week 5, Vick had been struggling to connect with his receivers, completing just six of his 14 attempts. For the season, he's completed just 53.8 percent of his passes.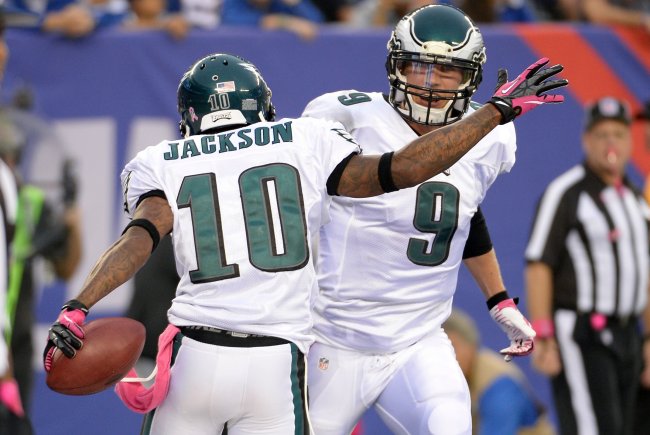 Robert Deutsch-USA TODAY
Once Foles entered the game against New York, Philly's offense started clicking. He completed 16 of his 25 attempts, passing for 197 yards with two touchdowns and zero interceptions.
Which QB gives Philadelphia the best chance to win?
He isn't as dynamic a passer as Vick, who can make jaw-dropping plays on any given snap, but Foles is more reliable, efficient and consistent.
If he plays this Sunday against the Buccaneers on the road and the Eagles win, then Kelly will have no choice but to consider keeping Vick on the bench going forward.
As good as Vick's start was in the first two games, he may not be the answer for the Eagles in 2013.
Follow me on Twitter @JesseReed78