Why bunt when you can just hit a home run?
That was the lesson learned Monday night at Dodger Stadium, as Juan Uribe's go-ahead homer in the bottom of the eighth inning sent the Los Angeles Dodgers through to the National League Championship Series after a 4-3 win over the Atlanta Braves.
The Los Angeles #Dodgers are headed to the National League Championship Series.

— Los Angeles Dodgers (@Dodgers) October 8, 2013
Coming into the game, much of the talk surrounded Dodgers pitcher Clayton Kershaw. On only three days' rest, Kershaw was named the starter for Game 4. For a team that already had a 2-1 lead, it was a risky tactic by manager Don Mattingly to try and ensure the series wouldn't be going back to Atlanta.
Kershaw started the game out well enough in the first inning. After Jason Heyward got on first after an error by first baseman Adrian Gonzalez to start the game, he retired the next three batters in order.
Things only got better for the L.A. when Carl Crawford stepped up to lead off the bottom of the first. On the fifth pitch of the at-bat, he homered to right field.
When Hanley Ramirez was able to steal second with only one out, the rout looked like it was on. However, Freddy Garcia was able to settle down and get out of the inning without surrendering another run.
The Atlanta starter's performance was surprising to say the least, considering what some thought of Garcia before the game. Via ESPN.com's David Schoenfield.
So, @karabellespn asked me today if Freddy Garcia is the worst pitcher to start a postseason game this decade. Anyone disagree?

— David Schoenfield (@dschoenfield) October 8, 2013
MLB Network's Brian Kenny had the splits for Garcia's time with the Braves and Baltimore Orioles in 2013.
Freddy Garcia's June w O's: 4 starts, 1 Relief: 10.19 ERA Sept w Braves: 3 starts: 1.83 ERA 16k's/4bb's You make the call..

— Brian Kenny (@MrBrianKenny) October 8, 2013
You have to give a lot of credit to the 37-year-old veteran. He wasn't giving an inch, and the only difference between him and Kershaw in the early going was one swing of the bat.
In the bottom of the third, the difference would grow to two swings of the bat, as Crawford was again the man of the moment. He delivered yet another solo home run to right field, putting the Dodgers up 2-0.
The Dodgers then shot themselves in the foot defensively.
In the top of the fourth, Freddie Freeman led off with a single. Evan Gattis grounded into what looked like a double-play ball, only for Gonzalez to botch the throw to second base. Both men were safe. Freeman would then advance to third, and Gattis went to second on a wild pitch by Kershaw.
Chris Johnson singled to score Freeman, and Gattis subsequently scored on a fielder's choice groundout by Andrelton Simmons.
Just like that, it was tied 2-2, and all of Kershaw's work had been undone. He would eventually be taken out after six innings, as would Garcia.
With the National League ace out of the game, the Braves offense was liberated.
Ronald Belisario came on in relief and started things by getting Simmons to ground out. Then the wheels fell off. Elliot Johnson got a triple, which just so happened to be the Braves second baseman's first hit of the postseason.
Yasiel Puig handled the ball in right field. He slid to try and cut the ball off and have a play in second rather than just let the ball carom off the wall and concede the double. Only the ball bounced past Puig, allowing Johnson to get to third.
ESPN's Bomani Jones is one of those who thought the rookie outfielder should have played it safe and limited Johnson to just a double.
what was puig thinking there?

— Bomani Jones (@bomani_jones) October 8, 2013
Pinch-hitting for Garcia, Jose Constanza singled to center to put the Braves up, 3-2.
USA Today's Dan Wolken thought Mattingly was going to have some questions to answer as to whether taking out Kershaw after the sixth was the right decision.
Mattingly may have set up the second-guess to end all second-guesses

— Dan Wolken (@DanWolken) October 8, 2013
It is, of course, a bit unfair to question the managing now in hindsight, as Kershaw was starting to show signs of fatigue operating on such short rest.
Things continued to look dire for the Dodgers, as the Braves bullpen was rolling. At least until the bottom of the eighth inning.
Puig made up for his defensive error with a double to lead off the inning. It brought some electricity back to the Dodger Stadium crowd.
Up stepped Juan Uribe. You would have expected him to bunt Puig over in order to get a man on third base with one out. That scenario would imply Uribe could bunt the ball. He wasn't able to, and boy did that make a difference.
On a hanging breaking ball, the third baseman delivered a home run to left off David Carpenter to put the Dodgers ahead, 4-3.
This is not uncharted territory for Uribe, via ESPN Stats & Info.
2nd time in Juan Uribe's career that he's hit a postseason go-ahead HR in 8th inning or later. Also had one for 2010 Giants vs Phillies

— ESPN Stats & Info (@ESPNStatsInfo) October 8, 2013
MLB Network's Dan Plesac was one of many who wondered if Craig Kimbrel should have been brought in for the two-inning save.
kaBOOM ! Just like that .... Juan Uribe 2 run HR puts #Dodgers up 4-3 on Braves bttm 8th. Elimination game and no Kimbrel?

— Dan Plesac (@Plesac19) October 8, 2013
Kenley Jansen came in and struck out the side in the ninth inning to secure the victory.
Key Player Grades
Carl Crawford, Los Angeles Dodgers: A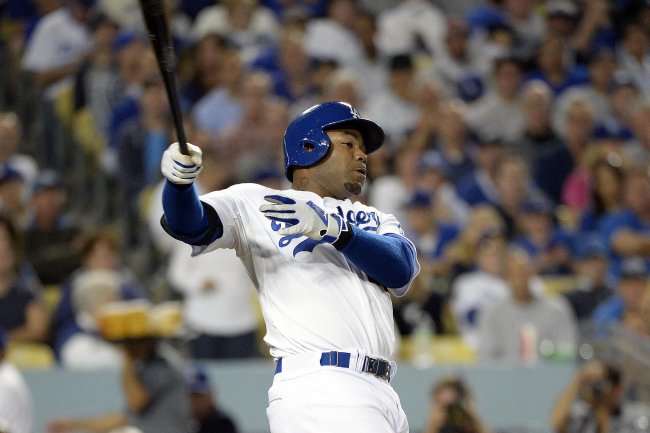 Richard Mackson-USA TODAY Sports
You have to put into context just how impressive Carl Crawford's performance was. Entering the playoffs, he had just six total home runs during the entire regular season. Then he hits a homer on Sunday and follows it up with two more on Monday.
According to ESPN Stats & Info, Shawn Green was the last Dodgers player to hit two home runs in a playoff game in 2004
Carl Crawford: 1st Dodgers player to hit 2 HR in postseason game since Shawn Green, 2004 NLDS

— ESPN Stats & Info (@ESPNStatsInfo) October 8, 2013
Clayton Kershaw, Los Angeles Dodgers: A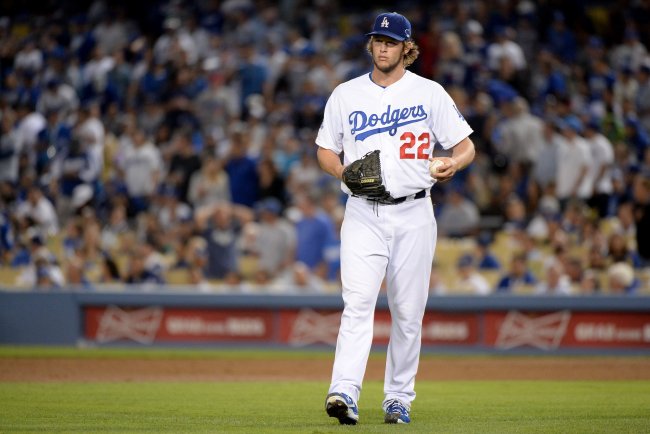 Harry How/Getty Images
Clayton Kershaw did just about everything you could have expected of him in his situation. Sure guys have been lights out on three days' rest, but that can't be the expectation. The fact that Kershaw didn't implode was a win in and of itself.
Instead, he allowed just three hits, struck out six batters, and both runs he surrendered were unearned. All in all, the 25-year-old southpaw put the Dodgers in a position to win.
Don Mattingly better be thanking Juan Uribe, as that game-winning home run wiped out a lot of the second-guessing and media scrutiny he would've faced regarding the pitching matchup.
Freddy Garcia, Atlanta Braves: A
Stephen Dunn/Getty Images
Freddy Garcia is graded more on a curve. In terms of numbers, he didn't outperform his counterpart and gave up eight hits. However, he made sure the game was tied by the time he was taken out of the ballgame. For that, he deserves a ton of praise.
While he pitched great in the regular season since coming over from Baltimore, you never could have expected Garcia to pitch like he did in such a high-pressure situation.
Fox Sports' Jon Morosi offered his thoughts:
Meanwhile, Freddy Garcia is done, too, with Constanza on deck to pinch hit. Freddy dueled Kershaw to a draw. Remarkable.

— Jon Morosi (@jonmorosi) October 8, 2013
What's Next?
The Los Angeles Dodgers have advanced to the NLCS. They'll play the winner of the St. Louis Cardinals/Pittsburgh Pirates series, currently knotted at 2-2. Should St. Louis win, the Cardinals will get home-field advantage. If the Pirates advance, Los Angeles will host Game 1.