Rex Ryan's New York Jets Proving Owner Woody Johnson Right, Doubters Wrong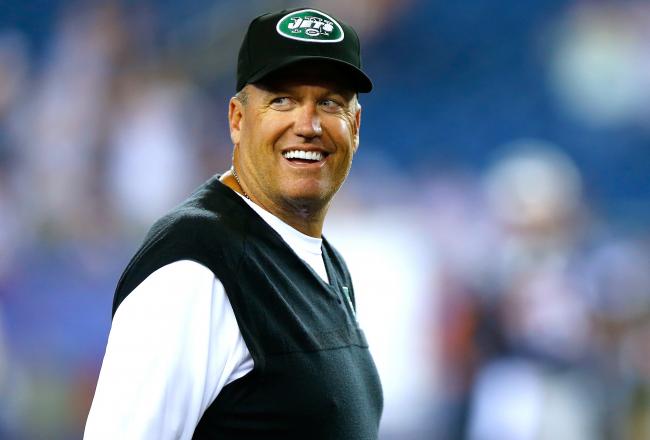 Six weeks ago, a thin, drawn Rex Ryan writhed under the harsh glare of the national spotlight.
On Monday Night Football, he and his surprising New York Jets thrived—and now, they're soaking up the national limelight.
The Jets put in a signature performance, with a snarling, nasty defense repeatedly getting the ball back to an efficient, effective offense. Save for the names on the back of the jerseys, it'd be hard to tell the Jets team that walked out of the Georgia Dome Monday Night from the squads that went to back-to-back AFC championship games.
The Jets now stand at 3-2 and host the winless Pittsburgh Steelers next week. After that, they'll host the reeling division rival New England Patriots—and possibly, head into Week 8 with sole possession of first place in the AFC East.
After the embarrassing preseason they suffered through, not even Ryan would have predicted that.
Tire Fire?
At the end of August, I declared the New York Jets the "NFL's biggest tire fire."
Ryan, nearly the only holdover of a Jets front office and coaching staff that was otherwise broomed at the end of 2012, had already been labelled a lame duck coach.
With a roster desperately lacking offensive playmakers, an aging defense far removed from the terrifying units Ryan twice rode to within a game of the Super Bowl and no Darrelle Revis, Ryan would be coaching for his job with his weakest roster in years.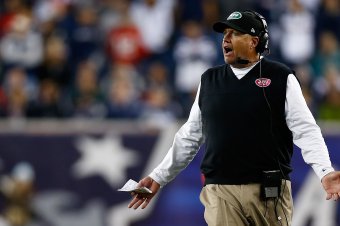 Jared Wickerham/Getty Images
Rudderless, punchless and quarterback-less, Ryan seemed stunned and overwhelmed by problems every football fan had seen coming since last season's meltdown.
From day to day, hour to hour, he flip-flopped from showing the world his kinder, gentler, G-rated side to excoriating the New York media for questioning his quarterback management. Sometimes Ryan brought his signature bombast, as when he bragged the Jets will be a top-five defense just because of his "history," but it felt hollow and seemed laughable.
More often, Ryan looked humbled, fumbling for answers he didn't have. Ryan was reaping an empty harvest, a famine borne of years of fallow drafts and ungerminated talent.
With only days to go before the season opener, Ryan finally showed the hand everyone knew he held: Rookie Geno Smith would be his starting quarterback, despite a disastrous three-interception performance in the "dress rehearsal" third preseason game.
It was the confirmation of everything everyone suspected; Ryan's Jets would sleepwalk through a rebuilding year, get experience for Smith and lay groundwork for the next head coach.
Then, the Jets actually got on the field.
The Rubber Meets the Road
Smith led a game-winning comeback drive in the season opener, and the Jets nearly stunned the Patriots at home, losing 13-10. Smith again made the difference against the Bills in Week 3, hitting receiver Santonio Holmes for a 69-yard game-winning strike in the fourth quarter.
After Jake Locker and the Tennessee Titans hosted (and dismantled) the Jets in Week 4, it was clear Smith and the Jets' offense still had a long way to go.
In his first four weeks on the job, Smith tossed eight interceptions and lost three fumbles. Despite their 2-2 record and Smith's fourth-quarter derring-do, the Jets had the NFL's fourth-worst scoring offense and a minus-5.0 average points differential.
It's no wonder nobody gave them a chance on the road against the Super Bowl-hopeful Atlanta Falcons.
Bovada.lv had the Falcons at 10.5-point favorites. All 12 of our Bleacher Report NFL Lead Writers picked the Falcons. On paper, the Jets were overmatched.
Good thing the game wasn't played on paper.
Ryan's defense was punishing up front, controlling the interior of the line with size and power. The back seven were as aggressive as ever, mixing aggressive blitzes with blanketing coverage, and big hits all over the field.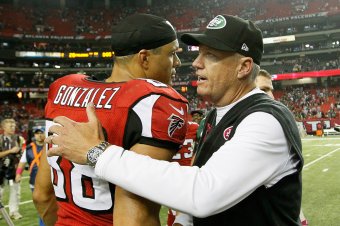 Kevin C. Cox/Getty Images
Falcons quarterback Matt Ryan was able to move the chains, but Atlanta couldn't run the ball with any kind of consistency. Falcons running backs Jacquizz Rodgers, Jason Snelling and Antone Smith combined for just 64 yards on 22 carries; a miserable 2.9 yards-per-carry average.
Matt Ryan was efficient, taking what the aggressive Jets defense gave him. Ryan completed an impressive 80 percent of his 45 attempts, netting 7.1 yards per attempt. The Jets kept a lid on the deep ball, though, forcing Ryan to nibble at the edges of the field and force-feed tight end Tony Gonzalez (10 catches for 97 yards).
The Jets led 3-0 at the end of the first quarter. In the second quarter, they pulled away, with Smith completing two outstanding touchdown passes, including this beauty to Jeff Cumberland:
Leading 17-7 in the dying seconds of the second quarter, the Jets had to ward off a late Falcons charge. It looked like they'd done it when Ryan threw a 4th-and-1 incompletion, but the Jets were flagged for holding in the end zone; they had to gear up and stop one more play.
Falcons head coach Mike Smith controversially chose to run the 170-pound Rodgers into the teeth of the Jets defensive line—and the Jets stood tall, taking that 17-7 lead into halftime.
In the second half, Geno Smith and the Jets kept the pressure on, widening their lead to 27-14 before Matt Ryan and the Falcons finally found the cracks in the Jets defense. Two Falcons touchdowns sandwiched around a Jets' three-and-out erased that lead, putting the Falcons ahead 28-27 with just under two minutes left to go.
In those two minutes, Smith proved he has what it takes to win in the NFL. He engineered a seven-play, 55-yard game-winning drive that was nothing short of masterful. Kicker Nick Folk slammed home a 43-yard field goal as time expired, cementing a 30-28 upset.
Smith finished with an outstanding stat line: He completed 16-of-20 for 199 yards, three touchdowns and zero interceptions. That's not just great for a rookie, that's great for any quarterback. Smith matched Ryan's 80 percent completion rate, averaged a much better 9.95 yards per attempt and, of course, threw three scores without turning the ball over:
Woody Was Right
With this win, Smith and the Jets have already accomplished more than almost anyone thought they could. With a mishmash of spare parts in key roles on offense, and a lot of highly drafted, questionably productive players on defense, only a great coach could steer this squad into a playoff berth.
Yet, just past the season's quarter pole, it appears that's exactly what Rex Ryan's going to do.
Woody Johnson, Jets' owner, Chairman and CEO, took a lot of heat last season for the acquisition of Tim Tebow, the subsequent collapse of Mark Sanchez and the retention of Ryan during an otherwise clean sweep.
FOX Sports' Jay Glazer reported (via Pro Football Talk) that the Jets couldn't give their GM job away, not after Johnson insisted on Ryan keeping his job for at least the 2013 season. To what extent eventual hire John Idzik was excited to work with Ryan, and to what extent he put up with the requirement in order to get the gig, historians can debate.
There's no debating it now, though: Ryan will be the Jets head coach for a good long time. In the postseason press conference, Ryan was his bombastic old self:
The job he's done coaching up the defense has been impressive, and whatever he's done (or not done) to help offensive coordinator Marty Mornhinweg develop Smith has been just right.
The Jets may not finish the season atop the AFC East, or even with a winning record. But this Monday Night Football performance proved two invaluable facts: The Jets have a quarterback they can build around, and Rex Ryan is a great NFL head coach.
This article is
What is the duplicate article?
Why is this article offensive?
Where is this article plagiarized from?
Why is this article poorly edited?