Arizona vs. USC: Live Score and Highlights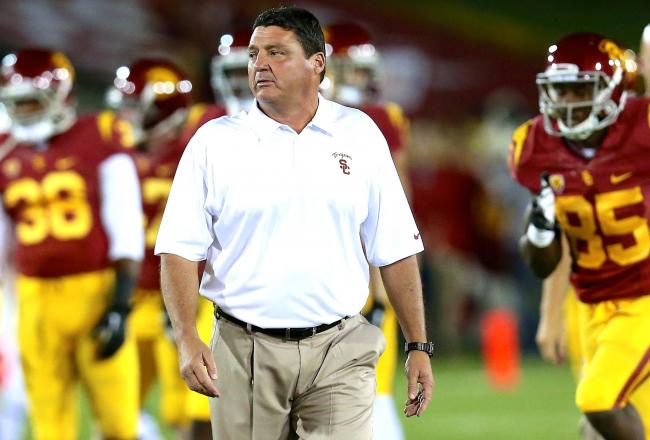 USC 38

Arizona 31

FINAL

The Ed Orgeron era got off to a winning start at USC, as the Trojans (4-2, 1-2) earned their first Pac-12 victory with a 38-31 decision over Arizona (3-2, 0-2).
USC led 28-10 at halftime, getting a pair of long touchdown passes from Cody Kessler, only to see Arizona mount a furious comeback thanks to a career-high 363 passing yards and four TDs from B.J. Denker.
The Trojans played without All-American wide receiver Marqise Lee and saw tight end Xavier Grimble and tailback Tre Madden go down with injuries but still managed to gain 547 yards, including 250 on the ground.
Final thoughts (other than the soon-to-be-posted 10 Things We Learned About USC piece): Great win for USC, very necessary to the overall season. But it's just one game, and Arizona is a team full of uncertainty that likely won't do any better than 7-5 this season, if that.
The Trojans will really see how the firing of Lane Kiffin affected things next week when they travel to South Bend for the annual matchup with Notre Dame. The Fighting Irish are off this week and will be well rested, while USC has to hope some of its mounting injuries are just minor ones and players like Tre Madden, Xavier Grimble and Nelson Agholor can bounce back quickly.
If not, USC fans will quickly forget about this one.
Oh, you Pac-12 refs, you just can't win.
Head referee announces that the clock must be re-set from 1:05 to 1:10, gets a round of boos.
He then corrects himself (as Pac-12 refs are wont to do) to make it 1:12, and gets double the boos.
64,215 is the official attendance #USC

— InsideUSC (@InsideUSC) October 11, 2013
USC probably hoped for a bigger crowd for Ed Orgeron's debut, but you know how traffic is in L.A. on a Thursday night ...
Nope, just an uber-clutch 10-yard run on 3rd-and-8 to clinch the game.
1:38 left ... could we see a rollout pass to a fullback or tight end?
Run or pass? What does USC do...take a timeout? Sure, stop the clock when you're trying to milk it.
Give credit to Arizona's offense for making a game of this, but the defense is gassed. They can't make a stop.
I think Silas Redd is back. That's 16 carries for 68 yards.
These are big clock-eating runs by USC here on this drive.
Why did USC think Arizona was going to go onsides there with more than four minutes left?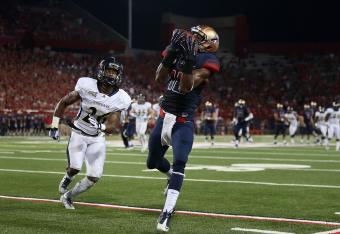 USC 38, Arizona 31: Garic Wharton gets behind the USC defense for the second time tonight to catch a beautiful touch pass for 28-yard TD.
That's the first time Arizona has returned one of Kris Albrado's punts. And of course it goes for 21 yards, giving the Wildcats the ball at USC's 42 with 4:37 left.
USC playing it safe—maybe the Lane Kiffin playbook wasn't completely put into the shredder—and now Arizona calls timeout and will get the ball back down two TDs with 4:45 left.
FYI, Arizona scored two TDs in the final 46 seconds of its 49-48 win over Nevada in the New Mexico Bowl in December.
Just saying...
Hard to believe, the way this game has gone, but if Arizona gets the stop here, it's still in this game.
Huge holding penalty on USC tackle Kevin Graf negates a first-down run.
Arizona now has a 96-yard touchdown drive and a 92-yard field goal drive.
USC 38, Arizona 24: B.J. Denker avoids a sack and finds David Richards tiptoeing the back line of the end zone for a 9-yard TD catch.
As good as USC's offense has looked tonight, it still has to worry about what's happened to its vaunted defense the last two games.
Granted, this isn't a 62-point onslaught like against Arizona State, but considering how bad Arizona's B.J. Denker had looked in the first four games, the fact the Trojans have let him throw for more than 300 yards should be a concern.
Blowout or not, Ka'Deem Carey just made an NFL cutback move to turn a loss on 3rd-and-5 into an 11-yard run. He'll be playing on Sundays next fall.
This is normally used when Arizona wants to get its punting team ready on the sidelines, but it might as well get waved around in surrender.
Arizona with a three-and-out, this game is all over but the stat-padding.
And...Fox Sports 1 finally discovered Tre Madden's injury. Followed by USC apologist Petros Papadakis explaining that under Lane Kiffin injuries weren't disclosed.
Nice excuse.
USC 38, Arizona 17: Javorius Allen with his second rushing TD of the night, a 4-yard score. Might be the nail in the coffin for the visiting Wildcats.
This article is
What is the duplicate article?
Why is this article offensive?
Where is this article plagiarized from?
Why is this article poorly edited?