OKC Thunder Backup Plan While Waiting for Russell Westbrook to Return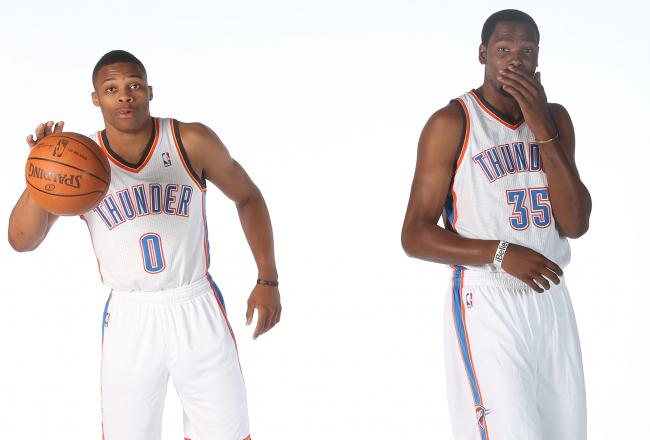 Layne Murdoch/Getty Images
Apparently Russell Westbrook shouldn't have thrown those crutches into the pool as soon as he did.
Thanks to some unwanted swelling after a few practices, Westbrook had to undergo a second knee surgery that will sideline him for the next four to six weeks, according to SI.com.
Instead of returning for the Oct. 30 start of the regular season, the Thunder will be without their superstar point guard until mid-December.
That's sure a problem for the Thunder, but the other 29 NBA teams are jumping around high-fiving each other because beating the Thunder until mid-December just got a lot easier.
The Thunder can certainly survive without Westbrook thanks to Kevin Durant. But they can't play at the elite level fans have come to expect from them unless they develop a legitimate backup plan.
Up first on the "Westbrook backup plan" is the very same man that stepped up in his absence during the postseason—Reggie Jackson.
Reggie Jackson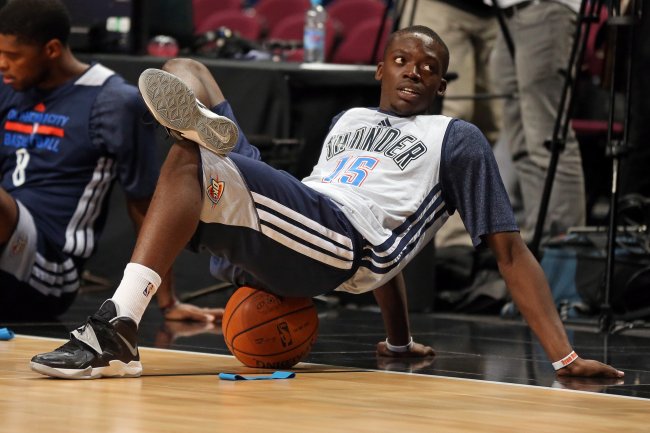 Layne Murdoch/Getty Images
The good news is that Jackson showed that he's capable of being a solid contributor for OKC when he averaged 13.9 points, 4.9 rebounds and 3.6 assists during 33.5 minutes per game in the 2012-13 postseason.
That production was a large improvement from the 5.3 points, 2.4 rebounds and 1.7 assists per game he averaged during the regular season. Not only did Jackson prove his value during the postseason in terms of production, he also showed he can be an "energy player" just like Westbrook.
While Jackson's production is good, it's still far from the 23.2 points, 7.4 assists and 5.2 rebounds per game that Westbrook averaged last year.
Let's be honest, which other point guard on the Thunder's roster is going to even get close to Westbrook's production?
Derek Fisher at a ripe 39 years old? Yeah, that's what I thought.
Whether Thunder fans like it or not, it looks like Jackson will be their starting point guard for the first month and change of the season.
Sign a Backup to Buy Time Until Westbrook Returns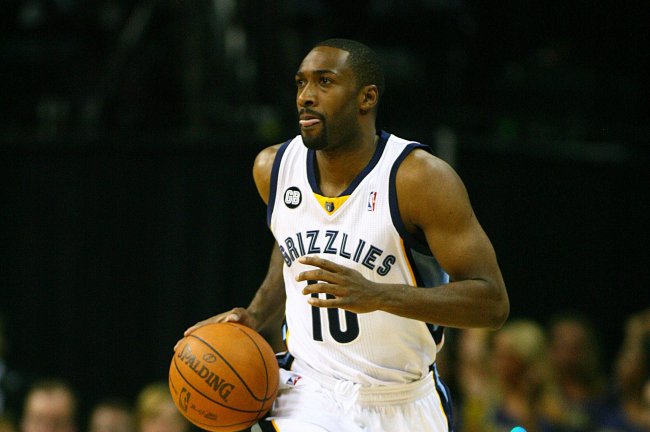 Spruce Derden-USA TODAY Sports
This option may be the most realistic since there is little to no depth at the point guard position without Westbrook.
Notable point guards that are still available include Sebastian Telfair, Rodrigue Beaubois, Keyon Dooling and even Gilbert Arenas.
Needless to say, there is some talent out there that the Thunder could benefit from picking up.
With a veteran leader in Derek Fisher, the Thunder could pick up a guy like Arenas and not worry about their truly short-term investment.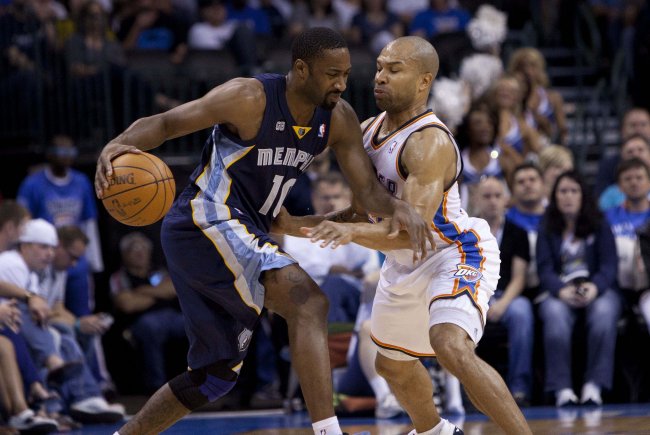 Richard Rowe-USA TODAY Sports
Arenas has the greatest upside. If he can buy into the role the Thunder need him to fill, he can revitalize his impressive NBA career that sadly ended way too quickly.
The good news for the Thunder is that if they sign a point guard and it doesn't work out, they truly don't have anything to lose.
It does look like Arenas may be taking his talents back overseas to China—according to hiphollywood.com—so the Thunder better move quickly if they want a talented veteran point guard.
Don't Panic, Do Nothing and Pray That Jeremy Lamb Is the Real Deal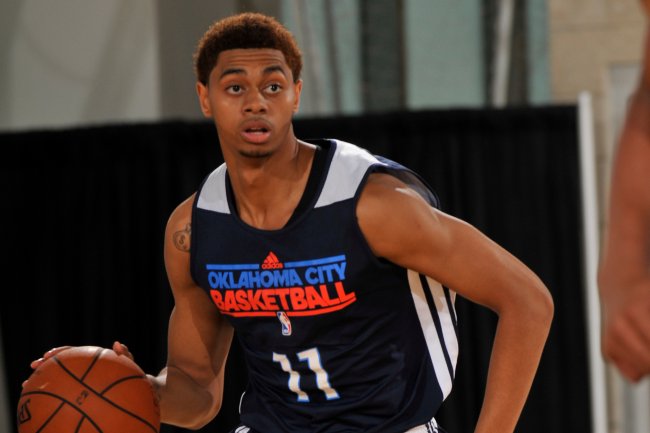 Fernando Medina/Getty Images
Sometimes the best backup plan is to relax and let life play out.
Without many other options, that may be what the Thunder end up doing. And if Jeremy Lamb has really grown up as much as the summer league made us think he did, that may be the best thing to do.
Lamb absolutely owned the summer league, which proved that he's at least a step above rookies, sophomores and other guys trying to make NBA rosters.
That's definitely good news for the former lottery pick-turned-benchwarmer, but it doesn't guarantee that he's going to be a solid first man off the bench for a Thunder team that will be looking for a true sixth man.
In addition to Lamb's impressively athletic body coming off the bench, there is some hope that Ryan Gomes can be the double-digit-points-per-game player that he was before he went overseas.
That may be an unrealistically high hope for Gomes, but hey, never stop believing, right?
It certainly won't be easy for the Thunder to stay atop the Western Conference for over a month without Westbrook. But it will definitely make the start of the season more interesting to watch.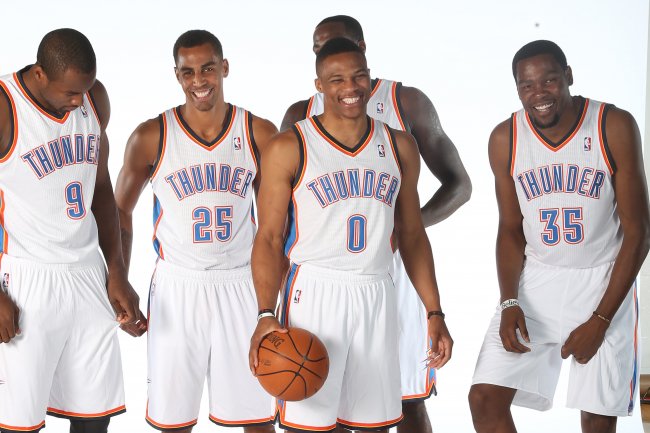 Layne Murdoch/Getty Images
One thing is for sure: Once Westbrook comes back, players like Reggie Jackson, Ryan Gomes and Jeremy Lamb will have had ample opportunities to prove their value to the team.
This article is
What is the duplicate article?
Why is this article offensive?
Where is this article plagiarized from?
Why is this article poorly edited?

Oklahoma City Thunder: Like this team?