College Football Week 7 Predictions: Predicting Top 25 Games Against the Spread
Sam Greenwood/Getty Images

Another week of the college football season is upon us. Once again, Vegas has come up with some spreads that will be tough to pick.
Vegas proved to be on its game again last week with a few games coming down to the end, including Ohio State-Northwestern. The final play of the game was all the Buckeyes needed to cover the spread. No doubt a lot of money changed hands on that play.
Needless to say, Vegas is doing its homework and has been for quite some time.
This week there are some very intriguing games to choose from, including Florida-LSU and Oregon-Washington. Just because they are intriguing does not mean they are easy to pick.
The only certainty when picking games against the spread is nothing is a guarantee.
That will be true once again this week.
Here is a a prediction against the spread for each AP Top 25 team. Who will cover and what teams will fail to live up to the expectations of the all-mighty Vegas?
Read on to find out.
Spreads courtesy of VegasInsider.com
Begin Slideshow

»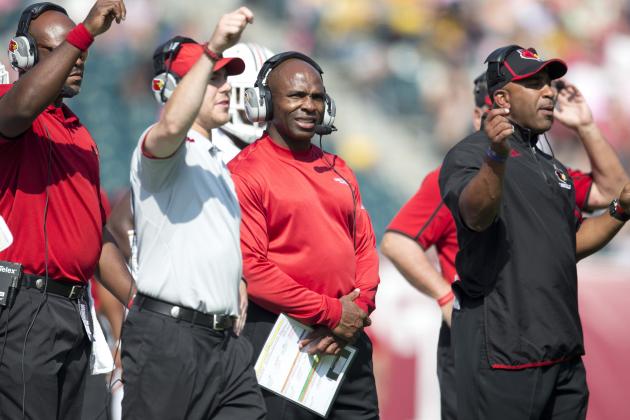 Mitchell Leff/Getty Images

Louisville is at home, but this is a very large spread.
The Cardinals are clearly the better team by a few scores, but Rutgers has been a pleasant surprise so far this year. The Scarlet Knights have a win over Arkansas on their resume.
So far, Rutgers has only covered in two of its five games, but those two games were against its toughest competition. Louisville will be its biggest challenge all season long.
The health of running back Paul James is a huge concern as he is likely to miss the game.
Louisville has been a huge favorite in all of its games. The Cardinals have covered in three of those. That will not be the case on Thursday. Rutgers has a little too much talent offensively to lose by 17 points.
Expect the Cardinals to win handily, but this is clearly the best opponent they have played all season.
Rutgers covers the 17 points.
The Pick: Rutgers (+17)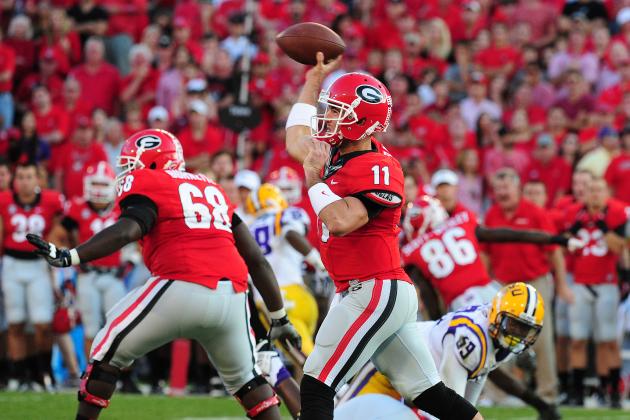 Scott Cunningham/Getty Images

Georgia opened this game as an 11-point favorite, but the spread has since dropped down to nine. A lot of that could have to do with the running back situation for the Bulldogs.
Backups Keith Marshall and Justin Scott-Wesley were lost for the season in the overtime victory over Tennessee. That certainly makes a difference, but the key will be the health of star Todd Gurley. Gurley did not play against Tennessee because of a sprained ankle.
The health of Gurley is still up in the air. If he does not play, Georgia could be in for a dog fight against a 5-0 Missouri squad.
Missouri has covered four of its five games and pushed the other. This will clearly be the toughest game it has played all season.
If Gurley does not play, expect Missouri to have a chance to win the game. If he does play, Georgia should be able to cover the spread.
Odds are: he plays, and the Bulldogs barely cover.
The Pick: Georgia (-9)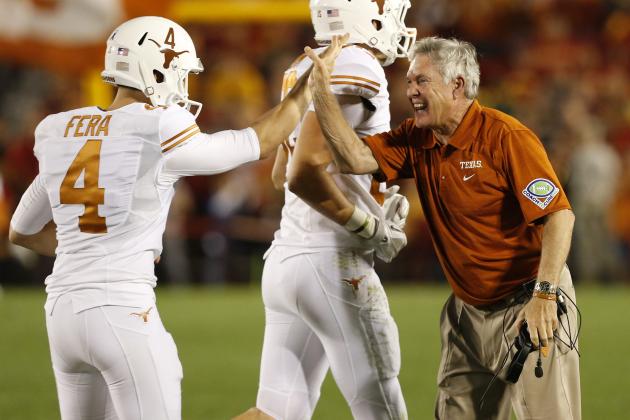 David Purdy/Getty Images

The Red River rivalry has arrived once again as Oklahoma and Texas do battle this weekend in Dallas.
Starting quarterback David Ash will not play for Texas. Instead, Case McCoy will get his third start of the season.
Both teams have covered the spread in three of five games. Texas has been at least a touchdown favorite in every matchup until this one.
Even though Oklahoma struggled last week against TCU, the Sooners have a talented defense and a solid running game.
Texas has been up-and-down all season long. The Longhorns will be ready to play for their head coach, Mack Brown. Brown is firmly on the hot seat. A win here could help him save his job, and that might be reason enough for the Longhorns to at least cover the spread.
The 14 points just seems like a little too much.
The Pick: Texas (+13)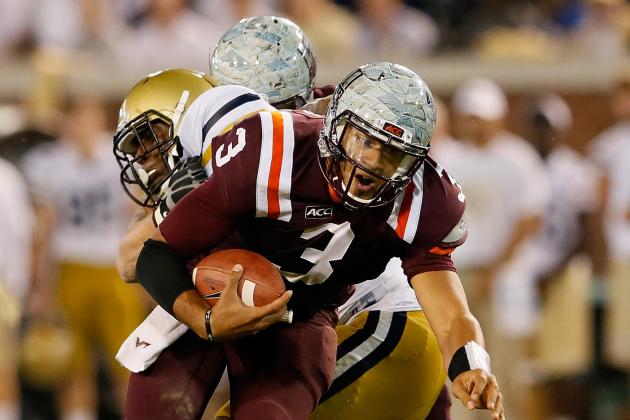 Kevin C. Cox/Getty Images

This game could be a defensive battle. Virginia Tech has come on strong in recent weeks led by a very strong defense.
The Hokies have covered the last two games, after failing to do so in their first four.
Pittsburgh has covered in half of its games, so this one could go either way.
It will likely hinge on the play of quarterback Logan Thomas. Thomas has improved as the season has progressed. If he does not turn the ball over, Virginia Tech should have no problem winning the game as the Hokies are clearly the better team.
The spread might seem a little high, but Virginia Tech is at home, which should be a huge advantage.
Pittsburgh could hang around, but the Hokies will cover in the end.
The Pick: Virginia Tech (-9.5)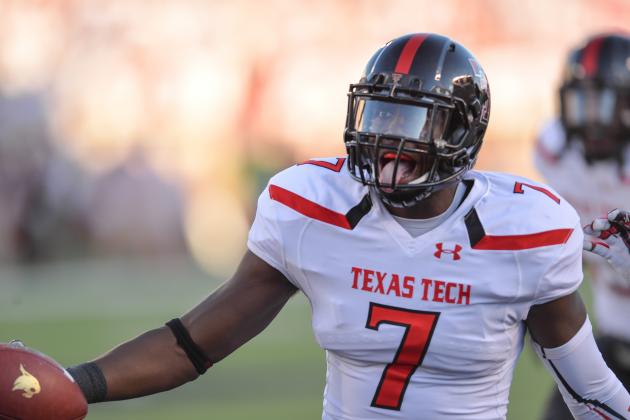 John Weast/Getty Images

The injury to Texas Tech freshman quarterback Baker Mayfield could slow down their offense a little bit, but the Red Raiders still have another freshman in Davis Webb to lean on.
How long will these freshmen continue to play out of their minds for the Red Raiders? With Big 12 play hitting full stride, whoever is under center will need to continue the excellent play for this team to be a factor down the stretch.
Texas Tech is one of the major surprise teams in college football this season. It has come within two points of covering every game. That means the Red Raiders are due to fall short of the spread, right?
Iowa State is only 1-3, but the Cyclones have lost some very close games and covered each of the past two weeks.
That will be the case once again on Saturday. The Cyclones have a defense that is talented enough to keep Texas Tech in check. There is very little chance that they can win, particularly on the road, but covering a spread of more than two touchdowns is very possible.
The Pick: Iowa State (+15)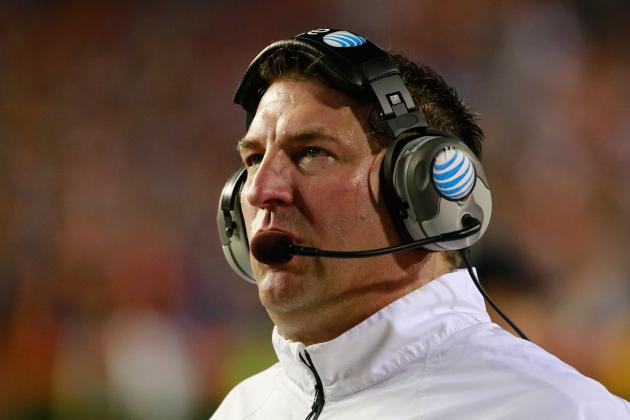 Sam Greenwood/Getty Images

Arkansas has proven to be a tough opponent this season, particularly at home. The Razorbacks have only covered twice this year, but both of those games were at home.
This week, South Carolina comes to town. The injury status of star defensive end Jadeveon Clowney could be a factor. Even if he doesn't play, South Carolina is clearly the more talented of these two teams.
The Gamecocks have not covered a game since August. Do not expect that to change this week. South Carolina has struggled its past four games and has not lived up to expectations so far this season.
This could certainly be an upset in the making, but no matter who wins, it is going to come down to the final possession.
Arkansas at home with the points looks like a safe bet.
The Pick: Arkansas (+6)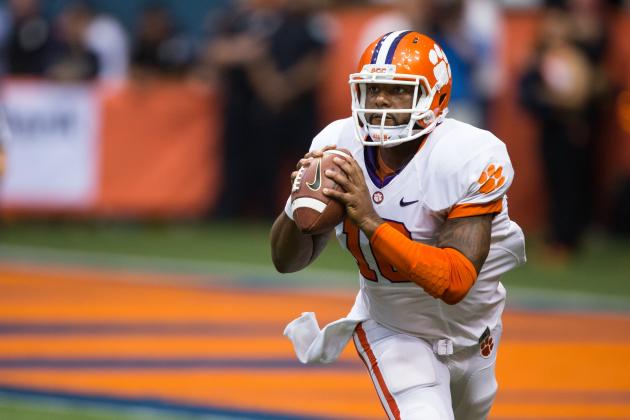 Brett Carlsen/Getty Images

Clemson has proven it possesses one of the best offenses in the country. The Tigers have no problem scoring points no matter who they are playing. They are averaging over 44 points a game, ranking 14th in the country.
That will be the case once again against a Boston College defense that is allowing nearly 27 points a contest.
Boston College has hung with some talented teams. The Eagles covered against Florida State a few weeks ago. The spread is about the same here, but they have been playing well of late.
Clemson will be able to easily put up six or seven touchdowns, but do not be surprised if the Eagles cover the spread.
The combination of quarterback Chase Rettig and wide receiver Alex Amidon will be enough to score a few touchdowns for the Eagles.
The Pick: Boston College (+24.5)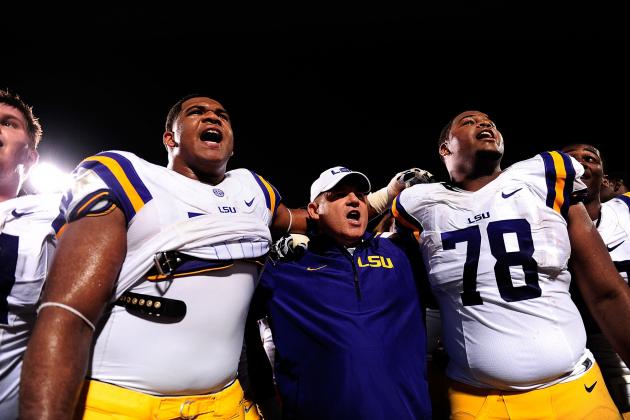 Stacy Revere/Getty Images

It is all about offense so far in the SEC this season. One team that has not seemed to buy into that is Florida.
The Gators still possess one of the strongest defenses in the entire country. The group is only allowing 12.2 points a night. That has been enough to keep them in games with an offense that is struggling to score points once again this season. Florida is only averaging 25 points a game, ranking 93rd in the nation.
LSU has been just the opposite. The Tigers are putting up 45.5 points a game, ranking ninth in the nation, while allowing nearly 25 points.
This is the first game of a tough stretch for the Gators against the likes of Missouri, Georgia, Vanderbilt and South Carolina over the next five weeks.
Florida has covered the last two weeks. The key will be the play of quarterback Tyler Murphy. In the end, the Gators defense will have enough to keep them in the game and cover at LSU.
The Pick: Florida (+7)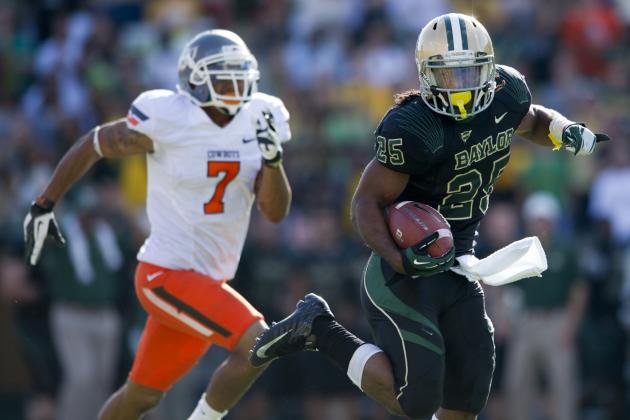 Cooper Neill/Getty Images

Baylor opened this game as only a 10.5-point favorite, but the line has since jumped all the way up to 17.5.
That would seem like a lot for most, but for an offense as talented as the one Baylor possesses, that hardly seems like anything. The Bears are leading the country at over 70 points a game. They have scored at least 69 in all four of their victories and have covered the spread in each of those games. They have also hit on the over in all four.
Kansas State will be hard-pressed to hold Baylor under 60 points. It would be difficult to imagine Kansas State putting up over 40, but it is possible.
Still, the Wildcats appear to be no match for the explosive offensive attack of Baylor.
The Pick: Baylor (-17.5)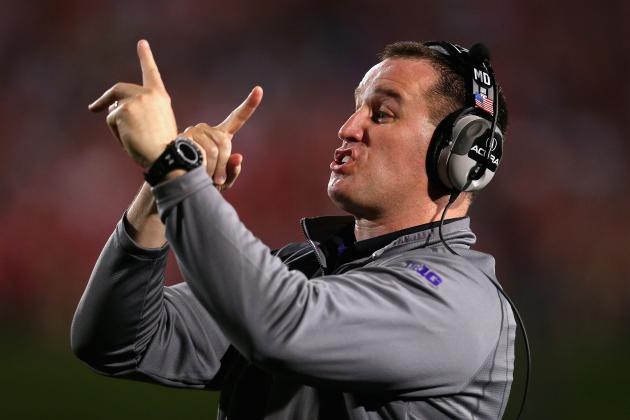 Jonathan Daniel/Getty Images

Northwestern is another Top 25 team that is a double-digit underdog against an unranked opponent.
Wisconsin is tough to beat at home. The Badgers have covered in all three home games and have covered or pushed in all five contests.
This week the Badgers take on a much underrated Northwestern team. The Wildcats have not covered since the second week of the season, but that is going to change on Saturday.
The key to this game will be the rushing attack of Wisconsin against the two-headed monster at quarterback for Northwestern. Wisconsin will need to control the time of possession and keep the talented Northwestern quarterbacks off the field.
This game is going to be closer than the spread indicates as Northwestern will be able to put points up on the Wisconsin defense.
The Pick: Northwestern (+10.5)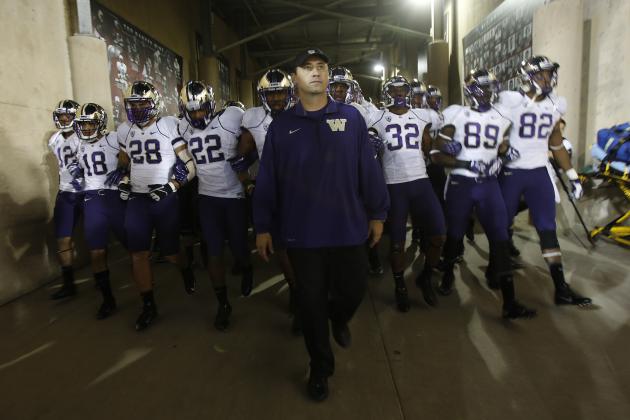 Stephen Lam/Getty Images

Washington proved just how talented it is by hanging with Stanford for four quarters and outgaining the Cardinal in total offense.
Oregon has covered or pushed in every game this season. This is the first time all year the Ducks have not been the favorite by at least 26.5 points.
The Huskies have covered four of five games and came within a point of covering at Illinois.
The spread opened at 10.5 but has quickly shot up to 14.
Washington has a talented enough defense to at least hold the Ducks under 50 points. If that happens, the Huskies have an excellent chance of covering the spread. So far this season they are 11th in the country allowing only 14.8 points a game.
Something is saying this has a chance to be a push but could certainly go either way. Look for Washington to be able to hang around enough to barely cover the 14-point spread.
The Pick: Washington (+14)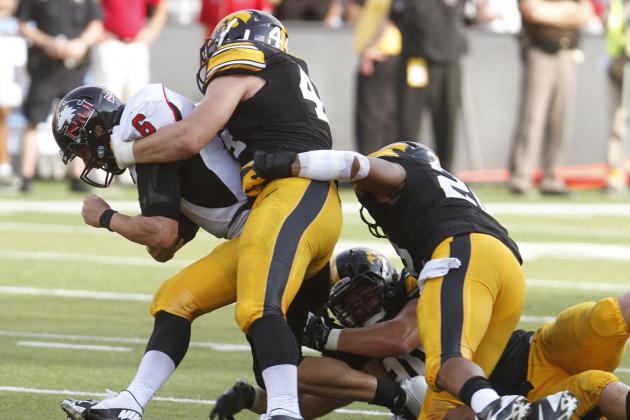 Matthew Holst/Getty Images

This is another monumental mismatch with a spread that is not quite large enough.
Akron has been one of the worst teams in the country in recent years. The Zips do have a two-point win over FCS foe James Madison earlier in the year but appear to be a long shot to win more than a game or two the rest of the way.
The Zips have covered twice in six games so far but were dominated last week by Ohio.
Northern Illinois on the other hand is the cream of the crop in the MAC. They have already won four road games this season. That is no easy task, no matter who a team is playing.
This week they return home and will be ready to dazzle in front of a home crowd. Look for Jordan Lynch to lead a high-flying offensive attack for the Huskies.
Covering the spread will not be easy, but it is a solid bet.
The Pick: Northern Illinois (-22)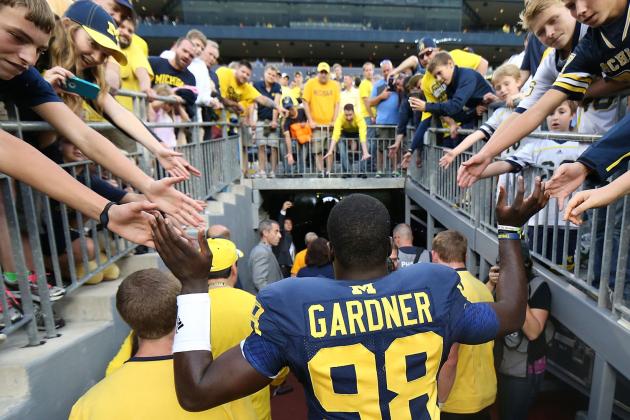 Leon Halip/Getty Images

Michigan started the season strong but then had a lull, almost losing to Akron and Connecticut in back-to-back weeks.
If the Wolverines can play like they did against Minnesota, they will have no trouble going on the road and knocking off Penn State by double-digits.
Penn State is coming off a 20-point defeat at the hands of Indiana. That is not something that is going to sit well with head coach Bill O'Brien and the rest of his Nittany Lions' staff.
They have rotated covering the spread in back-to-back weeks. This week they are due for a cover.
This is another game that will likely be close. With how inconsistent Devin Gardner is, particularly on the road, Penn State should have an excellent chance to cover the spread and pull off the upset in the process.
The Pick: Penn State (+3)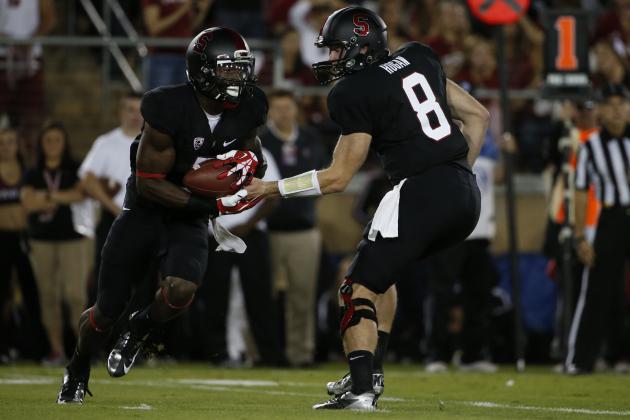 Stephen Lam/Getty Images

Utah has proven to be a very tough opponent for just about everybody it has taken on this season. The Utes are 3-2 with close losses to Oregon State and at UCLA.
This week, it welcomes Stanford to town. The Cardinal have only covered twice this season. This one figures to be very close to the nine-point margin Vegas is calling for.
The Stanford defense has not been quite what it was the past few years. So far it is allowing over 21 points a game. Utah can put up points. The Utes are averaging 39 a contest.
This is a trap game for the Cardinal. It is sandwiched between matchups against Washington and UCLA. Will that be enough for Utah to win the game or at least cover the spread?
If the Utes play like they have been the past few weeks and Stanford let's teams hang around like it has been accustomed to doing this season, then Utah will cover in a close game.
Take Utah and the points, but Stanford will win a close game.
The Pick: Utah (+9)
Kevin C. Cox/Getty Images

Alabama has only covered twice this season, and Nick Saban does not typically do as well covering larger spreads. This would certainly qualify as a large spread.
The Crimson Tide failed to cover the 40-point spread against Colorado State and the 54-point spread against Georgia State.
Kentucky appeared headed in the right direction early in the year but has since faded off. The Wildcats did hang in against South Carolina, but they have trouble scoring against talented defenses. Alabama has just that.
Look for Kentucky to be held in single-digits and Alabama to be somewhere in the mid-30s. That should be more than enough for the Crimson Tide to cover the spread, particularly if they do not take their foot off the pedal in the fourth quarter.
The Pick: Alabama (-27.5)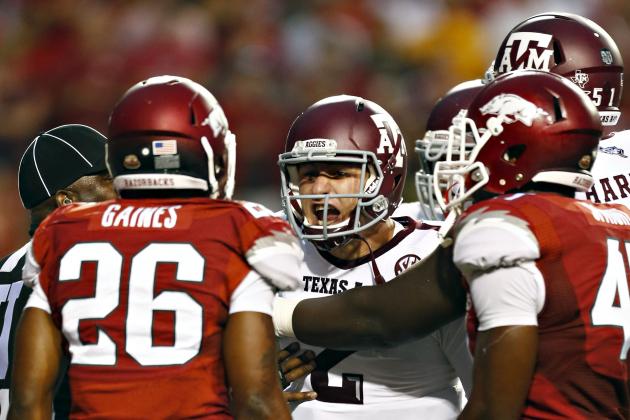 Wesley Hitt/Getty Images

SEC play is just heating up for both of these schools. It appears these two teams are headed in opposite directions. Too bad for one of these schools, it is not headed in the right direction.
Ole Miss has lost two straight to Alabama and Auburn. The Rebels have been average defensively but only rank 85th offensively, averaging 27.2 points a game. They are going to need to score way more points than that to put Johnny Manziel and company away.
Texas A&M has scored over 40 points in every game. That is likely to be the case once again. This spread appears to be a little too small for an offense like Texas A&M.
While the Aggies defense does not offer much resistance, the Rebels offense is nothing to write home about, having been shut out a few weeks ago against Alabama. They appear to be a year or two away from being a serious contender in the SEC. This could be the third-straight loss for the Rebels.
The Pick: Texas A&M (-6.5)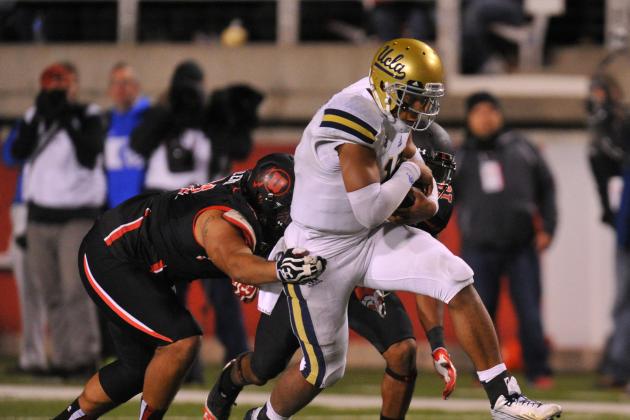 Gene Sweeney Jr./Getty Images

UCLA is another Pac-12 team that has been very impressive this season. The Bruins have covered in all four of their games. There is no reason to believe this weekend will be any different.
California has been a completely different story. The Golden Bears have struggled once again this year. It does not appear things are going to get better this week. California has had a tough time stopping teams, and UCLA comes into the game with a very talented offense led by sophomore quarterback Brett Hundley.
The Golden Bears are allowing 45 points per game, ranking 125th in college football. UCLA is averaging 48 points a game, ranking fifth in the country.
It is not going to be a problem for UCLA to move the ball all over a California team that has yet to cover a spread this year.
The Pick: UCLA (-24.5)