Predicting Every Major 2014 World Cup Qualifier This Week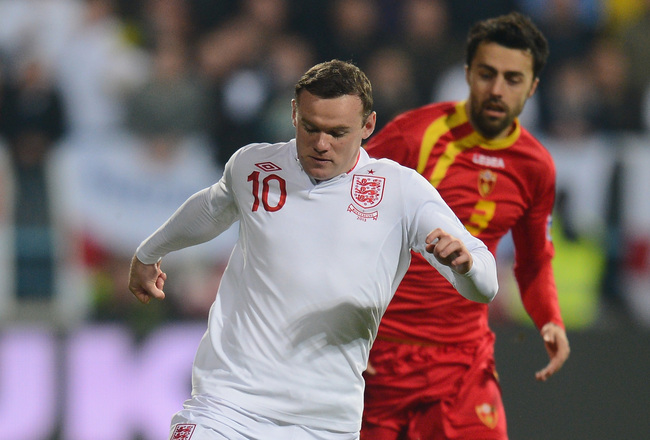 Mike Hewitt/Getty Images
Domestic football will take a backseat to international competition this weekend as the best players in the world look to book their spot in the 2014 World Cup.
Many know that this week will be their last chance to secure an automatic spot in Brazil next year, and it sets up for a number of thrilling fixtures. We've got Mexico's last-ditch effort to keep their World Cup dream alive. The likes of England, Portugal and Denmark are all looking to do the same.
With over 30 qualifiers scheduled for this week, there's certainly no shortage of action. Let's take a look at how this week of 2014 World Cup qualifiers could unfold.
Croatia vs. Belgium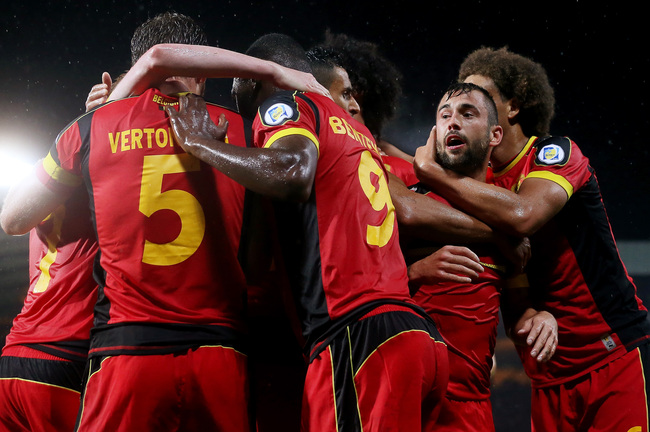 Scott Heavey/Getty Images
Friday, October 11, at 5:00 p.m. BST
Nothing could split these two teams when they met earlier in qualifying, and it seems likely that the same will happen again in this one.
Croatia have been very tough to take down at home, while Belgium need just one point here to ensure their World Cup berth.
Croatia have the home-ground advantage—where they've conceded just one goal in qualifying so far—but this is an ever-confident Belgium national team. Both have plenty to play for, but knowing that Belgium will be content with a draw, it's hard to see this one being an open affair.
There's always a chance at a late winner, but I'm calling draw.
Prediction: Croatia 1-1 Belgium
Ukraine vs. Poland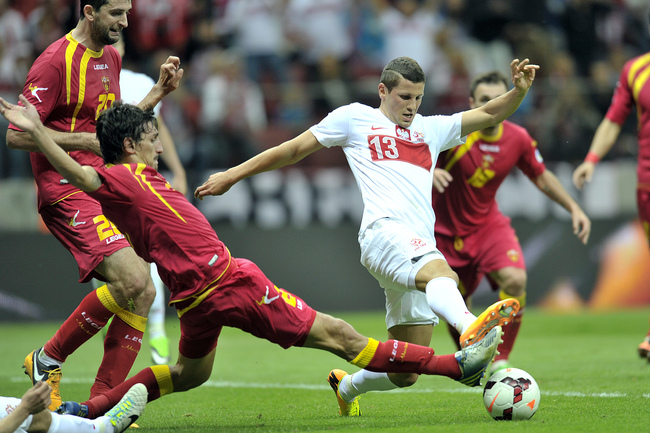 Adam Nurkiewicz/Getty Images
Friday, October 11, at 7:00 p.m. BST
With England taking on Montenegro, this fixture has huge implications for both teams. Ukraine could find themselves on top of Group H with one match remaining; Poland could find themselves back in contention for the second spot once again. However, for that to happen, both teams will need to win.
Ukraine took down Poland 3-1 when they met earlier in the year, and with the home-ground advantage on their side here, you'd have to think they'll be too tough.
Their defense has allowed just two goals at home (and four goals in total) this year, and provided that their sometimes stagnant attack can find opportunities against a Poland defense that's allowed nine goals in eight games, they should be too strong in front of their home fans.
Prediction: Ukraine 2-0 Poland
Denmark vs. Italy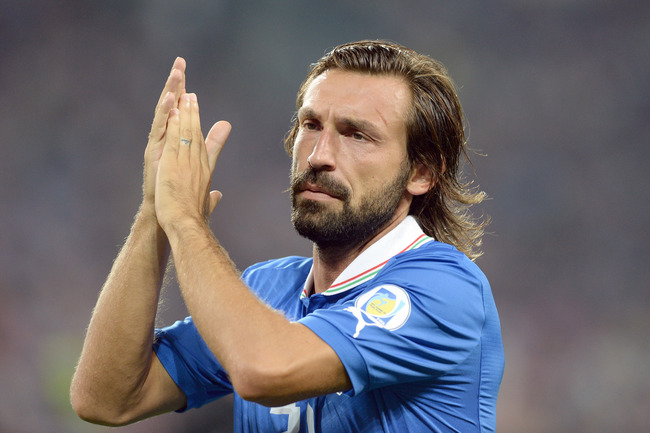 Claudio Villa/Getty Images
Friday, October 11, at 7:15 p.m. BST
Italy have already qualified for the World Cup next year.
Just how much that will affect this one still remains to be seen, though. The Italians have been very strong in qualifying and would normally be expected to win this one, but they could be excused for taking it a little easier given that their plane ticket to Brazil is already booked.
Denmark have been poor at home—losing to Armenia and drawing with the Czech Republic—and one wonders how their attack will fare against the strength of Italy's defense. But with the prospect of a World Cup berth on the line (and not for Italy), I think they may just sneak a point here.
It could turn out to be a very, very big point indeed.
Prediction: Denmark 1-1 Italy
Slovenia vs. Norway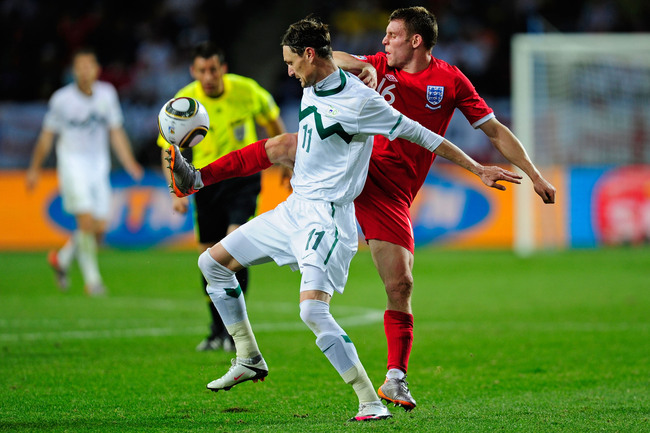 Jamie McDonald/Getty Images
Friday, October 11, at 7:45 p.m. BST
Slovenia and Norway come into this one knowing that their chances of progressing to the World Cup depend on a result here. They sit one and two points, respectively, behind Iceland, but Iceland play Cyprus this week and are therefore unlikely to drop any points.
Thus, a win is imperative to their chances of a playoff appearance.
Slovenia have lost twice at home (2-1 to Iceland, 2-0 to Switzerland), but the difference could be Norway's away form. They've won just one away fixture (against last-placed Cyprus), and that should be enough to see Slovenia over the line in this one.
Prediction: Slovenia 1-0 Norway
Germany vs. Republic of Ireland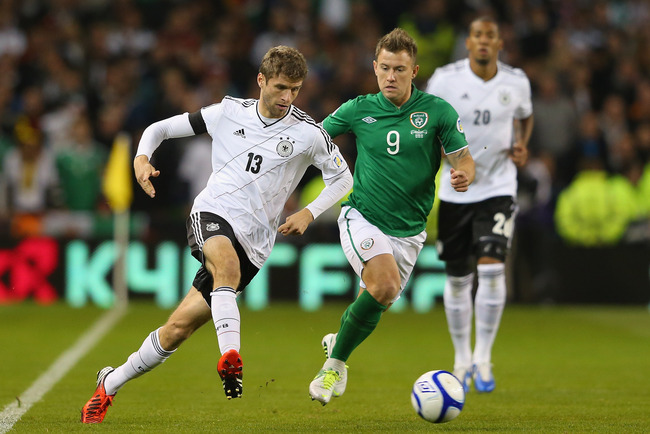 Alex Livesey/Getty Images
Friday, October 11, at 7:45 p.m. BST
Germany are playing to ensure that they finish top of the group and earn a World Cup finals berth—something they can wrap up with a home win this week.
The Republic of Ireland are playing to keep their World Cup dream alive.
For that to happen, they'll need a number of results to fall their way this week and the next, but Martin O'Neill will no doubt have told his players that they can only concentrate on one fixture at a time. Ireland's biggest problem in the group stage has been their consistency—having been dominant one minute but then sluggish the next—and O'Neill will no doubt look to fix that this week.
However, they won't find it easy against a driven Germany team playing at home for a World Cup berth. An early favourite for the trophy next year, Germany have scored more goals than any other European team in the group stage and should find the back with relative ease against Ireland. Which, it seems, will more than likely be enough to get them the three points.
Prediction: Germany 4-1 Republic of Ireland
Sweden vs. Austria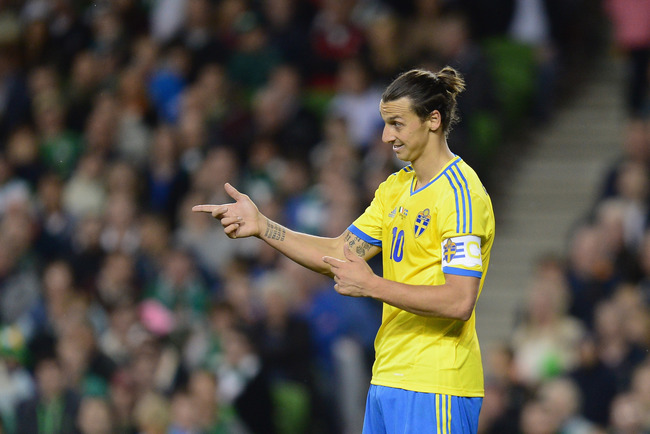 Jamie McDonald/Getty Images
Friday, October 11, at 7:45 p.m. BST
Zlatan Ibrahimovic and Sweden are highly unlikely to finish on top of their group, but they can wrap up a playoff spot with a victory against Austria this week.
And surely they'll do that at home.
Sweden have yet to lose or concede a goal at home so far in the group stage. They showed their attacking potency in their infamous come-from-behind 4-4 draw with Germany, and while their away form might not be that strong, they will be too good at home here.
Austria were held on the road by Kazakhstan and the Republic of Ireland, they were beaten comfortably by Germany, and the same should happen in this one.
Prediction: Sweden 3-0 Austria
England vs. Montenegro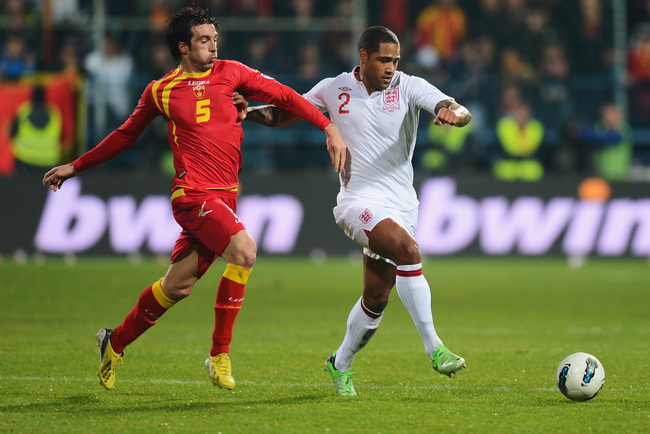 Mike Hewitt/Getty Images
Friday, October 11, at 8:00 p.m. BST
Much has been made about England's international form and supposed decline, but the fact remains the Three Lions have been very, very good in the group stage.
England have yet to be beaten. They have conceded just three goals in their eight games so far and come into this one with a better goal difference than any other European nation—perhaps warped a little by some big wins over the likes of San Marino and Moldova.
Montenegro showed when they played England earlier that they are capable of hurting them in attack, but it's hard to see them doing that as well at Wembley this time.
England should win here—regardless of the doubts that may arise.
Former England manager Glenn Hoddle, in his most recent column for B/R, stated Everton midfielder Ross Barkley should be given his chance:
I'd like to see Jack Wilshere and Barkley take control of England's central midfield, with captain Steven Gerrard sitting behind them, protecting the defence. I'd give Barkley his opportunity. These might be vital World Cup matches with our qualification at stake, but we are at home at Wembley and we should trust young legs.
Prediction: England 2-0 Montenegro
Portugal vs. Israel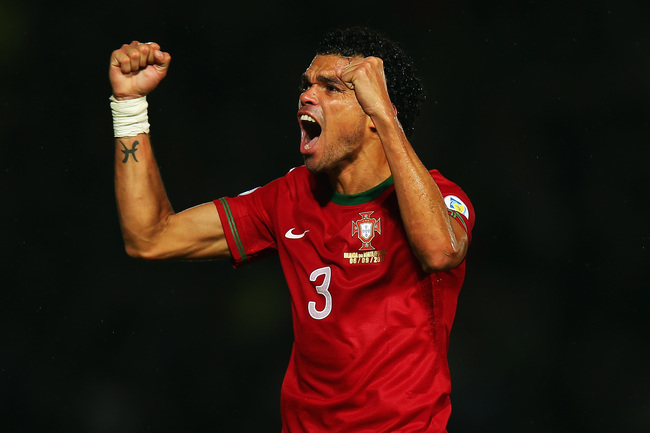 Bryn Lennon/Getty Images
Friday, October 11, at 8:45 p.m. BST
After a slow start to qualifying, Portugal have really started to hit top form of late and will be looking to take top spot of the group with a big win over Israel here.
They were held by Israel in a 3-3 draw when they met earlier, but with the home advantage back with Cristiano Ronaldo's men, you'd have to think they'll be too tough in this one. They have yet to lose at home, while Israel's 3-1 loss away to Russia showed that they weren't quite in the same class as other teams—something which should again prove true in this one.
Portugal are much better than they were six months ago, and they'll show it here.
Prediction: Portugal 2-1 Israel
Ecuador vs. Uruguay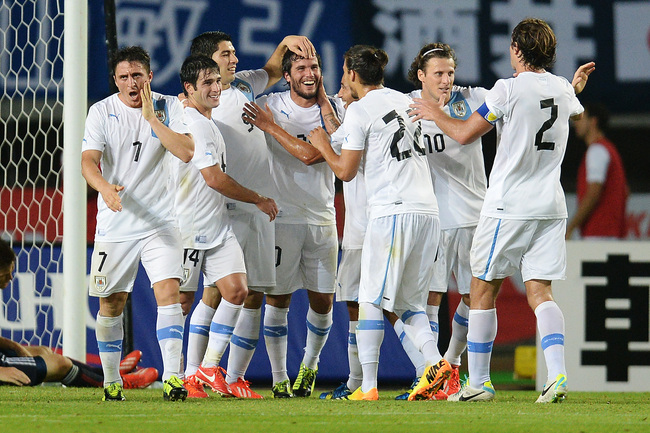 Atsushi Tomura/Getty Images
Friday, October 11, at 10:00 p.m. BST
Both sitting on 22 points through 14 CONMEBOL matches, Ecuador vs. Uruguay is perhaps the pick of the qualifying fixtures this week. Neither will want to finish fifth (and endure a play-off against an Asian nation); they'll want to book their spot in Brazil by holding that fourth spot.
Both will also know that they have difficult fixtures scheduled for their final group-stage match and will be desperate to ensure that they don't drop behind at all here.
Ecuador have been much better defensively than their opponents (conceding eight fewer goals), and they come into this one with an undefeated home record. They held Argentina 1-1 and chalked up big wins against the likes of Colombia and Chile, which suggests they'll be too strong here—especially against a Uruguayan team that they managed to hold 1-1 at home earlier in the year.
Uruguay have a vast array of attacking options, but they don't have the defense capable of shutting down Ecuador, who will be too strong at home in this one.
Ecuador coach Reinaldo Rueda is looking for passion from his team, as per conmebol.com:
All for this flag. We will be in these two games, October 11 and 15 (vs. Chile), more united than ever. It is important that we value what we have, what we have achieved on a difficult path that has never been easy.

No qualifier has been easy and this one, as I said when I arrived (to Ecuador in 2010), would be intense also.
Prediction: Ecuador 3-1 Uruguay
Mexico vs. Panama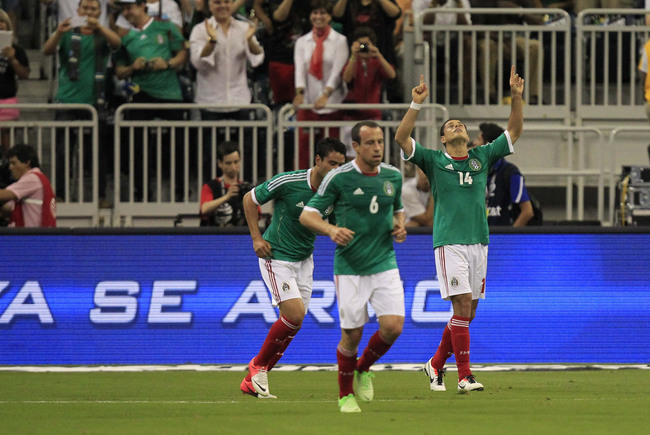 Thomas Campbell-USA TODAY Sports
Saturday, October 12, at 2:30 a.m. BST
In short, it's been a disastrous World Cup campaign for Mexico.
Shock losses on the road and an inability to win at home have constantly hurt El Tri, and they now face a must-win match at the Azteca against a strong Panama team. Yet despite that apparent home-ground advantage, Mexico might not have this one their own way.
Mexico haven't won at home in the group stage this year, but they did manage to hold Panama to a 0-0 draw when they met earlier. Panama have not won on the road this year, and while Mexico have had their own struggles, I can't see the visitors knocking them off away from home.
Again, it won't be convincing from Mexico, but it'll be a result.
And at the moment, that's all that counts.
Prediction: Mexico 2-0 Panama
Full List of Qualifiers and Predictions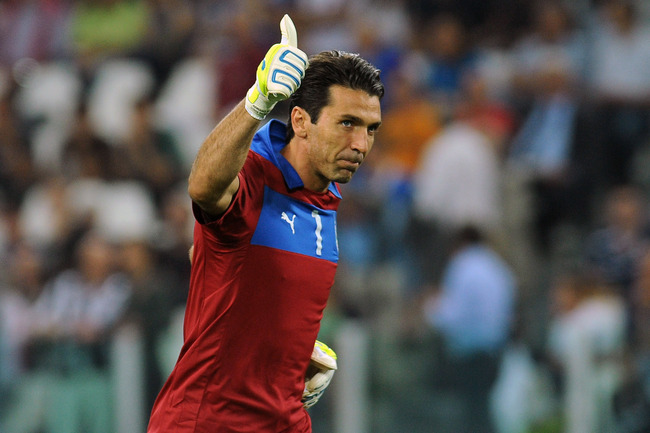 Valerio Pennicino/Getty Images
UEFA World Cup Qualifying
| | | |
| --- | --- | --- |
| Armenia vs. Bulgaria | 4:00 p.m. BST | 2-2 |
| Lithuania vs. Latvia | 4:30 p.m. BST | 2-1 |
| Croatia vs. Belgium | 5:00 p.m. BST | 1-1 |
| Moldova vs. San Marino | 5:00 p.m. BST | 3-0 |
| Azerbaijan vs. Northern Ireland | 5:00 p.m. BST | 2-0 |
| Faroe Islands vs. Kazakhstan | 6:00 p.m. BST | 2-2 |
| Malta vs. Czech Republic | 6:30 p.m. BST | 0-2 |
| Bosnia-Herzegovina vs. Liechtenstein | 7:00 p.m. BST | 5-0 |
| Ukraine vs. Poland | 7:00 p.m. BST | 2-0 |
| Denmark vs. Italy | 7:15 p.m. BST | 1-1 |
| Netherlands vs. Hungary | 7:30 p.m. BST | 2-0 |
| Estonia vs. Turkey | 7:30 p.m. BST | 1-2 |
| Albania vs. Switzerland | 7:30 p.m. BST | 0-1 |
| Andorra vs. Romania | 7:30 p.m. BST | 0-2 |
| Luxembourg vs. Russia | 7:30 p.m. BST | 1-3 |
| Iceland vs. Cyprus | 7:45 p.m. BST | 4-0 |
| Slovenia vs. Norway | 7:45 p.m. BST | 1-0 |
| Germany vs. Republic of Ireland | 7:45 p.m. BST | 4-1 |
| Sweden vs. Austria | 7:45 p.m. BST | 3-0 |
| Wales vs. Macedonia FYR | 7:45 p.m. BST | 1-3 |
| Greece vs. Slovakia | 7:45 p.m. BST | 3-0 |
| England vs. Montenegro | 8:00 p.m. BST | 2-0 |
| Portugal vs. Israel | 8:45 p.m. BST | 2-1 |
| Spain vs. Belarus | 9:00 p.m. BST | 6-0 |
CONCACAF World Cup Qualifying
| | | |
| --- | --- | --- |
| Honduras vs. Costa Rica | 10:00 p.m. BST | 1-0 |
| United States vs. Jamaica | 11:35 p.m. BST | 3-0 |
| Mexico vs. Panama | 2:30 a.m. (Sat) BST | 2-0 |
CONMEBOL World Cup Qualifying
| | | |
| --- | --- | --- |
| Colombia vs. Chile | 10:00 p.m. BST | 2-1 |
| Ecuador vs. Uruguay | 10:00 p.m. BST | 3-1 |
| Venezuela vs. Paraguay | 10:00 p.m. BST | 2-2 |
| Argentina vs. Peru | 12:00 a.m. (Sat) BST | 4-0 |
Hit me up on Twitter for more sports goodness: Follow @dantalintyre
Keep Reading