Re-Grading the Minnesota Vikings' 2013 Draft Class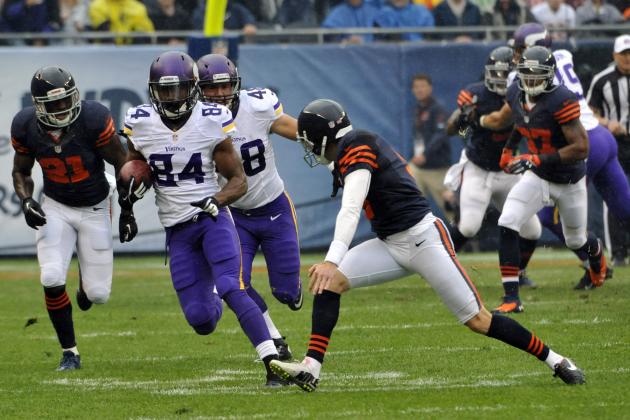 David Banks/Getty Images
Patterson, running back an opening kickoff here, has done well in his first year in Minnesota.
The Minnesota Vikings got creative in the 2013 NFL draft, trading with the Seattle Seahawks and New England Patriots to get the No. 25 and No. 29 picks in addition to the No. 23 pick they already had.
Sharrif Floyd fell into their lap at No. 23, and then general manager Rick Spielman addressed two team needs—wide receiver, thanks to the departure of Percy Harvin (Seattle) and cornerback, which lost veteran Antoine Winfield to Seattle and then eventual retirement.
He picked up cornerback Xavier Rhodes from Florida State and then Cordarrelle Patterson from Tennessee
All three players have done well so far.
The Vikings had nine picks in total in 2013, and even the three seventh-rounders gave the team something to work with.
Looking back on it, Minnesota didn't do all that bad with the draft. The following are grades allotted to each player based on his performance and potential, keeping in mind that there are different expectations for players drafted in the earlier rounds than those taken later in the draft.
All statistics courtesy of pro-football-reference.com
Begin Slideshow

»
Dawkins is large, weighing in at nearly 300 pounds, but at 6'2" he is smaller than fellow Minnesota seventh-rounder Travis Bond.
The defensive lineman had a strong four-year career at Florida State, recording 20 solo tackles his sophomore season and 59 total while assisting on 47 tackles during his time in Tallahassee. He also recorded an interception during his junior year in 2011.
Dawkins is what you expect from a late-round pick: A practice squad player with size that could potentially be molded into an NFL player.
Grade: C
Usually when you think of a 6'7" Tar Heel, they are playing basketball at UNC, but the 330-pound Bond made a name for himself on the gridiron.
Bond played at as much as 375 pounds during the 2011 season, but dropped down to 330 pounds as a senior and earned honorable mention All-Atlantic Coast Conference honors.
He came to camp prepared and when two established offensive linemen, Phil Loadholt and Matt Kalil, needed a break in the open OTAs, it was Bond who entered the first-team huddle.
Right now he's a practice-squad guy, which, as with Dawkins, is expected of a seventh-rounder, but his size and diligence could lead him to a productive NFL career despite being selected so low.
Grade: C+
Unlike his fellow seventh-rounders, Dawkins and Bond, Mauti is actually on the Vikings' active roster. He was activated in Week 3 against the Cleveland Browns.
Mauti is the son of Rich Mauti, who played wide receiver at Penn State in 1975 and 1976 and had an eight-year NFL career. His brother, Patrick, was a wide receiver for the Nittany Lions from 2005 to 2009.
Michael made a name for himself in Happy Valley, recording 32 solo tackles as a sophomore in 2010 and 49 as a senor last year despite having three knee surgeries. He was named first-team All-American and first-team All-Big Ten in 2012 and finished his career with 183 total tackles and four interceptions.
Assuming he can stay healthy, and that's a big "if", he could turn out to be a big-time value pick for Minnesota.
Grade: B+
Baca's strength is his versatility. He started 25 games at guard and 20 games at tackle for the Bruins during his collegiate career. The 6'3", 304-pound offensive lineman says that he can also play center.
"I think I can excel at either position," he told Bruce Brothers of the St. Paul Pioneer Press. "I believe I can play all three positions along the offensive line."
Vikings general manager Rick Spielman says that he will likely play guard or center in Minnesota, but acknowledged his versatility.
"He plays up and down the line," Spielman told Brothers. "He's a very tough, competitive kid that has some position flexibility."
Baca has yet to take the field for the Vikings, but if he does, it there's no telling where exactly he'll be on the offensive line.
Grade: C+
By all means, Locke has been a good punter for the Vikings. He has had 19 punts through four weeks and they have gone 45.95 yards on average, about a yard longer than that of his predecessor, Chris Kluwe (44.4).
When Minnesota took Locke in the fifth round of last year's draft, everyone saw it as the end for Kluwe. No front office drafts a punter that high without intending for him to compete seriously for the job.
There is some mystery surrounding the move, however, and Locke unfortunately gets associated with it because he is the man who replaced the league's most outspoken punter.
Kluwe wore a "Vote Ray Guy" pin on his jersey and was fined for it. He is an active advocate for gay rights and penned a NSFW column on Deadspin and frequently lets loose on his Twitter page with his Warcraft-inspired handle.
Locke is a good punter, but is he really an upgrade or did the team just want someone who was a little less vocal outside of the locker room?
Grade: B
Another Penn State guy, Hodges had a breakout season during his junior year in State College, recording 106 tackles and a 63-yard interception. He was named first-team All-Big Ten that year and also was an honerable mention All-American.
He followed up that year by recording 109 tackles and was once again named to the All-Big Ten team. A former safety and quarterback in high school, Hodges became only the 11th player in school history to lead the team in tackles during back-to-back seasons and among those eleven, he is just the fifth to accomplish that feat with consecutive 100-tackle campaigns.
Hodges had minimal playing time that season, but if his play in college is evidence of his potential as a pro, Hodges may be a bit of a late bloomer and will be more productive as the season and his NFL career carries on.
Grade: B
The book on Patterson is that he is a freak athlete who needs to refine his game. He was an NJCAA All-American during his two years at Hutchinson Community College in Kansas and first-team All-SEC last year as a junior at Tennessee.
But he had just the one year of major college football before entering the 2013 NFL draft as a raw talent.
Patterson has yet to put up flashy numbers in a Vikings uniform, but he also has gone overlooked on a team that has Greg Jennings and Jerome Simpson at wideout and inconsistent play at quarterback.
Many local pundits, including ESPN1500's Judd Zulgad, have called for the Vikings to get Patterson more involved in the offense, and head coach Leslie Frazier responded to such outside demands by telling Ben Goessling of ESPN.com, "We're going to get that rectified. He definitely needs to get on the field more."
While he may not be targeted frequently, Patterson has made a name for him on special teams, having taken the opening kickoff to the house against the Chicago Bears in Week 2. He earned special teams honors after leading the league with a 33.8-yard average on kickoff returns.
Patterson's flashiest number may be on his jersey, however, as he chose to wear Randy Moss' No. 84 as a rookie. The former Vikings receiver and current Fox analyst told Michael David Smith of NBC Sports that it was "disrespectful" to give his number to a rookie.
Then again, if Patterson continues to play this well, Viking fans may begin to associate the No. 84 with the rookie that returned the opening kickoff for a touchdown against the Bears rather than guy who pretended to moon the Green Bay Packers.
Grade: A
Rhodes probably looks worse because the Vikings pass coverage is so bad. Safety Harrison Smith is the only true star in a depleted secondary that saw longtime cornerback Antoine Winfield leave Minnesota and then retire just before this season. The Vikings also lost Asher Allen, who was forced leave the game at the age 24 after sustaining multiple concussions.
In reality, Rhodes should be a reliable cornerback for years to come, but he has been forced into a prominent role right off the bat and has had to adjust to NFL receivers on the fly.
He already has eight tackles and one assist in four games...but no interceptions.
Time will tell us how good Rhodes will be, but at the very least, Lions general manager Rick Spielman addressed a need late in the first round by taking the former Florida State cornerback.
Grade: B+
The Vikings brass had to be a bit surprised to see Floyd sitting around when they had their first selection at No. 23. The defensive tackle was a first-team All-American and first-team All-SEC selection as a junior at Florida last year, recording 92 tackles last year, 13.0 of which were for a loss.
Instead of being rushed into action, as he would have been by a team that used a higher draft pick on him, Floyd was put into a position where he could sit on the bench and learn from Kevin Williams…until Williams was hurt in the preseason.
Floyd was injured in the second preseason game on Aug. 16 and was forced into the home opener against the Detroit Lions. He had mixed results, which Frazier chalked up to technique related rather than a result of tentativeness.
Floyd has a lot to learn about the NFL game, but from what he's shown so far, Minnesota got a steal in this year's draft.
Grade: A
Tom Schreier covers Minnesota sports for Bleacher Report and is a contributor to Yahoo! Sports.