A week after the NFL gave fans some of the most exciting games of the year, there are a few more matchups in Week 6 that are certain to be just as good.
One game that might not be that competitive is the 0-5 Jacksonville Jaguars going on the road against the 5-0 Denver Broncos. Then again, it might be entertaining to watch Peyton Manning throw six, seven or maybe even eight touchdowns.
Still, the rest of the league features plenty of other battles that will likely go down to the wire. Here is a look at the full weekly slate, as well as a breakdown of the bigger games of Week 6.
NFL Week 6 TV Schedule

| | | | | |
| --- | --- | --- | --- | --- |
| Date | Away | Home | Time (ET) | TV |
| Oct. 10 | New York Giants | Chicago Bears | 8:25 p.m. | NFL Network |
| Oct. 13 | Green Bay Packers | Baltimore Ravens | 1 p.m. | Fox |
| Oct. 13 | Cincinnati Bengals | Buffalo Bills | 1 p.m. | CBS |
| Oct. 13 | Detroit Lions | Cleveland Browns | 1 p.m. | Fox |
| Oct. 13 | St. Louis Rams | Houston Texans | 1 p.m. | Fox |
| Oct. 13 | Carolina Panthers | Minnesota Vikings | 1 p.m. | Fox |
| Oct. 13 | Oakland Raiders | Kansas City Chiefs | 1 p.m. | CBS |
| Oct. 13 | Pittsburgh Steelers | New York Jets | 1 p.m. | CBS |
| Oct. 13 | Philadelphia Eagles | Tampa Bay Buccaneers | 1 p.m. | Fox |
| Oct. 13 | Jacksonville Jaguars | Denver Broncos | 4:05 p.m. | CBS |
| Oct. 13 | Tennessee Titans | Seattle Seahawks | 4:05 p.m. | CBS |
| Oct. 13 | New Orleans Saints | New England Patriots | 4:25 p.m. | Fox |
| Oct. 13 | Arizona Cardinals | San Francisco 49ers | 4:25 p.m. | Fox |
| Oct. 13 | Washington Redskins | Dallas Cowboys | 8:30 p.m. | NBC |
| Oct. 14 | Indianapolis Colts | San Diego Chargers | 8:40 p.m. | ESPN |
via NFL.com
New Orleans Saints at New England Patriots
Tom Brady looked human in Week 5 on the road against the Cincinnati Bengals. He failed to throw a touchdown pass for the first time in 53 games, and he completed fewer than half of his pass attempts.
A big problem was the opposing pass rush as the quarterback was under pressure the entire game. Based on what we have seen from New Orleans this season, that will continue in this game.
Additionally, Drew Brees and the Saints offense proved against the Bears that they are capable of moving the football outside of the Superdome.
On the other hand, the Patriots defense deserves more respect than it has been getting. The unit ranks second in points allowed per game and did a good job of shutting down the Bengals playmakers last week.
This battle features two of the best quarterbacks in the NFL, but the improved defenses will be the story of this one.
Green Bay Packers at Baltimore Ravens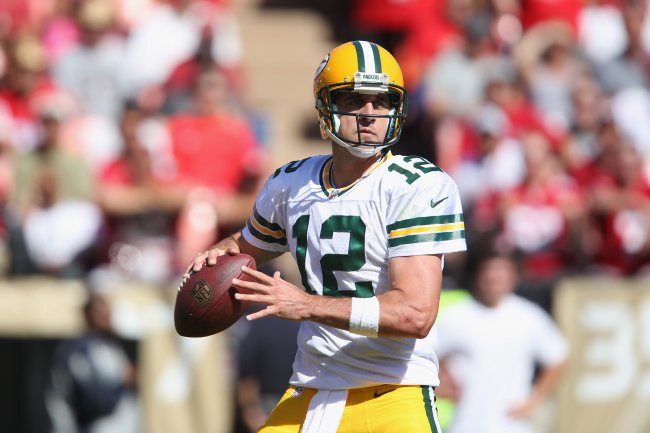 Jeff Gross/Getty Images
Although the Baltimore Ravens have not looked impressive offensively over the first third of the year. The squad ranks 31st in the NFL at 2.8 yards per carry, and Joe Flacco has not found a secondary receiving target behind Torrey Smith.
This could be a problem as Baltimore attempts to keep up on the scoreboard with the high-powered Green Bay Packers attack.
Of course, Green Bay has not been perfect this season. The squad is only 2-2, including an 0-2 record on the road. Another road game against a playoff team from last year could prove to be devastating.
Aaron Rodgers will need to play turnover-free football, like he has in the two wins this year. Otherwise, the defending Super Bowl champions will continue to remain undefeated at home.
Washington Redskins at Dallas Cowboys
As far as the records are concerned, this should not be an entertaining battle. The 1-3 Washington Redskins have looked awful in virtually every phase of the game this year, and the 2-3 Dallas Cowboys have struggled as well.
However, records do not matter when these two rivals face each other. Sadly, Washington could also be playing for first place in the NFC East with this game.
Tony Romo is coming off one of his best performances of his career with 506 passing yards and five touchdowns. Unfortunately, a key interception late in the game cost the Cowboys a chance of getting a victory. Then again, it is hard to win when the defense allows 51 points.
Washington has struggled just as much defensively while allowing the most total yards per game in the NFL.
This is certain to be a high-scoring game where the team who has the ball last should win.
Follow Rob Goldberg on Twitter for the latest breaking news and analysis.