Jeremy Lin Doesn't Have to Be a Star to Be Houston Rockets' Cornerstone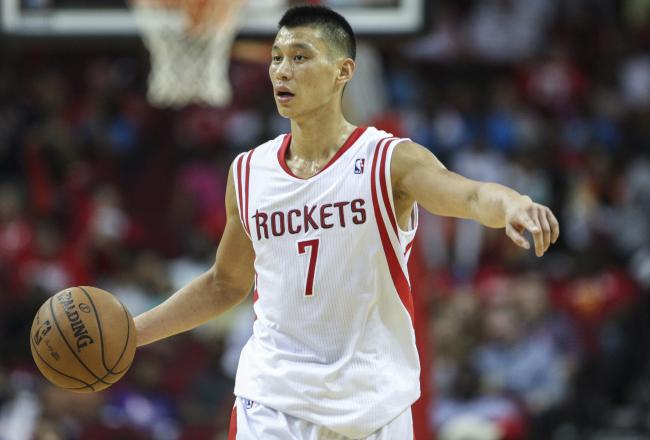 Troy Taormina-USA TODAY Sports
There are things in this world that matter more than statistics, even in the numbers-driven world of professional basketball. No one knows that better than the Houston Rockets, an organization that's as stat-savvy as any.
Not all numbers count the same, and it's the off-court kind that have made Jeremy Lin such an exceptionally valuable commodity—valuable enough to justify a contract that pays him over $8 million in each of his next two seasons.
It was largely Lin's marketability that justified such an expenditure despite his limited sample size of impressive 2011-12 action.
A pretty good version of Lin is more valuable in some overseas markets than the vast majority of qualitatively more productive stars. Though his jersey didn't rank among the top 15 best sellers in the United States according to USA Today's Jeff Zillgitt, it placed fourth in China—ahead of MVP hopefuls like Kevin Durant and Chris Paul.
More than a few observers helped the Rockets do the math in the summer of 2012, so the economic arguments on Lin's behalf are nothing new.
All the same, it doesn't make sense to reduce his value to dollars and cents alone.
At worst Lin follows in the footsteps of guys like Shane Battier, role players whose contributions don't always show up in stat lines.
And while Lin's player efficiency rating was only two spots ahead of Jimmer Fredette among point guards (per ESPN.com), that doesn't mean we should start buying into those worst-case comparisons just yet—certainly not if you listen to general manager Daryl Morey.
In an ask-me-anything session on Reddit.com this summer, Morey contended that injury troubles were principally to blame for Lin's slow start and anticlimactic postseason performance.
While there were stretches in which the then-24-year-old point guard played pretty well (including nine games in April averaging 17.3 points and 6.9 assists), a lazy assessment of the final product leaves a few blind spots.
There was plenty that went right in Lin's debut season with the Rockets.
Moreover, we'd be wise to actually give Lin a meaningful chance to settle into his role and environs.
Instead, many greedily expected him to seamlessly extend the Linsanity that erupted in 2012 with the New York Knicks.
Whether you're persuaded there are meaningful differences between his job then and now, the fact remains that transitioning to a new team and playing for a new coach is a jarring experience—more so for some perhaps (Lin) than others (James Harden). That knee surgery Morey referenced certainly didn't help matters.
That said, you should be persuaded that there are important differences between Houston's Lin and the NYC iteration, differences that could well be overcome with a few tweaks to his role this season.
Though there's an argument to be made that Lin should come off the bench—especially with Patrick Beverley's emergence—there are any number of ways head coach Kevin McHale could adjust Houston's rotation to Lin's benefit.
Even if he remains in the starting lineup, substitution patterns should maximize his time playing with second-unit guys who can play without the ball in their hands and space the floor, like catch-and-shoot specialists Francisco Garcia and Omri Casspi.
Dwight Howard's arrival also enables a more robust commitment to the pick-and-roll, a development that should benefit Harden and Lin alike.
An early look at the Lin-Howard on-court relationship.
Beyond the X's and O's giving rise to optimism, the most important change may be a psychological one. Lin was at his best when expectations were at their lowest, when he was an anonymous bench-to-riches story taking the world by storm.
That was hardly the dynamic accompanying his arrival in Houston.
Now that some of the loftiest expectations have subsided, there's a window of opportunity for Lin to relax and rediscover the rhythm that came so easily just a year-and-a-half ago.
To be fair—or maybe it's pessimistic—some of the challenges facing Lin may be more intractable. He was an unknown quantity with the Knicks, not just among fans, but among many of the advance scouts charged with game-planning against him. There's subsequently been plenty of time for the opposition to wise up.
Where that leaves our estimation of Lin's on-court value won't be entirely clear until the 2013-14 season yields a final verdict. But there's at least one more—and dare I say indisputable—reason that treating Lin like one of the franchise building blocks is as good for basketball as it is for business.
What's changed more, Lin or the world around him?
He's the anti-Dwight.
Even if you're Howard's biggest advocate, there's something to be said for balance in the locker room. For every star demanding attention, there has to be one equally willing to give it away. That's been Lin's M.O. since Day 1, and it's that consummate preoccupation with everything but himself that will continue paying the most dividends in Houston.
The jokes about Lin having changed obscure an important reality. No matter how many millions trickle into his bank accounts, he'll remain humble as he ever was—and the rest of the Rockets will be all the better for it.
This article is
What is the duplicate article?
Why is this article offensive?
Where is this article plagiarized from?
Why is this article poorly edited?

Houston Rockets: Like this team?